« Native American Community Academy Students Get Out the Vote for APS Bond Election | Main | EQNM Weighs In: NM Catholic Bishops Renege on Deal and Now Oppose Domestic Partnership Bill »
Tuesday, January 19, 2010
Maggie Hart Stebbins Guest Blog: Bernalillo County Easily Passes Significant Ethics Reform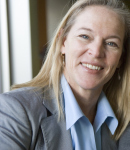 This is a guest blog by Maggie Hart Stebbins, who was appointed to the County Commission in May, 2010 and represents District 3 -- the University, Nob Hill and International District. She's running for election in the Democratic Primary in June and launches her campaign this Saturday, January 23.
It's hard to find much in Bernalillo County that hasn't changed in the past four decades. The County's population has doubled, and the area has become a hub for high technology and green businesses. We even have a commuter rail that takes people between Belen and Santa Fe.
However, one aspect of our lives had remained steadfastly unchanged since 1975: the Bernalillo County Code of Ethics. The ethics code was outdated, vague, and did little to protect whistleblowers from retribution.
When I joined the County Commission last year, I made reforming our ethics ordinance one of my top priorities. I am delighted to say that, after months of work and input and collaboration with individuals and community organizations, the Bernalillo County Commission last week voted unanimously to overhaul this outdated code. Our new ordinance replaces the old rules with clear standards of conduct for elected officials, while making it easier for individuals to report cases of fraud or abuse by elected officials.
Adherence to a code of ethics is critical for effective local, state and federal governance. Ethics represent a set of rules that, among other things, prevents government employees from obtaining personal benefits at the expense of the public interest. Establishing and enforcing our ethics laws ensures that taxpayer dollars are spent appropriately. Any dollars that are wasted on padded contracts or employees who don't show up for work are dollars that aren't being spent on essential services or giving tax relief in this challenging economy.
The Federal government has created and enforced rules of ethics since 1989 through an independent agency—the Office of Government Ethics. In 2007, the New Mexico Legislature passed, and the Governor signed, the Governmental Conduct Act, which strengthens conflicts of interest laws and sets clear limits on gifts to state officials, candidates, and their families. But Bernalillo County's current ethics laws had been so ineffective the ethics board hadn't heard a complaint since 1995.
The new legislation will bring the Bernalillo County ethics process into the 21st century by tackling one of the most important aspects of reform: establishing a process through which people can report fraud and abuse to the appropriate authorities. A 2009 study from the nonprofit Ethics Resource Center in Arlington, Va., found that nearly 60 percent of government employees at the federal, state and local level had witnessed violations of ethical standards, policy or laws in their workplaces within the last year. The fact that no one in Bernalillo County has come forward with an ethics complaint since 1995 strongly suggests that we need a clearer process for reporting concerns - - a process that gives people confidence that their concerns will be addressed and they will be protected from retribution.
The new ordinance creates a process through which whistleblowers can remain anonymous. The County will utilize its external audit staff to investigate and substantiate complaints, which helps ensure that complaints are independent and free from political considerations. Complaints that are found to have merit will be forwarded to the County Ethics Board for action.
Our new ethics ordinance also establishes clear, comprehensive, and enforceable standards of conduct for County elected officials, employees and board appointees. The ordinance outlines in detail what is acceptable behavior for those entrusted with County resources. It expressly prohibits the use of County resources, such as property and employee time, for personal or political purposes. It also limits contributions to elected officials and candidates for those offices, and prohibits gifts from those who seek to do business with the County.
Furthermore, the new language will bring Bernalillo County into compliance with state law and ensure that our tax dollars are used appropriately.
This new ordinance wouldn't be possible without the input and inspiration of numerous organizations and individuals. Special thanks are due to Common Cause, Think New Mexico, the Bernalillo County Ethics Board, the New Mexico Attorney General's office, Senator Dede Feldman, and many other individuals who either spoke at our public hearings on the issue or sent their comments into my office. Their input has been invaluable in crafting simple but vitally important measures to ensure the public that county decisions are always made for the common good.
This is a guest blog by County Commissioner Maggie Hart Stebbins. If you'd like to submit a piece for consideration as a guest blog, contact me by clicking on the Email Me link on the upper left-hand corner of the page.
January 19, 2010 at 06:25 AM in 2010 Bernalillo County Commission Races, Bernalillo County, Ethics & Campaign Reform | Permalink
Comments
It's a start! Good going Commissioner!
Posted by: Old Dem | Jan 19, 2010 9:53:01 AM