Thursday, May 17, 2012
Heinrich in New TV Ad: I'll Never Stop Fighting for New Mexico
Martin Heinrich released his third television ad in three weeks today, one that assures voters that he will "fight for the things New Mexicans have worked so hard for." The new spot highlights the jobs Heinrich saved at Kirtland Air Force Base and his effort to stand up for seniors and stop Republican attempts to weaken Social Security and Medicare. The ad will air in both the Albuquerque and El Paso media markets.
Since he was elected to Congress in 2008, Martin Heinrich travels home almost every weekend to meet with the people of New Mexico. From day one, Martin has put the interests of his constituents before the special interests and knows that the best ideas don't come from Washington, they come from the folks back home. That is why he organizes job fairs, speaks directly with small business owners, visits with veterans at the VA hospital in Albuquerque, and meets with seniors to discuss how he's protecting their Social Security and Medicare.
May 17, 2012 at 02:06 PM in 2012 NM Senate Race, Candidates & Races, Jobs, Political Ads, Rep. Martin Heinrich (NM-01), Social Security, Television | Permalink | Comments (0)
Chavez for Congress New TV Ad: Marty Can Take the "Hits"
Today, former Albuquerque Mayor and current Congressional candidate Marty Chavez debuted a new television ad titled "Hits."
Set in the historical Jack Candelaria/San Jose gym and filmed with local professional boxer Josh "Pit Bull" Torres (7-1-1, 5KOs), the spot reinforces that to get things done in Congress, you have to be able to take the hits from powerful interests.
Throughout his career, Marty has always taken the hits on behalf of New Mexican families. Whether it was as the ONLY elected official to testify to save Kirtland Air Force Base and nearly 7,000 jobsi, standing up to developers to pass one of the toughest green building codes in the nationii, suing the Bush Administration over greenhouse gas emissionsiii or supporting President Obama's fuel efficiency standardsiv, Marty has proved tough enough to get things done, even in the most hostile environments.
As President Bill Clinton said in endorsing Marty earlier this year, "I know that Marty will take on our big challenges, stand up to special interests, and fight to create clean energy jobs in New Mexico because he's proven time and again that he can get the job done."
May 17, 2012 at 09:53 AM in Candidates & Races, Martin Chavez, NM-01 Congressional Race 2012, Political Ads, Television | Permalink | Comments (4)
Tuesday, May 15, 2012
Eric Griego Launches New TV Ad Calling for Wall Street Accountability
Today, Democratic congressional candidate Eric Griego became the first congressional candidate in the nation to air a TV ad calling for Wall Street bankers to be held accountable for their actions.  Griego also released his platform to strengthen Wall Street reform and to prosecute bankers who broke the law.
The ad features Westside Albuquerque residents Alan and Melinda Witt.  A month after Alan Witt retired, the economy crashed and he and his wife lost much of their savings, which they will never be able to recover.
"To this day, not one Wall Street banker who broke the law, tanked the economy, and took away people's homes and savings are in jail," Griego said.  "Sadly, Wall Street bankers are still playing by their own rules, and we need tough reforms to hold them accountable.  We need to break up the Wall Street-Washington romance by electing more reform-minded Democrats who will not sell out the public to appease Wall Street lobbyists."
"If candidates like Elizabeth Warren and me win this year, it will send a signal to the political establishment that it's time for real Wall Street reform."
In Congress, Griego will fight for the following five reforms:
Fight to increase 20-fold the number of investigators for the financial crimes federal task force led by New York Attorney General Eric Schneiderman.  Right now, this task force only has 55 investigators and prosecutors.  The Savings and Loan crisis of the 1980s was staffed with over 1,000 investigators, experts, and prosecutors.  That effort yielded more than 600 convictions and $130,000,000 for taxpayers.  One of the first bills that Griego will sponsor will be to increase the funding and staffing for this financial crimes task force.
Push for increased funding for the Consumer Financial Protection Bureau – the federal watchdog on Wall Street, created by Elizabeth Warren – to strengthen its investigative capabilities.  Even a small additional investment can avert billions, or trillions, of dollars in economic damage by Wall Street.
Push the U.S. Justice Department to more aggressively prosecute white-collar crimes by Wall Street bankers.  Members of Congress can exert key leverage with the Justice Department to make investigations and prosecutions happen.
Strengthen the Dodd-Frank Wall Street Reform and Consumer Protection Act, and close the loophole in the legislation's "Volcker Rule" that was exploited by JPMorgan recently – when their risky bets lost $2 billion.  Many of the legislation's provisions are designed to go in effect in 2014, so the rules are still being written.  Congress can't allow Wall Street bankers to write their own rules – we need Wall Street reform to stay on the agenda in Congress.
Pass a new Glass-Steagall Act to separate investment banks from traditional banking – so people's life savings are not gambled away by Wall Street. Elizabeth Warren and the Progressive Change Campaign Committee started a grassroots campaign for a new Glass-Steagall yesterday, and within hours over 40,000 people joined the cause.  I'm proud to be one of those people – and passing a new Glass-Steagall will be a priority of mine in Congress.
May 15, 2012 at 09:11 AM in Candidates & Races, Eric Griego, NM-01 Congressional Race 2012, Television | |
Monday, May 14, 2012
Michelle Lujan Grisham; New TV Ad, Mom's Day Message from Daughters and Abq Journal Endorsement
A recap of the weekend for Michelle Lujan Grisham. From launching a new TV ad below, to a wonderful letter from her daughters asking the community to support their mom for CD1, and lastly the endorsement by the Albuquerque Journal. Kind of like a trifecta!
Today is Mother's Day. For some mothers that will mean sleeping in a little, lounging around in their pajamas and maybe even breakfast in bed. But not for our mom. Can you guess what she is doing to celebrate Mother's Day? She is out meeting voters all across the 1st Congressional District.
As kids growing up there may have been a few times when it was tough to share our mom's attention with others since she was a hard-working public servant. But when we look back at why she always worked so hard for seniors, children and families and the positive results she got, its hard for us to complain. Sometimes we questioned why she would move people into our home, like the battered woman and her child who lived with us for a year or the 95 year old veteran who stayed with us until he could support himself, but we understand that her heart was always in the right place and she always wants to help those who needed it most.
And that is why she wants to go to Congress – to stand up for all of us. It's clear that the time she spent away from home, fighting to end neglect and abuse in nursing homes, fighting for better health care for New Mexicans, and working to end waste and fraud in government, was really sort of an early Mother's Day gift for the two of us, for the time in the future when we might become mothers ourselves. And it was a Mother's Day gift for all other New Mexico mothers. In fact, the battles she's fought have been a gift to ALL New Mexicans . . . not just the mothers. And she's not showing any signs of slowing down.
Once she's elected you can guarantee that she'll dive into the job and work tirelessly to improve the quality of life of all the residents of the 1st Congressional District.
But she needs your help to get elected, please go her
website
to see how you can help get the word out to voters.
So please . . .
won't you help us give our mom a great belated Mother's Day gift on June 5th?
Please help her win this primary election so that she can continue with her lifelong passion . . . serving her extended family . . . the good people of New Mexico.
Thank you all so much!
Taylor & Erin Grisham
Abq Journal Endorsement
Yesterday morning the Albuquerque Journal endorsed Michelle Lujan Grisham.
The Journal praised her as an assertive and ethical leader "who won't hesitate to wade into tough issues."
This endorsement builds on the strong momentum Michelle has established in the campaign over the last 6 weeks. From leading in money at the end of the last quarter to our strong endorsements from IATSE, the State Professional Fire Fighters and the Albuquerque Area Fire Fighters we clearly have momentum that will propel us to victory on June 5th.
In their endorsement, the Journal embraced Michelle's unmatched ability to bypass government bureaucracy to get things done and "ensure New Mexicans get the access to services they deserve." The Journal also highlighted her clear stances on health care, creating jobs and passing meaningful immigration reform "that safeguard New Mexicans but pragmatically attack long-term fiscal and security problems."
May 14, 2012 at 02:00 PM in Candidates & Races, Michelle Lujan Grisham, NM-01 Congressional Race 2012, Television, Women's Issues | |
Friday, May 04, 2012
Marty Chavez Releases First Ad on May 2nd
"Balloon" Reinforces No-Nonsense Approach to Delivering Results
The former Albuquerque Mayor and current Congressional candidate Marty Chavez will air his first television ad.
The ad was sent to supporters via email and previewed for Facebook fans on Wednesday. Titled "Balloon," the spot reinforces that to get things done in Congress, sometimes you have to 'yank' the politicians who 'go wherever the wind blows' in the right direction.
Marty also talks about his plans to deliver results for central New Mexican families including ending the Bush tax cuts for the top 1%, protecting the Affordable Care Act and making New Mexico THE leader in clean energy jobs.
May 4, 2012 at 09:00 AM in Candidates & Races, Martin Chavez, NM-01 Congressional Race 2012, Television | Permalink | Comments (1)
Tuesday, April 24, 2012
Congressional Candidate Michelle Lujan Grisham Launches First TV Ad
Democratic Congressional Candidate Michelle Lujan Grisham unveiled her first television commercial today, kicking off an aggressive TV campaign designed to show voters her tenacity and dedication to fighting for New Mexicans. The first ad, titled "Stand Up," goes on the air starting today in the Albuquerque TV market.
"The national media is describing this primary race as extremely competitive and the momentum is clearly with Michelle Lujan Grisham," said campaign manager Dominic Gabello. "Michelle was endorsed this week by a major New Mexico union, enters the final 6 weeks with the most money and is working hard to secure more high-profile support for the final weeks of the campaign. As voters are starting to pay attention to this race, we are confident that they will be impressed with Michelle's fighting spirit and her strong and effective record as an advocate and a reformer for New Mexico families."
Click above to watch Michelle Lujan Grisham's first ad, "Stand Up."
During nearly two decades as a public servant, Michelle Lujan Grisham was the voice for senior citizens, veterans and disabled New Mexicans. She served as Director and Cabinet Secretary of the New Mexico Department of Aging and Long-Term Services and the Department of Health. She currently serves as a Bernalillo County Commissioner.
The "Stand Up" ad highlights one of the defining experiences of Michelle's career in public service. In 1997, she went undercover as a totally dependent stroke victim and checked into a long-term care facility to expose inexcusable neglect. As a result, the state cleaned up several facilities, changed state law, and became the only state to have undercover care evaluations modeled after the work that she did.
April 24, 2012 at 05:35 PM in Candidates & Races, Michelle Lujan Grisham, NM-01 Congressional Race 2012, Political Ads, Television | |
Free Speech Not For Sale by Contributing Writer Lora Lucero
By Contributing Writer Lora Lucero.
The US foreign policy of using sanctions against Iraq in the 1980s-1990s and currently against Iran  is designed to be the kinder, gentler, antiseptic tool of aggression.  I heard last week from Richard Becker (ANSWER Coalition) about the impact of our sanctions on Iraq.  More than 500,000 Iraqi children died as a result of these sanctions.  And now we are following that same path in Iran.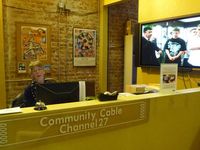 Where was Becker speaking?   Unless you attended the presentation at UNM on Saturday afternoon, you only would have heard him or seen the video "Genocide by Sanctions" if you watched the IndyMedia show on Albuquerque's public access TV Ch. 27 on Thursday evening (7-8 pm).  The mainstream corporate stations did not cover this serious discussion.  It didn't fit within the sanitized commercial programming of KOB, KOAT, KASA or KRQE.  The Albuquerque Journal certainly didn't cover it.
Albuquerque's public access channels 26 and 27 have been run efficiently and economically for thirty-plus years by Quote-Unquote but now city government may lock the doors and turn off the lights.  There is a very real threat that the community will lose its public access channels, the only media that provides free studios, equipment and training to the public so that our voices can be heard, and the stories we care about can be aired.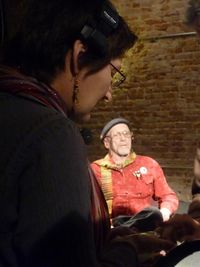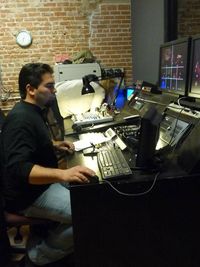 I naively thought public access channels were guaranteed by some FCC regulation, but in recent weeks I've learned there is a nationwide campaign by phone companies --- including AT&T Inc,  Verizon Communications Inc, and Qwest Communications International Inc. --- to move into the cable market.  They have their sights on PEG (public, education and government) channels.   Albuquerque is part of a much larger battle being waged in Los Angeles; Troy, NY; Tampa, FL; and elsewhere around the country.
The corporate takeover is a bit convoluted, but here's the skinny as I understand it today.  Comcast wants the cable TV channels which were reserved for public use in the ABQ/Comcast 2002 Franchise Agreement.  That agreement doesn't expire until October 2017, and it was codified as a city ordinance.   That means Mayor Berry and the City Administration cannot simply turn the keys over to Comcast;  the City Council must approve any amendments to the agreement first.  The battle is currently in the city council chambers where free speech advocates have eloquently pled their case.  The final decision is expected Monday, May 7.
The deal being secretly negotiated with the country's largest and most powerful cable television operator by the Berry Administration is the transfer of operating rights of six of the nine digital cable channels reserved for public use for a small fraction of their worth.  To illustrate the size of the giveaway, note that the last sale of two commercial channels approached $30 million, but the Comcast offer for six channels is reported to be a total of $250,000.
The arithmetic stinks, but so do the bedfellows.  Mayor Berry and the Administration bypassed the Cable Franchise and Hearing Board to award the public access contract to Quote-Unquote, by creating an ad hoc group which recommended that uPublic receive the contract – the same group that was effectively "gifted" the Education Channel 95 nearly a year ago but has kept the channel dark ever since.
Another fishy piece of this puzzle.  Rick Metz, President of uPublic, had a meeting with Rob Perry, the city's Chief Administrative Officer, prior to the city issuing the RFP to operate the public access channels.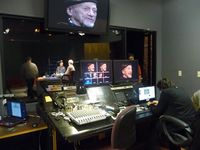 It appears to me that uPublic is the front man for Comcast in this "deal." If the City Council approves the amendment to the ABQ/Comcast 2002 Franchise Agreement and uPublic is awarded the public access channels, then the "deal" will strip ordinary citizens of a valuable 1st Amendment platform in Albuquerque.
This is CHINATOWN, only the battle is for broadband real estate, and not water rights; for freedom of speech, not a glass of water.  And many, many more cities around the country are also under siege, or have already lost to the Cable/Media giants.
Time for the public to rise up and tell the City Council that free speech in Albuquerque is not for sale.
April 24, 2012 at 06:14 AM in Corporatism, Government, Lora Lucero, Contributing Writer, Television | Permalink | Comments (3)
Tuesday, November 29, 2011
Breaking Bad Stars Dueling with Congressional District 1 Endorsements
Hope everyone had a good Thanksgiving. It was a nice break for us too. Now we have to get back to all the business at hand. This post is by Mary Ellen Broderick.
We figured we would start with a post which did not make it up on the DFNM blog when it happened. This particular event was a simple endorsement of a candidate. However, there is a dueling quality to this endorsement. In the TV show these two characters appear in "Breaking Bad"; one is a good guy cop and one is a meth dealer. If we were to follow stereotypes one may guess Steven Michael Quezada the hispanic would be the meth dealer, but no, the meth dealer is the anglo guy, Bryan Cranston in the show.  So interestingly enough one star has endorsed Eric Griego and one star has endorsed Marty Chavez. Does this show anything? Does this add any further information about either candidate? Or must one be an avid Breaking Bad fan to read into the endorsements? In any case the TV hit series is called Breaking Bad, it is filmed here in Albuquerque, and it is a really good show.
So to end the suspense of who endorsed who; on November 10 Steven Michael Quezada was a guest speaker at an Eric Griego fundraiser and guess what? Quezada gave a glowing endorsement of Congressional Candidate Eric Griego. Below is a video of his speech at the event.
Steven Michael Quezada is an Albuquerque NM native and a long time friend of Eric. Steven described the similar passions he shares with Eric, of course the film industry and arts for our children and helping children. They met on the road both being comedians back in the late 80's, and have stayed friends since then and have used their skills to try to bring positive change to their worlds. Steven goes on to say how anything worth having we have to fight for, being an American our freedoms "We have to fight this fight." He goes on to say "Eric can't do it all". And we need to keep talking to people about Eric and what he believes in. We need Eric in D.C.
Here is Eric's message from that night; Stand by the values he learned very early in life – "That we as Americans are in this together".
Then Griego goes on to expand "What we need in Washington is not just one voice, we need a lot of voices". We need to say "this is not what we believe in as Americans, we are in this together."
On September 28th Breaking Bad star Bryan Cranston endorsed Marty Chavez for Congress in NM-1. Please see this press release and .
November 29, 2011 at 10:21 AM in Eric Griego, Martin Chavez, NM-01 Congressional Race 2012, Television | |
Wednesday, September 28, 2011
Breaking Bad's Bryan Cranston Endorses Marty Chavez for Congress in NM-1

Today, in an email to Chavez supporters, Breaking Bad actor Bryan Cranston endorsed Marty Chavez in his bid to represent New Mexico's First Congressional District in the House of Representatives.
"If you've seen an episode of Breaking Bad, you know about the drama, the critical praise, and the awards the TV show has garnered –- but what some people still don't know is that it's shot right here in Albuquerque! It's one of the great privileges of my life to do this show, but it's also what this production does for the community I've come to love," Cranston said.
"You see, each episode of Breaking Bad helps to create and fuel hundreds of jobs in this incredible city and bring in millions of dollars to benefit the local economy. A great deal of the credit for that accomplishment goes to former Mayor Marty Chavez," Cranston added. "His efforts were instrumental in bringing Breaking Bad, and many other film and television productions to Albuquerque. That fact, and other important issues, is why I am endorsing his campaign for U.S. Congress."

"As Mayor he worked tirelessly to improve the lives of his constituents by actively promoting ideas that created the right kinds of jobs in Albuquerque. Jobs that advanced New Mexico's clean energy economy while preserving our natural environment," Cranston stated.
"I'm not going dance around it: times are tough in America right now –- and we need bold leaders fighting to protect New Mexico's working families. That's exactly why I'm getting involved in Marty Chavez's race for United States Congress; because I know he is the kind of leader who will stand up for all the middle-class families struggling throughout our country," Cranston said. "Now, Forbes Magazine credits Marty for making the city the 'Number-one Place to Do Business' in America. That's a pretty impressive title to have in this economy."
"I'm incredibly proud to have Bryan's support. Breaking Bad means a great deal to our local economy and Bryan has been a leader in promoting green technologies," said Chavez.
Cranston also added, "Marty has taken a strong position on protecting vital programs like Social Security and Medicare –- and has been consistent on the need for a real jobs program that will get the economy going again and shift our focus toward creating green jobs."
Click to see our previous posts on Marty Chavez as well as the NM-01 Congressional Race 2012, in our archives.
September 28, 2011 at 12:39 PM in Martin Chavez, NM-01 Congressional Race 2012, Television | Permalink | Comments (8)