Friday, August 26, 2011
8/27: Preview in Downtown Albuquerque of 'One Million Bones' - Evoking Atrocities Abroad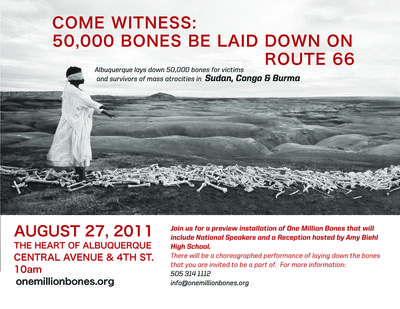 Click image for larger b&w version
Genocides in Africa, child soldiers and political torture in Burma. For millions, such violence and turmoil endure, even today. But an ambitious social art project aims to visualize such tragedies for Americans with the goal of provocation.
One Million Bones brings together people of all ages with artists and activists to create clay bones symbolic of our common humanity, each representing one person's awareness of recent and ongoing human atrocities, and his or her voice calling for action.
"We can only ignore the silent plight of millions if we continue pretending it's not our problem or we can't do anything about it," said founder Naomi Natale. "One Million Bones provides a direct action that replaces ignorance with knowledge and hopelessness with a sense of purpose. It speaks to our common humanity, and our responsibility to each other.
In 2013, the bones collected from participants around the U.S. will be assembled in a 'mass grave' on the National Mall in Washington, DC, a collaborative site of conscience demanding decisive U.S. action.
But on August 27, 2011, One Million Bones will present a 50,000 Bones Preview installation at its headquarters in Albuquerque, New Mexico. The Preview will feature a choreographed performance laying 50,000 clay bones in the streets of Downtown Albuquerque, as well as national speakers. It will take place at 10:00 AM at the intersection of Central and 4th Street in downtown Albuquerque.
Imagine a busy city block bustling with people. From an alley silent, white-clad volunteers appear carrying armfuls of white handmade ceramic bones. They lay the bones in the center of the street and disappear, even as another volunteer appears carrying more bones. Over the course of the day the pile expands outward to fill the entire block. Imagine the sight of 50,000 bones laid bare for the world to see. Imagine the power of that vision.
In Sudan, over the course of their twenty-two year civil war, two million people have been killed and 5.6 million displaced. In the Democratic Republic of the Congo, there have been 5.4 million deaths since 1996 and 900,000 people displaced since January 2009. Children make up 47 percent of the fatalities. Rape is a weapon of war, and has become commonplace. In Burma, there are currently 2,200 political prisoners who are being tortured using brutal methods. The Burmese army recruits children as young as nine years old for their forces.
"There continues to be so much devastation in Sudan, Congo and Burma, and yet there have been a few hopeful signs," said Susan McAllister, Project Manager. "Even the smallest glimmer for the possibility of change requires a redoubling of efforts to support activists who address these and other atrocities. One Million Bones brings the voices of thousands to bear in support of this vital work."
To learn more or get involved, please visit www.onemillionbones.org.
August 26, 2011 at 05:45 PM in Arts, Events, Genocide, Human Rights, Poverty | Permalink | Comments (0)
Monday, October 12, 2009
Stories & Testimony of Darfur: Theatrical Drama Set for 10/24
The Albuquerque Chapters of the and Anmesty International, along with Albuquerque Project Darfur, invite you to attend a special theatrical production of:
DARFUR
THE PROSECUTION AND DEFENSE OF OMAR AL-BASHIR
PRESIDENT OF SUDAN

VOICES OF DARFUR, VOICES OF KHARTOUM
VOICES OF HOPE, VOICES OF DESPAIR
VOICES OF ANGER, VOICES OF POWER
PEACE AND JUSTICE? PEACE OR JUSTICE?
IMPUNITY FOR WAR CRIMES?
The dramatic presentation features stories and testimony by the people of Darfur, by government officials of Sudan, by observers, by advocates, by journalists and from the United Nations and the International Criminal Court.
The free event is set for Saturday, October 24, at 2:00 PM at the Albuquerque Peace and Justice Center at Harvard and Silver. Donations are welcome. Fore more information, contact call 869-4212 or email prattsalwm@comcast.net.
October 12, 2009 at 02:13 PM in Events, Genocide, International Relations, Military Affairs, Peace, Poverty | Permalink | Comments (0)
Tuesday, June 02, 2009
ABQ Artist and Founder of 'One Million Bones' Selected as Prestigious TEDGlobal Fellow

Bravo, well done, how exciting and what an honor for the woman behind some incredibly meaningful and moving art projects. Last week, organizers of the TED Conference introduced the first group of TED Fellows to participate in its new international conference, TEDGlobal. One Million Bones is proud to announce that its founder and director, local Albuquerque artist Naomi Natale (above), is among those honored, according to a statement released today. Natale is one of only twenty-five individuals from around the world who have been selected to participate in the TED community this year by attending TEDGlobal 2009, which will be held in Oxford, UK, on July 21-24.
In addition to participating as full members of the TEDGlobal Conference audience, each TED Fellow will participate in a two-day pre-conference where they will receive world-class communication training, deliver a short TEDTalk, and collaborate with their peers, among other benefits. Their TEDTalk may be selected for posting on TED.com, where it has the potential to be viewed hundreds of thousands of times.
"I am honored to be selected as a TEDGlobal Fellow and look forward to sharing my new project, One Million Bones, with the TED community," said the 27 year old Natale. "This is a once in a lifetime opportunity to interact with some of the most innovative and forward thinking people from around the globe."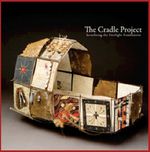 Natale was selected for her innovative work in socially focused large-scale art installations, having founded and directed The Cradle Project, which opened to rave reviews and large crowds in downtown Albuquerque last June (see my post). Designed to promote awareness of the estimated 48 million children who have been orphaned by disease and poverty in sub-Saharan Africa, this fundraising art installation also raised over $100,000 to help feed, shelter, and educate these orphans.

Natale's newest and most ambitious project, One Million Bones, is a fundraising art installation designed to represent victims of present genocides and create a visual demand for solutions to this issue. Our mission is to increase global awareness of these atrocities while raising the critical funds needed to provide humanitarian aid to the displaced and marginalized victims. One million people will each create one bone to represent one victim. Installed together, these one million bones will flood the National Mall in Washington D.C., unearthing the memory of these victims, while calling citizens to action.
"By inspiring action through art, you can change the world one person at a time," said Natale.
You can follow Naomi Natale on FaceBook and MySpace.
About TED:
TED stands for Technology, Entertainment, Design. It started in 1984 as a conference bringing together people from those three worlds. Since then, its scope has broadened to include science, business, the arts, and the global issues facing our world. The annual conference now brings together the world's most fascinating thinkers and doers, who are challenged to give the talk of their lives — in 18 minutes. Attendees have called it "the ultimate brain spa" and "a four-day journey into the future." The diverse audience — CEOs, scientists, creatives and philanthropists — is almost as extraordinary as the speakers, who have included Bill Clinton, Bill Gates, Jane Goodall, Sir Richard Branson, Philippe Starck, Isabel Allende and Bono.
TED was first held in Monterey, California, in 1984. In 2001, Chris Anderson's Sapling Foundation acquired TED from its founder, Richard Saul Wurman. In recent years, TED has expanded to include an international conference, TEDGlobal; media initiatives, including TEDTalks and TED.com; and the TED Prize. TEDGlobal 2009, "The Substance of Things Not Seen," will be held July 21-24, 2009, in Oxford, UK. TEDIndia will be held in Mysore, India, Nov. 1-4, 2009. TED2010, "What the World Needs Now," will be held Feb. 9-13, 2010, in Long Beach, California, with a simulcast event in Palm Springs, California. For details on all upcoming conferences and events, visit www.TED.com.
June 2, 2009 at 11:53 AM in Arts, Children and Families, Events, Genocide, International Relations, Poverty, Visuals | Permalink | Comments (6)