Monday, December 17, 2012
On Thursday SWOP Delivered Pit Rule Petition Signatures to The NM Gov
From SouthWest Organizing Project: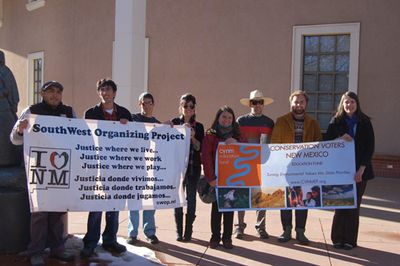 Groups and Community Activists Hold Press Conference in Albuquerque yesterday to discuss 12,000 New Mexico petitions in support of our strong Pit Rule; Petitions delivered to Gov. Susana Martinez in Santa Fe
In September, the Chile Lovers of New Mexico delivered a petition composed of over 10,000 signatures from New Mexicans in Santa Fe, Albuquerque and Rio Rancho in support of protecting New Mexico's landmark Pit Rule to Governor Susana Martinez. Since then, an additional 3,000 New Mexicans from our rural communities have spoken up in support of a strong Pit Rule.
The Pit Rule is an important safeguard that protects our land and groundwater from oil and gas industry waste. Currently, Martinez's Oil Conservation Commission is considering dismantling the Pit Rule in ways that will hinder its ability to protect the land and water that sustains all New Mexicans.
The commission has delayed making a final decision several times, and is set to reconvene in January. Supporters of a strong Pit Rule are asking Governor Susana Martinez to not change the rule by adopting amendments proposed by the oil and gas industry.
Yesterday, organizers and volunteers gathered to hold a press conference in Albuquerque, and to deliver the petition to the Governor's office in Santa Fe. Here are some quotes from the statements made at the press conference:
Molly Brook, Conservation Voters New Mexico Education Fund: "...With drought and other factors making our water increasingly scarce, it is critical that every drop of water is clean and safe for us to use. Protecting New Mexico's water should be common sense, but that's why it's puzzling that we even have to be here fighting for our water in the first place- all because the safeguard that currently protects our ground water from pollution is under attack."
Patricia Atencio, community volunteer: "I do have a sister that does live in Las Cruces and she has some land out there in Doña Ana and they plant alfalfa and if the water is contaminated there will be no longer alfalfa, there will be no longer chile, and that goes for all of New Mexico. So I want to ask the people, the New Mexicans... to support us in this Pit Rule, we need it desperately."
Tomás Garduño, SouthWest Organizing Project: "All the people that we've been working with over the past several months, volunteers who have called the governor's office- over 300 people have called the governor's office- and these over twelve thousand total petition signatures that are going to be delivered to the governor's office really show that New Mexicans understand the connection between making sure that our water is not contaminated, and having a thriving economy."
The Chile Lovers of New Mexico is collaboration between the Southwest Organizing Project and the Conservation Voters New Mexico Education Fund.
The Pit Rule is a law that protects New Mexico's land and water by ensuring that industries properly lines their waste pits to prevent contamination. Before the law was enacted in 2008, there were over 400 known cases of groundwater contamination that could be linked directly to poorly maintained oil and gas industry waste pits. Since then, there have been zero known cases.
December 17, 2012 at 09:44 AM in Energy, Environment, Susana Martinez | Permalink | Comments (0)
Wednesday, December 05, 2012
Wind Tax Credits Set to Expire: Congress Must Reinvest in New Mexicans' Green Future
Wind Energy in New Mexico Prevents as Much Global Warming Pollution as Taking 232,000 Cars Off the Road Each Year

Video above is Rikki Seguin of Environment NM presenting the report of the benefits of NM Wind Tax Credits in very simple powerful terms.
On November 28, last Wednesday, DFNM attended a press conference held by Environment New Mexico at Alvarado Urban Farm, the Gardens on the North side of the sustainably designed Silver Gardens Apartments located at 100 Silver Ave. SW Albuquerque, NM 87102.
As this summer's extreme drought and its aftermath prompt more New Mexicans to call for action to tackle global warming and the rise in extreme weather, Environment New Mexico released a new Environment New Mexico Research & Policy Center report that shows that New Mexico's current power generation from wind energy displaces as much global warming pollution as taking 232,000 cars off the road per year. Additionally, the Environment New Mexico report shows that wind power saves enough water to meet the needs of 11,600 New Mexicans.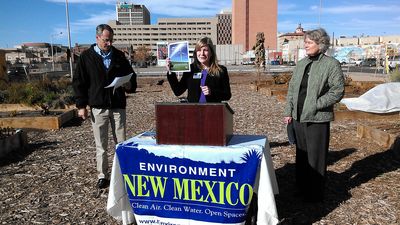 Environment New Mexico was joined by Commissioner Jason Marks, Public Resources Commission (PRC) District 1, and Albuquerque-based pulmonologist Dr. Dona Upson in releasing the Environment New Mexico Research & Policy Center report, Wind Power for a Cleaner America: Reducing Global Warming Pollution, Cutting Air Pollution, and Saving Water, and touting wind energy's environmental benefits to date, as well as future benefits if wind power continues to grow. The speakers urged Congress to extend critical federal incentives for wind power—the renewable energy production tax credit (PTC) and the offshore wind investment tax credit (ITC)—before they expire at the end of the year.
"Wind power is already replacing the dirty and dangerous energy sources of the past and creating a cleaner, healthier future for New Mexicans," said Rikki Seguin of Environment New Mexico. "We can continue on this path of cutting dangerous pollution and saving water if Congress acts now to extend critical wind incentives. Our message to Congress is clear: Don't throw wind power off the fiscal cliff. Our clean air, water, and children's future are too important to blow it now."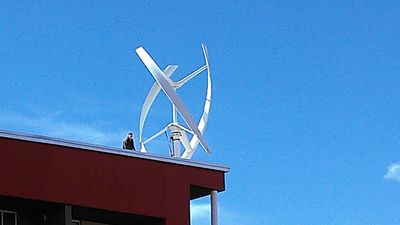 Wind Turbine mounted on roof of Silver Garden Apts.
If wind development continues at a pace comparable to that of recent years through 2016, New Mexico would reduce global warming pollution by as much as taking an additional 154,000 cars off the road and would save enough water to meet the needs of an additional 7,700 New Mexicans.
New Mexico has at least 13,000 megawatts of commercially-viable wind power waiting to be developed that could be providing clean electricity to homes and businesses across the Western U.S. without harmful emissions and without consuming our precious water supplies," said Commissioner Marks. "A multi-year renewal of the PTC is a key component for realizing this potential."
The report also outlined that today's wind energy in New Mexico is delivering results for public health, by avoiding 1,830 tons of smog-causing pollution and 340 tons of soot pollution.
"We need to increase the environmental and health benefits of wind energy by increasing wind power in our state," said Dr. Upson. "With so many New Mexicans suffering from respiratory diseases such as asthma and chronic obstructive pulmonary disease (COPD), and because of the disproportionate impact of air pollution on children's lungs, the clean air benefits of wind power can help improve and save lives."
New Mexico's successful development of wind energy results largely from the state's Renewable Portfolio Standards -- requiring utilities to provide 20% of their power from renewable energy by 2020 and the federal renewable energy Production Tax Credit (PTC).
Wind energy now powers nearly 13 million homes across the country and is on its way to being cost-competitive with traditional fossil fuels. But the two key federal wind power incentives—the production tax credit and the offshore wind investment tax credit —expire at the end of the year. Without these credits, many planned wind farms will not be built, leaving health and environmental benefits for New Mexican's on the table.
Despite the benefits of wind energy and widespread public support for federal policies to promote renewable energy, fossil fuel interests and their allies in Congress are vigorously opposing the PTC and ITC.

Rikki Seguin summary stated above and below. Fight on Udall and Bingaman.
"As our state is still healing from severe drought, we must invest wisely in a future with cleaner air, fewer extreme weather events, and smart use of our water resources," said Seguin of Environment New Mexico. "Time is running out. We thank Senators Udall and Bingaman for supporting clean, renewable wind power and urge them to do everything they can to extend the renewable energy production tax credit and offshore wind investment tax credit before the end of the year. Our clean air, water, and children's future depend on it."
Environment New Mexico is a statewide, citizen-based, environmental advocacy organization working toward a cleaner, greener, healthier future. Environment New Mexico Research & Policy Center is dedicated to protecting our air, water and open spaces by investigating problems, crafting solutions, educating the public and decision-makers, and helping the public make their voices heard in local, state and national debates over the quality of our environment and our lives.
December 5, 2012 at 07:45 AM in Energy, Environment, Green Economy, Sen. Jeff Bingaman, Sen. Tom Udall | Permalink | Comments (1)
Tuesday, November 27, 2012
11/28: New Mexico Will Benefit from Increased Wind Power
Wind tax credits set to expire: Congress must reinvest in New Mexicans' green future.
From Environment New Mexico.org - Environment New Mexico is a statewide, citizen-funded environmental advocacy organization working for clean air, clean water, and open spaces.
What: In the wake of this summer's severe drought, and as the fiscal cliff and the expiration of key tax credits for wind power are quickly approaching, public health professionals and PRC Commissioners will join Environment New Mexico to release a new report that quantifies the public health and environmental benefits of wind power for New Mexico, including global warming pollution avoided and water saved. The report also estimates these benefits through 2016 if wind development continues at a pace comparable to that in recent years.
Who: Jason Marks, Public Regulation Commission (PRC) District 1 Commissioner Dr. Dona Upson, Pulmonologist Rikki Seguin, Environment New Mexico
When: Wednesday, November 28th, 2012 10am
Where: Alvarado Urban Farm: Gardens on the North side of Silver Gardens Apartments 100 Silver Ave. SW Albuquerque, NM 87102
From I-25: Take exit 224A for Lead Ave toward Coal Ave. Turn right on Lead Ave, then right on 2 nd St, and the first right on Silver Ave. Street Parking available, as well as Silver Gardens Parking Garage on Lead Ave and 1 st St. SW.
Excellent Visuals of Wind Turbines and Plants Affected by Drought
November 27, 2012 at 03:57 PM in Energy, Environment, Events, Green Economy, Taxes | Permalink | Comments (0)
Monday, November 26, 2012
Support Solar Energy Targets for New Mexico
From the NM Green Chamber of Commerce:
Action item: Click to sign the letter to Vice Chair Commissioner Becenti-Aguilar, the swing vote on this issue, and you will receive notification of the mid-December PRC meeting to review the case.
The Reasonable Cost Threshold/Solar Diversity Target case (Case 11-00218-UT) before the Public Regulation Commission will have a dramatic impact on solar energy development. Cutting the solar target in half or completely, as some interveners are proposing, will mean job losses and worker lay-offs, and a return to more use of polluting fossil fuels.
This case has taken 17 months and now the Attorney General and the New Mexico Industrial Energy Consumers are proposing to push the decision into next year, and a new Public Regulation Commission.
The current uncertainty and indecision by the Public Regulation Commission makes it impossible for renewable energy companies to make future business plans.
Solar remains wildly popular in our state, with a 2012 bi-partisan poll demonstrating an overwhelming majority of New Mexicans (66 percent) that want more of their energy to come from solar.
Please take the following steps:
Click to sign the letter to Vice Chair Commissioner Becenti-Aguilar, the swing vote on this issue, and you will receive notification of the mid-December PRC meeting to review the case.
Call your Public Regulation Commissioner: Urge them to vote on the RCT rulemaking process before the end of this term. Urge them to support jobs in every part of the state, by supporting a diverse renewable energy portfolio with an aggressive solar target that continues to help build that industry. Urge them to maintain the current solar targets and continue to help provide both clean energy for consumers and jobs for electricians, technicians, and construction workers.
Jason A. Marks Commissioner - District 1 Jason.Marks@state.nm.us
Patrick H. Lyons Commissioner - District 2 Patrick.Lyons@state.nm.us
Douglas J. Howe Commissioner - District 3 doug.howe@state.nm.us
Theresa Becenti-Aguilar Vice Chair Commissioner - District 4 T.Becenti@state.nm.us
Ben L. Hall Commissioner - District 5 Ben.Hall@state.nm.us
Mr. Nick Guillen NMPRC Records Management Bureau prc.records@state.nm.us
Or, you can call them at 1-888-427-5772. Please be sure to mention Case No. 11-00218-UT.
Thank you for your interest in this.
Special Thanks to Kate Theisen at Sunspot Solar for providing the information.
November 26, 2012 at 03:45 PM in Energy, Environment, Green Economy, NM Public Regulation Commission | Permalink | Comments (0)
Monday, September 24, 2012
Albuquerque City Councilors and Administration Officials Promote Electric Vehicles
Events in more than 60 cities celebrate 200 Million Oil-Free Miles Driven by EVs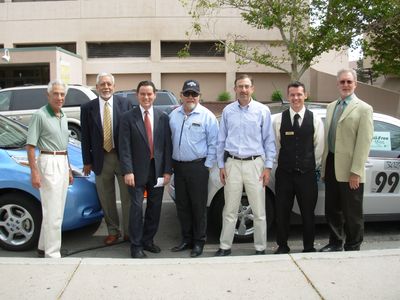 Albuquerque, NM—Albuquerque City Councilors Ken Sanchez and Rey Garduño, City Transit Director Bruce Rizzieri, and City Fleet Manager Tony Baldonado test-drove electric cars and touted their role in a cleaner, greener, more secure America as part of National Plug-In Day, a nationwide celebration of electric vehicles (EVs). The Rio Grande Chapter of the Sierra Club organized the event along with local EV owners and clean-energy advocates, including the New Mexico Solar Energy Association, Sacred Power, and the Southwest Green Building Center.
"Electric vehicles have a bright future in Albuquerque—and the future is here." said Dave Simon, Rio Grande Chapter Director for the Sierra Club. "Switching to EVs will reduce America's dependence on oil, cut air pollution, and create jobs—and we can power many EVs in New Mexico using solar energy. The City should be a leader in promoting EVs and can take many steps to encourage EV use."
City officials drove a Nissan Leaf, Chevy Volt and a converted electric Volkswagen Beetle in the morning then discussed their experiences and steps the City can take to encourage electric vehicles at an afternoon press conference in front of the City's downtown EV charging station on 3rd Street. Other EV vehicles that will soon be available on the market include the Ford Focus EV, the Mitsubishi i-MiEV, the Honda Fit EV, the Tesla Model S, and the Toyota plug-in hybrid Prius.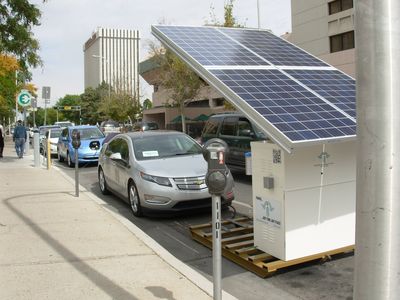 "Electric car technology will bring us one step closer to energy independence, which is important for our long-term economic viability and our national security," said City Councilor Ken Sanchez. "I would like to see Albuquerque take the lead in exploring the use of electric vehicles to keep the air clean and sustain our future as a global innovator."
"Electric cars are more than a fad, but a way to look at transportation in the future," said City Councilor Rey Garduño. "With that in mind, it's vital that electric vehicles be affordable for people."
Simon pointed out several ways in which the City of Albuquerque and the State of New Mexico could promote and incentivize EV use, including: A state tax credit or rebate for purchasing an EV or converting vehicles to plug-in; Installing more EV charging units throughout the city and state; state and city fleet purchases of EVs; state or utility tax credit or rebate for installing an EV charging unit; Local or state building-code changes that require new construction to include EV-ready wiring; Waiver of emissions inspections or sales tax for EVs.
National Plug In Day events on September 23-24 took place in more than 60 cities nationwide organized by Plug In America, Sierra Club, Electric Auto Association, and local groups. These free events invited the public to celebrate the success of electric vehicles. Some 50,000 new electric vehicles have sold in the U.S. in the last two years and tens of thousands of U.S. drivers are saving money at the pump and leading an oil-free transportation revolution.
New data compiled by the National Plug In Day organizers show that EVs have now traveled more than 200 million oil-free electric miles in recent years. EV drivers thus avoided the purchase of 7.4 million gallons of gasoline, saved $19.6 million in fueling costs (even taking into account electricity costs), and prevented 96.5 million pounds of carbon pollution emissions (even factoring in emissions from electricity generated to charge EVs)—that's like closing 20 coal-fired power plants for a year. These impressive figures are only the beginning, as EV sales are growing steadily, and many new models are becoming available. For details of the new data analysis see this link.
In August the Obama Administration finalized new car efficiency and pollution standards that will raise average fuel economy to 54.5 MPG and slash greenhouse gas pollution from new cars and light trucks. Automakers supported these new standards, in part, because they were confident that they have the technology to meet them, and buyers are demanding high-tech, innovative vehicles. EVs will play an important role in helping automakers meet and exceed these new standards.
About Plug In America: Plug In America is leading the nation's plug-in vehicle movement. The nonprofit organization works to accelerate the shift to plug-in vehicles powered by clean, affordable, domestic electricity to reduce our nation's dependence on petroleum and improve the global environment. We drive electric. You can, too. www.pluginamerica.org, https://www.pluginday.org
About the Sierra Club: The Sierra Club is the nation's oldest and largest grassroots environmental organization with 1.4 million members and supporters and chapters in all 50 states. The Sierra Club's national electric vehicles campaign advocates for a switch to EVs as one important way to reduce emissions and cut our addiction to oil. www.sierraclub.org/electric-vehicles
About the Electric Auto Association: The Electric Auto Association, formed in 1967, is a nonprofit educational organization with 75 chapters worldwide that promotes the advancement and widespread adoption of electric vehicles. www.electricauto.org
September 24, 2012 at 10:09 PM in City of Albuquerque, Energy, Transportation | Permalink | Comments (0)
Thursday, August 16, 2012
Clean Energy Victory Bonds: We have a bill!
From Green America:
We have a bill!
On August 2, our Clean Energy Victory Bond bill was introduced in Congress. And as of today, the Library of Congress has published the Clean Energy Victory Bonds Act of 2012, the culmination of several years of hard work here at Green America, and the support of clean-energy advocates like you all across the country.
Just like World War II era victory bonds enabled ordinary Americans to raise billions of dollars for the war effort, these new bonds are projected to raise enough money to generate 1.7 million new jobs manufacturing, deploying, and maintaining renewable energy projects. This bill ends the financial uncertainty around current federal programs, extending the imperiled Production Tax Credit for wind energy -- and other renewable energy incentives -- for as long as a decade.
Big thanks to Rep. Bob Filner (D, CA), who is sponsoring the bill, along with 10 co-sponsors, and big thanks to more than 40 other organizations* who are backing the bill with us. Now we need to get this bill passed. Here's where your support is crucial. This is what we need you to do:
1. Call your representative -- Look up your representative's telephone number here, give their office a call, and tell them that you enthusiastically support H.R. 6275, the Clean Energy Victory Bonds Act of 2012. If you would be willing to to buy some of these savings bonds (as little as $25 is enough), tell them that too. We need to rapidly bolster bi-partisan support for this job-creating, renewable-energy-boosting bill.
2. Pledge to buy the bonds -- If you haven't already signed on at cleanenergyvictorybonds.org as a future purchaser of the bonds after the legislation passes, please do so right now. We need to be able to show clearly that these bonds have the support of the American people in every congressional district in the country. It's a win-win-win. You support clean energy and American jobs, you put some of your money away in a savings bond, and when they mature in 10 years, you'll get back the purchase price plus interest.
3. Tell your friends -- This part is key! We need to rapidly spread awareness of this bill. Everyone who hears about this strategy loves it, because the bonds advance goals that both Republicans and Democrats can get behind. If you have ever thought about forwarding an e-mail from Green America to your entire address book, this is the email to forward. Tell your friends to sign on at cleanenergyvictorybonds.org, and post a link to the site on your Facebook page. Tweet about it, blog about, tell your neighbor over the fence. However you communicate with others, please share the news of this bill.
This might just be the most exciting project Green America has ever worked on. Thank you so much for being a part of it. Here's to a clean-energy victory,
August 16, 2012 at 10:18 AM in Energy, Environment, Green Economy | Permalink | Comments (0)
Thursday, July 12, 2012
State Disclosure Policies, Oversight of Natural Gas Fracking Are Inadequate Protection for Water Supplies, Public Safety, New Report Finds
In a new report issued on July 9, 2012, OMB Watch finds that state oversight laws requiring disclosure of the chemicals used in natural gas fracking are in need of an overhaul. Disclosure of the chemicals used in hydraulic fracturing, or "fracking," is spotty and incomplete, and essential safeguards are missing.

Image above from OMB and Al Granberg/ProPublica
"Public officials in state government are struggling to find a way to protect water supplies and public health in the wake of the rapid expansion of natural gas drilling and extraction. They haven't gotten it right yet," said Katherine McFate, president of OMB Watch. "Some of the chemicals used in natural gas fracking have been linked to serious health problems, including cancer and kidney, liver, and neurological damage, so it is imperative that local water supplies be carefully monitored and protected."
The report, The Right to Know, the Responsibility to Protect: State Actions Are Inadequate to Ensure Effective Disclosure of the Chemicals Used in Natural Gas Fracking, examines state disclosure laws and rules and identifies the gap between effective policy and existing practice. The analysis is especially timely given the ongoing boom in natural gas extraction: almost half a million natural gas wells are operating in at least 30 states, and more are planned.
The report asserts that an effective chemical disclosure policy should contain the following elements:
Before receiving a drilling permit, the owners and operators of natural gas wells should gather baseline information on nearby water sources and water and air quality. They should disclose the chemicals they intend to use in the fracking process and commit to regularly monitoring the water and air near the gas wells and near wastewater storage facilities for potential contamination for as long as the well is operating and for some period after operations have ceased.
Information on the chemicals used in fracking should be collected from drilling companies, well operators, and manufacturers and should include specific information on the unique chemical identification numbers, concentrations, and the quantity of the chemicals used.
States should have clear guidelines limiting "trade secrets" exemptions from disclosure laws to prevent companies from invoking this loophole to avoid disclosure.
Information about the chemicals used at each individual well where fracking occurs should be posted on a public website in a way that allows users to easily search, sort, and download data by chemicals used, companies involved, and well location.
"Some states, like Colorado, do a better job than others of making chemical information available to the public, but no state is requiring enough upfront collection of baseline data and ongoing monitoring to adequately protect local water supplies and public health. Citizens need to have adequate information to evaluate the potential risks and rewards of allowing natural gas fracking in their communities," said Sean Moulton, Director of Information Policy at OMB Watch and an author of the report.
Because of a major loophole written into the Energy Policy Act of 2005, natural gas fracking activities have been exempt from federal oversight under the Safe Drinking Water Act. As a result, oversight of fracking has shifted to the states.
Over the past three years, 13 of the states with natural gas extraction activities have established rules or laws to require some level of public disclosure of the chemicals used in fracking. Seven states with significant amounts of fracking have no public chemical disclosure requirements, even though a few of them do regulate drilling to a certain extent.
"We hope this report will encourage state and local authorities to improve their chemical disclosure standards, especially in those regions of the country most involved in and affected by natural gas fracking," McFate concluded.
The Right to Know, the Responsibility to Protect is available online at www.ombwatch.org/naturalgasfrackingdisclosure.
July 12, 2012 at 07:16 PM in Energy, Environment, Fracking, Water Issues | Permalink | Comments (1)
Friday, June 01, 2012
Guest Blog: Where is Our Voice on the PRC? by Danny Maki
Where is our voice on the PRC? Earlier this week the PRC just granted Blue Cross Blue Shield an increase of 6.9%. That is their 3rd increase in 4 years. As an employee of a non-profit that took a pay cut in December due to the economic downturn, this decision to increase the insurance rates does not represent me. Does it represent your best interest?
This political season amidst the letters to the editor advancing "their" candidate by tearing down the candidate they wish to stop, we seem to have forgotten the real importance of the PRC election. The fact of the matter is PRC has ignored the best interests of us, the New Mexico public.
I am Danny Maki, a life-long resident of Santa Fe and now a candidate for the District 3 seat on the powerful but badly troubled and struggling Public Regulation Commission. In the U.S. Congress I worked on the law that created healthcare reform, and because of that experience I understand the importance of a comprehensive healthcare plan so that we are not subjected to these out of control rate increases during an economic downturn. Healthcare is a right, not a privilege.
The work of the PRC is complex and highly technical. I worked at the PRC and I have direct experience analyzing rate cases. I already understand the economic, legal and finances aspects that factor into a rate case and I am prepared on Day One to start the job by asking the informed, tough, but fair questions that remain unanswered.
My grandparents were born and raised in rural areas of New Mexico. My aunts, uncles and cousins live in rural New Mexico today. I understand and value the importance of accessibility. That is why I will bring the commission to the people of New Mexico by holding open office hours in all counties in District 3. This will enable New Mexicans to voice concerns directly to me about a rate case, so I can be a strong voice for consumers across the district.
Another recent action at the PRC that doesn't represent the best interests of New Mexicans is the inappropriate behavior of the current chairman of the PRC, Pat Lyons. A small example of Lyons' inappropriate behavior include his personal use of a Ford 250 pickup truck for approximately 65 days which probably violated the rules of a federal program, resulting in more than $1,100 of questionable costs to the public, that's costs to us as taxpayers. And that's according to an under-publicized audit earlier this year. I am the contender who will hold him accountable for his inappropriate leadership, if it can be called leadership.
As part of a fresh, innovated approach as a PRC commissioner, I'm inviting the non-partisan community groups like the League of Women Voters to perform an audit of the PRC starting my first day in office.
Part of the process to reform the PRC is to ensure that the Commission is serving you at its full potential. This campaign season I propose re-establish a standard of political discourse and focus on our visions for the PRC.
We need a voice on the PRC, a new, fresh perspective. I will work harder, smarter and get the kind of results we've yet to see from the current Public Regulation Commission in New Mexico. Never forgetting my roots in Northern New Mexico, or whom I'm working for, I will put people first again. And while that may seem tough to most career politicians, it's all I've ever known.
June 1, 2012 at 09:54 AM in 2012 NM PRC Races, Candidates & Races, Energy, Regulation | Permalink | Comments (0)
Thursday, May 10, 2012
Al Park Receives Ten More Endorsements for Public Regulation Commissioner
Al Park's Campaign for Public Regulation Commissioner is proud to announce that it has been endorsed by 8 more community leaders as well as two more unions. Al's campaign for the PRC continues to receive strong support from local leaders due to his outstanding record of results as a legislator and vision for the PRC's future. The endorsements include:
International Brotherhood of Electrical Workers New Mexico Building Trades
Morris "Mo" Chavez, Former Superintendent of Insurance
Marty Esquivel, Albuquerque School Board Member
Don E. Leonard, Sandoval County Commissioner J
im Noel, Former Secretary of Energy, Minerals, and Natural Resources
Stuart Paisano, Former Governor of Sandia Pueblo
Ben Rodefer, Former State Representative
John Sapien, State Senator
Kiki Saavedra, State Representative, Chair of House Appropriations Committee
Albuquerque School Board Member Marty Esquivel commented, "Based on Al's record of supporting ethics and transparency reform as a member of the State House I know that he is serious when he talks about reforming the PRC." Park helped pass the Whistleblower Protection Act, Gift Act, and fought for an independent ethics commission while in the State House.
Former New Mexico Secretary of Energy, Minerals, and Natural Resources, Jim Noel cited Park's advocacy for renewable energy programs within the state as the reason for his endorsement. "His vision regarding developing New Mexico's renewable energy sector is something our economy desperately needs." Secretary Noel continued, "And his experience on the House Energy Committee will be invaluable to the PRC as it makes sure our utilities are making progress toward their requirement that 20% of their energy comes from renewable sources by 2020"
"I am honored to receive these endorsements," said Park. "It goes to show that my commitment to creating a green energy economy and bringing ethics reform to the PRC has really resonated with people," Park continued. With today's endorsements 25 local leaders and organizations have endorsed Al Park's campaign for Public Regulation Commissioner. For a full list of endorsements please visit https://www.alparkfornewmexico.com/p/endorsements.html
May 10, 2012 at 12:15 PM in 2012 NM PRC Races, Energy, Green Economy, Regulation | Permalink | Comments (2)
Congressman Luján Applauds Decision to Locate Tres Amigas Headquarters in New Mexico
Congressman Ben Ray Luján of New Mexico's Third District applauded the recent decision by Tres Amigas, LLC to locate its headquarters in New Mexico. Tres Amigas was considering locations in New Mexico and Texas.
"The decision by Tres Amigas to call New Mexico home is welcome news for our state and will mean an influx of new jobs in communities across New Mexico," Congressman Luján said. "New Mexico is home to a number of innovative efforts to promote renewable energy and America's energy independence, and I welcome the Tres Amigas headquarters and this cutting-edge project to promote clean energy generation and more efficient transmission."
Luján has long been a supporter of the Tres Amigas project that will use the latest advances in power grid technology to provide the first common interconnection of America's three power grids. The project will help the country meet renewable energy goals and facilitate the smooth, reliable, and efficient transfer of green power from region to region. Luján has encouraged the development of new cutting edge energy projects, such as Tres Amigas, as a member of the House Natural Resources Committee's Water and Power Subcommittee and House Science and Technology Committee. He has also supported a number of budgetary efforts to fully fund transmission planning programs at the federal level.
Tres Amigas' headquarters will include the executive offices, a control room with state-of-the-art technology that will remotely control the Clovis-based SuperStation; and it will host a trading floor for electricity. The location of the headquarters within New Mexico has yet to be announced.
May 10, 2012 at 10:30 AM in Business, Energy, Environment, Green Economy, Jobs, Rep. Ben Ray Lujan (NM-03) | Permalink | Comments (0)
Saturday, April 14, 2012
New Mexicans Deliver 3,000 Petitions to PNM Demanding Investment in Clean Energy, Decrying Large Corporate Profits and Dirty Coal Plants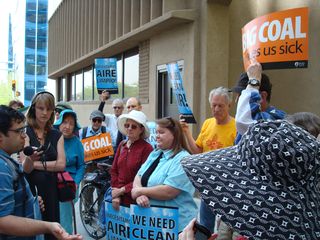 Photo Above: Juan Reynosa with SouthWest Organizing Project (SWOP) addressing the crowd outside P NM
On Tuesday, April 10, dozens of New Mexicans rallied outside Public Service Co. of New Mexico (PNM) headquarters demanding that the utility begin directing their large corporate profits towards clean energy instead of relying on old, dirty coal-fired power plants. Members of environmental, health, Native American, and community groups including the Sierra Club, SouthWest Organizing Project, Dine CARE, 350NM, and CREDO Action rallied outside the building at noon, then delivered more than 3,000 petition signatures addressed to PNM CEO Pat Vincent-Collawn. PNM spokesperson Valerie Smith accepted the petitions on the company's behalf.
"New Mexicans are upset that PNM is raking in huge corporate profits while operating dirty, dangerous coal plants and hiking rates," said Shrayas Jatkar, Sierra Club organizing representative in New Mexico. "It's time for PNM to claim responsibly as the state's largest utility, and invest in New Mexico's abundant sun, wind, and efficiency resources."
The petition signatures were collected online in response to a recent report from the organizations called "Perspective on PNM," which found that since 2008, PNM's electricity rates have increased by 41 percent, adding $250 per year to the average residential ratepayer's bill. At the same time, the report revealed that PNM directed 79% of the revenue from rate increases towards corporate profits, and less than 6% to efficiency and renewable energy programs.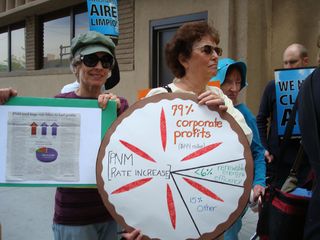 Photo Above: Sierra Club members Sallie McCarthy and Susanna de Falla demonstrate against PNM's practice of prioritizing profits ahead of clean energy investments.
"While PNM funnels huge profits to its Wall Street shareholders, New Mexico's working families are struggling," said Juan Reynosa, organizer with SouthWest Organizing Project. "The bonuses given to PNM top brass are related to an increase in profits for shareholders, but they contrast sharply with the rate increases imposed on New Mexico families."
The Perspective on PNM report revealed that, despite a corporate profit increase of 2500% – $144 million – between 2008 and 2010, PNM continues to fall short of meeting the state's requirement that utilities provide 10% of their electricity from renewable energy sources by 2010. PNM currently provides just 7.3% of its power from renewable sources. Moreover, PNM achieved savings of just 1.6% from energy efficiency programs through 2010, below the 5% target of New Mexico's Efficient Use of Energy Act.
In response to the report, the Sierra Club and CREDO Action collected more than 3,000 online petitions from New Mexicans telling PNM CEO Vincent-Collawn, "PNM should invest its earnings in real clean energy solutions rather than dirty coal. I urge you to protect New Mexicans' health by submitting a renewable energy plan to the Public Regulation Commission that exceeds the minimum requirements set forth in the NM Renewable Energy Act." The petitions also asked that PNM ramp up investment in clean energy and efficiency programs like its Solar Incentive Program that will create jobs, cut pollution, and save people and small businesses money in New Mexico.
PNM currently operates and owns 46% of shares in the San Juan Generating Station in Farmington, which burns dirty coal, exposing Navajo communities and other local residents to toxic pollutants like nitrogen oxides and climate-disrupting carbon pollution. San Juan Generating Station also threatens New Mexico's water security, consuming twice as much clean water annually as the city of Santa Fe. PNM also owns shares in the nearby dirty Four Corners coal-fired power plant.
"The San Juan Generating Station and nearby coal mine have been making us sick, threatening our livelihoods, and desecrating our sacred sites for far too long," said Donna House with Dine Citizens Against Ruining our Environment. "It's shameful that PNM insists on a cheap and dirty plan for regional haze to keep this outdated coal-burning power plant running, while Navajo Chapters have passed resolutions calling for a transition from coal to clean energy."
Executive compensation was also an issue raised by the activists on Tuesday. Last Friday, April 6, PNM granted Vincent-Collawn a $1 million bonus for performance.
Deirdre Smith with 350NM outlined the issue, saying, "It's shameful that PNM burdens us ratepayers with the costs of dirty coal energy, while PNM CEO Pat Vincent-Collawn just cashed in literally a million dollars, and PNM pours hundreds of millions into the US Chamber of Commerce. While PNM flouts state mandates for efficiency and clean energy, it is ratepayers and taxpayers who are subsidizing their pollution. We would rather invest toward New Mexico's transition to clean, renewable energy, saving ratepayers money, cleaning our air and water, and combating the climate crisis."
April 14, 2012 at 03:24 PM in Corporatism, Energy, Environment | |
Monday, April 09, 2012
PNM Ratepayers Deliver More than 3,000 Petitions Demanding that Utility Invest Huge Profits in Clean Energy
On Tuesday, April 10, members of Sierra Club, SouthWest Organizing Project (SWOP), Dine Citizens Against Ruining our Environment (Dine CARE), CREDO Action, and 350.org will deliver more than 3,000 petition signatures to Public Service Co. of New Mexico (PNM) CEO Pat Vincent-Collawn at PNM's headquarters in Albuquerque, demanding that the utility use their huge profits to invest in clean energy instead of relying on old, dirty coal-fired power plants. The petition signatures were collected online in response to a recent report from the organizations called "Perspective on PNM," which exposed the utility's massive corporate profits and extravagant executive compensation, as well as PNM's meager investment in clean energy and efficiency programs.
The "Perspective on PNM" report found that since 2008, PNM's electricity rates have increased by 41 percent, adding $250 per year to the average residential ratepayer's bill in the midst of the recession. The report also revealed that the company has directed 79% of its recent rate increases to corporate profits, and less than 6% to efficiency and renewable energy. In addition, PNM lags behind other New Mexico utilities in meeting state laws for renewable energy investments and efficiency programs that create jobs, cut pollution, and save people and small businesses money.
VISUALS: New Mexicans with colorful signs, pies with 6% slices cut out, to represent PNM's paltry investment in clean energy.
WHAT: Rally and Petition Delivery to PNM
WHO: Sierra Club, SouthWest Organizing Project, Dine CARE, Project 350NM, and CREDO Action
Speakers:
Juan Reynosa, SouthWest Organizing Project (SWOP)
Donna House, Dine Citizens Against Ruining our Environment (Dine CARE)
Shrayas Jatkar, Sierra Club
Deirdre Smith, Project 350NM
WHEN: Tuesday, April 10, at Noon (12pm)
WHERE: 414 Silver Avenue, SW, Albuquerque, NM 87102 (Map)
April 9, 2012 at 12:33 PM in Action Alerts, Energy, Environment, Green Economy, Regulation | |