Sunday, September 04, 2011
Otero County Democrats Kick Off Labor Day Weekend (With Photos)

Click for photo album
Contributing writer Stephen Jones checks in with more on-the-ground coverage from Southern New Mexico.
Otero County Democrats gathered for their 7th Annual Labor Appreciation Breakfast at the Alamogordo Women's Club Saturday morning. The gathering brought out a large mix of organized labor rank and file union members and local Democrats.
"They told me there weren't any Democrats over here," said keynote speaker State Senator Mary Jane Garcia, "obviously they were mistaken." Garcia, who represents a district in neighboring Doña Ana County took on a wide range of topics in her address to the group ranging from legislative redistricting, to social promotion in schools, and her unwavering support for issuing drivers licenses to undocumented workers. She also stressed her work against domestic and community violence, and talked about the killings of women south of the border in Juarez.
Also addressing the group was Evelyn Madrid Erhard, who has recently announced she is running for the New Mexico 2nd Congressional District seat, and whose appearance at the Alamogordo event marked an important rollout for her freshly launched campaign outside her home county. Erhard is a long time neighborhood leader from  Mesilla. "For all but two years of the past thirty years we've been represented by Republicans in this district, first with Joe Skeen and now with Steve Pearce, and we've gotten nothing in return from them," she said, "I promise to change all that."
Other speakers included Carter Bundy of AFSCME, Otero County Chair Wally Anderson, and Stephanie DuBois who has organized each of the past seven Otero County Breakfasts. In addition to raising funds for the Otero County Democratic Party the group raised money for the ongoing efforts to turn back attacks on organized labor in Wisconsin.
Photos by Stephen Jones. To see more posts by Stephen, visit our archive.
September 4, 2011 at 06:16 PM in By Stephen Jones, Contributing Writer, Democratic Party, Events, Labor, Otero County | Permalink | Comments (3)
Wednesday, August 03, 2011
Stephanie DuBois Guest Blog: Many Concerns About Today's Dem Party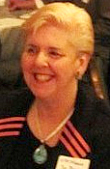 This is a guest blog by Stephanie L. DuBois of Tularosa, who is a life-long Democrat who recently ran for New Mexico Public Regulation Commissioner.
I am a 65-year-old Democrat and activist and have been for many years. I am presently the CD2 vice-chair for the State Democratic Party, my 5th term. I am a dog groomer and trainer. I am a certified mediator for Magistrate Court,volunteer. I have run for various offices unsuccessfully, but at least I made sure a Democrat was running. I am an American, a patriot and the daughter of a Pearl Harbor survivor.
I moved to Deming, New Mexico in 1978. I now live in Tularosa and have for 21 years. I had always been involved in politics in one way or another in my native state of New York -- not New York City but Long Island -- specifically, a town called Miller Place, three miles east of Port Jefferson where the ferry went to Bridgeport, Connecticut.
My parents and grandparents were Democrats and, at age 21, I registered as a Democrat as well. I have been a registered Democrat ever since. I have voted in any and all elections where I was eligible to vote -- school, county, city, etc. I have now lived in New Mexico for 33 years.
Ladies and gentlemen I don't know about you, but I am very concerned about our state and our state politics and the direction we are headed.
My county of Otero was pretty much Democratic when I moved here in 1990. Within what seemed to be overnight, we became and still are totally Republican and we now have the unsolicited voice of the bogus "tea party." To be fair, I do like the fact that they question their elected officials. They even go so far to give them ultimatums to make sure they carry out the tea party agenda. When the tea party demonstrates, they make sure to wear or carry a firearm to punctuate their position.
I have many concerns regarding voting, redistricting and the protection and security of our public records -- which should be just that, public. We, as Democrats (and I am talking about real Democrats -- not those who use the Democratic Party for their own personal gain but then embrace Republican philosophies and values), should be watching out for the good of our Party. I think our Party -- the Party of Roosevelt, Kennedy and Clinton -- has been infiltrated by moles, Republicans pretending to be Democrats who undermine our Party from within. Are there any real Democrats who will defend our values, civil rights, Social Security, Medicare, etc. out there now?
A couple of things are happening that really scare me -- and I don't scare easily.
Senator Rod Adair: Conflict of Interest
One is the acceptance by Democrats of a situation that allows a state senator to form a consulting company that bids on county contracts to draw their county lines as part of redistricting. He has received, just from two counties that I know of to date, $34,000. However, no one feels this is a conflict of interest.
Senator Rod Adair (R-Roswell), the senator in question, has also garnered contracts from at least two other counties that I know of. When questions about a possible conflict of interest were raised, the answer I saw was, it is a citizen legislature there are bound to be conflicts of interest because the legislators all have jobs outside of their elected positions. That quote was from Secretary of State Dianna Duran, who was a state senator working in the Otero County clerk's office for many years.
Dianna Duran: Answer These Questions
Now today, as Secretary of State, Duran has the power to turn 64,000 voter files over to the State Police to investigate possible voter fraud. She has by-passed the county clerks' offices as the most obvious place to check voter records and not cost tax payers any additional monies. The Democrats have not questioned the impact this will have on us the taxpayers and citizens of New Mexico.
Questions that should be asked include: Are these documents protected? Are they secure? Is your or my name among those documents under investigation? I think we, the people, have a right to know. The only information on a voter card that is not for public knowledge is the person's birth date and phone number. Everything else is public.
Dems Need to Speak Out Publicly
The office of Secretary of State is very powerful, as we found out in the selection of George W. Bush in the Bush/Gore election in Florida. Katherine Harris had a great deal of influence over that election and the eventual outcome with Bush being selected. We don't ever want this Secretary of State to have that kind of influential power.
In states across the country where governors are Republican and Republicans control the secretary of state offices, there is a movement to make sure that minorities and  Democrats generally have a much more difficult time voting. In these states they are instituting things like shortening the time you can register to vote and requiring picture ID. Some of these over-the-top requirements are akin to the old Jim Crow laws that were in effect requiring a poll tax for African Americans who wanted to vote.
We, as Democrats in New Mexico, need to stand together and speak out strongly to make sure that this Secretary of State is not going to run over our elections and make rules that will keep even one person from being able to vote. We can't do that by remaining silent.
I think we need press conferences letting the public know that the Democratic Party is not going to stand quietly by while Republicans and "tea baggers" take our rights away from us -- rights that our fathers and grandfathers thought they were fighting for. I think we should demonstrate in front of the Secretary of State's office and the Governor's office and let them know in no uncertain terms we are not going to stand for them messing with our voting rights.
We are Americans. We are patriots. We won't be silenced!
This is a guest blog by Stephanie L. DuBois. If you'd like to submit a piece for consideration as a guest blog, contact me by clicking on the Email Me link at the upper left-hand corner of the page.
August 3, 2011 at 11:20 AM in Democratic Party, Dianna Duran, Election Reform & Voting, Guest Blogger, NM Legislature 2011, NM Secretary of State, Otero County, Redistricting, Right Wing | |
Sunday, March 27, 2011
Otero County Democrats Elect Officers, State Central Committee Members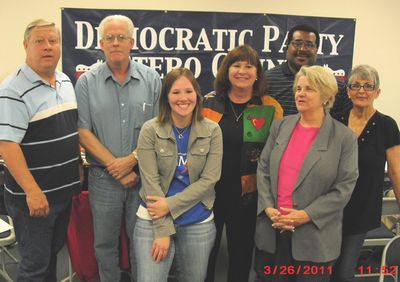 From the Democratic Party of Otero County (DPOC):
The DPOC held its elections on Saturday, March 26. New officers and State Central Committee members are, from left to right: Chair Wally Anderson, Steve Brockett (former Alamogordo mayor), Liz Watson (ran coordinated campaign in 2010, husband stationed at Holloman), Nadia Sykes, A.J. Williams, Vice-Chair Kay Stone, and Minerva Jimenez-Torrez.
Congratulations to the new officers, and thanks to outgoing chair Dawn Provencher (who is running for Democratic Party of New Mexico secretary) and outgoing Vice-Chair John Cowart.
The SCC members will represent the county party at the Democratic Party of New Mexico's State Central Committee meeting set for April 30 at the Albuquerque Convention Center.
March 27, 2011 at 11:09 AM in Democratic Party, Otero County | |
Sunday, September 26, 2010
Fiesta Spirit Sweeps Southern New Mexico (and NM Democrats)

Click for photo album
Contributing writer Stephen Jones checks in with another report from Southern New Mexico.
Congressman Harry Teague led the charge as Democrats stepped out in southern New Mexico to meet and greet voters and to celebrate the start of fall festival season. Dona Ana County residents were out in force to see the Whole Enchilada Festival Parade on Saturday morning and Democratic candidates and their supporters came out to greet them and show off the 2010 ticket up and down the ballot.
On hand seeking state office were representing the ticket, Attorney General Gary King, Secretary of State Mary Herrera, and Appeals Court Judge Robert Robles. Local officials included State Representative Jeff Steinborn, State Representative Nate Cote, State Representative Joni Gutierrez, and District Court Judge Mannie Arrietta, Magistrate Judge Olivia Garcia, along with Dona Ana County Commissioner Scott Krahling and Las Cruces Councillor .
Also appearing were Bill McCamley, candidate for Public Regulation Commission in District 5, Andy Segovia, candidate for Dona Ana County Assessor, Jose "Joel" Cano, candidate for Magistrate Judge, and Billy Garrett, candidate for County Commissioner.
Democrats were also steppin' in Alamogordo for the Otero County Democratic Party 'meet and greet' at the Otero County fairgrounds. Highlighting the event was a rousing line dance led by L.C Marshall and the Dog Canyon Dancers. Also on hand to meet and greet local voters were Stephanie DuBois, candidate for Public Regulation Commission in District 2, Sue Medina, candidate for State Representative, Wally Anderson, candidate for Sheriff, along with L.C. Marshall, who is running for Otero County Commissioner.
Folk Dance was center stage at the San Miguel Fiesta in San Miguel, a small community fifteen miles south of Las Cruces. The heavily attended local event featured students from San Miguel and the surrounding communities of the Mesilla Valley. 
The Whole Enchilada Festival in Las Cruces and the San Miguel Fiesta in San Miguel continue on Sunday, September 25.
Photos by Stephen Jones. To see more posts by Stephen, visit our archive.
September 26, 2010 at 11:47 AM in 2010 General Election, By Stephen Jones, Contributing Writer, Children and Families, Democratic Party, Las Cruces, Otero County | Permalink | Comments (1)
Monday, September 20, 2010
Wild Lands Take Center Stage in Southern New Mexico

Click for photo album
Contributing writer Stephen Jones checks in with another report from Southern New Mexico.
Wilderness designation and natural lands preservation along with the economic potential of wild lands was center stage in southern New Mexico at events held in Las Cruces and Alamogordo on Saturday and Sunday.
NMWA Hosts Organ Mountains Event in Las Cruces
Over 150 supporters of the Organ Mountains-Desert Peaks Wilderness Act turned out to sample traditional picnic fare, to learn about local wildlife, to rally and to sign petitions in support of wilderness designation and protection of the iconic mountains that adjoin New Mexico's second largest city. Also featured were a full range of activities for school-age children that were geared toward learning about the natural world. The Las Cruces event was sponsored by the New Mexico Wilderness Alliance.
NMWF Forum in Alamogordo on Otero Mesa
Somewhat more contentious was a forum held on Saturday evening in Alamogordo that focused on the future of Otero Mesa, a wild grassland in New Mexico's south central Otero County. The forum, titled "Protected Land, Protected Economy," was held at the Tays Center at the Alamogordo campus of New Mexico State University and sponsored by the New Mexico Wildlife Federation. At issue was a general airing of economic and environmental issues centered on the wild grassland that has been called "America's Serengeti." About 75 area residents turned out for the Alamogordo event.
Otero Mesa is under consideration as a potential National Monument among other potential uses. Otero Mesa is presently under the administration of the U.S. Bureau of Land Management.
Goal: Open Dialogue
Wally Kern, a local sportsman who moderated the event, stated that the intent of the forum was to "clear up some murky waters" regarding the potential uses and economic impact of the Otero Mesa on the region. Kern noted that most area residents, including those in the audience, had "strong opinions," often on opposite sides in relation to the future of the grassland. He urged residents "to step back and talk."
State Senator Steve Fischmann of Las Cruces, who keynoted the event, stated that the greatest challenge facing Otero County was to "open dialog" among all parties and assure the interests of all parties were addressed, and all interests "brought to the table" before a final designation of the contested public lands are made.
Land Uses
Among the uses of the land identified by the speakers at the event were hunting, birding, regional tourism and other related sporting uses of the grassland, along with the traditional ranching that has occurred through leasing arrangements on the national lands. Oil and gas exploration, an issue that brought the area into conflict in the last decade, is largely now seen as off the table. 
Sen. Fischmann noted that new technologies that have made access to larger reserves elsewhere cheaper and more accessible and have made the potential of oil and gas drilling in Otero County a "mute issue." The large reserve of potable water under the Mesa was another issue addressed at the forum. "I'm hoping all of the interests can come together and make good use of Otero Mesa," Fischmann said.
Economic Benefits of Eco-Tourism
Ben Alexander, an economic analyst and Associate Director of Headwaters Economics Institute of Montana outlined Otero County's current economic profile. According to Alexander, 35% of Otero's income is government related due the large military presence in the area. 52% of the area economy is service related. Alexander warned that there has been a large out-migration of younger residents in recent decades for economic reasons. "People are choosing to leave," Alexander said. Alexander compared Otero to other rural communities who have successfully rebuilt local economies through ecological tourism.
, a Las Cruces City Councillor, a former rancher and a member of the Audubon Society, outlined the potential economic benefits to the area from the birding community and other ecotourism. "Birders are no featherweights," Sorg said. He pointed out that ecotourism is now the second largest industry in New Mexico. Otero Mesa has become a recognized destination for birders and other eco-tourists. Wally Kern, speaking on behalf of area sportsman, echoed that hunting and other wildlife-associated revenue account for $823 million in revenue for New Mexico through licensing and related business earnings.
Examples of National Monument Benefits
Susan Hand, the co-owner of Willow Canyon Outdoor Company, outlined her experience as a small business owner in southwest Utah. Her business has grown exponentially since the designation of the Grand Staircase-Escalante National Monument. She credited the growth of her business and other businesses and cultural institutions in the area to the "branding" of the area created by proximity to the national monument. But, she noted, the sudden designation of the public land by the Clinton Administration under the Antiquities Act had left bitter feelings in the area with many of her neighbors. She urged Otero County residents to be proactive in the planning for public lands in New Mexico.
Ray Hatch, former Mayor of Taft, California, also credited wilderness designation and national "branding" with the economic turnaround of his community. "We are an oil and gas community and always will be," Hatch said, but credited the designation of the Carrizo Plain National Monument with a reversal of the declining economy of his community, which has become a gateway city for the monument. "In the past the managers and supervisors, the people with high-paying jobs in the gas industry, lived and worked in our town," Hatch said. "They no longer do. The National Monument has reversed the pattern of board-ups of stores in our downtown," he said.
Tea Party Conflict
A wide range of opinions from the audience were expressed, but most of the conflict at the forum originated from a small contingent of Tea Party activists in attendance, much of which was targeted at Senator Fischmann, whom they termed an "outsider." "Get out of our county and leave us alone!" shouted one of the Tea Party members at Fischmann.
Community Should Stay Involved
In the question and answer period following the presentations, Susan Hand and Mayor Hatch suggested that Otero residents were unlikely to be "left alone" in the final designation of the public lands. They urged the community to remain "open and active" to new partnerships in finally determining the future of the Otero Mesa.
All photos by Stephen Jones. To see more posts by Stephen, visit our archive.
September 20, 2010 at 06:05 PM in By Stephen Jones, Contributing Writer, Energy, Environment, Events, Land Issues, Las Cruces, Otero County | Permalink | Comments (2)
Friday, June 18, 2010
Otero County Democrats Vow to Hit the Line Running at Celebration for Liberty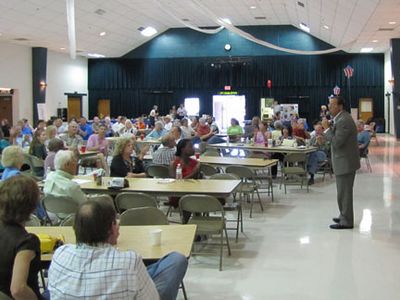 Lt. Gov. candidate Brian Colón speaks to Otero County Dems
This is a post by contributing writer, Stephen Jones, who is a progressive political activist and a resident of Las Cruces, New Mexico. He IS our Southern NM Bureau.
Raising the banner of education, jobs, and ethics at its Celebration for Liberty event in Alamogordo, Otero Democrats vowed to fight for change in the traditionally Republican-dominated southeastern New Mexico County Thursday night. Responding to well-known Sarah Palin's stump speech line, "How's that hopey-changey thing working out for you?" Dawn Provencher, Chair of the Otero County Democratic Party, responded, "Thank you, we think it's working out just fine, and we're working to continue to effect change!"
Headlining the Otero County 2010 general election kickoff celebration, held at the Sgt. Willie Estrada Community Center on 1st Street in Alamogordo, was Brian Colón, the Democratic nominee for Lt. Governor. "It's about education, the economy, and ethics" Colon told the crowd. Colón's Alamogordo appearance was one of several he made on Thursday including events in Valencia County in central New Mexico, Santa Fe in Northern New Mexico and finally the Alamogordo event in southern New Mexico. Commenting on his extensive schedule that crisscrossed the state on Thursday, Colón vowed, "Diane Denish and I are not going to concede one inch of New Mexico to our opponents. Not one precinct, one ward, or one county!"
"I am a product of New Mexico Democratic values," Colón said, "and I was the first in my family to break the cycle of poverty." He promised to raise the bar of New Mexico's education system, and help provide all of New Mexico's children with a chance. Colón promised to work alongside , the Democratic nominee for Governor, for better schools and opportunities in the state.
Stephanie Dubois, running in District 2, and Bill McCamley, running in District 5, promised to bring new energy and ethics to the New Mexico Public Regulation Commission, the state board that regulates insurance. "I believe in the Democratic process," DuBois said, "I'm here to give voters a real choice. I'm qualified and I'll bring ethics to the commission."
Bill McCamley charged that the current Public Regulation Commission has been rubber stamping insurance and utility rate increases without demanding written evidence from the applicant businesses. He pointed to the recent massive increase granted to Blue Cross Blue Shield. "It's vital that we keep rates low," McCamley said, "We can't be afraid to say no!"
Ellen Wedum, who is running for State Representative in District 59, called campaign finance reform the key to ethics. She raised her opposition to recent Supreme Court cases that equate money with speech. "How are we going to limit the size of government, unless we can limit the money spent on campaigns by special interests?" she asked.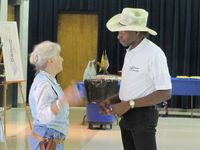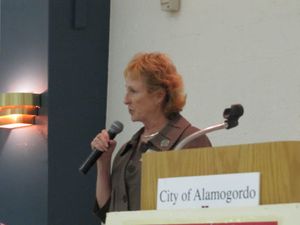 Ellen Wedum, Sheldon Compton, Sue Medina
Sue Medina, an Alamogordo School Board member who is running for State Representative in District 51 promised that she would "take Otero County into the 21st Century."
Sheldon Compton, the Democratic Candidate for Otero County Assessor of Otero County, said voters in the County were sick of being taken for granted. This year's election is Compton's second try for the office. Promising a breakthrough in 2010, Compton noted that he had received 49% of the vote in his first try in the traditionally Republican county four years ago. He stressed his twenty years experience in the Assessor's office. "I promise to be a full-time, accessible public servant," Compton said.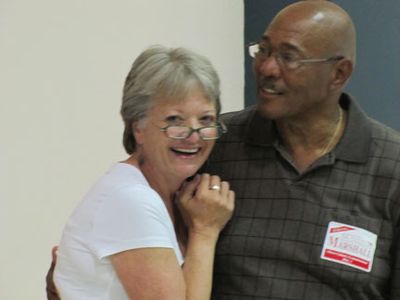 Dawn Provencher, L.C. Marshall
L.C. Marshall, candidate for Otero County Commissioner, District 1, is making his first try for office. "My district runs to the Texas border," he said, "We all deserve representation, not just the folks up around the Country Club." Promising to take it to the Republican establishment head on this fall, Dawn Provencher said Otero County Democrats were "energized."
Click on photos for larger versions. All photos by Stephen Jones. To read more posts by Stephen, visit our archive.
June 18, 2010 at 11:21 AM in 2010 NM Governor's Race, 2010 NM Legislature Races, 2010 NM PRC Races, Brian Colon, By Stephen Jones, Contributing Writer, Democratic Party, Otero County | Permalink | Comments (3)