Wednesday, May 23, 2012
Congressional District 1 Race Latest Poll Results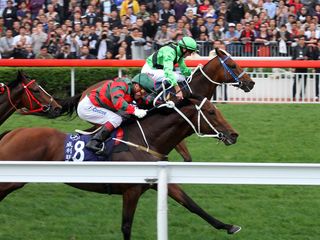 Wow, what an interesting race for our New Mexico Congressional District 1. The race reminds me of a great horse race with the all out sprint to the finish line. However, let's face it, the correct analogy would be a one year marathon. We are down to the last 13 days today, and the most current poll shows a total shift of all positions in this hot race.
NM-1 breaking news in ROLL CALL according to the latest polling, Senator Eric Griego is in the lead with 35% of likely Democratic Primary voters in the race for NM's 1st Congressional District.  Here are the brand new poll numbers the story mentions:
**NEW** May 15-16 poll showed:
35% Griego
30% Lujan Grisham
28% Chavez
Feb 28 - March 1 poll showed:
37% Chavez
30% Griego
24% Lujan Grisham
The polling also revealed Griego has the highest favorable to unfavorable rating of the three candidates:
48-16 for Eric Griego
44-18 for Michelle Lujan Grisham
41-35 for Marty Chavez
(Details: Both were conducted by GBA strategies and included 400 Likely Democratic Primary Voters, MOE +/- 4.9%)
The following was released from the Griego Campaign:
"I'm proud of the surging support behind my campaign to fight for what we say we believe as Democrats," Griego said.  "Our lead in the poll proves that New Mexicans want to elect a leader with a long, consistent record of taking on the status quo and powerful corporate interests to fight for reform and middle class jobs."
"We're winning because New Mexicans support Eric's unwavering commitment to protect Social Security and Medicare, hold Wall Street bankers accountable, and fight for core Democratic values," said Ed Yoon, Griego's campaign manager.  "And we will win on June 5th because we are out-raising, out-communicating, and out-organizing our more conservative opponents."
Then there is this poll released on NM Politics with Joe Monahan's blog this morning: Lujan Grisham polls 34.7%, Griego garners 33.9%, Chavez comes with 22.3% and 9% of the 728 likely Democratic voters in the 1st Congressional district who responded to the automatic phone poll said they were undecided. The margin of error in the survey is 3.62%.

This press release issued from Lujan Grisham Campaign:  
"Michelle has seized the momentum and is now tied for the lead in the race for Congress! Michelle has 35 percent of the vote, surging 11 points from February polling. She is tied with Eric Griego. Support for Marty Chavez, the former frontrunner earlier this year, has plummeted significantly, from 37 percent in February to 23 percent now."
Some of the interesting polling statistics that Joe Monahan shares with us on his blog are the following:
"Lujan Grisham, who has made direct appeals to women voters, actually trails Griego in that category, if only by a tad. Griego wins 37% of women to Lujan Grisham's 33%. Chavez gets 22%. But Griego gets 43% of liberals to Lujan Grisham's 34% and Chavez's 18%.
Democratic women are more liberal than Democratic men who tend to be more moderate.
Among men, Lujan Grisham edges out Griego. She gets 37% to Griego's 31%. Chavez gets 23% and the remainder are undecided,
Griego holds a slight lead among Hispanics, but they are bunched up among the three hopefuls all of whom are of Hispanic heritage. Griego scores 35%, Lujan Grisham 29% and Chavez 28%. Anglos give Lujan Grisham 39%, Griego, 34% and Chavez 18%." 
May 23, 2012 at 01:57 PM in Candidates & Races, Eric Griego, Martin Chavez, Michelle Lujan Grisham, NM-01 Congressional Race 2012, Polling | |
Tuesday, January 31, 2012
Rep. Martin Heinrich Campaign for NM Senate Seat Releases Polling Results
The following was provided by the Martin Heinrich for Senate Campaign.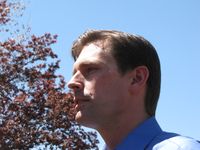 A new poll of Democratic primary voters in New Mexico shows Martin Heinrich with a commanding lead over Hector Balderas, 52 – 22 percent. Heinrich's standing is very strong and his lead is built on more than name identification – he leads by a huge margin among voters who can identify both candidates, 51 – 28 percent.
The following are key findings from a survey of 600 likely Democratic primary voters in New Mexico conducted January 8th – 11th, 2012. The survey was conducted by live interviewers, reaching voters on land lines and cell phones. The results are subject to a 4.0 percentage point margin of error at the 95 percent confidence level.
• Democratic primary voters view Heinrich incredibly favorable. 58 percent of voters give Heinrich a favorable rating, while just 12 percent view him unfavorably. Moreover, 66 percent of voters approve of the job Heinrich is doing as Congressman. Heinrich's standing is equally good among Hispanics and Anglos. Balderas has good standing (37 – 12 percent favorable-unfavorable, 46 percent job approval), but nowhere near as good as Heinrich's.
• Heinrich overpowers Balderas in a vote matchup. With a 52 – 22 percent lead, Heinrich dominates Balderas among every segment of the electorate. He leads 57 – 15 percent among Anglos and 46 – 30 percent among Hispanics. Heinrich also holds a strong lead in each of the state's three congressional districts.
• Heinrich's lead is very robust. Heinrich's lead is not driven by name identification; he leads 51 – 28 percent among voters who can identify both candidates.
Vote among all likely voters:
Martin Heinrich 52% 
Hector Balderas 22%
Undecided 26%
Vote among voters who can identify both candidates:
Martin Heinrich 51%
Hector Balderas 28%
Undecided 21%
January 31, 2012 at 01:27 PM in 2012 NM Senate Race, Candidates & Races, Polling, Rep. Martin Heinrich (NM-01) | |
Wednesday, December 28, 2011
New Mexicans In Favor of Same-Sex Marriage and Support Occupy Wall Street
Yes you read that right! New Mexicans are in favor of same sex marriage!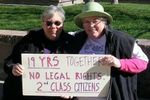 From the Public Policy Polling website the post "New Mexico for Gay Marriage" was put up on Dec. 20th. You can read the entire article here. And now I can remember Christopher Salas sending me a message saying Barb would be happy about this. And yes indeed Christopher she would. I am sorry I did not have the clearity of mind to go look this up last week because it is exciting news. I must say it is too bad my Barb passed away two days prior to this poll release. I miss her and I am going to miss her social security check, which every straight married couple gets to continue to receive.
PPP states the following shift: "PPP last polled the state in June, voters were against legalizing it by a 42-48 margin.  In the intervening half-year, opinion has moved eight points, with 45% now wanting gay couples to be able to legally marry in the state, and 43% still against it.  The reason for the shift is that Democrats (from 34% to 28%) and independents (44% to 37%) have lowered their opposition by six or seven points.  Further, two-thirds of New Mexicans also still favor these relationships being recognized with at least the legal equality of civil unions.  That includes 78% of Democrats, 71% of independents, and 41% of Republicans." For sure promising good news. Maybe people have more to worry about than Gay Marriage.
Polling is always a bit of a mystery because the next paragraph states the poll revealed that Gov. Martinez has only slipped marginally in her approval ratings. Hmmm. Seems like conflicting ideals but let us accept it as it is.
Dig this too: The PPP poll also revealed some interesting polling stats over the approval of Occupy Wall Street movement vs the Tea Party movement.
Q9 Do you support or oppose the goals of the Occupy Wall Street movement?
Support 42%, Oppose 37%, Not sure 21%.

Q10 Do you support or oppose the goals of the Tea Party movement?
Support 34%, Oppose 50%, Not sure 16%.

Q11 Do you have a higher opinion of the Occupy Wall Street movement or the Tea Party movement?
Occupy Wall Street 44%, Tea Party 38%, Not sure 18%.
What's Next
We have not heard or asked what the LGBT community is pushing for in the 2012 Legislature this year. Maybe one of our legislators could carry a marriage equality bill. The poll above says that 41 % of republicans polled support civil unions. Perhaps we can move the civil rights battle for LGBT americans further down the field, to be treated fairly as the tax paying citizens we are.
Earlier this year we got Senator Udall and Senator Bingaman to sign on to cosponsor the repeal of DOMA legislation on the federal level. More than 1,000 of you signed a asking that they support the bill. Many of those signing the petition included very moving and passionate statements of support for equality for same-sex couples and the entire LGBT community. You can read them .
If you look at the petition signatures you will not find many of our State Legislators. Barb and I solicited their participation, with personal emails. But alas if you look at the signatures you will find but a handful of State Senators or Represenatives who signed this petition. Not acceptable. Whether it is lethargy or fear of stepping out and supporting full gay rights, the time is now. Carpe diem!
Lastly below is an audio of my partner Barbara Wold, being interviewed by Peter St. Cyr right after an exciting Democratic Party State Central Committee Meeting where the resolutions we were carrying for Gay Marriage passed unanimously. Go Barb! We are still in the fight honey!
https://www.facebook.com/l.php?u=http%3A%2F%2Fia600806.us.archive.org%2F7%2Fitems%2FBarbaraWoldDomesticPartnerships%2FBarbaraWoldOnMarriageEqualityResolution4252009.mp3&h=9AQHESHPOAQFjoVXKpzl_s_rBRRcBhR1zrx7TjQSRjdJK_w
December 28, 2011 at 10:08 PM in Civil Liberties, GLBT Rights, NM Legislature 2012, Polling | |
Thursday, September 15, 2011
New Hispanic Polling in New Mexico Shows Strong Backing for Conservation
Yesterday, the Latino Sustainability Institute and Project New America Latino released the findings (pdf) of a poll on Hispanic attitudes toward conservation that showed overwhelming support for protecting land and water as well as deep concerns about the threats to New Mexico's water and wild landscapes. The poll of 600 Hispanic New Mexico voters across party lines by Gerstein Bocian Agne Strategies has a margin of error of 4.4%. Click for the polling presentation (pdf), which can also be found at the Latino Sustainability Web site.
"As a native New Mexican who has lived his life deeply concerned about the future of our state's precious land and water resources, I was buoyed this week to learn that I was not alone in having those concerns," said Arturo Sandoval, Executive Director of the Latino Sustainability Institute. "Clearly, politicians who ignore Hispanics in New Mexico on issues related to caring for our land and water do so at their own peril."
"New Mexico, as a majority minority state, is an important bellwether for rural Hispanic attitudes nationally," said Jason Leon of Project New America Latino. "These findings underscore a consciousness about conservation and the importance of strong environmental safeguards to protect our families from pollution that is emerging in the Latino community as a whole."
Hispanic voters have serious concerns about a wide range of conservation issues, particularly drought and water scarcity, forest fires, pollution of air and water, and the loss of natural wildlife habitats. This includes a total of 91 percent of Hispanics voters concerned about water scarcity and fires and 87 percent expressing concern about pollution in drinking water, lakes and rivers.
Hispanic voters overwhelmingly favor continuing federal funding for the Land and Water Conservation Fund. Seventy-three percent of Hispanics back protecting the fund, which uses royalties collected from off-shore drilling to build local parks and preserve land and water resources such as the Valles Caldera.
There is broad support among Hispanic voters for designating additional public lands as national monuments in New Mexico (58 percent support and 35 percent oppose) and protecting them from development. New Mexico's National Monuments, such as Carlsbad Caverns, White Sands and Bandelier have created thousands of jobs and attracted millions of visitors to our state since they have been created. Currently, there is a move afoot in the U.S. House of Representatives to limit the President's ability to designate national monuments, despite more public input into such designations than ever before
A strong majority of Hispanic voters (54 percent to 34 percent) support limiting how much cattle grazing can be done on public lands in order to protect the land from overuse.
Hispanic voters overwhelmingly support ending the nearly $16 billion a year in federal tax breaks for oil and gas companies, 63 percent to 31 percent.
Click for a more complete polling memo (pdf).
"These results are significant in that they show solid support for efforts to protect land and water in the state," said Mike Bocian, who has been polling in New Mexico for a decade. "This is the first New Mexico survey to dive deep into Hispanic attitudes on conservation. Our findings, that Hispanics overwhelmingly support basic protections for land and clean water, demonstrate that there is a huge opportunity to communicate to Hispanics on environmental issues and that they are very open to and supportive of conservation efforts."
The Latino Sustainability Institute promotes conservation policies across New Mexico among Latinos; seeks to educate and engage Latinos in conservation issues; works to build relationships between conservation groups and Latino organizations; and supports Latino land- and water-based organizations and communities focusing on conversation issues.
Project New America Latino is a national Latino strategy firm based in Washington, DC.
September 15, 2011 at 04:12 PM in Energy, Environment, Hispanic Issues, Polling | |
Wednesday, July 20, 2011
GOP Pollster Has Heinrich Leading Balderas 52-19% in US Senate Race
Magellan Data and Mapping Strategies, a well-known Republican polling outfit, today released the results of an autodial survey of 636 likely 2012 New Mexico Democratic primary voters conducted during the period July 17-18, 2011. (Wouldn't you know it? I happened to be one of those polled.) Here's how Magellan characterized the results:
The ballot test shows Congressman Martin Heinrich with 52% support, State Auditor Hector Balderas with 19%, Andres Valdez with 4% and 25% of voters are undecided. Among Hispanic voters that contribute 43% of all respondents, Martin Heinrich leads Hector Balderas 45% to 27%, with 24% undecided. The political ideology of the respondents was 17% conservative, 45% moderate and 30% liberal. Within those voter subgroups we find Hector Balderas doing better among conservative Democrats and Martin Heinrich doing well among liberal Democrats.

... In the head to head ballot test of Martin Heinrich and Hector Balderas we find little change from the three way ballot test, with Martin Heinrich again leading by 33 points, 54% to 21%. It is important to note that it is still very early in the election and the candidates are raising money, building support and beginning their campaigns.
In the one on one, Heinrich held the lead among all likely Dem primary voters, as well as among males, females, Hispanics, moderates and liberals, with margins ranging from +19% to +64%. Balderas beat Heinrich by 2 percentage posts among conservative voters.
As far as the favorable/unfavorable ratings of those surveyed:
Looking at the candidate image ratings we find Martin Heinrich with a strong image rating with 53% of respondents having a favorable opinion, 19% having an unfavorable opinion and 21% having no opinion. Martin Heinrich is the most well known of the three candidates with 93% name recognition. Hector Balderas has a 2 to 1 image ratio, with 29% having a favorable opinion of him, 15% having an unfavorable opinion, and 28% having no opinion.
Balderas had 72% name recognition among those polled. About 57% of those polled recognized the name of Andres Valdez.
Click to see the survey topline results, the cross tabs and presentation charts.
Methodology: The survey was conducted using automated telephone touch tone technology. The sample used for this survey was randomly drawn from a New Mexico voter file. The survey response data was weighted upon past voting demographics from New Mexico primary election cycles. The 636 interviews were conducted on July 17th and 18th. Three attempts were made to interview each household in the sample. This survey has a margin of error of 3.88% at the 95 percent confidence interval.
Earlier this month, a Public Policy Polling survey conducted in late June on the Senate race had Heinrich leading Balderas by a margin of 47-24% with 29% undecided.
July 20, 2011 at 09:42 AM in 2012 NM Senate Race, Hector Balderas, Polling, Rep. Martin Heinrich (NM-01) | Permalink | Comments (3)
Friday, July 01, 2011
Spinning the PPP Polls on Senate Dem Primary: Balderas v. Heinrich
As we reported yesterday, results of a Public Policy Polling (PPP) survey on the Senate primary races in New Mexico have Martin Heinrich leading Hector Balderas by a margin of 47-24% in the early going on the Dem side. PPP commented that this was probably due to Heinrich being "bolstered by greater name recognition."
In response to the polling, the Balderas campaign released a memo from the Benenson Strategy Group, its Washington DC campaign strategist, stressing that the race is likely to tighten as more Democrats become get to know Balderas:
Heinrich holds a 23% advantage over Balderas on the primary ballot. However, almost a third of the electorate (29%) remains undecided and Heinrich holds a similar 25% advantage over Balderas in name ID. This suggests Heinrich's support is built largely on name ID, and that Heinrich's lead on the ballots can be expected to tighten as more voters become familiar with Hector Balderas. This is often the case in races where one candidate holds a large lead in name ID. In July 2007, Hillary Clinton led Barack Obama in Democratic Primary polls by 17 points, largely on the strength of better name ID. As voters became better-acquainted with Obama, the polls tightened considerably.

... According to the Public Policy Polling primary election poll, Heinrich has a 25% name ID advantage over Balderas: 73% of voters can identify Heinrich while 48% can identify Balderas, suggesting Balderas has more room to increase his vote as voters become more familiar with him.
The Benenson memo also comments on the results of another PPP poll, released Tuesday, pitting the GOP candidates against the Dem candidates for Senate, saying it:
... shows New Mexico State Auditor Hector Balderas and Congressman Martin Heinrich holding similar leads over potential 2012 Republican opponents, despite Heinrich's almost 30% name ID advantage. Further, Heinrich appears to be weakening against current GOP frontrunner and former Congresswoman Heather Wilson.

... Congressman Heinrich's lead over Wilson has been cut in half since the last Public Policy Polling survey in February 2011, dropping from 11% to 5%.
This race continues to garner national attention with POLITICO today ranking it as number 7 in its list of most competitive Senate races, and claiming that Balderas won the month:
7. NEW MEXICO (Up 1 spot) — New Mexico leapfrogs Ohio after a Public Policy Polling survey showed both former Rep. Heather Wilson and Lt. Gov. John Sanchez within single digits of their potential Democratic opponents. Rep. Martin Heinrich and state auditor Hector Balderas showed comparable strength, presenting a difficult decision for a party eager to place more Hispanic faces at the top of the ticket. A subtle signal of the importance of Latinos: After indicating it was on the verge of backing Heinrich, the Democratic Senatorial Campaign Committee said it will remain neutral. On the margins, neutrality is a win for Balderas. So far, he and Heinrich have been playing nice, while Wilson and Sanchez duke it out over who is a more genuine conservative.

Who won June: Balderas

Latest poll:
Balderas 45%
Wilson 39%
Source: Public Policy Polling, June 23-26, 732 voters
Bottom line: Show Me the Money
This is very early polling conducted way before ordinary voters start paying attention. However, it does provide some data that can serve as base marks when additional polling is done as the race progresses.
Rather than relying on these very preliminary polling results, perhaps the most telling way to judge the early standing of the candidates in this race will be to look at how the fundraising is going. The FEC quarter ended on June 30th, and results will be reported by July 15th. While it's important that both Heinrich and Balderas show strong early numbers, it's always considered vital that candidates new to congressional race contests show early on that they can raise the kind of money necessary to run a successful campaign at that level. Stay tuned.
July 1, 2011 at 11:33 AM in 2012 NM Senate Race, Hector Balderas, Polling, Rep. Martin Heinrich (NM-01) | Permalink | Comments (13)
Thursday, June 30, 2011
PPP Poll: Heinrich, Wilson Lead in Senate Primaries, Bachmann in GOP Prez Primary
According to of more early Public Policy Polling (PPP) surveys released today, Congressman Martin Heinrich leads State Auditor Hector Balderas by a whopping 47-24 in the Dem primary for the Senate seat open due to the retirement of Senator Jeff Bingaman (D-NM). PPP opines that Heinrich is "bolstered by greater name recognition" and notes:
Although Heinrich is weaker among Hispanics, who make up 46% of the Democratic primary electorate, he still leads Balderas 39-36. However, since a majority of Democratic voters are still unwilling to give an opinion of Balderas, Balderas has more room to grow.
A total of 29% of those surveyed have a favorable opinion of Hector Balderas, with 19% unfavorable and a large number -- 51% -- not sure. In contrast, 50% of those polled see Martin Heinrich in a favorable light, with 20% unfavorable and 27% unsure.
In the GOP primary for U.S. Senate, Heather Wilson holds the lead against all the other possibles mentioned, 43% to Gary Johnson's 22%, John Sanchez's 18%, Greg Sowards' 4%, and Bill English's 3%. Without Johnson, Wilson's reaches majority support with margins of 52% to 24% for Sanchez, 8% for Sowards, and 4% for English. PPP comments that:
Wilson leads by strong margins across the Republican ideological spectrum. She leads Sanchez 48-19 among Moderates and 48-31 among very conservatives.
As for the GOP presidential primary:
Michele Bachmann has surged to become Mitt Romney's chief competitor in each state PPP has polled since the last Republican presidential debate, and New Mexico is no different. With Sarah Palin and Gary Johnson in the race, Bachmann leads the pack with 21% to Romney's 18%, Johnson's 13%, Palin's 11%, Herman Cain's 10%, Tim Pawlenty's 7%, Newt Gingrich's 6%, and Ron Paul's 5%. It's hard to see how Johnson can win the nomination if he's stuck in third place in his home state.

Without Johnson, the race is tied with Bachmann and Romney each getting 22% of the vote. They are followed by Palin with 14%, Cain with 10%, Pawlenty and Paul with 7%, Gingrich with 4%, and Jon Huntsman with 3%. Without Palin or Johnson, Bachmann has the lead. She takes 27% to Romney's 23%, Cain's 12%, Paul's 8%, Pawlenty's 7%, Gingrich's 6%, and Huntsman's 4%. Bachmann's advantage stems from her strength with very conservative voters where she leads Romney more than 2-1.
An article on PPP's blog expands on what the numbers mean in the GOP presidential primary, pointing out that:
Bachmann's lead in New Mexico is built on strong support from the far right. 28% of 'very conservative' voters say she's their top choice to 16% for Palin and 12% for Romney. Johnson has the upper hand with moderate voters- 21% to Romney's 18% and Bachmann's 14%. And Romney has the advantage with voters just to the right of center- 27% to Bachmann's 14% and Johnson's 13% with 'somewhat conservative' folks. But that 'very conservative' voter bloc is the largest part of the Republican electorate in New Mexico at 43% and that lead with them gives Bachmann the overall advantage.
Rather surprisingly:
Johnson has the weakest favorability numbers with his home state Republican primary voters at 47/40. Some of his unorthodox positions aren't playing well with the base, even if they do give him an unusual level of popularity across party lines with Democrats and independents.
Full results and crosstabs are . PPP surveyed 400 usual New Mexico Republican primary voters and 400 usual Democratic primary voters, with a +/-4.9 margin of error, from June 23th to 26th.
See other recent posts on political polling in our archive.
June 30, 2011 at 03:21 PM in 2012 NM Senate Race, 2012 Presidential Race, Gary Johnson, Heather Wilson, Hector Balderas, Polling, Rep. Martin Heinrich (NM-01) | Permalink | Comments (5)
Wednesday, June 29, 2011
PPP Poll: Obama's NM Approval at 50%, "Dark Horse" Gary Johnson Fares Best Among GOP Possibles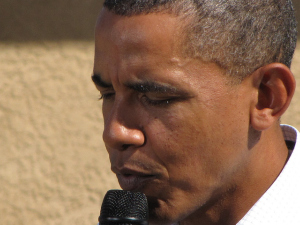 Obama in Albuquerque last fall
Survey results released today by Public Policy Polling show that President Barack Obama still leads the pack of "serious" 2012 GOP contenders in New Mexico (full results ):
Like the Senate race, the presidential contest in New Mexico has gotten closer since PPP last polled this nominal swing state in February, but only two of the potential Republican nominees make it a single-digit race—the frontrunner and a favorite son dark horse.
As for Obama's approval ratings here
50% of voters in the state approve of the job Obama's doing to 44% who disapprove. When PPP polled New Mexico in February Obama was at a 55/40 spread. Since then he's seen a significant decline in his standing with independents, from 60% giving him good marks to just 49%. And he's also seen a more modest drop with Democrats, from 77% pleased with his performance to 72%.
Regarding the President's "serious" GOP rivals:
Obama's still a strong favorite against any of the serious Republican candidates for President though. Only Mitt Romney fares significantly better than John McCain did in 2008 when he lost the state by 15 points. He trails the President by 7 points at 49-42. Obama blows away the rest of the field- he leads Michele Bachmann and Tim Pawlenty by 15 points each at 52-37 and 51-36 respectively, has a 16 point advantage over Herman Cain at 52-36, and trounces Sarah Palin by 20 points at 56-36.
New Mexico's former governor Gary Johnson actually does better against Obama than Romney, but he's not considered a "serious" contender by PPP:
... one GOP candidate who is an asterisk in national polling actually comes closer to Obama than he [Romney] does- the state's former Governor Gary Johnson who trails by only 3 points at 46-43. Although Obama leads the rest of the Republican candidates by 16-26 points with independents, Johnson actually tops the President with that voter group at 46-37. He also picks up more than 20% of the Democratic vote. 

... Johnson's unusually popular for a Republican...with voters who aren't Republicans...his problem is the primary voters who hold the key to the nomination. Numbers we'll release tomorrow show he's not doing terribly well on that front even in his home state.
PPP notes that:
While independents gave the President leads of 25-51 points in the previous survey, and voted for him by 15 over McCain (according to exit polls), he now leads by only 16-26 against the more prominent candidates and trails Johnson by nine with unaffiliated voters. The president has also slipped a little with his own party, which makes up more than half of voters. While he was pulling 73-86% of Democrats in February and losing only 12-19% of them to the Republicans, he now locks up only 70-80% of his partisans and erodes 13-21%.

But there is more crossover support on both sides; both Obama and McCain won 91% of their respective parties, and the president has bumped up from a 10% to a 16% approval rating with Republicans since February, and jumped from 7-12% of their vote to 10-18%.
PPP's bottom line:
Out of the Bush 2004/Obama 2008 states New Mexico seems the least likely to flip back to the Republicans in 2012.
PPP used automated phone calls to survey 732 New Mexico voters from June 23th to 26th. The margin of error for the survey is +/-3.6%.
Photo by M.E. Broderick.
June 29, 2011 at 04:30 PM in 2012 Presidential Race, Gary Johnson, Obama NM Campaign, Polling | Permalink | Comments (3)
Tuesday, June 28, 2011
PPP Poll: Dems Hold Slight Lead in 2012 U.S. Senate Race in NM
Public Policy Polling has the results (including crosstabs) of a new survey of New Mexico voters on the race to replace Senator Jeff Bingaman (D-NM), who is retiring in 2012. Both Dem primary candidates -- State Auditor Hector Balderas and Rep. Martin Heinrich -- hold slight early leads over their potential GOP rivals:
Balderas 39% v. Lt. Gov. John Sanchez 35%
Balderas 45% v. former Rep. Heather Wislon 39%
Balderas 42% v. businessman Greg Sowards 28%
Heinrich 45% v. Gov. John Sanchez 39%
Heinrich 47% v. former Rep. Heather Wilson 42%
Heinrich 46% v. businessman Greg Sowards 34%
In terms of favorability:
Balderas
Favorable: Hispanic 30% -- White 15% -- Other 23%
Unfavorable: Hispanic 16% -- White 19% -- Other 13%
Heinrich
Favorable: Hispanic 39% -- White 32% -- Other 36%
Unfavorable: Hispanic 31% -- White 35% -- Other 28%
PPP notes that:
While crossover support is either even or to the Republican's advantage in each matchup, the Democrats have a significant advantage with independents aside from the Sanchez-Balderas race. In a state where Democrats outnumber Republicans 51-32, that's a recipe for a Democratic victory.

Aside from Wilson, the field is relatively unknown with 32% or more unwilling to venture an opinion one way or the other on the other candidates. Both Democrats are slightly in positive territory among those who know them. 22% see Balderas favorably compared to 17% who see him unfavorably. Heinrich is better known and about as popular with a 36-32 rating. The Republicans on the other hand are not well liked. Sanchez rates most favorably 23-28, followed by Wilson at 38-45, and Sowards at 7-17. With such low name recognition among the candidates, the race has the potential to be very fluid and the Democrats can't take it for granted.
The PPP conclusion:
"This race is going to be competitive but it has a clear lean toward the Democrats," said Dean Debnam, President of Public Policy Polling. "Wilson and Sanchez probably aren't strong enough candidates to win the seat if Barack Obama simultaneously takes the state by double digits as he did in 2008."
The poll was conducted via automated telephone interviews from June 23th to 26th, and has a margin of error of +/-3.6%.
June 28, 2011 at 12:53 PM in 2012 NM Senate Race, Hector Balderas, Polling, Rep. Martin Heinrich (NM-01) | Permalink | Comments (3)
Wednesday, March 16, 2011
Defenders Action Fund Poll: Martin Heinrich Tops in NM Senate Dem Primary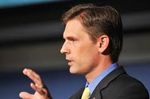 Rep. Martin Heinrich (D, NM-01) would win the Democratic nomination for the U.S. Senate seat being vacated by Sen. Jeff Bingaman, according to a new statewide poll of New Mexicans released today by the Defenders of Wildlife Action Fund (DAF). The poll shows that in a hypothetical four-way matchup between Heinrich, Rep. Ben Ray Lujan (D, NM-03), former Lieutenant Governor and State Auditor Hector Balderas, Heinrich would win the nomination with 32% of the vote:
Martin Heinrich 32%
Diane Denish 25%
Ben Ray Lujan 15%
Hector Balderas 5%
About 24% of those polled were undecided. Click to see the polling memo (pdf).
"Although it is early in the process, it is clear that New Mexico's Democratic voters like what they see in Martin Heinrich," said DAF President Rodger Schlickeisen. "We do too and we urge him to consider running. To be sure, we would be one of his strongest supporters if he enters the race, much as we backed then-Rep. Tom Udall, another conservation champion, when he ran for the Senate in 2008."
"Based on our recent statewide survey, Martin Heinrich is the best positioned candidate to win the Democratic primary for U.S. Senate. He has a solid lead in a field where we tested several other well-known Democrats, and his support is both broad and deep as Heinrich leads with both younger and older voters as well as with both men and women," said Ben Tulchin, President of Tulchin Research, which conducted the poll for DAF.
DAF has played a significant role in New Mexico during the last two elections cycles. In 2008, it worked to elect Tom Udall to the Senate and Martin Heinrich to the House, while also helping the Obama campaign win the state. In 2010, DAF was there again to help re-elect Martin Heinrich in NM-01, as well as mounting a campaign to assist Rep. Harry Teague in NM-02, with a major independent expenditure campaign.
The statewide telephone survey was conducted from March 8 to March 10, 2011 by Tulchin Research in New Mexico among 213 likely 2012 Democratic voters. Interviews were conducted by live professional callers. The margin of error for this survey is +/- 6.71 percentage points.
The (Defenders of Wildlife Action Fund) provides a powerful voice in Washington to Americans who value our conservation heritage. Through grassroots lobbying, issue advocacy and political campaigns, the Action Fund champions those laws and lawmakers that protect wildlife and wild places while working against those that do them harm.
March 16, 2011 at 10:42 AM in 2012 NM Senate Race, Diane Denish, Environment, Hector Balderas, Polling, Rep. Ben Ray Lujan (NM-03), Rep. Martin Heinrich (NM-01) | |
Monday, January 17, 2011
Constituents To Feldman: No More Cuts for Medicaid and Education; Close Tax Loopholes and Review Rates

Sen. Dede Feldman (D-Bernalillo) today released the results (xls spreadsheet) of her annual constituent survey, which was sent in late December to 6,500 of her voting constituents. Also, for the second time, the survey was sent via e-mail to an additional 1000 constituents. Feldman represents District 13, which covers the North Valley of Albuquerque from Old Town to Los Ranchos, parts of the West Side and near-Heights.
As of Sunday, January 16th, 462 constituents had responded to the hard copy survey and 328 responded online for a total of 790 responses. Results are still coming in, according to Sen. Feldman.
"This is not a scientific survey," says Feldman, "but it gives me a good idea of what people are thinking and it gives them a good picture of the hard choices that we are facing this session. This is the biggest response I've had in a long time," she added
Facing a budget shortfall for the third time in three years, constituents were asked whether to continue cutting programs or consider tax increases. Sen. Feldman reported that 78% favor maintaining current benefits and eligibility for Medicaid, and 56% don't want further cuts to education. However, 94% want to review tax incentives to see whether they are working to create jobs and economic activity, and 94% want to close tax loopholes like the "combined reporting" provisions, which allow out-of-state corporations to avoid full state taxes.
Asked about specific cuts on the table at the upcoming session, 97% want to reduce the number of governor-appointed state employees, 73% want to eliminate funding for the Spaceport and 74% want to close selected higher educational institutions and branch colleges. On the other hand, constituents do not want to shorten the school year (82% said no), enlarge class sizes (72% said no) or raise tuition at colleges and universities (62% said no). About 79.5% don't want to eliminate the Rail Runner.
On other tax matters, 88% said they want to increase taxes on smokeless tobacco products, 85% want to increase alcohol taxes, 77% want taxes on soda and soft drinks and 80% said they want to eliminate the 2003 income tax cuts for top earners. A total of 53% favor a reduction in tax credits for the film industry.
Among other results:
56.7% do not want the state to borrow against our permanent funds
52.4% favor repeal of drivers' licenses for undocumented residents
61% support a constitutional amendment that would abolish the PRC and replace it with another entity that 43% say should be a combination of appointed and elected members
58% feel environmental regulations on oil, gas and mining are too lax
Education:
77% believe that charter schools offer a needed alternative to public schools
82% want them evaluated for effectiveness
53% favor a moratorium on the construction of charters
92% want to limit charter school principals' salaries
64% want to eliminate less popular academic programs at universities
62% support continued increased contributions from teachers and staff for benefits
49.9% want a temporary elimination of college athletics
49% favor hiring freezes
Health Care:
90% favor taking advantage of grants through the federal health care bill
84% support a state-run health insurance exchange
93% want a more stringent process for reviewing health insurance rate increases
91% want strict enforcement of new federal insurance requirements on preexisting conditions and coverage limitations
63% support a mandate that everyone carry health insurance
52% support a Medicare-for-All approach
83% favor a program to allow donation of unused prescription drugs
January 17, 2011 at 07:00 PM in Economy, Populism, Education, Energy, Healthcare, NM Legislature 2011, Polling | Permalink | Comments (2)
Tuesday, January 04, 2011
KOB to Feature Misleading Straw Poll Results from Rio Grande Foundation
Many of you have probably seen the wholly unscientific and misleading online poll about possible state budget cuts created by the infamous Rio Grande Foundation. It's quite obvious that the poll questions were written in a way to encourage those "voting" in the poll to agree with the RGF's recommendations for dealing with New Mexico's budget shortfall.
It's not surprising that Paul Gessing and the questionable RGF would be doing such a thing, given their transparently right-wing Republican slant and their never-ending quest to garner publicity for their outfit and convince people they are a reputable, fair, nonpartisan "grassroots" organization. They're not, but they keep on trying. Unfortunately, however, many in the mainstream media and beyond apparently have been drinking the Kool-Aid, and are making it a habit to treat Gessing and the RGF as a legitimately fair-minded bunch without an ax to grind.
For instance, tonight KOB-4 News reportedly will be running a story on the RGF poll and interviewing Gessing about the results -- as if their silly online straw poll actually means something in terms of accurately and fairly gauging the opinions of New Mexicans on budget cuts. An excellent post by Matthew Reichbach at New Mexico FBIHOP -- a guy who knows his polling stuff inside out -- explains exactly why this is a farce. Must read.
Any bets on when KOB will interview someone knowledgeable about polling to comment on the claims of Gessing about the accuracy and importance of his online poll trickery?
January 4, 2011 at 02:43 PM in Economy, Populism, NM Legislature 2011, Polling, Right Wing | Permalink | Comments (0)