Thursday, April 19, 2012
New Mexico Telegram the New Independent Non-Corporate News Website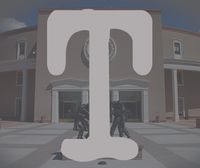 New Mexico Telegram, an independent, non-corporate news website run by a native New Mexican needs your help.
NM Telegram is completely funded by readers (and, eventually, advertisements). NM Telegram is also my sole job -- as you can see, donating to NM Telegram is an important part of keeping the website alive and whole.
And it is easy to do. The donation widget is on the right side of the home page and you can donate with just a few clicks -- anywhere from $10 to $250 to help an independent website with original reporting keep doing its work.
For example, I strike down anywhere from 15-30 obvious spam comments a day -- a service called Akismet can do this for $60 a year for the site. But for now it is up to me to wade through the comments and make sure these comments don't see the light of day.
In the five weeks that NM Telegram has existed, the site has featured interviews with candidates for 1st congressional district (and will feature another one next week), followed the saga of which candidates are tossed from the ballots and which candidates are allowed by the courts to stay on the primary ballot.
And in less than two months, NM Telegram will be covering the primary elections that will have major consequences on the makeup of the state legislature as well as who will go to Washington D.C. to represent the state.
The goal of raising just $5,000 by the end of June is easily doable with the readership that NM Telegram has already gained -- and with the support, NM Telegram will be able to expand its readership even further.
But to get things kicked off, I'm setting a smaller goal: get to the $500 threshold by this time next week. That is (just about) noon on the 25. With $20 already in the bank, that means a little less than $70 a day.
In the five weeks that NM Telegram has existed, the site has featured interviews with candidates for 1st congressional district (and will feature another one next week), followed the saga of which candidates are tossed from the ballots and which candidates are allowed by the courts to stay on the primary ballot and covered a number of other important New Mexico politics stories.
Matthew Reichbach is the editor and publisher of New Mexico Telegram. Matthew previously worked at the New Mexico Independent where he covered New Mexico politics, then at Clearly New Mexico where he covered state policy and the legislative session. You also may know Matthew as @fbihop on Twitter or through his previous blog, the confusingly named New Mexico FBIHOP. Matthew is also a native New Mexican, born in Albuquerque and raised in Rio Rancho.
April 19, 2012 at 01:30 PM in Action Alerts, Guest Blogger, Weblogs | |
Friday, October 21, 2011
More Hosts Added for 11/2 Fundraiser to Celebrate and Support Democracy for New Mexico Blog
From Host Committee (In Formation):
The host committee (see below) continues to grow almost daily for the November 2nd celebration and fundraiser to support Barb and Mary Ellen's Democracy for New Mexico blog.
If you'd like to sign on as a member of the host committee or RSVP, contact Sisy Garcia at (505) 730-9923 or e-mail dfnmRSVP@gmail.com.
You are invited to a fundraiser to celebrate and support
Democracy for New Mexico (DFNM) Blog

When
Wednesday, November 2, 2011
6:00 – 8:00 PM

Where
AFSCME
1202 Pennsylvania Street, NE, Albuquerque, NM

Requested Contributions
Benefactor: $250 ♦ Host: $100 ♦ Friend: $50 ♦ Guest: $20

See INVITATION for More Information

Host Committee-In-Formation
Josh Anderson, Judith Binder and Mickey Bock, Carter Bundy, Ana Canales, Brian Colón, Pat Davis, Marianne Dickinson, John Dyrcz, Steve Fitzer, Jennifer Ford, Scott Forrester, Javier Gonzales, Barbara Grothus, Stuart Heady, Jon Hendry, Shrayas Jaktar, Nili Lange, Leanne Leith, Don and Michelle Meaders, Terry Riley, Don Schiff, Laura and Paul Stokes, Dallas Timmons, and American Federation of State, County and Municipal Employees (AFSCME), National Education Association (NEA) New Mexico, Progressive Democrats of Central New Mexico, ProgressNow New Mexico, and more added daily!
October 21, 2011 at 04:47 PM in Events, Weblogs | Permalink | Comments (0)
Wednesday, September 28, 2011
Steve Klinger Guest Blog: New Independent Newspaper 'The Light of New Mexico' Seeks to Illuminate Inconvenient Truths
This is a guest blog by Steve Klinger, a long-time journalist and editor of the Grassroots Press, on the recent launch of a new, independent print and online newspaper called The Light of New Mexico. Steve will be editing the paper, which will initially be published monthly. The first print issue of The Light of New Mexico hit the streets of Santa Fe on September 15, with a cover story on "The Politics of H2O: Who Controls Your Water?" It's also available for download as a pdf by clicking here.
The newspaper, published by Skip Whitson, will focus on "Illuminating Inconvenient Truths," and will be covering "Conscious Culture, including Politics, Reviews, Books and Entertainment." The Light of New Mexico is designed to serve as a progressive, alternative source of ideas, information and a networking nexus for north-central New Mexico and beyond, providing a newspaper, a blog and a community resource.
According to the paper's Mission Statement, "Our focuses include state and local politics, peace/nonviolence, environment, civil liberties, foreign policy, social justice, global awareness, fair trade, localism and sustainability, as well as an abiding appreciation for music and art as a force for change. We maintain a commitment to outreach, education, and peaceful dialogues to safeguard democracy and raise consciousness within our communities.
"It is the role of a newspaperman to comfort the afflicted and afflict the comfortable." –-Chicago journalist Finley Peter Dunne
Connecting the Dots
There are those who think the print newspaper is in its death throes and others who think words of any kind are just useless spitballs hurled by naïve optimists into the maelstrom of a crumbling democracy and a planet hurtling toward disaster.
Among the dwindling minority who are still willing or able to commit words to the printed page, even fewer are doing anything like real journalism, as the money behind the surviving mainstream media is too busy advancing the corporate agenda, promoting the so-called balance of false equivalents, or in some cases hacking the phones of crime victims in the race to pander to the lowest common subscriber denominator.
We won't be doing things that way, and we thought you'd like to know.
I feel privileged to be associated with The Light of New Mexico, a new, independent monthly newspaper based in Santa Fe that will take a higher road in attempting, as our tagline states, to illuminate inconvenient truths. We considered numerous titles for our new publication, and various slogans as well, with a common theme of shedding light on the issues of the day: political corruption, connecting the dots between manmade climate change, gridlocked government, skyrocketing corporate influence in campaigns and legislation, and the threats to democracy our republic is facing on every level.
As I have done before in my nearly 40 years of newspaper work in New Mexico, most recently with Grassroots Press, I'll be looking for stories that illustrate the realities ordinary people are facing in their daily lives, hoping to educate our readers and ourselves on the forces that are shaping our future in a downsizing and endangered nation. I'll be exploring the ways in which the forces of greed and self-interest are attempting to hijack public policy. I'll be featuring commentary from journalists, authors and experts on the critical times we face, plus a mix of pertinent syndicated material and open pages for you, our readers to fill, with your comments and unique perspectives on everything from politics to the arts.
Without deep pockets or any corporate support, we'll also be relying on you to help us grow with your display advertising and your donations, as well as your feedback and suggestions.
Santa Fe is a remarkable place, with a rich history of cultural alchemy, a place that tolerates and elevates diversity, eclecticism and artistic expression. One of the oldest capital cities in North America, it arose on the site of far older Pueblos, a product of European colonialism and an often bloody clash of cultures -- Native American, Hispanic, Anglo -- and has been endlessly reinventing itself for better and worse ever since. These days, it's a world-class destination, but also a place called home for nearly 70,000 folks, including some of the most talented and successful individuals on the planet, and the organizations they've brought with them. These include a vital emerging community of locavore, sustainable, nonprofit endeavors. Santa Fe also holds but a fraction of the population of the state of New Mexico that is our larger home, a coverage area into which we hope to expand as The Light of New Mexico grows; we hope to serve it with dedication and distinction.
Most of all, we hope you'll read our words and help us write them. We hope to prove worthy of your interest and support. Obviously, we believe in the power of words to educate human beings and change history. We also think that time is growing short to do that under the umbrella of a free press in a besieged democracy. That's why we feel our work is important, especially in a time when ever more of us are feeling afflicted, and those with the money and power are growing ever more comfortable.
This is a guest blog by Steve Klinger, who can be reached at Steve@thelightofnewmexico.com.
If you'd like to submit a piece for consideration as a guest blog, contact me by clicking on the Email Me link at the upper left-hand corner of the page.
September 28, 2011 at 10:03 AM in Arts, Civil Liberties, Education, Environment, Journalism, Local Politics, Media, Music, Santa Fe, Weblogs | |
Wednesday, March 23, 2011
Stuart Heady Guest Blog: Stupefying Ray Aimed At Earth

This is a guest blog by Stuart Heady, a freelance writer and political activist who lives in Albuquerque.
The title of this post is a wisecrack that I think of whenever someone in public life says or does something so stupid that nothing else seems to really explain it. Doesn't it seem like there has been a lot of this lately?
What better explanation can there be for the rise of purely emotional folks who seem to have unplugged their brains? What explains the Tea Party and the anger that fuels it? People like Glenn Beck? Evidence abounds! Call the National Enquirer! We have a story!
When you think about it seriously, it is easier for those who simply respond to things emotionally to get worked up than it is to figure out how an intelligent, complex and persistent approach to the future can be agreed on. That is way hard. Most people who are engaged in efforts that will ultimately be taken for granted as forming the walls, the floor and ceiling of our 22nd century lives, are not nearly as likely to be heard from or to become sensations in the media.
But, are we in danger of turning into a society that is dominated and run by the yahoos that Jonathan Swift described centuries ago? What are the more deliberate and competent among us to do?
Given the present media environment, that is a deadly serious question.
Sound Bites and Databases
Now should be the time, after the legislative session is past and when the next election is the farthest away that it can be, to step back and think about why things are the way they are and what could be done to more effectively address this condition that we are in, looking ahead into the second decade of the 21st century and beyond.
I used to spend a lot of time thinking about how to deliver messages through direct mail or grassroots handouts of various kinds. After thinking about this situation for a long time, some thoughts and insight into this have begun to form.
It all boils down to sound bites and databases.
Broadcast media has set up a circumstance, combined with a huge population, in which what is valued the most is quick, on-your-feet immediate thinking, encapsulated in the sound bite. Everyone in communication, on way or another, finds themselves addressing this constraint.
Databases have a powerful, but much less obvious influence on our thinking. When we learn how to use databases, we master the art of thinking in categories in a mechanical way. Things have to be reduced to their simplest terms, actually a math equation, in order for their to be "power" in a database. It is a useuful way to think, as it disciplines a tendency to be satisfied with speculation and vagueness into a sharp focus.
These twin gods have banished the ability to think more deeply and to value long and persistent contemplationg about the larger picture.
We get trapped in the short term without a perspective. We cannot analyze our situation truly, but instead are driven to do better, to work harder to make what we already have been given as a given work. However, in the long run, say over a twenty-year period, one can observe that the advantage in a system that is based on sound bites and short-term thinking goes to the manipulators of emotional mobs. That is what we are seeing now.
As usual, seeing a problem is way easier than figuring out how to address it, especially if it is a condition of the landscape.
Looking at all the various communication methods for manipulation that the large-scale corporate special interests have instituted over the past 40 years or so, it is a pretty daunting picture. Tens of millions of dollars are spent every year on shaping every aspect of public information and education. Many of the best college graduates with majors in advertising, public relations, journalism or English are attracted into the world of corporate PR, where a good number of people are employed by the tens of millions a year that the right wing is being advantaged by.
This goes way beyond the question of framing, and way beyond the tried and true GOTV campaign strategy that has become crucial over the past thirty five years.
An even larger factor that constrains the way the environment treats political communication is that no one has time -- the suburban swing voter, least of all. Whatever information gets processed into votes has to be taken at a glance in passing most of the time by people on the run. Long meetings with very informative, fact-based, deliberative substance are mostly out of the question. That is why the short sound bite synopsis has become so dominant. That is why database-driven systems, with their tendency to reinforce as well as serve the short attention span, always provide the practical backstop.
Untapped Potential
There has to be a way out of this conundrum.
The place to start is with this computer screen and this keyboard. The potential of it has barely been tapped. A lot of the time it is seen in terms of the experience of the past, not in terms of needs that could be served and how innovation towards meeting those needs might be accomplished.
The difference is precisely in the way it is viewed. Our participation in the medium is presently limited in various ways. Especially in rural areas, the connectivity is sparse. A lot of people don't like sharing their thoughts with strangers, especially when there is a prospect for disagreement which can seem insulting. The logic of the medium represents a waste of time to quite a few people.
Yet, here it is -- the product of trillions of dollars and over a century and a half of innovation by people anywhere and everywhere. Moore's law (that computer chip capacity doubles every eighteen months) has yet to reach its limit and, as long as it has not, the internet will continue to increase in capacity over the coming years, offering new avenues and expanded options.
To actualize the potential for better deliberation at large and thus, a better chance that stupidity won't rule the future, thinking has to be taken to a new level, by each person with a computer who might be inspired to see value a future in this. Networking could become more of an active verb. All that is really required is the imagination and persistence of intellect to keep trying to figure it out.
A simple thing to contemplate, but perhaps a pretty tough challenge.
If the purpose is not really just to exhibit one's ego, but to find a way to reach others and create some sort of cooperation in an effort to use the medium as a basis for organizing, for furthering the reach of the work that we are all trying to engage in, then it begins to move forward incrementally. One could look at it as an undeveloped distributed think tank that awaits any engagement that might have any energy at all.
Selling anything, whether it be a book or a policy approach requiring voter approval, requires the same thing: The assumption that a skeptical but open buyer can be persuaded with the right approach.
If the skeptical buyer is the swing voter, the problem is to develop a dialogue that creates either a sale or an acceptable compromise. That is a process that requires more than a lot of thought and communication. This becomes a permanent effort and the definition of citizenship over a lifetime.
If a real dialogue about what is real can supercede the soundbite oversimplification and sensational manipulation that now dominate, then it could do a lot more than just win an election. It could revitalize the American political system and renew its capacity for addressing what really needs to be addressed in the 21st century, looking ahead to the 22nd.
This is a guest blog by Stuart Heady. If you'd like to submit a piece for consideration as a guest blog, contact me by clicking on the Email Me link at the upper left-hand corner of the page.
March 23, 2011 at 01:58 PM in Guest Blogger, Journalism, Media, Progressivism, Right Wing, Weblogs | |
Tuesday, February 08, 2011
Daily Kos Diary: Where's the Heat? Rio Arriba Roasts NM Gov Over Gas

Gov. Martinez visits Espanola
The still ongoing lack of heat in the Espanola and Taos areas of northern New Mexico prompted the Daily Kos blogger known as TheFatLadySings, a resident of Northern New Mexico, to write a diary about their now almost week-long gas outages. The outages were caused initially by rolling blackouts in Texas and various impacts of severe winter weather. Although New Mexico's gas delivery infrastructure has now been rebalanced, thousands of Northern New Mexico residents are still waiting for service to be restored because of delays in getting people's gas meters operational and pilot lights lit.
The diary, Where's the Heat? Rio Arriba Roasts New Mexico Governor Over Heat and the video (above) report on Republican New Mexico Governor Susana Martinez's visit to Espanola last night. Martinez had to face some angry Rio Arriba County residents and government officials, many of whom are still suffering with no gas for heating or cooking and, sometimes, no hot water or no water at all, as another frigid and windy winter storm heads their way.
The diary questions how decisions were made to shut down gas service to certain areas and not others. While the gas is still out in many areas of Rio Arriba and Taos counties, service has gone largely uninterrupted in much more prosperous areas like Los Alamos and Santa Fe counties. Excerpt:
How did they decide whom to shut down? Well that decision was certainly not based on temperature since warmer areas stayed online while some communities such as Rio Arriba and Taos (which experienced temperatures as low as 36 degrees below zero) were removed from the grid. It also was not based on ease of reconnection. Rio Arriba's population density of about 6 persons per square mile combined with impassible dirt roads and dubious rural addressing make it hard to reach.

Even more incredibly, two of the coldest counties in NM, Rio Arriba and Taos, remain off the grid nearly a week into the shutdown.

... Strangely enough, Gas Company of New Mexico pegged the two coldest counties, Rio Arriba and Taos, as the last to be restored. Rio Arriba's closest neighbors, Los Alamos and Santa Fe counties, are the wealthiest in New Mexico. Los Alamos is home to a national laboratory and Santa Fe to the state legislature while Rio Arriba is the stomping grounds of Hispanics, Native Americans and gas wells. Could money and influence have anything to do with Rio Arriba's predicament?
The diary also discusses Gov. Martinez's close ties with moneyed energy interests and Texas wheeler dealers as evidenced in her campaign contributors list:
Questions about the conduct of gas, oil and energy lobbies had surfaced in New Mexico during the Gubenatorial Campaign. Martinez received unprecedented donations from Texas including a single contribution of $450,000 from Texas land developer Robert Perry and his wife. Martinez had already become the target of questions when she accepted a donation of $117,000 from Mack Energy in Artesia. While the "energy shortage" is being discussed throughout the nation as a product of over-regulation, it is in fact the result of deregulation which has allowed energy corporations to avoid investment in new infrastructure and the building of redundancies into the grid.
In an here, I laid out some of the big donors to Susana's inauguration fund, which included many energy-related contributors:
Over the weekend, Republican Governor Susana Martinez's transition team released a list of donors that paid for her inaugural shindig in Santa Fe. It's shocking, I know, but Martinez's BOLD inaugural party largely ran on oil, gas and cash from powerful interests. BP, Xcel, Yates and Western Refining were among the heavy-hitting energy companies that powered Martinez's party.

...Other power interests also gave big, including Peabody Energy ($10,000), PNM Responsible Citizens Group ($25,000), El Paso Corp. ($2,500), El Paso Electric ($10,000), El Paso Natural Gas ($2,500), New Mexico Gas Company ($2,500), New Mexico Gas Company HEAT PAC ($2,500), New Mexico Propane Gas Association ($5,000), Pinnacle West: Arizona Public Service ($25,000) and Southern Union Gas Services ($10,000).

...Some of the same big donors from oil and gas and other special interests that funded her primary and general election campaigns also gave big for her inaugural. Some of them have even become part of the governor's . And remember, Martinez got blobs of campaign bucks from a number of big business moguls and oil interests from Texas, as well.
El Paso Electric is one of the Texas utilities that instituted the rolling blackouts that made it impossible to pump adequate gas into New Mexico's system, causing the shutdowns to the system. The company's blackouts also periodically disrupted electric service in areas of southern New Mexico in and around Las Cruces and other parts of Dona Ana County.
February 8, 2011 at 11:50 AM in Energy, Susana Martinez, Weblogs | |
Wednesday, November 17, 2010
The New Mexico Independent Is No More
As you've probably heard by now, the online New Mexico Independent news site, which was launched in April of 2008, as of today is no more. This is very bad news for New Mexico's citizens, as well as independent media coverage of government and politics. Of course it's also depressing news for NMI's fine who are now out of a job in harsh economic times, as well as for me personally. 
The word first came from the New Mexico Independent's editor, Gwyneth Doland, on Twitter this morning:
The New Mexico Independent as you know it is now closed. The site will remain live, possibly with a half-time blogger
I next heard from one of NMI's reporters, Matthew Reichbach, that "NMI is about to be officially out of business." 
Why? Apparently the website's parent organization in Washington DC -- The American Independent News Network, a 501(c)(3) nonprofit corporation -- has run out of money to fund more than a barebones operation with, at the most, one paid, part-time blogger/reporter on board. In addition, American Independent's sites in other states have reportedly been reduced to this same status in recent months, and the operation's national vehicle, the Washington Independent, is also having the bulk of its operations shut down.
The word is that fundraising for NMI locally, as well as for the parent organization, which is supported by a long list of individual and foundation donors, has been trending down significantly. As we all know, financial donations are down across the board in this serious economic downturn -- and you could say that NMI is just another casualty of the economic cataclysm that erupted at the end of the Bush administration. Almost all independent news organizations and blogs are feeling the pinch -- and it couldn't come at a worse time. Now, more than ever, our citizens are in dire need of top-notch reporting, commentary and analysis to counter the right-wing echo chamber and the increasingly corporate-controlled mainstream media.
Here in New Mexico, the situation seems especially dire. The Albuquerque Journal -- the so-called "paper of record" and the only truly statewide newspaper covering politics and government -- has apparently gone over to the dark side with obviously slanted and inadequate coverage of the 2010 election and beyond. Local TV news -- outside of public TV -- is all about murders and mayhem. Local "news" radio -- except for public radio -- is dominated by right-wing hate speech and shallow, baiting banter. It's getting harder and harder for anyone who's not a part of the right-wing juggernaut to get their message -- as well as the facts -- out to the general public.
Outside of Democracy for New Mexico, Clearly New Mexico and what we hope will be a renewed New Mexico FBIHOP, the local blogosphere network that once thrived has mostly been reduced to sites funded and/or directed in one way or another by right-wing interests -- whether they admit that orientation or not. Unlike Democratic or progressive entities and individuals, the GOP and its cronies are funding online sites and operations big time, often while hiding behind allegedly nonpartisan organizations like the Rio Grande Foundation. That's another reason why the loss of NMI will be felt so strongly.
While providing in-depth coverage on a myriad of issues both local and national, NMI specialized in filling a hole in local news about state government, especially in terms of the New Mexico Legislature and the operations of government entities like the Public Regulation Commission. In particular, its live blogging, video webcasting and on-the-ground coverage from the Roundhouse in Santa Fe during legislative sessions was ground breaking and incredibly illuminating in terms of exposing and explaining the nitty gritty of lawmaking in a way that ordinary citizens could understand it and get involved. Its extensive and live legislative coverage was unprecedented in the state, and pivotal in the never-ending battle for more transparency, accessibility and accountability in government.
With a new Republican governor and a legislature that will be battling incredibly complex challenges in terms of the budget, education, health care and so much more, NMI's contributions to factual reporting and reasoned analysis will be sorely missed. By me and so many others.
I know I speak for many when I extend my gratitude to the talented and dedicated folks who made NMI a must-read source of news and information during legislative sessions and election seasons, as well as all year round. Congratulations on a job well done during the two and a half years you served the citizenry of New Mexico. NMI, we hardly knew ye. You will be missed.
November 17, 2010 at 08:37 PM in Government, Journalism, Media, Weblogs | |
Friday, August 27, 2010
A Little Birdie Told Us Jim Scarantino Is Leaving New Mexico In Focus, Maybe More

One of our talkative birds on a wire told us that notorious tea party movement enthusiast and Rio Grande Foundation-backed blogger Jim Scarantino will no longer be a panelist on KNME's New Mexico In Focus, which airs on Friday evenings. The word is he's retiring to spend time with his wife, sing opera and climb mountains -- or something.
As I'm sure you all know by now, I'm no fan of Scarantino and his prickly, pompous verbal vendettas against all things Democratic, progressive or environmental so I won't be missing him on the weekly talk show. I am curious, however, about whether he will also be "retiring" from the New Mexico Watchdog blog. And if he is, why?
Could it be that some authority or donor to the Rio Grande Foundation has finally realized Scarantino has gone a little too far on more than a few occasions pumping the partisan tea party line? Stay tuned.
August 27, 2010 at 03:35 PM in Local Politics, Media, Right Wing, Weblogs | Permalink | Comments (6)
Friday, August 06, 2010
Check Out SWOP's New El Grito Blog Dedicated to Grassroots Journalism
Give a warm welcome to a new, improved blog created by a long-time member of the New Mexico blogging community. This week, the SouthWest Organizing Project (SWOP) launched its new online blog, El Grito. SWOP says El Grito was created to carry forward the spirit of grassroots journalism that has strong roots in New Mexico. It will contain analysis from a wide range of voices in the state and highlight the happenings on the ground in our communities:
We pledge to offer a space here for the diversity of voices that exist in New Mexico, and to continually seek out and share the stories and views of New Mexicans who may not always have access to a medium that will let their cry be heard across the state.

SWOP began blogging about five years ago, just as the New Mexico statewide blogosphere was getting up to speed, with SWOPblogger. Their new site builds on what came before by adding more space and resources for more indepth analysis of issues critical to New Mexico. The site will be managed on a daily basis by SWOP Fellow Juan Reynosa (above right), who joins SWOP after a number of years as an organizer with New Mexico Youth Organized and as a blogger for Clearly New Mexico.
El Grito -- a nonpartisan blog -- can be found at www.elgritonm.org. Congratulations to Juan Reynosa and SWOP -- we expect great things from them and we hope you'll add El Grito to your personal blogroll, as we've done on this site. You can also follow El Grito on Twitter, on Facebook and on YouTube.
August 6, 2010 at 12:38 PM in Hispanic Issues, Journalism, Weblogs | Permalink | Comments (0)
Monday, July 26, 2010
Guest Blog - Calling All Democratic Bloggers: Why Try?
This is a guest blog by Stuart Heady, a freelance writer and political activist who lives in Albuquerque.
A lot of people read blogs a bit and conclude it is like that party we have all been to. Someone is holding forth on an interesting topic, and a few people decide to join the conversation. Then, the louder and more brainless and clueless monopolize the oxygen. This causes the more knowledgeable people to fade away.
But consider the words, "citizen" and "audience."
Consider the ways in which we are all disappointed by the "mainstream media."
Never in the history of mankind or the First Amendment has there ever been such an open door just standing there. The prospect of a truly empowered "Enlightened Citizenry" that gives each of us access to the marketplace of ideas is literally at our fingertips. Had someone gone back in time to explain the internet to Franklin, he would have wept to hear of it, for sheer joy.
How come so few eagerly and passionately take the option and go through that door?
It can be frustrating to engage in the work it takes to become good enough at writing to have any impact anywhere, as anyone who has made serious efforts to get published in conventional print periodicals will attest. Trying to be better never ends.
Yes, it takes some discipline. We all, at least at times, become cynical, tempted to think that becoming good at this, partly because the cost is so little, must not have much value. Isn't expert capability a sign of having sold out?
For various reasons, a great potential has yet to be fully realized.
A Vicious Cycle
There is a vicious cycle that we need to break. First, a few attempt to put something out there. The audience does not seem very responsive. The few who are given to being verbose seem to just be talking to the same few. The people really in the know withhold participation. When comment seems to be coming in, it seems somewhat dedicated to the notion that this is a video game. The thing to do is to shoot anyone or anything down, not respond with a sense of responsibility for encouraging the development of better quality participation.
That syndrome is an artifact of the pervasive consumer culture we live in. We are all subject to conditioning that leads to thinking as consumers, and de-emphasizing our identity as citizens. We believe that our best role is to decide if we like or don't like and either criticize or buy. Our highest and best function is to decide -- which channel to watch.
Conditioning as citizens would lead to furthering discussion, not cutting its tires.
Critical Thinking
Most of us are probably not used to critiquing cultural conditioning and media, the way we would if we were anthropologists studying our own context. We don't practice critique of our own complicity in furthering the way the mental environment is perpetually an extension of Madison Avenue everywhere we go.
You don't see billboards or TV commercials that say, "Escape the Matrix," because there wouldn't be any money in it.
Does this have anything to do with anything that really has consequence?
Voting Angry
Look at the way Susana Martinez is trying to surf a wave of existential anger into the Governor's office.
There is a disparity between the way reality feels and the way it looks in the media. People who are more likely to question things are more likely to have a sense of what is happening without being told what to think. People who are less likely to critically analyze are more likely to vote angry.
If people who are just uncomfortable and irritated vote angry, whilepeople who feel that their intelligence is being insulted stay home, Martinez will win.
That could be an increasingly likely scenario, over and over again, and increasingly so in coming years.
This is why it is really important to throw off consumer culture conditioning and use blogs as an exercise gym for getting those citizen muscles toned and hardened.
We need to become a more muscular culture of citizens if we are to avoid becoming a regressive culture.
This is a guest blog by Stuart Heady. If you'd like to submit a piece for consideration as a guest blog, contact me by clicking on the Email Me link at the upper left-hand corner of the page.
July 26, 2010 at 02:48 PM in Guest Blogger, Media, Weblogs | Permalink | Comments (1)
Wednesday, May 19, 2010
Bargain Basement: Only $10 a Month Gets You More & Better Reporting at NMI

Most of you have probably heard about the continuing campaign to elect more and better Democrats. Now there's a new take on that approach -- the campaign to ensure more and better independent reporting, especially of the local, online variety. There's one of those struggles happening right here, right now, at the New Mexico Independent.
The important work and worker bees of NMI are supported primarily by the kind of nonprofit funding that's been dwindling as our economic woes have increased, along with donations from readers and some advertising. As their regular funding takes a nose dive, they'll have to find more outside sources of revenue to keep the operation going strong -- and they're in the process of doing just that.
Grassroots Power
Editor Gwyneth Doland and the other folks at NMI have officially launched their first grassroots fundraising campaign. If you want them to have the resources they need to continue to deliver journalism in the public interest, please sign up today to give a monthly donation of $10 -- or $15, $25 or $50 if you can afford it. Visit their online fundrasing page at https://newmexicoindependent.com/donate right now and be as generous as you can so NMI can continue -- and hopefully expand -- their reporting and investigative journalism. In order to adequately support its staff, NMI is particularly interested in the kind of stable funding that monthly contributions can provide.
You've probably noticed that reduced funding at NMI has already resulted in some changes. Will master live-blogger slash webcaster Matt Reichbach be back to provide on-the-scene, as-it-happens coverage as he did day and night during the last regular and special legislative sessions in Santa Fe? Only we can make it happen. Will Marjorie Childress regain the hours she's lost so she can continue to delve into the details of policy issues and dig down deep into stories that get little coverage in the traditional media? Only we can make it happen. Will NMI be capable of expanding and growing its staff and its coverage as we move further into an important election year? Only we can make it happen.
I know how hard it can be to convince readers that the long hours bloggers and online reporters spend -- researching, writing, editing, attending events, snagging interviews and everything else that goes along with the job -- are worth paying for. My own blog's "Donate" button sits idle much of the time. But if we want to ensure the continuing availability of the quality local news and opinion sources we rely on daily to inform us, entertain us and cause us to think and act, we must be willing to toss a few bucks into their fundraising buckets.
News We Can't Get Anywhere Else
I read NMI every day, and I don't want it to go away or shrink down to nothing -- I want it to grow and expand its staff and its coverage. I expressed my views on the value of NMI's reporting at the end of this year's regular legislative session and I think I'll reproduce those paragraphs here, in closing. So you'll think about what we have to lose and what we have to gain in New Mexico online reporting -- and buy what amounts to a low-cost subscription to NMI for a monthly fee of only $10 (or more).
As I sip my first cup of coffee after a good night's sleep, I'm checking the vital live blogging and Tweeting of the New Mexico Independent Roundhouse team and others who have endured a day and night of sometimes frenzied, sometimes dull, activity in the New Mexico House and Senate during the last hours of the 30-day session in Santa Fe. It ends at noon today. This is the kind of down and dirty, on-the-scene endurance-reporting that, for the most part, other "traditional" news sources have long abandoned in favor of lazily feeding us dribs and drabs of filtered and incomplete info meant only to amuse or titillate or serve a political agenda.

If you don't appreciate what the NMI Roundhouse team has been doing for a couple sessions now, you haven't been paying attention. They are creating a record of committee and floor action that's unparalleled in New Mexico. Yes, the new video and audio feeds provided by the House and Senate are incredibly helpful, but they aren't archived, so they don't constitute any kind of permanent record of what went on. With NMI's almost constant coverage -- including their marathon yesterday until about 4:00 AM -- we can reconstruct a lot of what goes down, whether it takes place during the day or in the wee, wee hours.
May 19, 2010 at 03:59 PM in Journalism, Media, Weblogs | Permalink | Comments (6)
Thursday, April 08, 2010
Rep. Martin Heinrich Discusses Issues, Legislation with Local Bloggers

Rep. Martin Heinrich (NM-01) reached out to meet with local bloggers for a full hour on Tuesday to discuss issues and answer questions about current and upcoming legislation in the U.S. Congress. I had to miss the session due to a sudden attack of a haywire sciatic nerve, but Mary Ellen attended and passed along her notes and observations to me. She reports that it was a valuable opportunity to personally engage with the Congressman and do some in-depth back and forth in a relaxed setting.
The conversation began with talk about the fire that was going on in Albuquerque's bosque near the National Hispanic Cultural Center. Rep. Heinrich noted that the removal of invasive salt cedar by the Army Corps of Engineers and the city's Open Space Division, which he championed when he was still a Albuquerque City Councilor, made for a healthier bosque so that the fire was easier to control.
Climate Change: Talk turned to climate change and how it could create serious problems challenging U.S. security in the future, according to global modeling. Rep. Heinrich noted there was finally movement within the Senate to pass a national renewable energy bill. The Waxman-Markey legislation that passed in the House calls for a 20% boost in the use of renewable energy in the U.S. He noted that China is investing huge sums of money in green energy development -- about $12 million an hour. He stressed that we need a big push to process solar energy to meet the public demand and that BLM land in New Mexico and elsewhere would be excellent sites for solar collection.
Health Insurance Reform: Rep. Heinrich talked about the passage of health insurance reform and noted that Republican talking points are spreading misinformation about the financial and economic impacts of the legislation in an already dangerous economy. He said there is a lot of hypocrisy involved in their spin. For instance, Republicans are pretending to be the protectors of Medicare when, in reality, they would like to privatize it and issue vouchers instead. Rep. Heinrich contrasted the diversity of viewpoints on reform on the Democratic side with the lock-step, echo chamber response of the Republicans.
Financial Reform: Heinrich predicted that financial reform would be next on the agenda in Congress, with action switching to the Senate. He noted that the House passed a reform bill last year that received little attention because all eyes were on the raucous health care debate that was occurring at the time. There are high hopes that legislation to reform the practices of Wall Street will pass before November. He said there is a good chance that some moderate Republicans will vote for it. The bill includes provisions to regulate hedge funds, derivatives and uninsured credit default swaps, as well as increase the transparency of derivatives markets -- all elements in the creation of the banking and Wall Street crises we're still feeling around the globe.
Jobs Bill: Rep. Heinrich praised the Senate for passing a jobs bill. The House had passed its jobs bill months ago. 
Iraq: Rep. Heinrich said he was pleased that there has been significant progress in ramping down our troop levels in Iraq, as promised by President Obama. He also noted that procurement contracts for services in Iraq and Afghanistan are for the most part no longer granted on a sole source basis as they were in the Bush years. Competitive bidding is now the order of the day, which saves money and improves the quality of services.
Immigration Reform: Rep. Heinrich said he was less than optimistic about a comprehensive immigration reform bill emerging from the Congress before the November election, although he said such legislation was long overdue. It's one of the most complex and controversial pieces of legislation, and it will impact many other areas of policy. He expects action on this issue next year.
Mexican Border: Asked about his views on increasing violence on our southern border with Mexico, Heinrich said he was more concerned about Mexico as a whole, having never seen such a level of violence in North America in the modern era. He said he was worried about the entire nation of Mexico -- not just the conflicts on the border -- and stressed that the U.S. has a vested interest in the security of our neighbors.
House Resumes Tuesday: Rep. Heinrich will return to Washington next Tuesday after this spring break. It will continue to be a busy time in the Congress, with much unfinished business to be completed this year and going forward into President Obama's second year. He emphasized the importance to holding on to our Democratic majorities in the House and Senate if we want to see progress continue on the many pressing and complex issues we face. Amen to that!
April 8, 2010 at 12:00 PM in Border Issues, Climate, Finance, Investments, Healthcare, Immigration, Jobs, Rep. Martin Heinrich (NM-01), Weblogs | Permalink | Comments (3)
Thanks to Folks Who Voted Me #3 in Alibi's Best Blogger Category
I was surprised and pleased to learn that folks who participated in the Alibi's Best of Burque this year voted me #3 in the Best Blogger category:
Best Blogger
2) Johnny Mango, dukecityfix.com
3) Barbara Wold, democracyfornewmexico.com
I have to admit I hadn't paid attention to the voting this year and didn't encourage anyone to vote for me, so this is an unexpected perk. Thanks to everyone who voted for me -- always nice to learn folks out there beyond my laptop screen are appreciative of what I do. It's a good feeling.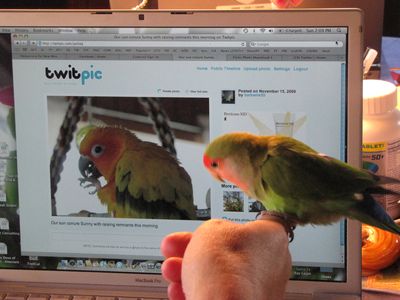 I also have to acknowledge the critical advice and assistance I receive from Sunny the sun conure (above left) and Bosco the lovebird (above right) each and every day. They oversee my blogging, provide a running commentary on my work habits and beg me to take a break to admire their tricks and slip them treats. Thanks birdies! And just think what they could do if they had hands!
By the way, Duke City Fix won in the Best Local Website category, with the Alibi and New Mexico Independent holding down second and third. Congratulations!
Click to check out all the Best of Burque winners for 2010.
April 8, 2010 at 09:25 AM in DFNM - Albq, Weblogs | Permalink | Comments (9)