Monday, January 21, 2013
Eric Griego, President Obama, Martin Luther King
Today January 21, 2013, just another day in the billions of years this planet has been spinning in the universe. The sun will came up and the sun will go down. The sun will rise tomorrow. I find comfort in this regular knowledge.
This weekend one of our own leaders within our NM progressive community had his family stricken with senseless tragic violence. Eric Griego, Abq City Councilor, NM State Senator and former Congressional candidate for CD1 had his brother killed and his sister in law, and two of his nephews and a niece killed by their brother. Five of Eric's family are gone. The tragedy, hearing about this tragedy made me cry. I cried and cried. I wrote this yesterday after hearing this horrible information:
The sadness of loss and the depth of despair is an interesting journey. Today I found out that one of our progressive leaders Eric Griego had the ultimate tragedy hit his family. Sudden violent ends to his brother and his sister in law and nephews and nieces. Gone. Gone from the planet as we know them. My heart is broken. My heart is broken for the loss and pain for my brother Eric and his family. It comes to me in this moment of loss in our small community here in NM how much I love Eric and so many others. How this day will be a changing epic day for the rest of Eric's life and all that love Eric and his family's life. Eric is a fighter for the underdog. He does not spend time dwelling in the world of the haves. If only his nephew had reached out to all the programs Eric has supported and kept alive. But no this young man could reach out to one thing that was handy in those hours and minutes, a gun. There is a fearlessness when we lose someone this close. A desire to hold on to life and work extra hard, or to let go of life. A fearless Eric Griego is exactly what this planet and NM and us livers needs right now. It is a painful tragic way to get there but it is what we need. We must not be succumbed with the mundane of life we must be fully engaged in the world of the living. We are our brothers keepers. I love you Eric and I love what you fight for. Healing fearless loving energy coming your way.
Inauguration day, the President took his oath of office today. He looked nervous to me, he looked like he is aware of the challenges ahead. His speech was great. To hear the President talk about climate change, gays and lesbians, the poor among us, the troubles that our country and indeed the world has, the end of war, the valor of peace. Together we can do this, together, together together.
MLK birthday too. Wow, what another man, one man that can move many. In the face of negative and pessimism, hostility, hate, violence.  A MLK quote: We must learn to live together as brothers or perish together as fools.
Personally I do not have much time these days to write posts, or follow things that keep this blog alive and active. I too am following my life's path. After running for the State Representative seat here in District 30, and not succeeding but learning much, I am following a new path a new journey. I spent months talking real and listening to people at every door that people would open and discussing there worries, hopes and fears. I really saw and believed that we can change things, together. My desire to help others is still very much alive but I must first help myself by getting full time employment. After losing my livelihood and then my partner, I am finding myself.
We never know where our journey will lead us. When we will be taken off this planet, when we will be shaken up in our day to day existence without any warning at all. It is at these trying times that we are the best of being human, hold on, hold on together. Carpe diem with love.
January 21, 2013 at 12:30 PM in Eric Griego, Obama Administration | Permalink | Comments (1)
Saturday, June 02, 2012
CD1 Candidate Eric Griego at HQ with PCCC and Volunteers GetOutTheVote
At 10:30 on Saturday morning the parking lot was full and the energy was high down at the Eric Griego for Congress Campaign Headquarters. Lots of volunteers eager and ready to go. It is a very very close race and the winner will be the one who turns out the vote.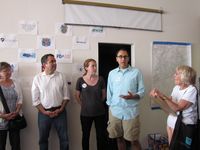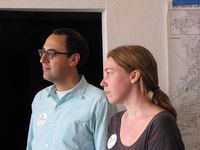 The Progressive Change Campaign Committee (PCCC) was in the house. Putting their feet where their money and mouths are and going door to door for Eric. Stephanie Taylor and Adam Green both co-founders of the PCCC, made statements on behalf of their supporters believe in Eric Griego. Paraphrasing: "Eric is running on holding Wall Street accountable, can a true progressive get elected saying he will not cave to the pressures of the fat cats."
Below is the co-founders of the PCCC introducing Eric Griego and Eric's powerful speech to his volunteers and supporters. Eric gets emotional 3/4 of the way into his speech when he is talking about people on fixed incomes giving $10 to his campaign, because they know he will not mess around with social security and medicare. Ten dollars is alot to people these days and Eric knows that. Also, if you do not have time to watch the whole video; watch from minute 5 to minute 7 most importantly . This is the quintessential Eric Griego " One human being sent to Congress with vertebrae."
 The next video is Abq Councilman Rey Garduno, giving a testimonial to his support to Eric.  
And the next video is the distinguished LaDonna Harris telling us why she believes in Eric at this time for this position.
Last but not least is Lucas Griego telling us to Vote 4 his Daddy!
June 2, 2012 at 01:46 PM in Candidates & Races, Economy, Populism, Environment, Eric Griego, Events, Progressivism | Permalink | Comments (3)
Eric Griego's Grassroots Campaign is Full Steam Ahead in Closing Days of Race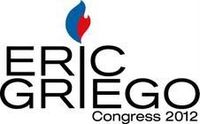 From the Eric Griego for Congress campaign:
Momentum builds as campaign raised over $56,000 in 24 hours, Secures Endorsement of National Wall Street Reform Leader Congressman Alan Grayson
Co-founders of the Progressive Change Campaign Committee, Adam Green and Stephanie Taylor, to rally dozens of volunteers tomorrow at campaign office for final GOTV efforts
In the last 24 hours, Eric Griego has raised over $56,000 and secured the endorsement of one of the leading national voices for Wall Street reform, Congressman Alan Grayson.
The surge in donations and the Grayson endorsement occurred as donors and New Mexico voters flocked to the only candidate in the race for New Mexico's 1st district who has firmly committed to reject any cuts to Social Security and Medicare benefits and ensuring that the Wall Street bankers who broke the law go to jail.
Over the next four days Griego's campaign plans to make over 15,000 phone calls and knock on 5,000 doors during 300 volunteer shifts with the help of its grassroots army of volunteers -- which includes dozens of seniors attracted to Griego's steadfast opposition to any cuts to Social Security, Medicare or Medicaid.
Tomorrow, Griego's campaign will hold a rally headlined by the two co-founders of the Progressive Change Campaign Committee (PCCC), Adam Green and Stephanie Taylor, to gather dozens of these grassroots volunteers to Get-Out-The-Vote at 10:30 AM at campaign headquarters located 929 4th Street SW, Albuquerque, NM.  PCCC has nearly 10,000 members in New Mexico's First Congressional District.
"Grassroots donors and volunteers in New Mexico and across the country are flocking to Eric Griego in the closing hours of this campaign because they know that he's the only candidate committed to protecting Social Security and Medicare benefits and hold to Wall Street accountable," said Ed Yoon, campaign manager.  "While our opponents continue working on their slimy attack ads, our grassroots volunteer team is focused on knocking on the doors and making the phone calls it will take to send Eric Griego, a proven progressive, to fight for us in Washington."
Building even more momentum, Griego's campaign was also endorsed by Congressman Alan Grayson, a national leader for Wall Street reform.  Grayson sent out an email to his supporters on Griego's behalf, allying Griego even closer to leaders in Congress fighting real accountability for Wall Street bankers.  The email focused on Griego's extraordinary biography as an unlikely success story if not for his close family and the benefit of key programs that help working families like Social Security, Head Start and Pell Grants.
Excerpt from an e-mail where Griego tells his own personal story: (Full text of email below.)
I grew up and I still live in the Barelas neighborhood, a working-class Hispanic area near downtown Albuquerque. The average household income in the area is about $20,000.
My personal values come from watching my mother struggle. Despite all of her hard work, and all of our hard work starting at a very young age, we would not have made it without society's investments in us, through programs like Headstart, public schools, public colleges, Pell Grants, etc.
My mom was able to retire, thanks only to Social Security, modest savings, and help from us. She had decent healthcare, thanks to Medicare, which she had paid into her whole working life.
As an elected official I have always fought, and I always will fight, for families like mine.
The response to the email and endorsement was overwhelming raising $28,000 for the campaign in 24 hours.
The full text of Alan Grayson's e-mail:
Dear friend,
This is former Congressman Alan Grayson. I'm going to let Eric Griego, a progressive candidate for Congress in New Mexico, explain this one himself:
"I grew up and I still live in the Barelas neighborhood, a working-class Hispanic area near downtown Albuquerque. The average household income in the area is about $20,000.
My brother, two older sisters and I were raised by my single mom. My mom was a housewife for 10 years, until my father left her in 1969. Then she had to join the workforce, with only a high school diploma.
My mom had to work two minimum wage jobs to get by. She was a secretary by day, and she worked as a cocktail waitress at the Disabled American Veterans hall on weekends. We all worked from the age of 13, or younger, to help support ourselves and the family. I sold newspapers in front of churches and intersections. My brother and sisters worked in restaurants.
We had only three rooms at home. My sisters slept in the same bed. My brother and I slept on couches in the living room.
Even with all of us working, we still had to rely on food stamps and free school lunches to have enough to eat. We wore second-hand shoes, collected in local shoe drives. Our only Christmas gift many years was a basket from the Knights of Columbus.
In 1970, my mom enrolled me in the Headstart Program. That changed both my life and hers. I learned to read and write, and my mother could focus on work, knowing I was in a safe place.
Thanks to state schools, my sisters and I became the first ones in our family to finish college, and even obtain graduate degrees. We all were able to do that only because we received scholarships, Pell Grants and student loans.
My personal values come from watching my mother struggle. Despite all of her hard work, and all of our hard work starting at a very young age, we would not have made it without society's investments in us, through programs like Headstart, public schools, public colleges, Pell Grants, etc. My mom was able to retire, thanks only to Social Security, modest savings, and help from us. She had decent healthcare, thanks to Medicare, which she had paid into her whole working life.
My mom died ten years ago, but in the last years of life she lived with dignity, and love. As an elected official I have always fought, and I always will fight, for families like mine."
The latest poll shows Eric Griego TIED in next Tuesday's Democratic primary in New Mexico. Your support can help to put him in Congress. Please donate $3 today.
We're all in this together.
Courage, Alan Grayson
June 2, 2012 at 06:37 AM in Candidates & Races, Economy, Populism, Eric Griego, NM-01 Congressional Race 2012, Social Security | Permalink | Comments (5)
Friday, June 01, 2012
Sierra Club Primary Endorsements: Vote June 5!
On May 31, Sierra Club released the following endorsements for primary candidates.
On June 5, we have a golden opportunity to select candidates who will protect New Mexico's air, land, and water.
In several Democratic primary races, we have excellent chances to replace anti-environment elected officials with environmental champions. Check out our endorsements below and vote early until Saturday or on Election Day, June 5.
Sierra Club Rio Grande Chapter endorses:
(Note: non-incumbents not listed if they are in unopposed primaries.)
U.S. Senate: Martin Heinrich
U.S. House of Representatives, District 1: Eric Griego
U.S. House of Representatives, District 3: Ben Ray Luján
Public Regulation Commission, District 3: Virginia Vigil
Santa Fe County Commission, District 2: Maria-Ester De Anda
Santa Fe County Commission, District 4: Kathleen Holian
Santa Fe County Commission, District 5: Elizabeth Stefanics
New Mexico House of Representatives:
District 14: Rep. Miguel Garcia
District 16: Rep. Antonio "Moe" Maestas
District 17: Rep. Ed Sandoval
District 18: Rep. Gail Chasey
District 21: Rep. Mimi Stewart
District 34: Rep. Mary Helen Garcia
District 35: Rep. Antonio Lujan
District 42: Rep. Bobby Gonzales
District 46: David Coss
District 47: Rep. Brian Egolf
District 48: Rep. Lucky Varela
District 50: Stephen P. Easley
District 65: Rep. James Madelena
District 69: Rep. Ken Martinez
New Mexico Senate:
District 3: Sen. John Pinto
District 6: Sen. Carlos Cisneros
District 8: Sen. Pete Campos
District 9: Ben Rodefer
Disrtict 11: Sen. Linda Lopez
District 12: Sen. Jerry Ortiz Y Pino
District 14: Eleanor Chavez
District 15: Sen. Tim Eichenberg
District 16: Sen. Cisco McSorley
District 17: Sen. Tim Keller
District 21: Senator Lisa Curtis
District 24: Sen. Nancy Rodriguez
District 25: Sen. Peter Wirth
District 26: Jacob Candelaria
District 28: Sen. Howie Morales
District 29: Sen. Michael Sanchez
District 30: Maxine Velasquez
District 36: Sen. MaryJane Garcia
District 38: Sen. Mary Kay Papen
District 39: Jack Sullivan
June 1, 2012 at 08:24 AM in 2012 Legislature Races, 2012 NM PRC Races, 2012 NM Senate Race, 2012 Primary Election, Environment, Eric Griego, NM-01 Congressional Race 2012, Rep. Ben Ray Lujan (NM-03), Rep. Martin Heinrich (NM-01) | Permalink | Comments (0)
Wednesday, May 30, 2012
Final Countdown to Pre-Primary Election June 5, 2012
T minus 6 days.
Primaries are tough. This year the CD1 primary has been real tough. Barb had a way to wrap up all the "he said she said's." For me it is a struggle. I feel like I should have a striped shirt on and a whistle, yelling "Fowl, ten yard penalty". 
Who am I to say what is a penalty unless it is very blatant. And to be fair each claim brought up by a campaign against the other has to be researched in depth. So far Eric's campaign stating Michelle was in charge of the Ft Bayard complex when things were so horrible down there, is the most awful thing. However, what it triggers for me is how the poor souls living in those types of conditions still exist I am sure. Our society is not caring for our elderly. We do not staff the senior care centers right and more of us are getting old and will need care of some sort. Bottom line, the senior care centers need more funding and oversight. Reviewing the federal report briefly it appears Michelle worked very openly with the federal gov't when they stepped in to review this nightmare. But, I am sure it is still going on within this state somewhere. I had the pleasure of shadowing Michelle for a day back in February, to a Native American senior gathering, and these seniors just lit up seeing Michelle. Each one saying how she helped them out. I took video testimonials at the time but never had time to put them up. I will share one now.
As for Eric and his speeding tickets and other non violent fines, what can I say? First thing that comes to mind is "is that the best you all got?" Oh yeah, there is the fact that Eric only had one bill that he carried pass. For me that is a sign of the road block times we live in. No wonder he got speeding tickets after being in this legislature and seeing nothing get done, and very important measures being voted down, like senior care and oversight. I may be speeding too! Folks should not forget that Eric cast many many votes for all the other bills during his 4 years as a senator. They were the right votes and were very much needed for the people. I am sharing a video below of Eric speaking about the DREAM act, Let's think about all the people the DREAM act will help, kids that want to learn and make a difference.
Last but not least is Marty. Marty could still pull this out for sure. Marty has his pluses and minuses as all human beings. He is staying out of the finalist riffraff it appears. The fouls were being thrown early between Eric and Marty as CD1 candidates. There is no sense in revisiting these here and now. Suffice to say Marty could still pull out a win.
I am putting up a video below of all three candidates at a debate that was sponsored by Bern Co ward 11A. The question was about the budget, balancing the budget.
May 30, 2012 at 04:19 PM in Candidates & Races, Eric Griego, Martin Chavez, Michelle Lujan Grisham, NM-01 Congressional Race 2012, Taxes | |
Thursday, May 24, 2012
Dear Congressional District 1 Candidates
As this Congressional District 1 race heats up a bit more everyday this blog is trying to remain neutral. Maybe some of you reading this will disagree but we are. There have been intense arguments written in the comment section of the blog of people venting against their opposing candidate and talking up their candidate. Unless the comment was posted verbatim in another comment thread, the comments have remained as is, unedited, but yes we do check for really off base bad destructive comments and remove them. 
As you know or don't know DFNM Meetup endorsed Eric Griego for the CD1 candidate of their choice. Now we are at the very very very worst time of campaign primary season. I receive guest blogs daily laying out negatives and postives. There is no way the information within the guest blogs can be traced down, so I really do try not to put up something that is real destructive. Barb's philosophy on this blog was we are democrats and most of the time any of the dems running for office will be way better than an R.
And that is the main point, whether the democrats in CD1 choose: Marty Chavez, Eric Griego or Michelle Lujan Grisham, Democracy for New Mexico blog will be 200% behind them. I have very close friends living in my house since Barb passed, and we talk for hours about politics. We take it seriously, we want the best candidate to help this state and the country. Honestly, it is a tough choice who is the best candidate to help us out of this mess we are in. What we are certain about is; we need help out here big time. I still maintain what my experience has been in my race for state rep 30, practically every door I knock on has underemployed, unemployed, overworked and sickness in their home. That is the facts.
Like what Leslie L said in the journal today, paraphrasing; watching the debate on Saturday evening, "good thing she wasn't taking a shot every time one of the candidates said I will be fighting for you." I looked up the word fight in the thesaurus to see if I could suggest another word. What I found I liked the best were the antonyms for the word fighting: advance, cultivate, encourage, forward, foster, further, nourish, nurture, promote.
In summary, I have not voted yet. I generally wait to the election day. But we are all democrats and we should be careful of the circular firing squad. We know each of the candidates is tough, you have to be to be running, I say we democrats are blessed with three wonderful candidates. Sure they all have their imperfections but they all are beauties next to another R in the US House of Representatives. 
For myself, I thank each of you for running and having your whole life picked apart. We need jobs, we need healthcare, we need a safe environment, we need civil rights, we need education, we need compassion.
May 24, 2012 at 12:21 PM in Candidates & Races, Eric Griego, Martin Chavez, NM-01 Congressional Race 2012 | |
Wednesday, May 23, 2012
Congressional District 1 Race Latest Poll Results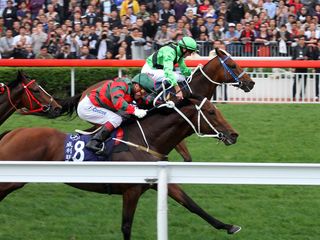 Wow, what an interesting race for our New Mexico Congressional District 1. The race reminds me of a great horse race with the all out sprint to the finish line. However, let's face it, the correct analogy would be a one year marathon. We are down to the last 13 days today, and the most current poll shows a total shift of all positions in this hot race.
NM-1 breaking news in ROLL CALL according to the latest polling, Senator Eric Griego is in the lead with 35% of likely Democratic Primary voters in the race for NM's 1st Congressional District.  Here are the brand new poll numbers the story mentions:
**NEW** May 15-16 poll showed:
35% Griego
30% Lujan Grisham
28% Chavez
Feb 28 - March 1 poll showed:
37% Chavez
30% Griego
24% Lujan Grisham
The polling also revealed Griego has the highest favorable to unfavorable rating of the three candidates:
48-16 for Eric Griego
44-18 for Michelle Lujan Grisham
41-35 for Marty Chavez
(Details: Both were conducted by GBA strategies and included 400 Likely Democratic Primary Voters, MOE +/- 4.9%)
The following was released from the Griego Campaign:
"I'm proud of the surging support behind my campaign to fight for what we say we believe as Democrats," Griego said.  "Our lead in the poll proves that New Mexicans want to elect a leader with a long, consistent record of taking on the status quo and powerful corporate interests to fight for reform and middle class jobs."
"We're winning because New Mexicans support Eric's unwavering commitment to protect Social Security and Medicare, hold Wall Street bankers accountable, and fight for core Democratic values," said Ed Yoon, Griego's campaign manager.  "And we will win on June 5th because we are out-raising, out-communicating, and out-organizing our more conservative opponents."
Then there is this poll released on NM Politics with Joe Monahan's blog this morning: Lujan Grisham polls 34.7%, Griego garners 33.9%, Chavez comes with 22.3% and 9% of the 728 likely Democratic voters in the 1st Congressional district who responded to the automatic phone poll said they were undecided. The margin of error in the survey is 3.62%.

This press release issued from Lujan Grisham Campaign:  
"Michelle has seized the momentum and is now tied for the lead in the race for Congress! Michelle has 35 percent of the vote, surging 11 points from February polling. She is tied with Eric Griego. Support for Marty Chavez, the former frontrunner earlier this year, has plummeted significantly, from 37 percent in February to 23 percent now."
Some of the interesting polling statistics that Joe Monahan shares with us on his blog are the following:
"Lujan Grisham, who has made direct appeals to women voters, actually trails Griego in that category, if only by a tad. Griego wins 37% of women to Lujan Grisham's 33%. Chavez gets 22%. But Griego gets 43% of liberals to Lujan Grisham's 34% and Chavez's 18%.
Democratic women are more liberal than Democratic men who tend to be more moderate.
Among men, Lujan Grisham edges out Griego. She gets 37% to Griego's 31%. Chavez gets 23% and the remainder are undecided,
Griego holds a slight lead among Hispanics, but they are bunched up among the three hopefuls all of whom are of Hispanic heritage. Griego scores 35%, Lujan Grisham 29% and Chavez 28%. Anglos give Lujan Grisham 39%, Griego, 34% and Chavez 18%." 
May 23, 2012 at 01:57 PM in Candidates & Races, Eric Griego, Martin Chavez, Michelle Lujan Grisham, NM-01 Congressional Race 2012, Polling | |
Tuesday, May 22, 2012
Women Speaking to Women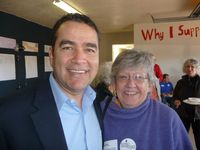 The following post is provided by Contributing writer Lora Lucero.
Eric Griego has the support of many women in the CD-1 race for the US Congress.  I gathered some of my women friends together to speak to our sisters, mothers, and daughters about why this race is so important, and why women support Eric to champion our issues in Washington DC.  Please check out my short video below.
Hear State Senator Dede Feldman share about Eric's determination to stand up for women's rights.  Eric not only supports Roe v. Wade, but also considers women's rights essential to decisions on medical privacy. As a State Senator, Eric stood up to conservative anti-women forces and opposed legislation designed to erode family planning rights, criminalize abortions, and force minor victims of even incest or rape to obtain parental permission before receiving care.
Thanks to Senator Dede Feldman, Representative Mimi Stewart, Marit Tully, Loretta Naranjo Lopez, Barbara Grothus, Melinda Smith and Deborah Marez-Baca for participating in this first video.  More to come in the next few days. 
May 22, 2012 at 02:37 PM in Eric Griego, Lora Lucero, Contributing Writer, NM-01 Congressional Race 2012, Women's Issues | |
Saturday, May 19, 2012
$642,000,000,000 (billion) for the War Machine "Ike was Right"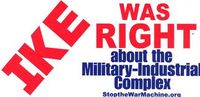 $642,000,000,000.00 for Fiscal Year 2013 Defense Budget, 8 billion more than what Obama or the Defense Secretary even asked for. I bet the Department of Education would love 8 bil more for their FY2013.
When will this craziness stop? CD1 Congressman Martin Heinrich voted yes, CD2 Congressman Pearce voted yes, CD3 Congressman Lujan voted no. Heinrich voting with Pearce is not good. Heinrich's press release is at the end of this post. To see how Congressional votes across the Country were cast for this bill see this article.
This kind of obscene money spent on war and defense has got to stop. 88 billion still going over to Afghanistan for 2013, that is $1.5 bill every week. Think of what this Country could do with $1.5 bil every week. The bill funds a missile defense site to be built on the east coast, that the military itself opposes, old star-wars garbage, and even Russian cold war garbage. We have gone insane, when we will fund things the military does not even want and threaten drastic cuts to social security for our seniors which is desperately needed now, we have gone insane.
Ok yes there are jobs that come from all that obscene money for people in NM. At Kirkland mainly, yes these jobs have real people working in them, but it is time we ask; do we spend our precious tax dollars on space war or fireman, Russian cold war or teachers, more nuclear weapons or solar energy, fixing the San Juan coal plant that we know is killing people which will cost $800 mil, or 1.5 bil for another week in Afghanistan?
Heinrich says in his statement below: "H.R. 4310 includes language that restores these missions, and includes $25 million for the continuation of the ORS program and $45 million for the continuation of STP. The United States Air Force (USAF) estimates that there are 68 jobs at the KAFB ORS headquarters office, not including the New Mexico small businesses that contract with and provide support to ORS. Further, the USAF estimates there are 74 jobs at the KAFB STP office." So let me do a quick calc...that is 142 jobs for $70 mil tax dollars. Not a good return I say. Maybe if it was even 1,420 jobs or 14,200 jobs for 70 mil I would be more in favor. If you are one of those 142 people working on this project you are psyched, but if you are us underemployed and unemployed, we are not so psyched.
How about the constant drum beat of the funding social security, and medicare costing the country too much money. We have paid into this fund for all the years we have been working, let's face it, it has been used as a slush fund for other war machine spending. It is time we stop being a super power around the world, rebuilding and protecting the world meanwhile our own needs go untended. Our seniors struggling, our children slipping more and more behind. Channel 7 is having a debate tonight with the CD1 Candidates I hope they ask how each of the candidates would have voted for this bill.
These are the questions we face this election. More of the same use of our money for war machine spending or funding realistic things for our citizens needed now. Like President Eisenhower said in his 1961 farewell address "restrain the "military-industrial complex." you can read the entire speech here. 51 years ago, and we are have done nothing but increase our military industrial complex to the point it is now the only budget of our country that receives more and more than requested and has very little accountability for where the funds go, and meanwhile we are out of work, kids have no food to go to school with a full belly, moms and dads are not working, no money for healthcare, no money for sustainability projects.
If the election was today who would you vote for? Who would be the most likely to not cave for star war spending, even if it does have jobs related to it in Kirkland, does it make sense for now? Is it the best use of your/our tax dollars? I do not think so. You decide.
Heinrich Fights to Save KAFB Missions and Boost New Mexico's Economy
Defense Authorization Bill to Strengthen National Security, Ease Export Controls and Promote Tech Transfer Passes House
WASHINGTON, D.C. (May 18, 2012) – Today, U.S. Representative Martin Heinrich (NM-1) announced that H.R. 4310, the National Defense Authorization Act (NDAA) for Fiscal Year 2013 passed the House by a 299 to 120 vote. The bill ensures that our military is fully prepared for threats and challenges worldwide and that our troops get the benefits they deserve and have earned. This year's NDAA includes several important provisions authored by Rep. Heinrich that support U.S. service members and their families, create jobs, and spur economic growth in New Mexico.
"I will keep working to ensure that our national laboratories and military installations have the resources they need to perform their critical national security missions," said Rep. Heinrich.
In February, as part of the President's Budget for Fiscal Year 2013, the Department of Defense recommended eliminating funding and terminating the Operationally Responsive Space (ORS) program and the Space Test Program (STP), both of which are headquartered at Kirtland Air Force Base (KAFB). Since that time, Rep. Heinrich, a Member of the House Strategic Forces Subcommittee, has led the fight in the House to restore the ORS and STP missions.
As a result of Rep. Heinrich's work, H.R. 4310 includes language that restores these missions, and includes $25 million for the continuation of the ORS program and $45 million for the continuation of STP. The United States Air Force (USAF) estimates that there are 68 jobs at the KAFB ORS headquarters office, not including the New Mexico small businesses that contract with and provide support to ORS. Further, the USAF estimates there are 74 jobs at the KAFB STP office.
"I asked the tough questions and I worked with my colleagues, both Democrat and Republican, to protect these missions at Kirtland," said Rep. Heinrich. "As the Department of Defense looks for ways to cut spending across the country, I am committed to fight for New Mexico and ensure that jobs remain intact."
House Armed Services Committee Ranking Member Adam Smith (WA-9) added, "I applaud Congressman Heinrich for his hard work in bringing the committee to a more sensible approach that prevents the loss of the ORS and STP missions and their personnel."
Additional provisions included in the NDAA that are positive for New Mexico:
Preserved Directed Energy jobs at KAFB. NDAA provided an increase of $30 million to preserve the skilled workforce that was involved in the Airborne Laser Test Bed program and to accelerate experimentation with next generation directed energy system development.
Increased Technology Transfer. Rep. Heinrich successfully offered an amendment that would authorize a pilot program between one national laboratory and one non-profit entity for the purpose of accelerating technology transfer from national laboratories to marketplace.
Ease Satellite Export Controls To Boost NM Small Business. An amendment, based on legislation Rep. Heinrich introduced last year to ease satellite export controls, was accepted. Easing export controls will provide a strong boost to New Mexico's aerospace industry.
Possible 2013 and 2015 BRAC Rejected. KAFB, Cannon Air Force Base, Holloman Air Force Base, and White Sands Missile Range would be protected from a 2013 or 2015 Defense Base Closure and Realignment Commission (BRAC).
May 19, 2012 at 11:19 AM in 2012 NM Senate Race, Candidates & Races, Eric Griego, Hector Balderas, Martin Chavez, Michelle Lujan Grisham, Military Affairs, NM-01 Congressional Race 2012, Rep. Ben Ray Lujan (NM-03), Rep. Martin Heinrich (NM-01) | Permalink | Comments (8)
Tuesday, May 15, 2012
Eric Griego Launches New TV Ad Calling for Wall Street Accountability
Today, Democratic congressional candidate Eric Griego became the first congressional candidate in the nation to air a TV ad calling for Wall Street bankers to be held accountable for their actions.  Griego also released his platform to strengthen Wall Street reform and to prosecute bankers who broke the law.
The ad features Westside Albuquerque residents Alan and Melinda Witt.  A month after Alan Witt retired, the economy crashed and he and his wife lost much of their savings, which they will never be able to recover.
"To this day, not one Wall Street banker who broke the law, tanked the economy, and took away people's homes and savings are in jail," Griego said.  "Sadly, Wall Street bankers are still playing by their own rules, and we need tough reforms to hold them accountable.  We need to break up the Wall Street-Washington romance by electing more reform-minded Democrats who will not sell out the public to appease Wall Street lobbyists."
"If candidates like Elizabeth Warren and me win this year, it will send a signal to the political establishment that it's time for real Wall Street reform."
In Congress, Griego will fight for the following five reforms:
Fight to increase 20-fold the number of investigators for the financial crimes federal task force led by New York Attorney General Eric Schneiderman.  Right now, this task force only has 55 investigators and prosecutors.  The Savings and Loan crisis of the 1980s was staffed with over 1,000 investigators, experts, and prosecutors.  That effort yielded more than 600 convictions and $130,000,000 for taxpayers.  One of the first bills that Griego will sponsor will be to increase the funding and staffing for this financial crimes task force.
Push for increased funding for the Consumer Financial Protection Bureau – the federal watchdog on Wall Street, created by Elizabeth Warren – to strengthen its investigative capabilities.  Even a small additional investment can avert billions, or trillions, of dollars in economic damage by Wall Street.
Push the U.S. Justice Department to more aggressively prosecute white-collar crimes by Wall Street bankers.  Members of Congress can exert key leverage with the Justice Department to make investigations and prosecutions happen.
Strengthen the Dodd-Frank Wall Street Reform and Consumer Protection Act, and close the loophole in the legislation's "Volcker Rule" that was exploited by JPMorgan recently – when their risky bets lost $2 billion.  Many of the legislation's provisions are designed to go in effect in 2014, so the rules are still being written.  Congress can't allow Wall Street bankers to write their own rules – we need Wall Street reform to stay on the agenda in Congress.
Pass a new Glass-Steagall Act to separate investment banks from traditional banking – so people's life savings are not gambled away by Wall Street. Elizabeth Warren and the Progressive Change Campaign Committee started a grassroots campaign for a new Glass-Steagall yesterday, and within hours over 40,000 people joined the cause.  I'm proud to be one of those people – and passing a new Glass-Steagall will be a priority of mine in Congress.
May 15, 2012 at 09:11 AM in Candidates & Races, Eric Griego, NM-01 Congressional Race 2012, Television | |
Friday, May 04, 2012
Guest Blog by Sen. Tim Keller and Dede Feldman: 'Getting Things Done' for CD-1
It's that time again, one month before a crowded Dem primary and the negativity, Dem vs Dem, is starting to fly on the airwaves, on our mailboxes and on our computer screen.  As we talk with folks in our district, you can feel the increasing irritation folks have as everything crescendos to June 5th.
This year with a three-way congressional and two way senate race, let's hope we can avoid one of primary reasons politicians are less popular than any other profession in our society.  For those of us in Albuquerque, the CD-1 race is already filling with all sorts of claims.
Another claim is the "doesn't get things done" attack against Eric Griego. As colleagues, we know Eric's record, and we know that he has never stopped fighting for New Mexicans -- not only "to get things done," but to get the right things done.
We have both been fortunate to pass several bills up in Santa Fe, but we know it can take a small army to pass a bill.  It takes the leadership from both houses coordinating the process, it takes committee chairs assuring a hearing, and it takes outspoken liberals who help to strengthen the negotiating hand for sponsors who get work done.
There is a reason why multiple legislators in CD-1, including both of us, have strongly endorsed Eric for Congress.  For four years Eric Griego has been the progressive spear tip who helps legislators like me to get workable solutions into law.
It might not show up in the bill sponsor logs, but Senators know Griego even crosses the aisle.  It was Eric who brought Albuquerque Dems, the Governor and GOP Senators together on 2011 funding vote for the Paseo interchange!
The other attack we hear a lot is "elect me, because candidate A and B can't win the general election."  Given where redistricting took CD-1, recent performance of Obama and Heinrich, and an uninspired CD-1 GOP, we believe any one of the three candidates will win in November.   We love passionate debates and action packed campaigns, but bitter infighting will drive down Dem turnout; and that is what will cost Dems the general election regardless of who wins the primary.
If you're tired of all the negativity, and tired of politicians, there is clarity: vote for sure, shun the political games, pick a Dem based on your conscience, on their action plan to: create jobs, champion renewable energy and fight for social justice. Save your vehemence for the general and unite behind the Dem winner June 6th.
May 4, 2012 at 03:50 PM in Candidates & Races, Democrat, Eric Griego, Guest Blogger, NM-01 Congressional Race 2012, Tim Keller | Permalink | Comments (3)
Wednesday, May 02, 2012
NM-1: National Nurses United Endorses Eric Griego for Congress
From the Griego for Congress Campaign.
Today, Eric Griego for Congress in New Mexico's First District announced Griego's endorsement by the National Nurses United (NNU), which represents 155,000 registered nurses throughout the nation.
In a letter to Griego, NNU PAC Chair Carolyn Hietamaki, RN, said: "We believe that you will do an excellent job in representing your district on health, labor, women's issues, and civil rights, which are important issues to registered nurses."
"I'm proud of receiving the support of nurses, who work hard to care for patients and heal the sick at our hospitals and nursing homes," Griego said.  "The nurses agree that we must do more to make quality healthcare more affordable and to fight back against the Republican war on women."
"I will never waver in my commitment to continue fighting for quality affordable healthcare for all Americans, and fight the Tea Party agenda of cutting Social Security, Medicare and Medicaid."
Eric Griego supports expanding coverage and reducing the cost of healthcare by allowing every American to be able to enroll in Medicare.  He has also fought to protect Medicaid from funding cuts proposed by Republicans and conservative Democrats in the state legislature.
Eric Griego's pro-worker record is unmatched in this race.  A proud former member of the American Federation of Government Employees and the American Federation of Teachers, Griego has fought to protect worker rights and to increase the minimum wage.  That is why he is endorsed by most of the labor unions involved in the race.
Eric Griego has been an outspoken leader on protecting women's rights in the state legislature.  That is why he is endorsed by leading national women's voice, Dr. Martha Burk, and State Senator Dede Feldman and State Representative Mimi Stewart -- the two respective chairwomen of the state legislature's committees focused on women's issues.
Eric Griego is also proud of his support for comprehensive national immigration reform and the Dream Act.
May 2, 2012 at 11:45 AM in Eric Griego, NM-01 Congressional Race 2012, Unions | |