Saturday, September 01, 2012
Pro-Custer RNC Official Resigns Firm Post, Under Pressure
The following update regarding the Republican leader Pat Rogers is provided by our friends at ProgressNow NM. Resignation comes after week of pressure from ProgressNow NM and Activists.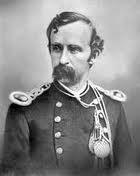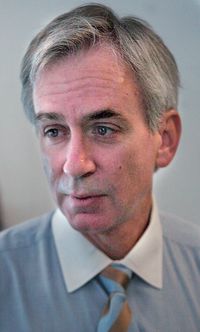 Custer above                       Rogers above
(Remarkable resemblance above in facial features.)
Pat Rogers, the embattled lawyer, lobbyist, and state Republican National Committeeman, has resigned his position as Vice President of Modrall Sperling law firm following public pressure from ProgressNow New Mexico, as well as Native, Hispanic, and LGBT communities.
The controversy began last week after ProgressNow NM publicized a June 8, 2012 email Rogers sent to senior members of Governor Susana Martinez's staff. In the email, Rogers says that "The state is going to hell" and claims that Governor Martinez "dishonored" the memory of George Armstrong Custer - the notorious U.S. Army commander who killed scores of Native peoples during the Indian Wars of the mid-19th Century - by meeting with New Mexico's tribal leaders at the annual state-tribal leaders summit.
Rogers' controversial remarks set off a frenzy of state, national, and international news coverage.
Last Friday, ProgressNow New Mexico began a petition signing campaign calling for the Republican National Committee to denounce Rogers' remarks and dismiss him from his post. Yesterday, ProgressNow New Mexico organized a press conference and protest outside of Rogers' law firm, Modrall Sperling, where concerned citizens from a diverse array of communities delivered more than 700 petitions calling for Rogers' resignation. "Here in New Mexico...we cherish all of our communities and to be so contemptuous toward Native Americans is inappropriate," said Laurie Weahkee of the Native American Voters Alliance after the press conference.
"As the face of New Mexico's Republican Party and a lobbyist for a number of corporations that do business on tribal lands, Mr. Rogers' derogatory remarks are particularly insulting and have no place in modern discussions of politics and policy. We wish Mr. Rogers the best in his future endeavors and hope that he will also see fit to step aside from his postition representing New Mexico to the nation through his Republican Party post," said Pat Davis, Executive Director of ProgressNow New Mexico.
In July, Rogers also resigned from his board position at the New Mexico Foundation for Open Government after the Independent Source PAC discovered Rogers had been using a private email address to conduct what should have been public communications.
Read the official announcement of Pat Rogers' Modrall Sperling resignation here.
September 1, 2012 at 10:32 AM in Independent Source PAC, Native Americans, ProgressNow New Mexico | Permalink | Comments (3)
Monday, August 13, 2012
Repub Gov Martinez Used to Prosecute Guys Like These Now She Surrounds Herself with Them.
The following article is from ISPAC and was released and published on August 10, 2012.  You can find the complete story by following this link. In the spirit of full disclosure Mary Ellen Broderick the co-founder of this blog is currently in a Legislative race against Republican Nate Gentry.
Susana Martinez is a former prosecutor who has professed deep concern about violence against women. Yet her "top advisor" Jay McCleskey left an Albuquerque woman with bruises, according to a police report and criminal complaint, and a closer look at the governor's inner circle reveals an alarming pattern of aligning herself with men who mistreat women.
Martinez, who is married to a career law-enforcement officer, has surrounded herself with the sorts of rogues she once prosecuted. Martinez has said she opposes expunging criminal records, and for good reason. In her memorandum vetoing a bill calling for expunging these records, dated March 2, 2012, Martinez acknowledged employers should have the right to examine not just criminal convictions, but non-conviction records of those they employ.
Martinez recognized that because a person is not convicted of a crime does not mean they are innocent. She wrote, "however, there is a litany of other reasons why someone could be charged for a crime, but not convicted. For example, it is sadly not rare for someone arrested for domestic violence or another serious crime to find a way to pressure or intimidate a victim or other material witness into not testifying at the offenders' trial, often allowing the offender to avoid a conviction of a crime he/she committed." (Read her Memorandum here)
That sensible stand is not a guiding principle of Martinez's, unless she simply failed to vet the people she's chosen to help run and enforce the actions of state government. Politics breeds hypocrisy, but that hypocrisy is more unseemly when it involves men using their power (whatever kind of power that is) to intimidate and threaten women.
Not all of those listed here fall into that category and not all of this conduct resulted in criminal charges. But the pattern is there and it calls into question Martinez's commitment to protecting victims, especially of abusers.
Put simply, Martinez should be judged by the "bad boys" whose company she chooses to keep: Jason "Jay" McCleskey, Paul Pacheco, David C. Chavez, David Doyle, Jr., Bob Wooley, and Nate Gentry. If Martinez knows these men's histories and conducts business with them anyway, then her law-and-order image is just that—image. And if she doesn't know what they've done, then our governor does not do her homework.
Below is the name of each of her "bad boys" and the ISPAC research and write up about them. What comes across is the flagrant entitlement each of these republican men have, bullies. The republicans can break any laws they want and have no repercussion. The only other bad boy I see missing from this list is Darren White. Please click on each name below and see if you would want them over for dinner at your house.
August 13, 2012 at 05:01 PM in Independent Source PAC, Susana Martinez | Permalink | Comments (2)
Monday, July 23, 2012
Darren White Being a Close Friend of Susana and Jay McCleskly Pays-off
Darren White continues to be passed around for some position in the Martinez administration. And currently the Racino Downs is part of the Martinez/McCleskly administration. Maybe Pat Rogers will be hired as deputy GM under White?
In the days that we are living in of hard to find jobs, and tough scrutiny over applicants it is aggravating to see such favoritism and out right cronyism from the Governor of New Mexico. Governor Martinez ran on a platform of " NO Corruption", "NO cronyism", "NO favors". The response to this accustation will surely be it is not my administration appointing and running the Downs, it is not Susana's NM Government, it is her NM Shadow Goverment.
Following is a good recap of Darren Whites history provided by ISPAC.
Darren White Is New Downs General Manager. REALLY ???
In the latest chapter of the "Dirty Downs Deal" saga, Darren White has been selected as General Manager for the Racino.
So what are Darren White's qualifications for the General Manager position at The Downs? How critical is this position for the operation of the Racino? And what does this say about the perfect score of 300, lead evaluator Charles Gara awarded the Downs for "managerial expertise"?
Darren White is best buddies with Jay McCleskey. The two of them spend a lot of time sitting around the swimming pool together. White is also very close to Downs lobbyists/lawyers Pat Rogers and Mickey Barnett.
Barnett's law firm has represented both White and McCleskey in some family law matters.
Oh yeah, and Charles Gara contributed money to Darren White's failed congressional race and also hired Jay McCleskey to run a political operation for him. Think they are all tight?
According to the Response to RFP submitted by the Downs on August 25, 2011, the General Manager position "has been created in anticipation of the new facility". So White was given a job that did not previously exist, despite the fact that the Downs has operated as a racino (racetrack and casino) since 1999.
The job appears to be one of the most critical to the operation of the racino: "the General Manager serves as the head of the administrative department. Reporting to the General Manager will be the accounting, human resources, audit/compliance and marketing divisions, as well as the Casino Manager and the Racing Manager. The General Manager will be responsible for the day-to-day operations of The Downs, including implementing and monitoring policies, establishing and managing the budget, hiring and training the management team, ensuring managers are actively monitoring compliance with all regulatory requirements and providing overall operational support."
Here is what Darren White brings to the job:
2011 - 2012 White has no gaming management experience. His only involvement with the racino before this was as a "security consultant" helping the Downs at Albuquerque prepare its response to the RFP. White then briefly worked as the Project Manager at the Downs for the construction of the updated racino. As of the last several weeks, however, there does not appear to be any actual construction going on at the Downs.
2011 Before the Downs, White served as the Public Safety Director for the City of Albuquerque. When White intervened at the scene of his wife Kathy's one-car accident, his brief stint in this position ended with "No-Confidence" votes by members of the Albuquerque Police Department (85%) and the Albuquerque Fire Department ("overwhelmingly").
2008 In February 2008, as Bernalillo County Sheriff, Darren White helped TruTouch Technologies secure a sole-source contract in the amount of $379,995 to "supply alcohol screening and testing prototype equipment." White notified the County Commission that "the Sheriff's Department fully supports the Sole Source contract award to TruTouch Technologies of Albuquerque." White was also running for US Congress, and received campaign contributions from TruTouch officers during a prohibited time. (Disclosure: Michael Corwin of ISPAC initially unearthed that these contributions were made during the prohibited time in the procurement process. This discovery later led to Bernalillo County severing ties with the company.) The current Bernalillo County Sheriff, Dan Houston, has requested an investigation by the New Mexico AG, as this equipment was never put into service.
1999 - 2001 Darren White was the crime reporter at KRQE.
1999 The two no-confidence votes in 2011 were not the first of White's management career. While serving as secretary of the New Mexico Department of Public Safety, members of the New Mexico State Police Officers Association voted 243 - 31 "No Confidence" against White. The state police officers accused White of improperly supplying equipment and cars to its officers, which they felt was an officer safety issue.
1999 White was investigated by the New Mexico AG for possibly committing two felonies, 1) violation of the anti-donation clause and 2) unauthoried destruction of a cultural property (property located on state land). While secretary of DPS, White called the State Land Office and arranged to have state Highway Department workers demolish, without a permit, buildings located on state land at the behest of his buddy Don Imus's brother, Fred Imus. Imus had called White to see if the state could remove some "dilapidated ranch buildings" on the state land adjoining the Imus Ranch, claiming they negatively impacted their property. The investigation was stopped when Imus agreed to pay the state $6,696 reimbursement for the use of state workers to tear the buildings down.
These are but a few of the situations that raise serious concerns over White's selection as the General Manager of the Downs. Not only does he lack any relevant experience to managing a racino, he has yet to prove himself as a competent manager at all. He has done very well at proving he is someone willing to engage in ethically and legally questionable behavior.
July 23, 2012 at 10:56 AM in Darren White, Government, Independent Source PAC, Jobs, Susana Martinez, Transparency | Permalink | Comments (1)
Thursday, July 12, 2012
Martinez Repos Economic Development Secretary Barela's Super Computer
The following press release is from ISPAC:
Governor Susana Martinez to repo New Mexico's super computer. So says the Albuquerque Journal article today by Kevin Robinson-Avila.
The state claims that the operator of the super computer, the New Mexico Computer Applications Center (NMCAC), who Martinez intends to repo the computer from owes money primarily due to the default by Cerelink, the largest customer who owed the operator NMCAC $934,000.
What the Journal article failed to mention, just as KRQE's Larry Barker failed to mention back when he did a story last year blaming the Richardson administration for the costs of the computer, is that John Barela, Martinez's Economic Development Secretary, has had a key role in Cerelink. It is believed that Barela helped to found the company while Barela was still with Intel.
Barela's 2011 financial disclosure form lists him as a "shareholder" of Cerelink. Barela also sits on the board of the NMCAC. So he is both debtor and creditor.
So why was there no mention of Barela's involvement by either media outlet? The Journal did mention that Martinez has wanted to privatize the state computer since she took office.
Did Barela's involvement with Cerelink have anything to do with the company's failure to pay its debts to the operator? Was Cerelink's failure to pay the operator a convenient mechanism for Martinez to repo and privatize the computer?
DFNM did a little more research on this topic.
It sure smells bad, but again if gone unchallenged the republican administration which has touted itself as anti-corruption will get yet another pass by main stream media.
Is it corruption? That decision is above my pay grade for sure. However, researching briefly I found this article in The Independent (rip, still a bummer) written by Marjorie Childress on 10/11/10; Barela ducks questions about state film rebate program.
Hypocrisy at its best. A quote in the Independent article; "Republican Jon Barela continues to avoid questions posed by The Independent about the business his company gets due in large part to government programs."
How can this be so, that NM Economic Secretary John Barela can rise to wealth on government welfare subsidies for this super computer?
Remember back when Heinrich and Barela debated in October 2010? No? Well read this other great article;   written on the Independent by Marjorie Childress to refresh your memory.
An excerpt of Marjorie's article is here:
"You know, it's funny that the small business, the high tech business that my opponent just mentioned, Cerelink, it's a business that relies, actually, on a tax-payer funded super-computer, to do the work for them, to render movies here in New Mexico," Heinrich said.
"They couldn't do that work if they had to do it on their laptop at home. They utilize our taxpayer resources to do that work. In addition, they wouldn't be competitive if they didn't have a 25 percent tax credit to do that work here rather than somewhere else."
Barela repeated his position that government doesn't create jobs and that regulation and taxes should be reduced. Heinrich said Barela couldn't "wag your finger on one side and have your hand out on another," in reference to the use by Barela's company of New Mexico's supercomputer and the state's film tax credit program to acquire business.
Heinrich said he didn't have a problem with those policies, that public/private partnerships are good policy, but that Barela can't "wag your finger on one side and have your hand out on another." 
That last line somes up so many of the matters facing us.
Here we are in our the richest country in the world (supposedly) and in New Mexico. Barela uses this supercomputer for movie graphics, while we need energy research to mention one extreme need that our country could be researching and NM profiting from the research and knowledge weaned from this supercomputer.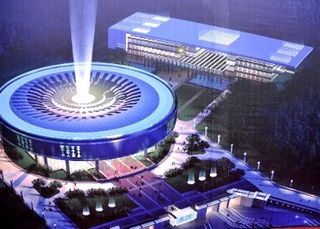 The above image is from Computer World the article is: China breaks ground on futuristic supercomputer complex. China will be using its supercomputing capability for scientific research such as climate models, but also for military purposes
July 12, 2012 at 01:57 PM in Government, Independent Source PAC, Jon Barela, Susana Martinez | Permalink | Comments (0)
Monday, July 02, 2012
Dirty Downs Deal

Looking for a hot summer sizzler to read? Check out this More McCleskey Email Problems For Dirty Downs Deal. 07.02.12. Exposing the insiders within the Martinez administration and how "pay to play" is alive and well in the state of New Mexico. And while you are reading don't forget this previous good read by ISPAC - Investigative report behind The Racino Contract and the Martinez Administration: A Sole-Source Contract Concealed Behind an RFP, dated Jan. 20, 2012. These guys and gals at ISPAC are relentlessly exposing more and more about the non transparent Gov. Martinez administration.
Back in main stream media; the Albuquerque Sunday Journal decided to run an update on Bill Richardson on the front page yesterday. Re-hatching the old scandals that brought ole Bill down, and that prevented LG Denish from getting the Governorship. No need for the Journal to run new articles regarding all the new information coming out about the current scandal with the Republican administration now in office. The documents that have surfaced show Pat Rogers sending emails at 3:40 AM talking about the Racino Downs Dirty Deal. Looks like Pat had some sleepless nights conducting the dark business, of behind the scenes government work, he and Jay McCleskey were running.
What makes matters worse is that the people in this Dirty Downs Deal are cunning and persistent. Pat Rogers sits on the board of the FOG- Foundation for Open Government. Opportunists like Pat Rogers do not actually want open, transparent government, they like to pretend they do. They pretend open and honest government as they manipulate our tax dollars for their own good. Heath Hausemann asks for Pat Rogers to resign from his position on the FOG board in an article on NMPolitics.net.
Pat is no stranger to being in the news and controversy. He has been the point man of many a republican scandal. Barb in the past has wrote about Pat Rogers many many times on this blog you can read a good piece here, having links to other backup pieces.
In summary, Governor Martinez's bold statements of no more government corruption and no more pay to play are just empty words. We can see in the documents from ISPAC that the Martinez administration has been conducting business with her cronies, behind closed doors, in secret, and not for the good of the citizens of New Mexico. What is the likelihood that this corruption scandal gets a full investigation? What is clear now are the emails were concealed from the public, and that the emails authors were conducting state business, spending our tax dollars, in secret, colluding with their friends, not conducting the good honest governmental business for us the citizens of NM.
Below is a quote from the FOG website:
In order for government to truly be of the people and by the people, and not just for the people, our citizens must be able to know what their own public servants are doing in their name.
New Mexico Supreme Court opinion in San Juan Agricultural Water Users Association v. KNME-TV (2011), written by Chief Justice Charles Daniels
July 2, 2012 at 09:59 PM in Government, Independent Source PAC, Susana Martinez | Permalink | Comments (0)
Friday, June 08, 2012
Lack Of Transparency In NM Governor Martinez Downs Deal
From ISPAC: So Why All the Secrecy from the Sunshine Governor?
There's an old joke that goes something like this, "how can you tell when a politician is lying?" Answer: "Her lips are moving".
Susana Martinez is the self-described "transparency governor", and spent much of her time on the campaign trail attacking Governor Richardson, accusing him of secrecy and corruption.
In October 2011, ten months into her term, Martinez told the New Mexico Press Association, "I have promised since day one that state government will be more transparent, more accessible, and more accountable."
Her lips are moving and her pants are on fire!
Martinez's administration routinely waits the maximum allowable 15 days to provide information requested under the Inspection of Public Records Act. That is, if they provide any records from her administration at all.
Here is a real life example of how they attempt to skirt the law: As part of our investigation into the "Dirty Downs" deal, ISPAC has made multiple requests for records pertaining to the First Gentleman, Chuck Franco's, hunting trip to Louisiana in early September 2011.
The significance of this lies with the majority owners of the Downs at Albuquerque, John S. Turner, Jr. and William C. Windham. Both live in Louisiana. Both are wealthy guys with extensive property and business interests, including hotels, gaming, oil and gas, and marine (boating) throughout the state. They both own lots and lots of land too.
These two men have access to a lot of places for Mr. Franco and his security team to stay, to hunt, to fish, and to gamble while showing them some old-fashioned southern hospitality.
Mr. Franco's trip happened to occur after the Downs and Laguna Development Corp had submitted their competing proposals to operate a racino at the state fair, but before Charles Gara, gave the Downs a perfect score for "management expertise" (completely absurd considering their actual track record).
This perfect score ensured that the Louisiana folks, who gave huge sums of money at very questionable times to Susana Martinez and Susana PAC, won the contract worth a billion dollars over twenty-five years.
It is illegal for the First Gentleman, or anyone in the Governor's administration, to receive any gifts from a bidder during the procurement process controlled by his wife.
This would force the termination of the Downs' contract. It is also criminal conduct.
Under state and federal law, interstate travel in furtherance of bribery (receiving gifts to sway the bidding process) is a very serious offense.
In response to our IPRA, the Martinez administration first claimed they had no documents responsive to our request.
However, the Department of Public Safety provided one document; a spreadsheet showing the dates, times, and locations of gas purchases by the security officers on their state credit card for the state vehicle they used for the hunting trip.
This one document shows that Mr. Franco and his security team passed through Shreveport/Bossier City where Mr. Turner and Mr. Windham both live, and stopped in Natchitoches, the location of Mr. Turner's company---the one that operates hotels.
Yet the Martinez administration said no documents (invoice, emails, or even postcards) exist showing where they stayed while they hunted. No documents exist showing who paid for the accommodations, hunting guides, or on whose land they hunted.
Is it credible that the governor did not know where her husband and his security team were for 5 days?
A Deputy Chief with the state police told us that the trip had been planned as a vacation for the two members of the security team, and that Mr. Franco asked to come along.
This is counter to a statement from Martinez's spokesman Scott Darnell made April 18, 2012:
"...it was first gentleman Chuck Franco who made the trip to Louisiana, for a hunting vacation, paid for by him, with two security officers sent at the direction of the State Police chief."
So whose vacation was this? The First Gentleman's or two security team officers?
A source with extensive security detail experience told us that security team officers are on the clock whenever they are in the company of the person they are assigned to protect. That would seem to include this hunting trip, regardless of who initiated it
We next requested leave/vacation requests and time sheets for the security officers. One or the other of these documents must exist. The time sheets are the most likely since they did charge their gas to the taxpayers and drove around in a state vehicle for the entire trip while accompanying the First Gentleman.
Yet despite the trip having occurred way back in September 2011, the Martinez administration is claiming that the governor and the first gentleman's safety would be compromised by disclosing where they stayed, who paid for it, and on whose land they hunted.
In an interesting coincidence, the governor hired the wife of one of the security detail officers into a high paying job in February 2012. This happened only a few weeks after we issued our first investigative report on the "Dirty Downs" deal.
The job was for an exempt position that conveniently did not have to follow the normal hiring process--- the process of publicly announcing the position, collecting applications, and selecting the most qualified.
This same State Police officer assigned to the Governor's security detail was convicted on two counts of contracting without a license in 2010.
There is no legitimate or discernible threat to safety here. However, there does appear to be a serious effort to conceal any information from the public that could reveal the Louisiana bidders showing the First Gentleman a good time during the procurement process.
If nothing improper happened, why go to such great lengths to hide it? Surely, the public's right to investigate corruption and illegal conduct outweighs any unfounded claim of personal safety, especially when the trip took place nine months ago. We will find out.
This is the "transparency" governor?
June 8, 2012 at 04:17 PM in Independent Source PAC, Susana Martinez, Transparency | Permalink | Comments (4)
Saturday, May 05, 2012
ISPAC Responds to GOP'S Frivolous Retaliation
From ISPAC, Michael Corwin.
Retaliation: The New Mexico GOP filed frivolous allegations with the FEC against ISPAC in retaliation for blowing the whistle on pay-to-play activity by Governor Susana Martinez and others regarding the awarding of the billion dollar plus racino contract (Dirty Downs Deal).
Unable to attack the information we developed, the GOP has resorted to attacking the messenger. ISPAC exposed Susana Martinez's actions in the Dirty Downs Deal which scuttled her political team's (Jay McCleskey) efforts to turn her into a top tier VP selection and to be the national figurehead in the drive to mislead and siphon Hispanic votes away from Barack Obama and Joe Biden.
We have targeted Susana Martinez through our federal PAC because she is in a position to impact the presidential election and we need to prevent that from happening.
On April 5, 2012 ISPAC held a press conference documenting the latest information we developed and forwarded those documents to the New Mexico Attorney General's Office. On April 8, Governor Susana Martinez announced to the world via the Albuquerque Journal that "no means no" when it comes to a vice-presidential bid.
We have more than enough documentation to submit to the FEC to justify our using the federal PAC to benefit President Obama and Joe Biden in their quest to maintain the Hispanic vote.
Presidential Campaign: Before ISPAC received any money from CWA, the Hispanic Leadership Network, (HLN) a national Republican group founded by Jeb Bush, a strong proponent of having a Hispanic on the 2012 GOP ticket, announced that Susana Martinez would be the keynote speaker for this national conference aimed at convincing Hispanics to vote Republican in 2012. By that time, Susana Martinez was mentioned time and again as a possible VP candidate.
Republican presidential nominee-to-be, Mitt Romney, often identified Martinez as a good vice presidential selection throughout his primary campaigns.
Martinez has been mentioned in countless news articles (including those pieces written by the McCleskeys themselves) about her ability to draw high percentages of the Hispanic vote.
Gary Johnson, former Republican presidential candidate turned Independent presidential candidate, has directly attacked Susana Martinez on the presidential campaign trail trying to keep her off of the Republican ticket. He has taken her to task over her efforts to repeal driver's licenses for illegal immigrants.
Martinez has constantly cited President Obama as supposedly supporting her education reform agenda, including sending out mailers to Democrats.
State Super PAC: In May 2011 ISPAC sent notification to both the New Mexico Secretary of State and the New Mexico State Attorney General that we intended to form an independent expenditure PAC.
We provided legal reasoning as to why the $5,000 campaign contribution cap was illegal (per the US Supreme Court) when it came to independent expenditure groups that do not coordinate with campaigns or the party.
We requested a formal opinion, but made it clear that we fully intended to raise unlimited contributions within the state PAC to address state races.
The New Mexico Attorney General's office responded that they were unable to issue a formal opinion unless a state official requested it. We then asked the Secretary of State to make the request. The SOS prepared the request, but never sent it to the AG.
Since that time, the Republican Party has filed a lawsuit to block the $5000 cap and a federal judge has ruled that it cannot be enforced regarding independent expenditure PACs. The judge's ruling was in essence the same as our legal argument.
We believe that the legal argument, and lack of response to our request, are solid enough to support our endeavor.
Finally, we are not going to back down. While the Republicans in this state spend their days promoting an agenda that favors campaign contributors and an elite class of business interests, ISPAC is proud to fight on behalf of working families. Powerful politicians can and should be held accountable.
May 5, 2012 at 09:00 AM in Independent Source PAC, Republican Party, Susana Martinez | Permalink | Comments (3)
Friday, May 04, 2012
Martinez Administration's Latest attack on State Employees and Teachers
In Latest Attack, Governor Martinez Suggests "Drastic Changes" For Public Employee Pensions
See Independent Source PAC for complete article with additional links:
At the Special Meeting of the New Mexico State Board of Finance presided over by Governor Susana Martinez on Monday, Apr 30, 2012, the latest prong of attack on public employee families and the educational community seemed to be ramping up.
During a presentation by Pension Fund officials that was supposed to be about ways to routinely keep these funds solvent, Martinez fueled the political rhetoric by stating it was "impossible" for the pension fund to remain solvent without "drastic changes."
The Governor called on her favorite 'attack General,' Finance Board member Robert Aragon, to provide a preview of the Martinez Administration's 2013 strategy to further vilify public employees, whether they be state workers or teachers.
In a manner reminiscent of the December 20, 2011, State Finance Board meeting during which Martinez and Aragon personally orchestrated the final step in awarding of a rigged contract worth over a Billion dollars for her campaign contributors from Louisiana, Aragon once again took the starring role suggesting at various times, in a rambling diatribe, that the retirement system in New Mexico was 'immoral' and 'unethical.'
He also claimed that payments into the system by the employer, the state, were draining money from the classroom, ignoring the arguments of the retirement fund representative that such payments are part of the cost of classroom education.
Essentially Mr. Aragon and the Governor are suggesting that teachers and other public employees should get used to the idea that their compensation package is about to be reduced in the upcoming 2013 legislative budget session.
The discussion was joined by the Secretary of Finance Administration, Tom Clifford, when he hinted at a Martinez Administration proposal to change from a defined benefits plan to a defined contribution plan as he felt the only way the pension boards were addressing solvency was by increasing rates when they should be looking at changing the benefits side of the equation. In other words, reducing benefits and changing the eligible age for those benefits to kick in.
The Governor followed with a question, that was as much a statement of intent, asking if there was any language in the
New Mexico Constitution expressly prohibiting such a change. Not that adhering to the Constitution has ever been of concern to Martinez when she wants her way.
That another attack on public employee compensation is in the works was further evidenced by the orchestration of this meeting, as other Martinez Board appointees chimed in with their suggestions that state and school employees have been getting significant increases in compensation in the last several years, oh and that public employees have safe jobs and don't have to worry about losing them. (Are these guys living in a parallel universe, or what?)
At one point Aragon led a line of questioning claiming third grade reading levels were down, and that teacher pay increases were part of the problem.
It is clear that Martinez education and finance policy makers are pointing to a more privatized type pension system.
This coincides with a mind-set leading to more privatization of government services, as evidenced in recent reporting by Independent Source PAC and the Santa Fe Reporter, of Martinez appointees sending millions of New Mexico dollars to out of state companies.
This is a link to the Board meeting, the attack on public employees begins about 30 minutes into the meeting.
May 4, 2012 at 10:30 AM in Education, Independent Source PAC, Susana Martinez | Permalink | Comments (0)
Saturday, April 28, 2012
Republican Party of Sex and Money
Some of the Republican leadership in the state are asking for their colleague Republican Commissioner Wiener to resign. If the Downs Casino betting establishment was open, I would put a bet on this Wiener resignation - Will he or won't he resign?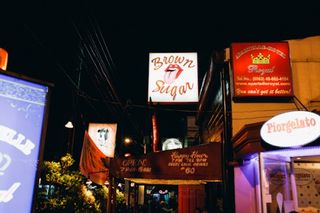 Photo above by Keatley along Wiener's way
Even our friends at the Conservative Abq Journal in an editorial today say Wiener should take the high road and step down. The Journal does not mention his party affiliation though. That he is a Republican does not come out in the editorial. But at least they get to the creepy point of Wiener latest adventure.
The war on woman has heated up dramatically this year, as we all have seen. Even to the point of banning contraception and mandatory vaginal probes before a abortion, even after being raped by the looks and ways of another male like Republican Wiener. Seems like all the churches like Preacher Smothermon at Legacy church should be on their pulpits saying Wiener is the devil. 
The conservative Republicans are experts at the art of "throwing of stones at glass houses." For years we have heard the complaint of Democrats having no family values, morally bankrupt. Wiener is the perfect posterboy for the Republican Party, perhaps the NM republicans should look at their own flock before judging others.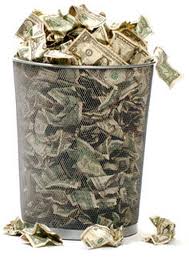 The republicans also hold the constant refrain about dirty money in politics and point the finger at the Democrats. Republican Susana Martinez ran on a platform of routing out corruption and pay to play. Abq Journals daily up-front opinion news columnist Tom Cole, wrote a puff piece earlier this week about the money SusanaPAC made in the first fudraiasing report of this campaign cycle. Cole followed it up today on Saturday with a column with the title "GOP PACS Tops in Donations, Spending."
Yes the Party and gal of "NO PAY TO PLAY" wins out on this money game. Tom Cole states, " As you can see, the lists are dominated by Republican or right leaning groups. The major contributors to the Republican Campaign Committee of NM included oil and gas companies and milk producers." Cole must have had to cough up some of the moths to get that one out.
Earlier this month ISPAC one of the PACs mentioned in Coles piece unveiled a report which was published on this blog  but not much anywhere else, calling out Republican Susana for her own corrupt Pay to Play. Susana received out-right bold contributions from the Casino Downs group who won the billion dollar contract of rerunning the State Fair downs which they performed so horribly on previously.
More Hypocrisy. The Downs Pay to Play is not about sex obviously but it is about Pay to Play. The Journal should condemn the Pay to Play exposed by ISPAC. Look into the strong arming and intimidation, of individuals on the State Fair Commission.
Let's remember when the Republican Party states they are so moral and just, let's keep a clear picture of Wiener and the Casino Downs dirty deal of pay to play fresh in our minds.  
April 28, 2012 at 08:50 AM in Democratic Party, Independent Source PAC, Republican Party, Susana Martinez | Permalink | Comments (0)
Thursday, April 05, 2012
Governor Martinez Involvement in Billion Dollar Pay to Play Unveiled
Governor Susana Martinez ran on the strong plank "she would stop all the public corruption." How government was full of corruption. Pay to play deals. Back room deals. Nepotism. Friends and wives of friends getting jobs with lack of qualifications, wasteful spending of our tax dollars. She was going to put an end to all of this which plaqued the prior administration. You know crooked Richardson, and Denish by association. Well guess what? The pot is calling the kettle black.
The following investigation and documentation by ISPAC shows Susana has violated all of her promises to the community, to us as citizens. If this was Denish or Richardson or any Democrat who did all this in order to reward a campaign donor for his deed in getting you elected, the Albq Journal would be all over it. Everyday a new headline, front page story.
The report that is attached below and lays out in detail a cozy relationship of Susana Martinez and her administration with the Down's majority owners Windham and Turner and others on the State Fair Commission. The contributions of money to Susana occur in December of 2010, just one month after her being elected and running as " No corruption Gov". Even prior to her being sworn in as Governor she was working it, now again imagine if it was a Democrat.
What follows is the press advisory released from Independent Source Pac:
At a press conference held at the entrance to EXPO New Mexico (San Pedro Entrance) Thursday (tomorrow), April 5, 2012, at 11:00 a.m., Independent Source PAC will unveil a meticulously researched, updated report (with supportive documents) regarding the elaborate Pay To Play Scheme undertaken by Governor Martinez and her operatives in the awarding of the Billion Dollar (Plus) Racino Contract to the Downs At Albuquerque.
With so many crises unfolding in New Mexico, why has Gov. Susana Martinez spent her time influencing a single state contract to operate an Albuquerque racetrack?
The answer is made plainly apparent in a timeline unveiled this week by Independent Source PAC. While New Mexico's other news outlets have moved away from the Downs-deal kerfuffle since it briefly made headlines this winter, ISPAC has continued digging into the contract's precursors: hirings, firings, money contributions and the bona fide stonewalling of state-appointed officials looking into what, exactly, influenced the deal.
Behind-the-scenes political machinations have delivered a public contract worth over $1 billion to a few elite individuals who played the money game just right.
"Railroaded" would be an apt metaphor, because what the Downs at Albuquerque contract amounts to is an administration manipulating state policy to benefit specific campaign contributors, not New Mexicans.
Albuquerque investigator Michael Corwin and ISPAC have worked exhaustively to expose the true story behind how Gov. Martinez silenced opposition and steered this massive, un-vetted deal toward well-connected donors.
The administration will respond by attacking ISPAC as a political operation, motivated by ties to the previous governor. What the current administration won't do, because it can't, is dispute the validity of ISPAC's claims.
The Downs deal is politics at its worst, in a moment when New Mexicans can least afford it.
After the information is reviewed it is hard to think of this activity as being anything but violating state and federal laws. ISPAC will unveil its findings at the press conference.
The ISPAC investigative report you can download here, and the timeline can be downloaded .
ISPAC also provided a report back in January 2012 describing findings regarding this same corruption. You can read that report here: Download Downs Deal Investigative Report.
ISPAC goes on to say, along with unveiling the findings at the press conference, they will provide the letter to New Mexico Attorney General Gary King asking for his office to nullify the contract due to violations of New Mexico state laws by Governor Martinez and members of her administration.
DFNM will have more later on this unfolding story.
April 5, 2012 at 11:00 AM in Independent Source PAC, Susana Martinez | |
Thursday, March 15, 2012
Is the Conservative Rio Grande Foundation Acting as a Front to Violate New Mexico Law?
The following is an article from Independent Source PAC. Please follow this link for additional background information.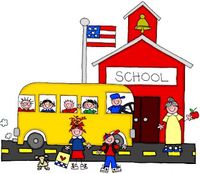 By law, for-profit companies cannot manage charter schools in New Mexico. The law clearly state, "the governing body shall not contract with a for-profit entity for the management of the charter school." ( ).
As ISPAC previously reported, an investigative series by the Miami Herald on Florida charter schools found that for-profit management companies receive as much as 70% of a charter school's entire operating budget. The money that pays these for-profit companies is siphoned away from local public school budgets that might otherwise be used to pay for teacher salaries, books, and other supplies.
The recent actions of Paul Gessing, president of the Rio Grande Foundation, raise serious red flags. Among the concerns is if the Rio Grande Foundation is attempting to skirt the law by serving as a front to a for-profit management company in order to operate charter schools here in New Mexico.
Gessing recently submitted notices of intent to start four "virtual" charter schools under the banner of New Mexico Connections Academy.
A non-publicly operated charter school needs a non-profit entity designated as management. The Rio Grande Foundation has taken on that role. The New Mexico Connections Academy and the Rio Grande Foundation even share the same P.O. Box. Gessing is listed as the applicant on behalf of the charter schools and describes his experience to operate a charter school as "President/Parent/Advocate for Choice in Education". What is lacking is his experience in the area of school administration.
Doug Turner, a Rio Grande Foundation board member, is an advertising executive and one-time Republican gubernatorial candidate. He also happens to be the board President of the New Mexico Coalition for Charter Schools.
The Rio Grande Foundation's role in the application process is clear. But who is really going to run the school? Gessing, Turner, and the other board members have no relevant experience.
New Mexico Connections Academy "has plans to engage Connections Academy of New Mexico, LLC an operating affiliate of Connections Education LLC…for curriculum, technology, and other services under the terms of the professional services agreement (also known as a management contract)."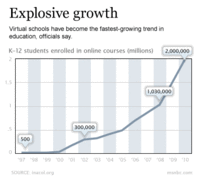 Connections Education LLC is the second largest for-profit manager of "virtual" charter schools in the country, second only to K12Inc. Connections is owned by Pearson Education, a British company that is one of the largest for-profit providers in the country of "educational materials, technologies and assessments".
In 2011, Pearson's North American Education Division made $4.03 billion in revenue with a net profit of $771 million dollars.
On the notice of intent, Gessing listed two "advisors". One is a lobbyist working for Pearson Education and the other a lobbyist working for Connections Education. It appears evident that New Mexico Connections Academy will be run by a for-profit management company in an apparent violation of state law.
An important question to be asked is if the Rio Grande Foundation received money from Connections Education/Connections Academy to assist the for-profit company in gaining access into the New Mexico education market.
The Rio Grande Foundation conceals its sources of funding. In the past, the Rio Grande Foundation has received funding from shadowy privatization groups such as the Cato Institute and the State Policy Network, two sponsors of the American Legislative Exchange Council ("ALEC"). ALEC is a heavy force behind the push to hand private companies our tax dollars.
Connections Education is a privately held company that does not disclose how it spends its money either. Based upon actions by the Pearson operated non-profit foundation, the Rio Grande Foundation may be getting funding from Connections or Pearson for providing them with a toehold in New Mexico.
Pearson's foundation is experienced with this kind of underhanded deal. They are currently under investigation by the New York State Attorney General's office for allegations of influence pedaling and bribery.
Connections has been in the front lines of moving taxpayer dollars out of neighborhood schools and into the hands of private companies. Mickey Revenaugh, the vice president and co-founder of Connections Academy, was the co-chair of the ALEC Education Task Force. Back in June 2004, Revenaugh and officers from K12Inc, co-wrote ALEC's model virtual school bill which is backed by Governor Susana Martinez and her Public Education Secretary Designate, Hanna Skandera.
Connections operates a slew of "virtual" charter schools in which the students do not attend neighborhood schools, but rather take classes by computer from their homes. This is the next possible violation of New Mexico state law.
According to New Mexico law, "a charter school shall be nonsectarian, nonreligious and non-home based public school." ( )
As part of its sales pitch, Connections offers to provide the technology necessary for elementary school kids to work from home. That cost to them is pennies compared to the profit they make from public education dollars. Connections makes even more money by ensuring that any school they operate also pays for its curriculum and testing materials.
But how effective is this "virtual" home schooling?
Connections Academy operates Texas Connections Academy, which is described as "a for-profit company that contracts with the Houston Independent School District to run the cyber-academy."
Texas Connections Academy students performed 20% BELOW the state average on standardized tests. In addition to being illegal in New Mexico, there is little evidence that kids do any better in a "virtual" home school setting.
The National Education Policy Center at the University of Colorado just released a major study on full-time virtual academies. The study labeled these programs "a convergence of home schooling, charter schools and online content providers."
The study found that there is no reliable data to show that these full-time "virtual" academies produce better results than neighborhood schools. They do, however, siphon off valuable resources from local public schools.
These for-profit management companies are turning our kids into lab rats using unproven education approaches for the sole purpose of making a lot of money.
March 15, 2012 at 10:18 PM in Education, Independent Source PAC | Permalink | Comments (2)
Thursday, March 08, 2012
More Shady Dealings by Governor Martinez's Operatives Exposed in Billion Dollar Downs Deal
More shady dealings related to the New Mexico State Fair's contract with the Downs at Albuquerque has led Independent Source PAC (ISPAC) to pass along more information to the FBI for its investigation into the conduct of Gov. Susana Martinez, her administration and her political operatives at Susana PAC.
Susana PAC's main fundraiser, Andrea Goff, is Buster Goff's daughter-in-law. Buster Goff was appointed to the State Fair Commission by Martinez, and was allowed to alter the Downs contract in exchange for his "yes" vote.
It wouldn't seem strange that a commissioner was allowed to alter a contract's wording before voting for it, except Goff got a chance other commissioners did not. Charlotte Rode, another commissioner who has been outspoken against the deal, wasn't even allowed to look at the contract before she voted against it.
Susana PAC documents say Andrea Goff got paid more than $29,000 by the organization between April and September last year.
The Goff connection is yet more smoke relating to a contract worth $1 billion-plus to the Downs owners, who have donated thousands of dollars to Martinez through her PAC. ISPAC has reported extensively over the last few months on Martinez's numerous manipulations throughout the process of awarding that contract.
Another revealing development is ISPAC's finding regarding Agnes Maldonado who was appointed to the position of Director of Administration for ExpoNM (the entity overseen by the State Fair Commission). Maldonado received thousands of dollars from Susana PAC for professional services while she was an employee of the State Fair entity.
Michael Corwin commented, "Isn't this the Governor who promised bold new leadership and no more pay to play? More smoke may mean a bigger fire."
The most recent letter to the FBI from ISPAC is attached and also can be seen along with other related documents at www.independentsourcepac.org.
March 8, 2012 at 09:10 PM in Independent Source PAC, Susana Martinez | |