Thursday, July 12, 2012
Martinez Repos Economic Development Secretary Barela's Super Computer
The following press release is from ISPAC:
Governor Susana Martinez to repo New Mexico's super computer. So says the Albuquerque Journal article today by Kevin Robinson-Avila.
The state claims that the operator of the super computer, the New Mexico Computer Applications Center (NMCAC), who Martinez intends to repo the computer from owes money primarily due to the default by Cerelink, the largest customer who owed the operator NMCAC $934,000.
What the Journal article failed to mention, just as KRQE's Larry Barker failed to mention back when he did a story last year blaming the Richardson administration for the costs of the computer, is that John Barela, Martinez's Economic Development Secretary, has had a key role in Cerelink. It is believed that Barela helped to found the company while Barela was still with Intel.
Barela's 2011 financial disclosure form lists him as a "shareholder" of Cerelink. Barela also sits on the board of the NMCAC. So he is both debtor and creditor.
So why was there no mention of Barela's involvement by either media outlet? The Journal did mention that Martinez has wanted to privatize the state computer since she took office.
Did Barela's involvement with Cerelink have anything to do with the company's failure to pay its debts to the operator? Was Cerelink's failure to pay the operator a convenient mechanism for Martinez to repo and privatize the computer?
DFNM did a little more research on this topic.
It sure smells bad, but again if gone unchallenged the republican administration which has touted itself as anti-corruption will get yet another pass by main stream media.
Is it corruption? That decision is above my pay grade for sure. However, researching briefly I found this article in The Independent (rip, still a bummer) written by Marjorie Childress on 10/11/10; Barela ducks questions about state film rebate program.
Hypocrisy at its best. A quote in the Independent article; "Republican Jon Barela continues to avoid questions posed by The Independent about the business his company gets due in large part to government programs."
How can this be so, that NM Economic Secretary John Barela can rise to wealth on government welfare subsidies for this super computer?
Remember back when Heinrich and Barela debated in October 2010? No? Well read this other great article;   written on the Independent by Marjorie Childress to refresh your memory.
An excerpt of Marjorie's article is here:
"You know, it's funny that the small business, the high tech business that my opponent just mentioned, Cerelink, it's a business that relies, actually, on a tax-payer funded super-computer, to do the work for them, to render movies here in New Mexico," Heinrich said.
"They couldn't do that work if they had to do it on their laptop at home. They utilize our taxpayer resources to do that work. In addition, they wouldn't be competitive if they didn't have a 25 percent tax credit to do that work here rather than somewhere else."
Barela repeated his position that government doesn't create jobs and that regulation and taxes should be reduced. Heinrich said Barela couldn't "wag your finger on one side and have your hand out on another," in reference to the use by Barela's company of New Mexico's supercomputer and the state's film tax credit program to acquire business.
Heinrich said he didn't have a problem with those policies, that public/private partnerships are good policy, but that Barela can't "wag your finger on one side and have your hand out on another." 
That last line somes up so many of the matters facing us.
Here we are in our the richest country in the world (supposedly) and in New Mexico. Barela uses this supercomputer for movie graphics, while we need energy research to mention one extreme need that our country could be researching and NM profiting from the research and knowledge weaned from this supercomputer.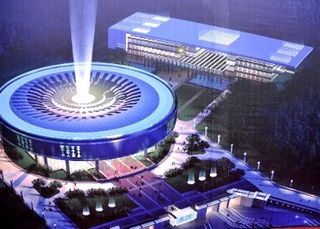 The above image is from Computer World the article is: China breaks ground on futuristic supercomputer complex. China will be using its supercomputing capability for scientific research such as climate models, but also for military purposes
July 12, 2012 at 01:57 PM in Government, Independent Source PAC, Jon Barela, Susana Martinez | Permalink | Comments (0)
Monday, February 28, 2011
Susana Martinez Repays Robert Aragon with Appointment to State Finance Board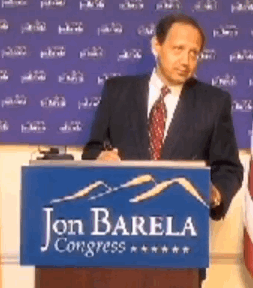 "Democrat" Robert Aragon backing Barela
On Friday, Republican governor Susana Martinez issued a press release announcing the nomination of Sherman McCorkle to the State Investment Council, as well as four individuals to serve on the New Mexico Board of Finance. Guess what? One of them is notorious Dem defector (or whatever he is these days) Robert Aragon, the cousin of former NM Senate Pro-Tem Manny Aragon. The other three are Thomas Tinnin of Albuquerque; Samuel Spencer of Hobbs and John Gasparich of Santa Fe.
Robert Aragon: Anything for Attention
You may remember that Robert Aragon, an Albuquerque attorney and former Democratic state lawmaker from 1979-87 who once served as Vice Chair of the House Appropriations and Finance Committee, made a big show of supporting the Martinez campaign last year. In fact, he headed the so-called Democrats for Martinez group, although it's difficult to understand how Aragon considers himself to be a real Democrat. He even voted for McCain over Obama.
Aragon also led a group of 12 other alleged Democrats in applying stickers to deface ballots at the Democratic Party of New Mexico's pre-primary convention last March. The stickers touted the candidacy Jon Barela, the Republican candidate for Congress in NM-01:
Aragon said Barela stickers were meant to protest progressive Democrats, who he said include Heinrich and who he claims are now controlling the state party.

"They are not Democrats; they are socialists," Aragon said.
Ten of the damaged ballots had names on them: Bernice Herrera, Kylee Aragon, Felix Nunez Sr., Leif Mendahall, Leif Mendahall Jr., Robert Aragon, Betty Garcia, Angie Muehller, Chris Romero and Robert Moss. Kylee Aragon is Robert's daughter and Robert Moss was at the time engaged to Aragon's other daughter, Ashlee. So it was a kind of Aragon family affair, and also a case of people getting elected to the DPNM's State Central Committee even though they are, essentially, supporters of the right-wing Republican agenda. How ethical. And childish. Aragon had previously been removed as a Democratic Party ward chair for publicly supporting and speaking at the campaign kickoff of Barela, which is against DPNM rules
Aragon's law firm was also identified as a contributor of $1,000 to the right-wing (allegedly nonpartisan) , which was founded by oilman and then-NM Republican Party Chairman Harvey Yates. In the 2010 primary race, three Democrats received $4,000 apiece from the PAC. All three were running as challengers to incumbent Democratic legislators.
In House District 13 Matthew Archuleta got money ro run against Rep. Eleanor Chavez (Albuquerque), in House District 14 Michael Atler, received donations to run against Rep. Miguel Garcia (Albuquerque) and in House District 70, Barbara Casey got financial help in her run against Rep. Richard Vigil (Ribera). All of the challenges were unsuccessful. All three were known as candidates supported by big oil and gas interests, so I guess it's not surprising that Aragon supported Susana Martinez -- who got huge sums from such interests in her run for governor.
Irony
Last June, the Susana Martinez campaign announced she had been endorsed by the New Mexico Turnaround PAC and described the PAC this way:
NMTA supports a free market, capitalist economic system and understands that political corruption erodes the rights of the people, dissipates their public wealth and diminishes opportunities for private endeavors to flourish.
In the announcement, Robert Aragon, described as Vice President of the NMTA PAC, was quoted as saying:
We know that Ms. Martinez has a deep understanding that our state government has to provide a hospitable environment for businesses to thrive and for new companies to seek establishment here in the state. Improving the business climate is started by lowering taxes and by doing away with frivolous law suits and enacting comprehensive tort reform.
Rather ironic, to say the least, that a PAC supported by big oil and gas concerns, with their myriad lobbyists and deep pockets, would be described as anti-corruption fighters. Ryan Cangiolosi, who served as Susana Martinez's campaign manager and is now her Deputy Chief of Staff, was a board member of the NMTA PAC, as well as a business manager at the Jalapeno Corporation, one of Harvey Yates' businesses. What goes around comes around.
Susana Pays Back Aragaon
According to the New Mexico Secretary of State, Robert Aragon donated $5,000 to the Susana Martinez campaign on October 5, 2010, but the publicity he generated by his advocating for a Republican was no doubt worth way more to Susana. Now Robert Aragon is getting his payback for his campaign money and his other services rendered on behalf of Martinez. Oh, this can't really be called "pay to play," now can it? Isn't that what Susana has long said she is dedicated to getting rid of in politics? I guess it's all a matter of degree and who's doing the paying and the playing.
February 28, 2011 at 04:02 PM in Ethics & Campaign Reform, Finance, Investments, Jon Barela, Susana Martinez | Permalink | Comments (9)
Wednesday, November 03, 2010
Bravo Team Heinrich! Martin Beats Back Barela Challenge 52-48%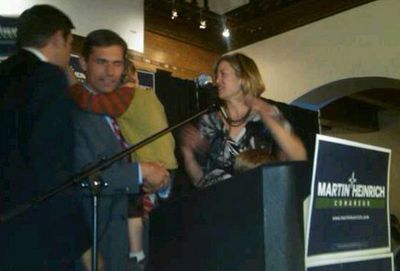 Democratic incumbent Rep. Martin Heinrich beat back a tough challenge by Republican Jon Barela, grabbing the majority of votes on election day after the two essentially split the early/absentee votes in NM-01 (Heinrich led by about 1,000). The unofficial totals according to the New Mexico Secretary of State show a Heinrich victory by 6,839 votes:
Martin Heinrich, Democrat: 110,046 votes, 51.6%
Jon Barela, Republican: 103,207 votes, 48.4%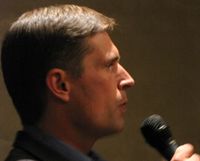 In Bernalillo County, Heinrich garnered 99,487 votes, or 52.4%, to Barela's 90,353 or 47.6%. Heinrich also edged out Barela in Sandoval County, with 4340 votes, or 51.0% to Barela's 4174, or 49.0%. In Valencia County, Martin got 3310 votes, or 47.2%, to Barela's 3706 votes, or 52.8% Barela captured 1543 votes, or 67.0%, in Santa Fe County to Martin's 761, or 33.0%, and won the portion of NM-01 in Torrance County, getting 3431 votes, or 61.5% to Heinrich's 2148 votes, or 38.5%, but it wasn't enough to overcome the margin Martin built up in the other two counties.
Rep. Heinrich made history in 2008 when he became the first Democrat elected to Congress in New Mexico's first congressional district by beating Republican Darren White by a margin of 55.5% to 44.5%. Bucking a national trend towards Republicans this year, he made history again by becoming the first Democrat to be re-elected in NM-01.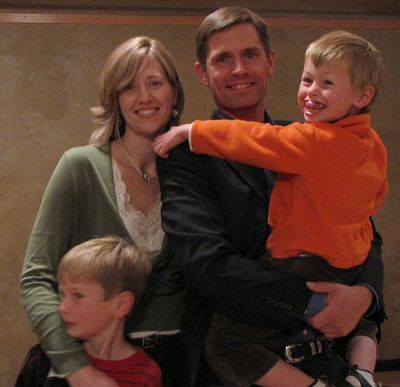 The Courage of Our Convictions
Rep. Heinrich mounted the stage at Hotel Andaluz to chants of "Martin, Martin, Martin!" at about 11:45 PM last night, after Barela called him to concede (click to see a video of  ). Heinrich had high praise for both his campaign team, who did everything right, and his congressional staffers in Albuquerque and Washington, who provide top-notch constituent services. He also thanked his family for the sacrifices they made as he flew back and forth to Washington over the past two years. Rep. Heinrich thanked his Jon Barela for his "spirited camapaign and his willingness to serve."
Rep. Heinrich noted that "a great campaign team doesn't get your there if the volunteers never show up, if the supporters don't help, and we had the most incredible army of folks knocking on doors and making phone calls -- hundreds of thousands of them."
Martin said another reason for the victory was that "we had the courage of our convictions. Unlike a lot of folks this year, I never shrank from the fact that I was proud I voted for health care reform in a country that needed it (huge cheers). And we will keep fighting to make New Mexico the clean energy jobs capitol of the world. I'm proud of the fact that we put mortgages here in Albuquerque and throughout New Mexico and people's homes ahead of the Wall Street CEOs at AIG and Goldman Sachs."
He extended his thanks to all of NM-01, saying, "I want to thank all of the people in this district, every single one of them -- the ones who were right there making sure we were re-elected tonight and the ones who disagree with me. Because I've learned so much from them traveling this district, sitting down with people one on one, and I am in their debt. This opportunity to serve again is something that means a great deal to me and I do not take it lightly."
Turning to the unfinished business at hand, Rep. Heinrich said, "Our nation has as many challenges today as it did yesterday, and it's time for us to roll up our sleeves, work with each other -- including across the aisle -- and get back to work on behalf of the people of this great state."
Heinrich Turns Back Last-Minute Barela Surge
Until the last weeks of the campaign, Rep. Heinrich had been sitting on at least a somewhat comfortable lead of a 6-7 points according to most polling. A visit by President Barack Obama to a residence in Albuquerque's South Valley at the end of September helped shore up support for Rep. Heinrich.
However, in the final weeks of the campaign, more than $3 million of outside money from the U.S. Chamber of Commerce and others poured into the district in support of Barela -- much of it funding dishonest attack ads. The struggling GOP candidate then started to pick up some momentum. Internal polling by the Heinrich campaign reportedly had him up by a couple points, while Barela claimed his internals had him up by a couple percentage points. The final Albuquerque Journal poll released this past Sunday claimed that Barela had moved ahead by two points.
A combination of Heinrich's solid debate performances, fact-checking analyses that revealed the dishonesty of several of Barela's attack ads and a stepped up, strategic savvy and a well-targeted and highly effective GOTV ground game made the difference. The Heinrich campaign's phone banking and canvassing operation was running on all cylinders all the way through election day, until the polls closed at 7:00 PM. In the end, the campaign's hard-working candidate and staff, along with a determined swarm of loyal volunteers, won the day.


50+ waiting vote at 6:50 PM last night, RFK in South Valley
To see our previous posts on this race, visit our archive.
November 3, 2010 at 03:35 PM in 2010 General Election, Jon Barela, NM-01 Congressional Race 2010, Rep. Martin Heinrich (NM-01) | |
Sunday, October 31, 2010
Right Wing Horror Show: Susana Martinez, Steve Pearce, Jon Barela, Tom Mullins AND Karl Rove
See greedy, anti-working family monsters Steve Pearce, Jon Barela, Susana Martinez, Tom Mullins and Karl Rove mash it up as only teabaggers can. Kinky little buggers. Don't let them trick er treat at your house -- they have only monstrous tricks (and lies) up their sleeves ...
October 31, 2010 at 03:02 AM in 2010 General Election, 2010 NM Governor's Race, Jon Barela, NM-01 Congressional Race 2010, NM-02 Congressional Race 2010, NM-03 Congressional Race 2010, Republican Party, Steve Pearce, Susana Martinez | Permalink | Comments (1)
Monday, October 25, 2010
Jon Barela Accepts Campaign Cash From Anadarko of BP Oil Spill Fame and THE Citizens United
In the NM-01 congressional race, GOP candidate Jon Barela revealed in his 48-hour campaign funding report to the FEC over the weekend that he took money from two of the most infamous, filthy players on the national scene. 
Barela reported a $2500 donation from Anadarko Petroleum Corp PAC. Does that name ring a bell? Anadarko was one of the parties responsible for BP's Deepwater Horizon oil rig blowout and explosion that killed 11 workers and caused the spewing "leak" that went on for months in the Gulf of Mexico. Anadarko was a business partner with BP on the project, holding a 25 percent financial investment in the well.
Why would Anadarko be giving Jon Barela money? A new article in the Wall Street Journal explains:
Anadarko Petroleum Corp. led the way among smaller firms drilling in the Gulf of Mexico's deep waters. Now, the company is bracing for a tougher regulatory climate, and faces uncertainty over costs from a massive oil spill.

...The uncertainties loom as companies begin to apply for permits to drill in the Gulf after a five-month deep-water moratorium was lifted on Oct. 12. Still, companies aren't sure how soon or how many permits will be issued.

... In a July report, the consulting firm Grant Thornton LLP named Anadarko ... as a likely candidate for selling its deep-water assets. The report argued that if Congress removed the $75 million liability cap on oil spills, insurance would become prohibitively expensive for independents [like Anadarko].

... legislation ... has since been approved by the House that would require companies operating in deep water to demonstrate $300 million in financial responsibility ... the fate of that legislation is uncertain beyond the November elections.
Get the picture? Anadarko is into donating to Barela, who has a nice, strong anti-regulatory bent and isn't exactly what you'd call an environmental champion.
Anadarko clearly hopes Barela will be in office to vote no on upping the liability cap for companies responsible for deep water oil spills. With a change in the NM-01 seat and with the possibility of the Republicans taking over the U.S. House, Anadarko might get away with only $75 million in liabilities instead of $300 million, and also might get more favorable treatment in the granting of future deep water drilling permits in the Gulf.
Barela also took money from Anadarko's PAC before the spill, but this is the first time their PAC has contributed to his campaign since the horror in the Gulf.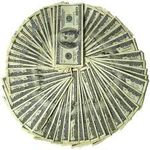 Next Up: Citizens United
Barela's weekend report also revealed that he accepted $1000 from Citizens United Political Victory Fund. Yes, THE Citizens United -- the plaintiff in the case against the FEC that resulted in a Supreme Court ruling allowing corporations to make unlimited independent campaign contributions while not disclosing their donors. You know, the ruling that's permitting millions and millions of dollars worth of corporate spending on ads across the nation this cycle -- almost all of which support right wingers.
You can read about the checkered past of the ultra-conservative Citizens United organization on SouceWatch, including its connections to the Swiftboat Veterans for Truth (hey, Swiftboater Bob Perry gave $450,000 to the GOP's candidate for governor in New Mexico, Susana Martinez) and many other nefarious plots and campaigns. And yes, there's a big Texas connection. 
So, the truly awful Citizens United wants to see Jon Barela in a U.S. House seat, as does Anadarko of BP oil spill fame. That should tell any voter with a brain and a conscience all they need to know about Mr. Barela. On the side of ordinary working families? I don't think so.
Martin Heinrich to the Rescue
On the other hand, in order to restore transparency to our election system, Rep. Martin Heinrich cosponsored the Disclose Act, a bill that would undo at least some of the damage of the flawed ruling in Citizens United v. Federal Election Commission and require these kind of groups to disclose their donors. The bill would also require groups to put a face to their message by appearing on television advertisements to approve of messages, just as political candidates are currently required to do.
Heinrich is also a cosponsor of the Fair Elections Now Act, which would allow qualified congressional candidates to receive grants and matching funds to run competitive campaigns instead of relying on contributions from lobbyists and other special interests. It would institute a voluntary system of campaign public financing similar to the system we have here in Albuquerque.
October 25, 2010 at 09:30 PM in Corporatism, Energy, Jon Barela, NM-01 Congressional Race 2010, Rep. Martin Heinrich (NM-01), Right Wing | |
Friday, October 15, 2010
7PM Tonight: Live Heinrich-Barela NM-01 Debate on TV, Radio, Online
Tonight, Friday, October 15, at 7:00 PM, New Mexico First and New Mexico Public Broadcasters are hosting a live NM-01 candidate debate between Dem Rep. Martin Heinrich and Republican Jon Barela. The town hall style debate is in collaboration with KNME-TV and will be moderated by former ABC News reporter Sam Donaldson. It will be simulcast on all three New Mexico public television stations and air on many public radio stations.
It will also be live-streamed online at the New Mexico In Focus website. For more information about the forum, visit www.NMFirst.org.
October 15, 2010 at 06:33 PM in Events, Jon Barela, NM-01 Congressional Race 2010, Rep. Martin Heinrich (NM-01) | |
Wednesday, October 13, 2010
New Heinrich Ad: Liz Says, 'Mr. Barela, Don't Mess With My Social Security'
In my view, Rep. Martin Heinrich's campaign has produced some of the most effective ads of this election cycle in New Mexico, and their latest 30-second spot is no exception. Their new ad, entitled "Mess," (video above, text below), features a moving testimony by a woman identified as Liz, an Albuquerque senior who worries that Republican lobbyist Jon Barela will turn her Social Security over to the whims of Wall Street. After describing how much she depends on Social Security, Liz says:
I don't trust this Jon Barela. Times are tough for people like me. Mr. Barela, don't mess with my Social Security.
"Social Security has been a bedrock promise for 75 years, based on the premise that if you work hard and pay into the system you will have the stability and security of guaranteed income in your older years," Rep. Heinrich said in a statement released about the ad. "Instead of working to dismantle Social Security, I am committed to work across the aisle to strengthen the program for seniors like Liz, and for generations to come."
People need to know that lobbyist Jon Barela stands with Republicans who promise to privatize and cut Social Security-jeopardizing the retirement security for millions of American workers and their families. This ad does an excellent job of getting that message across in no uncertain terms -- and showcasing who would get hurt if Republicans have their way.
Check out this fact sheet prepared by the campaign that documents the plans for Social Security privatization being pushed by House Republican leaders -- and how these same leaders are supporting Jon Barelas with campaign donations. In other words, Barela is being backed by his party's House leadership because he is in sync with their planes to drastically cut and privatize Social Security.
The fact sheet also documents the fact that Jon Barela has been endorsed by the FreedomWorks PAC, which is the campaign arm of the group that has mentored the tea party movement. The group, chaired by former U.S. House Majority Leader Dick Armey, called Barela a "fiscal hero" in its endorsement. FreedomWorks also wants to privatize Social Security.
Liz, the woman who speaks in this ad, is a 69 year old Navy Veteran, according to the Heinrich campaign. She was a disbursing clerk in San Diego, California. Her husband Tommy, also a Navy Veteran, was stationed with her in San Diego and then did a tour on the USS Bellatrix. Later, he worked as an electrician and was a member of his local IBEW Union.
Liz and her family have lived in the same house in Albuquerque's South Valley for 47 years. They have four daughters who are all public school educated and college graduates (and very proud of it). They have Tommy's pension, but Liz depends on Social Security to help cover health costs.
Transcript:
Liz: Five hundred and thirty dollars a month. That's my Social Security. I get by, but I couldn't with out it.
Voiceover: New Mexico seniors like Liz rely on Social Security, but Jon Barela sides with the politicians and special interests who want to privatize it. Meaning Barela and friends would risk Social Security in the stock market.
Liz: I don't trust this Jon Barela. Times are tough enough for people like me. Mr. Barela don't mess with my Social Security.
Martin Heinrich: I'm Martin Heinrich and I approve this message.
To see more posts about the NM-01 congressional race, visit our archive.
October 13, 2010 at 10:19 AM in Jon Barela, NM-01 Congressional Race 2010, Political Ads, Rep. Martin Heinrich (NM-01), Right Wing, Social Security | |
Tuesday, October 12, 2010
Guest Blog: Pearce, Barela Treat Science Like a Political Opponent

This is a guest blog by Algernon D'Ammassa, who lives in Luna County, in Deming, New Mexico, and belongs to no political party. He blogs regularly at https://algerblog.blogspot.com.
Can Luna County afford leaders who treat science as if it were a political opponent?
Steve Pearce, running for his old seat in our district, is on the record dismissing global warming as "crap" and claiming that it "cannot be validated." He made these statements on a campaign stop in Artesia to the multimedia news source Politico.
"Only God knows where our climate is going," said first district candidate during a recent radio interview. While it is probably true we cannot know more than God, there are some things we do know; and what we know must be taken seriously.
The looming challenges that climate change presents to New Mexico's agriculture, a billion-dollar industry, include rising water prices and decreased supply, carbon dioxide fertilization that galvanizes weeds and invasive species, reduced crop yields across the southwest, less forage for cattle - and much more. Extreme storms in the American southwest have doubled, and rapid warming trends have affected snowpack melt in measurable ways, as well as the tropical storms which provide New Mexico with much of its yearly precipitation. In the last decade, intensified droughts in New Mexico saw an explosion of bark beetles that have cleared trees by tens of thousands of acres. If we ignore the trends measured by climatologists, all of this will just be a prelude.
Across the hemisphere, the effects of warming and greenhouse gas concentration are affecting ocean flow and sea levels as ancient glaciers melt so quickly we can watch them change color and shrink.
To be fair, there are aspects of this research that are inconclusive and subject to debate. Sometimes there are errors. Errors, in fact, are an important part of the scientific method, as theories and equations are tested and new data are incorporated into the body of research. This does not impeach the basis of science itself.
Pearce continues to make hay out of some unprofessional conduct by a handful of scientists at a single research facility, suggesting this somehow debunks the entire body of climate science and its implications. Some politicians go as far as to claim that global warming is a left-wing conspiracy to destroy the American economy. These theories apparently require no "validation" or evidence. They are also good for harvesting large campaign donations.
Drastic Consequences
While we bicker and dither, catastrophic reactions are already in motion. If developed nations take no action, or waste time denying reality, there will be drastic consequences over the next century. Indeed, our response is already late.
Here in Luna County, we can count on our farmers and ranchers to respond to conditions and adapt as best they can, bringing together their experience and resources. We can all help them, and ourselves, by sending lawmakers to Washington who are not at war with science.
We Deserve Reasoned Debate, Innovative Ideas
We are citizens of the United States. We are the farmers and ranchers of the American west. We are the workers in the cities. We are the parents and children who wonder what will become of our land, streams, and air in the years to come. We are people, not corporations. We deserve a reasoned political debate about the facts that will change our way of life. We deserve competition among well-informed policy makers for the best solutions to rising energy prices, pollution, waste products, and the overlapping effects of climate change.
From the private sector, we deserve innovative ideas from our brightest entrepreneurs and well-capitalized corporations. Many of these resources are being spent to confuse the public and impugn science instead. Inevitably, the implications of global warming will affect business as well. We all deserve better than this.
Demand An Intelligent Conversation
We are speaking of the material conditions that will define our future. Can we stop pretending to be "conservatives" and "liberals" when it comes to our survival? Twisting climate science into a partisan dogfight, when the implications are truly universal, is short-sighted and selfish, even stupid. We do not need to know more than God. We have been granted the sense to look ahead and take reasonable precautions. Accepting reality and helping our community prepare will not happen until people demand an intelligent conversation repeatedly and consistently, backing it up with our votes and our spending habits.
This is a guest blog by Algernon D'Ammassa. It was originally published in the Deming Headlight.
If you'd like to submit a piece for consideration as a guest blog, contact me by clicking on the Email Me link at the upper left-hand corner of the page.
October 12, 2010 at 09:52 AM in Climate, Environment, Guest Blogger, Jon Barela, NM-01 Congressional Race 2010, NM-02 Congressional Race 2010, Science, Steve Pearce | |
Wednesday, October 06, 2010
DPNM Condemns Chamber of Commerce Ads Funded by Foreign Dollars, Calls On Pearce, Barela to Renounce Them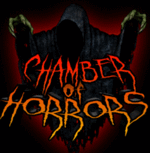 The Democratic Party of New Mexico (DPNM) today denounced the latest attack ads produced by the in Congressional Districts 1 and 2. The reason: foreign funds donated to the Chamber helped produce the ads. The DPNM released the following statement about the advertising by Javier M. Gonzales, DPNM Chairman:
At a time when America's small businesses continue to lose jobs that are outsourced to countries overseas, the U.S. Chamber has produced attack ads funded by foreign contributions. Both Martin Heinrich and Harry Teague, the respective candidates in these Congressional Districts, are fighting to keep jobs here in the U.S. and voted to close tax loopholes that send American jobs overseas. Congressman Pearce and lobbyist Jon Barela promised to protect certain tax cuts for companies which ship jobs overseas. When Pearce was in Congress, he voted for $42 billion in tax breaks for American companies that shipped jobs overseas.

Meanwhile, lobbyist Jon Barela vigorously lobbied George W. Bush for unfair trade deals to make it easier for corporations to ship American jobs overseas. It now seems foreign companies who got rich off Barela's actions are thanking him by funding viscous and misleading attack ads by padding the pockets of the U.S. Chamber of Commerce.
The Party asked Pearce and Barela today if they will publicly condemn the Chamber's ads and request they be taken down. No response has yet been reported.
Chamber's Campaign Spending Huge
A report yesterday by ThinkProgress had this to say about the U.S. Chamber's political attack ads and the foreign money that is part of their funding:
The largest attack campaign against Democrats this fall is being waged by the U.S. Chamber of Commerce, a trade association organized as a 501(c)(6) that can raise and spend unlimited funds without ever disclosing any of its donors.

... As of Sept. 15th, the Chamber had aired more than 8,000 ads on behalf of GOP Senate candidates alone, according to a study from the Wesleyan Media Project. The Chamber's spending has dwarfed every other issue group and most political party candidate committee spending. A ThinkProgress investigation has found that the Chamber funds its political attack campaign out of its general account, which solicits foreign funding. And while the Chamber will likely assert it has internal controls, foreign money is fungible, permitting the Chamber to run its unprecedented attack campaign. According to legal experts consulted by ThinkProgress, the Chamber is likely skirting longstanding campaign finance law that bans the involvement of foreign corporations in American elections.
Here's how it works:
... the Chamber has ... spearheaded an effort to raise money from foreign corporations, including ones controlled by foreign governments. These foreign members of the Chamber send money either directly to the U.S. Chamber of Commerce, or the foreign members fund their local Chamber, which in turn, transfers dues payments back to the Chamber's H Street office in Washington DC. These funds are commingled to the Chamber's 501(c)(6) account which is the vehicle for the attack ads.
Bahrain, India, China, Saudi Arabia, Russia ...
As examples, the article points out that the U.S. Chamber of Commerce has created a large presence in the small, oil-rich country of Bahrain, a similar set up in India, and many foreign "AmChams" or Business Councils that "operate outside the direct sphere of the U.S. Chamber of Commerce but nonetheless send dues money back to the U.S. Chamber of Commerce." In addition, the U.S. Chamber of Commerce "appears to rely heavily on fundraising from firms all over the world, including China, India, Egypt, Saudi Arabia, Brazil, Russia, and many other places."
Why are the U.S. Chamber of Commerce and its foreign corporate funders so hot to defeat Democrats?
The Chamber has repeatedly sent out issue alerts attacking Democratic efforts to encourage businesses to hire locally rather than outsource to foreign counties. The Chamber has also bitterly fought Democrats for opposing unfettered free trade deals.
Government Takeover by Foreign Corporations?
Ironic that the tea party types are hysterically afraid because of some myth concocted by Republican operatives that the U.S. has been taken over by Muslim, socialist, foreign-born Barack Obama. As we see from these developments, it sure looks like our government is actually in danger of being taken over by right-wing candidates supported by organizations with funding from foreign corporations -- even those that are controlled by foreign governments. I wonder if the Albuquerque Journal or the TV news boys will cover any aspect of this story. I won't hold my breath.
Marjorie Childress over at the New Mexico Independent has more.
October 6, 2010 at 09:44 PM in Corporatism, Jon Barela, NM-01 Congressional Race 2010, NM-02 Congressional Race 2010, Political Ads, Rep. Harry Teague (NM-02), Rep. Martin Heinrich (NM-01), Steve Pearce | |
Rep. Heinrich Endorsed By The Fraternal Order Of Police New Mexico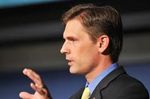 Today, the Fraternal Order of Police New Mexico (NM FOP), the largest law enforcement organization in the state, announced their endorsement of Martin Heinrich in the race for the First Congressional District of New Mexico seat. The NM FOP chose Heinrich over Republican Jon Barela.
In a letter of endorsement, NM FOP President Robert L. Martinez said, "The Fraternal Order of Police endorsed you because of your support of law enforcement officers and their families. You have a proven track record in your support and co-sponsorship of the major legislative initiatives of the FOP at the federal level. We are well aware of your voting on the programs to ensure collective bargaining, a bill of rights for police officers, and to safe guard the pensions and health benefits of law enforcement officers. We believe you have a proven track record as measured by your years of public service. We are also confident that you will continue to fight to protect the rights and benefits of law enforcement officers in the district, state and nation."
Martin said he was honored to earn the NM FOP's endorsement. "I am extremely honored to receive the support and endorsement of the New Mexico Fraternal Order of Police. Since taking office, I've consistently stood up on behalf those who protect our families and work hard to ensure that their concerns are heard in Washington."
The NM FOP joins the National Rifle Association Political Victory Fund this week in endorsing Martin Heinrich's reelection to Congress.
Click to check out the long list of individuals and organizations that have endorsed Rep. Heinrich in this race.
October 6, 2010 at 10:13 AM in Jon Barela, Law Enforcement, NM-01 Congressional Race 2010, Rep. Martin Heinrich (NM-01) | |
Monday, October 04, 2010
Rep. Martin Heinrich Raises $575,000+ in 3Q, More Than $1 Million in Bank

Rep. Heinrich: what's at stake this election
Impressive. Today, the Martin Heinrich for Congress campaign (D, NM-01) released a preview of third quarter financial numbers -- including more than $1 million cash-on-hand and over $575,000 raised since the last quarterly FEC report.
"We expect a very close race in a swing district, but it's clear that Martin has the momentum of grassroots support strongly and consistently behind him to move central New Mexico forward," said campaign press secretary Marsha Garcia, in a statement released today.
Highlights from the report include:
Over 2,500 contributions in the last three months, approximately double the number of contributors than in the second financial quarter.
Over 95% of the contributions came from individuals.
72% of contributions from individuals were $100 or less.
27% of contributions came from new donors, a sign that Martin's grassroots donor base is getting stronger.
The FEC report for the third financial quarter, which runs July 1, 2010 through September 30, 2010, will be filed in the coming days. The deadline to file is October 15, 2010.
No word yet from Rep. Heinrich's GOP opponent about his numbers for this quarter. However, during the last quarter, Martin raised $376,000 to Jon Barela's $244,000 and had $1,302,000 cash-on-hand to Barela's $537,000 in the bank when the second quarter ended in July. Let's keep it up.
October 4, 2010 at 03:13 PM in Jon Barela, NM-01 Congressional Race 2010, Rep. Martin Heinrich (NM-01) | |
Latest NM-01 Journal Poll: Heinrich 48%, Barela 41%
In Albuquerque Journal poll results released today on the race in New Mexico's first congressional district, Democratic incumbent Rep. Martin Heinrich was backed by 48% of those surveyed, versus 41% who backed the GOP candidate, Jon Barela. The phone interview survey of 403 likely voters conducted by Research & Polling Inc. in NM-01 on Sept. 27-30 found 11% were still undecided. Unlike with yesterday's release of results in a poll on the New Mexico governor's race, the Journal did not publish numbers including "leaners" in this race. We can only surmise the reason why. The main poll has a margin of error of plus or minus 5 points.
The Journal noted "solid support among Democratic and independent voters," with Heinrich backed by 51% of independents versus only 38% of independents for Barela in the poll. A total of 76% of Democratic voters polled said they would vote for Heinrich, while 12% said they would support Barela. Among Republican voters surveyed, 83% said they would vote for Barela and 9% backed Heinrich. In addition, the Journal reported,
Heinrich received more support in the Journal Poll from both male [46-44%] and female voters [50-39%] than did Barela, and younger voters were significantly more likely to support Heinrich.
Voters between the ages of 18 and 34 were nearly twice as likely to support Heinrich than Barela, with 59 percent of those voters surveyed saying they would vote for Heinrich compared with 31 percent for Barela. However, Barela matched Heinrich's support among voters age 65 and older.

Fifty-one percent of Anglo voters surveyed for the Journal Poll favored Barela, while 41 percent of Anglo voters supported Heinrich. Meanwhile, 60 percent of Hispanic voters supported Heinrich compared with 22 percent of Hispanic voters for Barela.
Similar to Last Poll: The results were similar to those of a Journal poll from late August, which showed Heinrich at 47% support to Barela's 41%, with 12% undecided.
Turnout, Turnout, Turnout: As with virtually all the major races this year, turnout will be key:
The Journal also said that,"With Democrats making up 48 percent of all registered voters in the 1st District, and Republicans 32 percent, Heinrich would have an advantage in a high turnout election," but that low turnout could hurt him. Pollster Brian Sanderoff said, ""The higher the turnout, the better it is for Heinrich. The lower the turnout, the better it is for Barela."
I'll say it again: we can win, IF we vote, get everyone we know to vote and work to get our voters out to the polls. In this mid-term election year, whether or not we can turn out Democratic voters and supportive independents will determine the outcome of this race and many others.
If you haven't already done so, now is the time to get involved by volunteering for a campaign, the Democratic Party or Organizing for America. Even a few hours a week can make all the difference in whether we keep moving forward or fall back to the Republican-created mess in coming years.
October 4, 2010 at 09:57 AM in Jon Barela, NM-01 Congressional Race 2010, Polling, Rep. Martin Heinrich (NM-01) | Permalink | Comments (0)