Monday, March 19, 2012
CD1 Former Abq Mayor Marty Chavez Candidate at Pre-primary Convention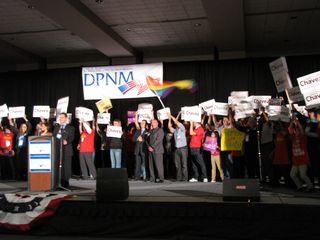 With a crowd of supporters on the stage dancing to the ole favorite "Won't stop til you get enough", Former Mayor Marty Chavez was nominated by City Councilor Ken Sanchez and the second nomination speech was by Marty's daughter. A spirited group with signs waving, and a rainbow flag waving were dancing on the stage.
To a loud cheer, Mr Sanchez started off with, "In November it will be Democrats who will elect Democrats, and Democrats who will defeat Republicans."
Ken Sanchez describes the low approval rating of 13%, and goes on to say, "with Washington in constant gridlock, we need a proven leader with vision and a proven record and action, and that individual is Marty Chavez."
In the video above after City Councilor Ken Sanchez spoke, Marty Chavez's daughter Martinique spoke as the second nominating speech. Her speech focused on Marty as a Dad, not as the general public know him as a mayor for the city. She highlighted her fathers dedication, and as a young woman her father showed her, "Her responsibilities as a citizen and her rights as a woman."
Then Marty Chavez comes to the stage to a robust cheer. First mentioning the lady Lobos! Then Thanking Speaker Lujan who was in attendance and the convention planners.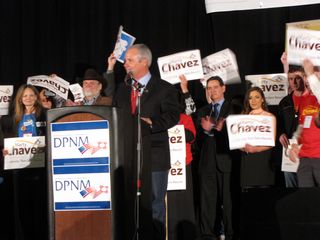 Marty launches into his accomplishments as a Mayor in the video above. The fact that Albuquerque, received several titles such as the greatest city in America and the best city in the Country for jobs while he was the Mayor. The former Mayor has been a leader in green jobs and sustainable cities as well. He mentioned the progress for the LGBT community before it was politically convenient passing the first time ordinance to cover sexual orientation. Marty then did a shout out for Sam Bregman thanking Sam as a city councilor for sponsoring that ordinance.
In the video above Marty speaks about the outrage of a panel of men convening in Washington recently to tell women what they can and cannot do with their bodies. Marty states "Our young women have the right to decide what is best for their own health." Marty goes on to say, " Our core values are under attack and we need tough leaders who can stand strong against the tea party activists, I am that kind of leader."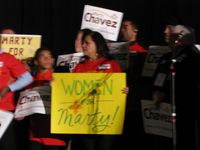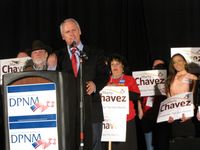 Marty described how the primary is bound to get more negative. He waved a flier that was on cars that morning, stating lies about him. No one has come forth and their is still no identification of who put those fliers out, DFNM did not see the flier. Marty goes on to describe the challenge he has offered his opponents, Eric and Michelle. The challenge is similar to what Elizabeth Warren in Massachusetts did, "she challenged her republican incumbent senator, to just say no to third party expenditures."
The Chavez Campaign sent out the following press release following the convention.
Strong Showing for Chavez at Convention
Yesterday, at the Democratic Party of New Mexico's Pre-Primary Convention, Marty Chavez nearly upended the activist favorite.
"This shows the strength of our people-powered, grassroots campaign. It's clear that my message is resonating and New Mexicans understand that we need tough leaders who can deliver the results our families need in Congress," said Chavez. "Talk is cheap. If we're going to get serious about creating clean energy jobs in New Mexico, building modern educational infrastructure and truly protecting our environment, we must elect leaders who can actually get things done."
Marty's campaign has been buoyed in recent weeks by major endorsements including President Bill Clinton. "Marty is a strong, visionary leader who created jobs and delivered the results New Mexican families needed as Mayor of Albuquerque," said the President. "In Congress, I know that Marty will take on our big challenges, stand up to special interests, and fight to create clean energy jobs in New Mexico because he's proven time and again that he can get the job done."
Historically, these conventions, essentially a poll of insiders, have not been accurate in predicting eventual primary winners. Some notable examples of candidates winning this vote but failing to capitalize include the 2006 Attorney General race between Gary King and Geno Zamora where Zamora's 36-31 convention win was followed by a 47-32 landslide for King on election day, the 2000 First Congressional District race between John Wertheim, John Kelly and Sam Bregman in which previous nominee Wertheim easily won the convention 35-27 but came in third on election day with just 24 percent, and the 2006 Land Commissioner race where Ray Powell took an incredible 74 percent at the convention but lost the election to Jim Baca just months later.
"We're really pleased with the strong show of grassroots support for Marty's campaign," said Campaign Manager Alan Packman. "These conventions have always been dominated by the types of insiders most likely to support Sen. Griego. Marty's strength is with everyday people who know his record delivering results for New Mexico's families as Mayor. We put up a tremendous fight against the insider favorite due to the tireless work of our staff and volunteers who put in countless hours at our headquarters to make this happen. As we head into the homestretch of this primary campaign, our battle-tested team is ready to hit the streets and reach out to Democrats all across central New Mexico."
The Primary Election will be held on June 5th.
March 19, 2012 at 02:03 PM in 2012 DPNM Pre-Primary Convention, Candidates & Races, Martin Chavez, NM-01 Congressional Race 2012 | |
CD1 Candidate Eric Griego at NM Democratic Pre-primary Convention
On March 10th the Democratic Party of New Mexico Pre-primary Convention was held. There was lots of fun and great speeches, DFNM took many photos and lots of video. This is our continued coverage of our great Convention of 2012.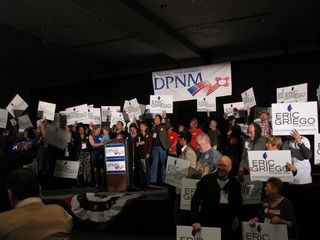 CD1 Candidate Eric Griego had a very strong contingent at the Pre-primary convention. Being escorted to the stage with his supporters and accompanied by the old popular song "Stand by Me". Eric came down the long aisle of the convention hall strumming a guitar to the podium.
In the video above Eric Griego takes the stage with Stand by Me playing. AFT President Christine Trujillo delivered Griego's nomination speech and the delegates in the hall seconded the nomination. Christine spoke about Eric's steadfast progressivism, and how it is time we elect someone with cajones!
Eric Griego explains about the American Dream and how each of us should be able to succeed if we work hard. And as Paul Wellstone would say "We all do better, when we all do better." He spoke about retiring with dignity, and that he will not stand for cutting medicare or social security. Eric spoke about the common good and how corporations are not people to a big cheer from the crowd.
The following press releases came from the Griego campaign shortly after being told they were the winners of the most number of delegates for the CD1 pre-primary.
NM-1: Eric Griego Wins the Democratic Pre-Primary Convention!
Albuquerque, NM – In a powerful show of organizational strength and momentum for his people-powered campaign for Congress, Eric Griego won the Democratic Pre-Primary Convention today against his two rivals for the nomination with more than 40% of the delegates.
Griego handily defeated the heavy early favorite for the contest, Marty Chavez, who could not overcome Griego's organizational superiority and growing grassroots momentum despite being the favorite of the establishment.  Griego defeated Chavez by 7 points.
In an even more powerful demonstration of comparative organizational strength, Griego trounced Michelle Lujan Grisham by 14 points.
Victory Statement by Eric Griego
 "New Mexican Democrats spoke loudly through their votes today about their desire to send to Washington a proven champion for our children, seniors, veterans and working families.  They are tired of conventional politicians working to protect the status quo, and are even less interested in politicians with only rhetoric without a proven track record.  They are looking for a fighter whose record they can trust to stand by ordinary families and push for reform against powerful corporate interests.
"My victory today reinforces the Democrats' desire to nominate a candidate with the broadest Democratic coalition, solid progressive record, and strong campaign organization.  I will win this seat against Tea Party Republicans and fight to restore the American Dream for all."
March 19, 2012 at 12:11 PM in 2012 DPNM Pre-Primary Convention, Democratic Party, Eric Griego, NM-01 Congressional Race 2012 | |
Wednesday, March 14, 2012
CD1 Candidate Michelle Lujan Grisham at Pre-primary Convention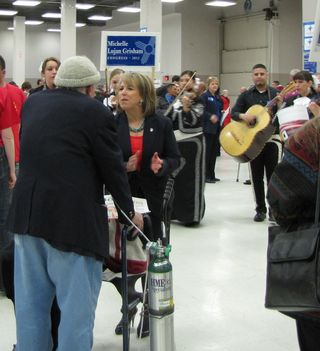 Bernalillo County Commissioner Michelle Lujan Grisham started the convention day off with a Mariachi Band in the large hall prior to the convention being called to order. Michelle was dancing with possible delegates trying to get votes down to the very end.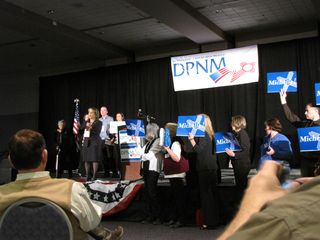 Michelle was nominated by a fire fighter and seconded by her daughter. She had her daughters and mother on the stage with her. Her speech focused on her work with seniors and her work as a commissioner creating jobs. How she has been an advocate for those who can not advocate for themselves.
Below is the Michelle Lujan Grisham speech delivered to the delegates at the Democratic Pre-primary Convention.
Michelle Lujan Grisham sent out the following thank you letter to the CD1 Pre-primary delegates:
Thanks to you, Michelle received solid support at the Democratic Party Pre-Primary Convention this weekend and is officially on the ballot for the June 5th Democratic primary. She has only been in the race for six months; yet she shocked her opponents, both longtime party insiders by attracting more than a quarter of the party faithful. Your hard work, your donations, and your votes made all the difference.

She is in a great position, with the most money and resources, to surge into the June election, but she needs your help more than ever.  Michelle showed this weekend that this is a competitive, three-candidate race. She needs your support to get her message out to the broadest possible audience. We all know that people who get to know Michelle will get on board and support her. 
Michelle said on Saturday: "I am prepared for an aggressive primary campaign that lets voters know that I will stand up to the bullies who are waging the Republican War on Women; I will stand up to the insurance companies and fight to bring down health care costs for our small businesses, seniors and families; and I will stand up for all New Mexicans who need a job or want the opportunity to work."
March 14, 2012 at 09:37 PM in 2012 DPNM Pre-Primary Convention, Democratic Party, Michelle Lujan Grisham, NM-01 Congressional Race 2012 | Permalink | Comments (3)
US Senate Candidate Congressman Martin Heinrich at Pre-primary Convention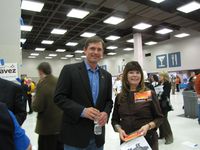 United States Senate Candidate; Congressman Martin Heinrich was very busy talking with the delegates as both the Congressman from the largest Congressional District in New Mexico CD1 and as a candidate for US Senate. Overall there is a large appreciation of Martin Heinrich for his being the first congressman from CD1, and for his ability to grow so much into the job of Congressman.
Martin and his wife Julie have two young boys. It is interesting to watch the children of these public figures grow up. To watch them go through there stages of shyness to being able to stand up tall in a photo with Speaker Pelosi's daughter Christine and smile perfectly, and even hold a sign on stage next to his Dad saying "Vote for my Dad".
Nominated by former Rep. J. Paul Taylor, and seconded by Rep. Moe Maestas, the following video is of the second nominating speech and Congressman Heinrich coming onto the stage and speaking to the delegates gathered from across the state.
Congressman Heinrich spoke about the importance of this 2012 election and how it will shape our country for a long long time. If elected he will build on the great foundation of past New Mexico leaders including retiring Senator Jeff Bingaman. Martin states he has always fought for the working people and the middle class. He asked the audience does it make sense that firefighters and teachers pay more taxes than Mitt Romney, the answer was a resounding Noooooo! Martin never shyed away from the tough votes. "Democrats can't win by being republican light."
March 14, 2012 at 03:41 PM in 2012 DPNM Pre-Primary Convention, 2012 NM Senate Race, Democratic Party, Rep. Martin Heinrich (NM-01) | Permalink | Comments (0)
Tuesday, March 13, 2012
US Senate Candidate Hector Balderas at DPNM Pre-primary Convention

Above video provided by Balderas for New Mexico
DFNM is starting the Democratic Pre-primary Convention coverage with spotlighting NM State Auditor Hector Balderas. Hector was escorted to the stage with his many supporters. "There were more people on the stage than in all of Wagon Mound" Hector stated to cheers.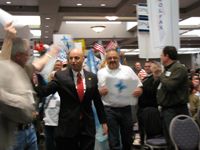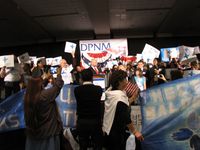 Young and old all proudly championing their candidate. Hector Balderas is a very modest humble public servant. He has worked hard for the state to track down corruption as the State Auditor, and to help the small towns of New Mexico be accurate with their accounting. Hector's speech emphatically states that no wall street bankers have been held accountable for the crash in 2008. And if he was in office that would not be the case. He will stand up for ordinary New Mexicans, and fight for us every day.
Bald for Balderas
Below is a funny video of Brian Colon showing his commitment to Hector BALDeras. You must check this out! Brian and Hector are like blood brothers but now we can call them BALD brothers.
Last but not least is the raw video shot of the Balderas Campaign; Supporters escorting Hector to the stage, getting set on the stage and Balderas delivering his speech.
March 13, 2012 at 10:17 PM in 2012 DPNM Pre-Primary Convention, 2012 NM Senate Race, Democratic Party, Hector Balderas | Permalink | Comments (0)
Thursday, March 01, 2012
03/10: The DPNM Pre-primary Convention
The DPNM Pre-primary Convention
will be held on March 10th, 2012
Call to order at 10AM; Registration starts at 8AM
at the Albuquerque Convention Center.
Read the Call
If you are a delegate and can not attend: 
 Download Designation of Alternate Authorization Form
Listing of Preferred
For all questions related to the Pre-primary Convention, please call the DPNM at 505-830-3650
March 1, 2012 at 11:36 AM in 2012 DPNM Pre-Primary Convention, Democratic Party | Permalink | Comments (2)