Tuesday, February 28, 2012
NM-1: Eric Griego Releases Women's Issues Platform, "Women Are the Majority"
From Eric Griego for Congress campaign.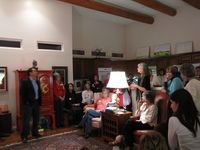 Today, Eric Griego for Congress in NM-1 released Griego's women's issues platform, called "Women Are the Majority."
"I was raised by a single working mother and I saw the struggles she faced," said Eric Griego.  "My mom worked two jobs to support me and my siblings, keep us healthy, and teach us.  It's because of her that I will do everything I can to help the women of New Mexico who face tough odds in this economy and protect their rights."
Griego's platform focuses on four issue areas affecting millions of women: paid family leave, reproductive rights, pay equity and Social Security.
Paid Family Leave
Eric Griego grew up watching his single mother struggle to balance work and family.  He believes that women and men should not have to choose between their jobs and their families in time of need.  That is why he led efforts as a state and city legislator and as the Executive Director for New Mexico Voices for Children to pass increased funding for early childhood, working families' tax credit, higher minimum wage, and to protect Medicaid for working families.
In Congress, Eric will support families by working to expand the Family and Medical Leave Act to give paid family leave for births and adoptions.
Reproductive Rights
As a State Senator, Eric Griego stood up to conservative anti-women forces and opposed punitive bills designed to gut family planning rights.  Eric sponsored the "Unintended Pregnancy Advisory Panel" in the State Senate, aimed at studying how to reduce unintended pregnancies while protecting women's health and rights.  He also voted to give sexual assault victims access to emergency contraception.  He has been and will always continue to be a principled ally of health organizations such as Planned Parenthood to support comprehensive women's health and family planning programs.
Eric not only supports Roe v. Wade, but also considers women's rights essential to decisions on medical privacy.  As a State Senator, Eric stood up to conservative anti-women forces and opposed legislation designed to erode family planning rights (SB239), criminalize abortions (HB30, SB222), and force minor victims of even incest or rape to obtain parental permission before receiving care.
Pay Equity
As a State Senator, Eric Griego consistently voted for legislation to increase fair employment practices.  He also supported legislation to prevent health insurers from charging higher premiums to females (SB148).
Eric supports the Paycheck Fairness Act now before Congress.  He believes that the bill is a good start but does not go far enough.  Eric supports stronger legislation that would call for the disclosure of pay statistics.  This would prevent discrimination in the first place rather than putting the responsibility on women to fight it after the fact.  In addition, Eric will continue to help women- and minority-owned businesses by insisting that the set-asides for these businesses be enforced in federal contracting.
Social Security
Eric Griego knows how important Social Security benefits can be to retired and disabled Americans and opposes Republican and Blue Dog efforts to cut them.
However, Eric understands that the current system is not perfect – women often receive fewer benefits because they took time out of work to raise children or care for aging family members.  That is why he supports creating a caregiver credit in Social Security.  He believes that we must recognize the valuable work that caregivers do by awarding Social Security credit at least as high as the minimum wage.
Griego's platform release follows his campaign's announcement yesterday of support from prominent local women leaders, including:
Dr. Martha Burk, Director of the Corporate Accountability Project and former Chairwoman of the National Council of Women's Organizations
State Senator Mary Jane Garcia, Majority Whip
State Senator Dede Feldman, Chairwoman of the Senate Committee on Public Affairs
State Senator Cynthia Nava, Chairwoman of the Senate Committee on Education
State Representative Mimi Stewart, Chairwoman of the House Committee on Health and Government Affairs
State Representative Eleanor Chavez, Vice Chair of the House Committee on Labor and Human Resources
February 28, 2012 at 05:15 PM in Candidates & Races, Children and Families, Eric Griego, NM-01 Congressional Race 2012, Women's Issues, Women's Right to Choose | Permalink | Comments (21)
Sunday, February 26, 2012
2/27: Join NM01 Candidate Eric Griego and Leading Women's Health and Equity Advocates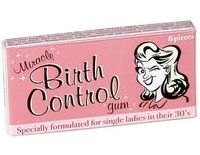 From the Eric Griego for Congress Campaign.
Again and again, Republican men in Washington are telling women what to do with their health. That's unacceptable.
From the all-male panel on birth control access to refusing to let cameras into a Democratic hearing, Republicans are taking the war on women to the next level. Are they scared of what will happen when women are finally able to speak out on these issues?
Will you join me and leading women's health and equity advocates on Monday, February 27, where we'll be discussing how to end the Republican war on women? Click here to RSVP.
In the 21st century, it's unacceptable that women are being shut out of the conversation that affects them most. If I am elected to Congress, I will continue to be a strong advocate for all American's health and privacy rights. That means ensuring that everyone can speak up.

Join me on Monday at 5:30 so that we can get started.
We'll be joined by Dr. Martha Burk of the National Council of Women's Organizations, and Senator Dede Feldman and Representative Mimi Stewart, the two leading New Mexico legislators on women's rights. 
I'll be introducing my platform on issues affecting women, and I want your feedback.
I hope to see you there!
Eric Griego
Democrat for Congress (NM-01)
February 26, 2012 at 04:17 PM in Candidates & Races, Eric Griego, Events, NM-01 Congressional Race 2012, Women's Issues, Women's Right to Choose | Permalink | Comments (0)
Thursday, February 23, 2012
The War on Women and the Pass on Men
Women we have to rise up again! We have to. The news last night was all about women's private parts. The outrage of the past couple of days is the consideration of the Virginia legislature passing a law that women having an abortion would have to have a trans-vaginal probe.  This comes on top of the other outrage over the past weeks regarding access to birth control pills.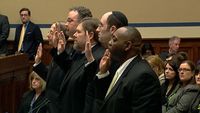 Representative Darrell Issa R-CA conducted a hearing on contraception a few days ago, here is a recap of that . The photo to the right is the panel, and it speaks louder than words.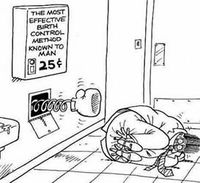 What is missing from this debate is the other component of getting pregnant, the man's penis. When sitting watching the republican debate last night and hearing the candidates proclaim moral high ground on women's bodies, a commercial came on for Viagra, yep, the hard-on medicine that is not even mentioned in this discussion. How has Viagra changed the pregnancy rates? Why is Viagra covered by insurance companies and accepted by the moral conservatives? When the debate continued I could not help but imagine who on the panel uses Viagra.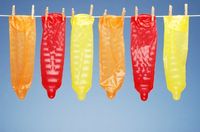 Another topic missing from the discussion is condoms. How about that guys? That always worked to catch the soldiers marching to an egg. There are other ways to prevent pregnancy besides birth control pills, morning after pills and abortion, all of which are in the control of a woman. The males could take easy responsibility as well. But that would be no fun because the men could not continue their own sexual enjoyment on a whim and their perceived right and desire to control women's bodies.
So, no abortions, no birth control, vaginal probing yes, Viagra big yes, condoms not so much.
Oppression of Women
The oppression dates back centuries. Catholicism and modern day Christianity was and still is based on the oppression of women. It is hard to focus on this post because of the outrage I feel. Where to start? It seems like most of recorded history has had oppression of women, and now here we are in 2012 still fighting the same battles. The photo to the right and down is of a witch trial court taken 1692. Not much different then the congressional panel above taken Feb. 2012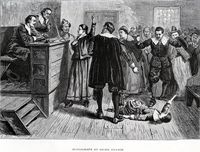 Well, the witch trials are one good doozy of a place of absurd craziness:"During the Great Hunt, witches were accused of "impractical" and "traceless" crimes. They had intercourse with the devil and various demons at unlikely places and times. "Unregistered" babies from hidden pregnancies (i.e., no known babies were missing) were scarified and/or eaten, with no remains ever found. Sacred objects of unspecified origin were spoiled and misused.Global disasters were caused that brought no profit whatsoever to the accused, e.g., hail, caterpillars, droughts, floods, plagues. All in all, accusations were identical irrespective of time and place of the trial, but no solid evidence ever turned up."  This quote was taken from the article; This article claims the great witch hunt took place between 1600 to 1750, and that less than 1,000,000, one million that is woman who were tortured and killed, lots of brutal torture to drive the devil from the wretched woman. Don't forget the burned at the stake way of killing too, good ole hangings, and all done on display for the public's enjoyment.
Women's Suffrage Movement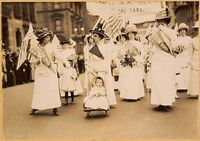 Let's fast forward 70 years to the Women's Suffrage movement lasting 100 years, from 1820's to the 1920's. From History.com: "On Election Day in 1920, millions of American women exercised their right to vote for the first time. It took activists and reformers nearly 100 years to win that right, and the campaign was not easy: Disagreements over strategy threatened to cripple the movement more than once. But on August 26, 1920, the 19th Amendment to the Constitution was finally ratified, enfranchising all American women and declaring for the first time that they, like men, deserve all the rights and responsibilities of citizenship." So, not even 100 years ago the US women got the right to vote.
The Equal Rights Amendment has never been ratified.
The strong women of the time kept fighting for our rights. In 1923, the National Women's Party proposed an amendment to the Constitution that prohibited all discrimination on the basis of sex. First brought before Congress in 1923, the Equal Rights Amendment has been introduced into every session of Congress between 1923 and 1972. In its original form, the ERA advocated for the end of gender bias in 18 short words: Men and women shall have equal rights throughout the United States and every place subject to its jurisdiction.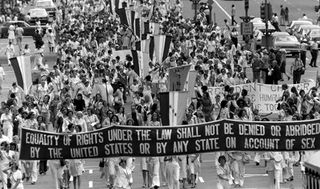 The amendment was rewrote in 1943: Equality of rights under the law shall not be denied or abridged by the United States or by any state on account of sex.
After 50 years of inaction, "in 1972 the ERA was sent to the states for further action. For the amendment to become law, three-quarters of the states needed to ratify the ERA within a 7-year time frame. Although reaching the magic number of 38 states initially seemed likely, strong opposition to the ERA surfaced among far-right religious groups, states' rights advocates, businesses, and other traditional organizations. By 1977 only 35 states had ratified the ERA. After much public pressure, Congress extended the deadline for ratification to June 30, 1982. However, the tide had already turned by 1980 when the Republican Party removed support for the ERA from its platform. That same year, the election of Ronald Reagan as president ushered in a significantly more conservative era." For more of this ERA history see this link.
Roe v. Wade
Now we move onward to the battle over a women's right to choose, the very famous Roe v. Wade case. One of the most private decisions between a woman and her doctor that the right wing republicans and some democrats just cannot help getting involved with and passing laws about. The Supreme Court ruled on this right to choose and issued its decision on January 22, 1973, with a 7-to-2 majority vote in favor of Roe.
Launch a new Women's Lib Movement 
If anyone told me we would be having a discussion over the rights of women to use birth control in 2012 I would say you are you are joking. The right for a woman to choose what to do with her body I could believe would still be being fought, but not with so much vigor and ability to win. 
We must elect democratic women to office. We have to encourage women to run in all levels of government. Remember we have a strong woman candidate here in New mexico running for Congressional District 1, Michelle Lujan Grisham. We need to bear pressure on all men to keep our fight and rights on the front burner. We must make sure that we keep control of the NM State Legislature, many of these new laws are being passed at the state level. In my opinion it is an all hands on deck call. We must stand up for the woman's rights our fore-mothers, and sisters fought so hard for. The oppressors never rest.
Maybe we really have to Burn our Bras this time.
February 23, 2012 at 06:08 PM in Michelle Lujan Grisham, NM-01 Congressional Race 2012, Women's Issues, Women's Right to Choose | |
Planed Parenthood Action Fund Endorses Martin Heinrich for U.S. Senate
PHOTO at right: Planned Parenthood of New Mexico CEO
Jenny Black talks prevention with Martin Heinrich, February 10, 2012.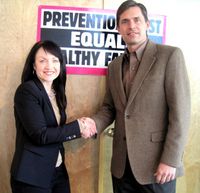 The Planned Parenthood Action Fund announced its endorsement today of Democratic candidate Martin Heinrich in his race for the U.S. Senate in New Mexico. The Planned Parenthood Action Fund is the advocacy and political arm of Planned Parenthood Federation of America, the nation's leading reproductive health care provider and advocate.

"You have been a strong supporter of women's health and we know you will continue to be a dedicated advocate for our organization," said President of the Planned Parenthood Action Fund Cecile Richards in a letter to Heinrich.
"For 95 years Planned Parenthood has provided women and families in New Mexico with vital health care services and education and it is truly an honor to receive their endorsement," said Heinrich. "New Mexicans can count on me to continue to stand up for women's health and reproductive rights, and support policies based on commonsense and science, not the demands of the special interests and ideological crusaders."
Martin Heinrich is a longtime champion of women's rights. From his earliest days in Congress, Heinrich has stood up for women's health and equality, including a woman's right to affordable health care and the right to choose. When Republicans in the House sought to restrict how women with private insurance could spend private dollars through the Stupak-Pitts amendment to the Affordable Health Care Act, Heinrich voted no. When the Republican majority tried to cut off federal funding to Planned Parenthood, which provides essential health services to one in five women at some point in their life, Heinrich fought back.
February 23, 2012 at 03:22 AM in 2012 NM Senate Race, Candidates & Races, Human Rights, Rep. Martin Heinrich (NM-01), Women's Issues, Women's Right to Choose | |
Sunday, January 22, 2012
Marty Chavez Statement on the Anniversary of Roe v. Wade
New Mexico First Congressional District candidate Marty Chavez released the following statement on the anniversary of the Supreme Court's Roe v. Wade decision:
"On the anniversary of this landmark ruling that guarantees all women the personal freedom and constitutional right of privacy to make their own choices, it is important to continually reaffirm our commitment to keeping abortion safe and legal.
"I will be a strong advocate in Congress for protecting a woman's right to choose.  While firmly pro-choice, I believe that as a nation we must promote policies that reduce the need for abortions including access to birth control and comprehensive sex education for our children.
"We must also be vigilant against the misleading, deceptive and sometimes violent tactics of anti-choice people as they attempt to erode a woman's right to choose and outlaw abortion.
"As a student in 1970's I was proud to help organize a visit to UNM by Sarah Weddington, an event that left an indelible impression on my commitment to the issues surrounding Roe. And as Mayor, I led the effort to create the Family Advocacy Center – a multi-agency facility that combines emergency medical staff, victim advocates, legal and financial assistance along with law enforcement and prosecution in a unique system designed to dramatically decrease the stress and trauma often placed on victims of violence.  This agency has had an incredibly positive impact on a system that was broken.
"Those are real results for New Mexican families and that's the kind of leadership I'll bring to Washington."
January 22, 2012 at 06:21 PM in Candidates & Races, Martin Chavez, NM-01 Congressional Race 2012, Women's Issues, Women's Right to Choose | |
Wednesday, July 13, 2011
7/25: NARAL Pro-Choice NM Hosts National President Nancy Keenan at Yanni's
NARAL Pro-Choice New Mexico
Invites you to show your support for Reproductive Justice
For all Women and Families in New Mexico and America
as we host,

NARAL Pro-Choice America's National President
Nancy Keenan

When: Monday, July 25, 6:00 – 8:00 PM
Where: Yanni's Mediterranean Restaurant's Meeting Room

Free of Charge – Appetizers and Drinks Provided
Come support the urgency of reproductive options being available to ALL. Meet, mingle, and visit with others who share your views – we must stand strong! Pass the word – open to all.
July 13, 2011 at 09:23 AM in Events, Women's Right to Choose | Permalink | Comments (0)
Friday, July 02, 2010
Guest Blog: Urge Archibishop Sheehan to Issue Statement Directing Noncooperation With Operation Rescue
This is a guest blog by Marshall Martinez, who serves as Board President of the New Mexico Religious Coalition for Reproductive Choice (NMRCRC).
It has been just over a year since the murder of Dr. George Tiller robbed us of an exceptional physician who stood with unflinching resolve against all who tried to stop his life-saving work. I will always remember the shock and sadness of that Sunday, May 31, when Dr. Tiller was gunned down as he stood in the foyer of his Lutheran church in Wichita, welcoming anyone entering to worship. That he was killed in his church, and that he found strength and purpose through his religious faith made his death especially grievous for us as people of faith.
When Scott Roeder was arrested for the murder of Dr. George Tiller, the police found the name and phone number of Cheryl Sullenger in his car. Cheryl Sullenger is Operation Rescue's senior policy advisor and she served two years in prison for conspiring to bomb abortion clinics in 1988. In spite of this, Operation Rescue has denied having any responsibility for the assassination of Dr. Tiller.
According to a recent post to their website, Operation Rescue has been in Albuquerque meeting with Project Defending Life, Catholic Pro-Life Ministries in New Mexico to, "...open a satellite office in Albuquerque that will be directed from our headquarters in Wichita." And "strategize about future efforts to close the abortion business here after the largest late-term abortion clinic in the nation closed last year in Wichita, Kansas." The director and founder of Project Defending Life is Fr. Stephen Imbarrato, a Diocesan Priest and therefore under the authority of Archbishop Michael Sheehan.
I am disappointed that Archbishop Sheehan would turn over his leadership in the Pro-life community of New Mexico to Operation Rescue's Troy Newman and Cheryl Sullenger and their use of intimidation, harassment and violence which is in complete opposition to everything I believe in as a Catholic.
As a child growing up in a Catholic family in southern New Mexico, I was taught to live the Catholic values of compassion and mercy and to treat everyone with love and respect, regardless of whether I agreed with them or not. Service to the church and community was done through love and humility in order to grow the Catholic values of compassion, mercy and respect in the community. I believe that Operation Rescue's presence here will attract unstable, extremist individuals to New Mexico and could result in the same kind of violence that has happened in Wichita, Kansas and other communities
The New Mexico Religious Coalition for Reproductive Choice has asked the Archbishop to issue a written statement directing all of his religious leaders and laity to avoid all association, cooperation and collaboration with Operation Rescue, Operation Save America and all other "pro-life" hate groups, but has not received any response. You can help by signing our petition at www.nmrcrc.org/action.php. Or on Facebook
This is a guest blog by Marshall Martinez. If you'd like to submit a piece for consideration as a guest blog, contact me by clicking on the Email Me link at the upper left-hand corner of the page.
July 2, 2010 at 09:20 AM in Faith Community, Guest Blogger, Women's Issues, Women's Right to Choose | Permalink | Comments (4)