Monday, September 24, 2012
Albuquerque City Councilors and Administration Officials Promote Electric Vehicles
Events in more than 60 cities celebrate 200 Million Oil-Free Miles Driven by EVs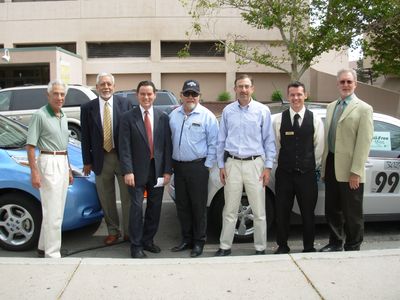 Albuquerque, NM—Albuquerque City Councilors Ken Sanchez and Rey Garduño, City Transit Director Bruce Rizzieri, and City Fleet Manager Tony Baldonado test-drove electric cars and touted their role in a cleaner, greener, more secure America as part of National Plug-In Day, a nationwide celebration of electric vehicles (EVs). The Rio Grande Chapter of the Sierra Club organized the event along with local EV owners and clean-energy advocates, including the New Mexico Solar Energy Association, Sacred Power, and the Southwest Green Building Center.
"Electric vehicles have a bright future in Albuquerque—and the future is here." said Dave Simon, Rio Grande Chapter Director for the Sierra Club. "Switching to EVs will reduce America's dependence on oil, cut air pollution, and create jobs—and we can power many EVs in New Mexico using solar energy. The City should be a leader in promoting EVs and can take many steps to encourage EV use."
City officials drove a Nissan Leaf, Chevy Volt and a converted electric Volkswagen Beetle in the morning then discussed their experiences and steps the City can take to encourage electric vehicles at an afternoon press conference in front of the City's downtown EV charging station on 3rd Street. Other EV vehicles that will soon be available on the market include the Ford Focus EV, the Mitsubishi i-MiEV, the Honda Fit EV, the Tesla Model S, and the Toyota plug-in hybrid Prius.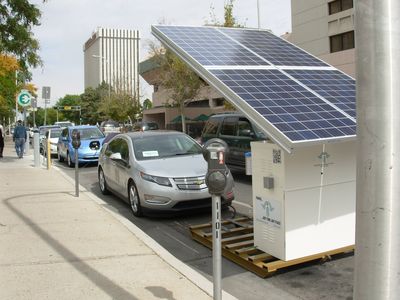 "Electric car technology will bring us one step closer to energy independence, which is important for our long-term economic viability and our national security," said City Councilor Ken Sanchez. "I would like to see Albuquerque take the lead in exploring the use of electric vehicles to keep the air clean and sustain our future as a global innovator."
"Electric cars are more than a fad, but a way to look at transportation in the future," said City Councilor Rey Garduño. "With that in mind, it's vital that electric vehicles be affordable for people."
Simon pointed out several ways in which the City of Albuquerque and the State of New Mexico could promote and incentivize EV use, including: A state tax credit or rebate for purchasing an EV or converting vehicles to plug-in; Installing more EV charging units throughout the city and state; state and city fleet purchases of EVs; state or utility tax credit or rebate for installing an EV charging unit; Local or state building-code changes that require new construction to include EV-ready wiring; Waiver of emissions inspections or sales tax for EVs.
National Plug In Day events on September 23-24 took place in more than 60 cities nationwide organized by Plug In America, Sierra Club, Electric Auto Association, and local groups. These free events invited the public to celebrate the success of electric vehicles. Some 50,000 new electric vehicles have sold in the U.S. in the last two years and tens of thousands of U.S. drivers are saving money at the pump and leading an oil-free transportation revolution.
New data compiled by the National Plug In Day organizers show that EVs have now traveled more than 200 million oil-free electric miles in recent years. EV drivers thus avoided the purchase of 7.4 million gallons of gasoline, saved $19.6 million in fueling costs (even taking into account electricity costs), and prevented 96.5 million pounds of carbon pollution emissions (even factoring in emissions from electricity generated to charge EVs)—that's like closing 20 coal-fired power plants for a year. These impressive figures are only the beginning, as EV sales are growing steadily, and many new models are becoming available. For details of the new data analysis see this link.
In August the Obama Administration finalized new car efficiency and pollution standards that will raise average fuel economy to 54.5 MPG and slash greenhouse gas pollution from new cars and light trucks. Automakers supported these new standards, in part, because they were confident that they have the technology to meet them, and buyers are demanding high-tech, innovative vehicles. EVs will play an important role in helping automakers meet and exceed these new standards.
About Plug In America: Plug In America is leading the nation's plug-in vehicle movement. The nonprofit organization works to accelerate the shift to plug-in vehicles powered by clean, affordable, domestic electricity to reduce our nation's dependence on petroleum and improve the global environment. We drive electric. You can, too. www.pluginamerica.org, https://www.pluginday.org
About the Sierra Club: The Sierra Club is the nation's oldest and largest grassroots environmental organization with 1.4 million members and supporters and chapters in all 50 states. The Sierra Club's national electric vehicles campaign advocates for a switch to EVs as one important way to reduce emissions and cut our addiction to oil. www.sierraclub.org/electric-vehicles
About the Electric Auto Association: The Electric Auto Association, formed in 1967, is a nonprofit educational organization with 75 chapters worldwide that promotes the advancement and widespread adoption of electric vehicles. www.electricauto.org
September 24, 2012 at 10:09 PM in City of Albuquerque, Energy, Transportation | Permalink | Comments (0)
Thursday, March 22, 2012
Before We Spend $50M, How About We Let the Voters Decide?
from Abq City Councilor Rey Garduno:
I am writing to explain why City Councilors Ike Benton, Debbie O'Malley, and myself will vote to support sending a $50 million dollar bond proposal for the Paseo del Norte interchange to the voters this November. You may remember this important capital project was tied to the $25 million dollar sportsplex last October and was soundly rejected by voters. Please read below why we believe it's only right to send it back to voters again for consideration. Also, if you believe you should have the opportunity to vote on this project, please let Mayor Berry know. You can call him at 768-3000.
Thanks, Rey…
The Paseo del Norte/I-25 Improvement project is important to the City, the state and the region, and we need to move it forward as quickly as possible. The three of us have always supported this project, and as recently as last August voted to send the full $50 million in funding to the voters for their approval. Unfortunately, we were outvoted along straight party lines. We've always been consistent in our support for the project and in the need for voter approval.
That's why we took the stand we did Monday night. Much has been made of that decision, and how it may affect the project, but as a practical matter, sending the project to the voters won't delay it in any way. The contract for the design of the project still hasn't been finalized, and once it is, the design won't be complete for another 12 to 18 months. What's the rush to issue bonds now? Issuing bonds this far ahead of when they're needed will cost taxpayers millions of dollars in unnecessary interest payments. It's like paying a mortgage before the house is even designed!
If we send this to the voters in November, they get the chance to weigh in on how we spend money that normally goes to pay for police, fire, parks, animal services, senior centers and other critical day-to-day costs of providing services to citizens. Voters should know that the $50 million funding for Paseo commits $3 million in Gross Receipts Tax (GRT) Operating Funds from those services annually for the next 30 years.
Moreover, the County's proposed funding is going to the voters for approval this November, and no one is saying the County doesn't support the project! Albuquerque citizens are being asked to fund the lion's share of the project, so shouldn't they get an opportunity to weigh in on how their money is spent?
As far as federal funding, opportunities to apply for "TIGER" (federal transportation improvement) grants have been available every six months. Should the voters approve the project, it's possible that by then the design will be far enough along to demonstrate to the Department of Transportation that the project is truly multi-modal, which will only help our chances of getting the grant.
Once again, we want to make it clear that we have always supported the Paseo del Norte interchange project, and understand the positive impact it will have the community. We just want to make sure that the citizens of Albuquerque get to decide how $75 million of their tax dollars are spent.
March 22, 2012 at 03:09 PM in City of Albuquerque, Transportation | |
Thursday, March 15, 2012
Senator Udall: Transportation Bill Good for America, New Mexico

On Wednesday March 14th, U.S. Senator Tom Udall (D-N.M.) urged the House to act on legislation that passed the Senate overwhelmingly today to create jobs by revitalizing America's thruways and bridges. The bill passed the chamber in strong bipartisan fashion by a vote of 74-22.
"There is no more certain way to create jobs than through the revitalization of America's roads, bridges and other vital infrastructure," said Udall. "The bipartisan surface transportation bill the Senate advanced today will provide much needed certainty for state and local governments to plan ahead and further stabilize our economy."
The legislation includes $12 million for the next two years for Udall's Driver Alcohol Detection System for Safety Research initiative. This initiative was introduced with Sen. Bob Corker (R-Tenn.) last March as stand-alone bill known as the "Research of Alcohol Detection Systems for Stopping Alcohol-related Fatalities Everywhere Act," or "ROADS SAFE Act."
"Too many innocent lives have been taken at the hands of drunk drivers," Udall said. "With the advancement of technology in this day and age, we have the power to stop drunk driving before it starts by making sure would-be drivers can't start a car if they are over the legal limit."
The focus of the research that will be funded is to develop a passive alcohol detection system for vehicles to prevent any individual who is over the legal limit from being able to operate the vehicle. It has the backing of Mothers Against Drunk Driving (MADD), the Century Council, the Distilled Spirits Council of the United States (DISCUS) and many others.
Udall also reported on several other provisions he was responsible for including in the measure:
A Rural Safety amendment, to ensure that vehicle crash rates are considered when states prioritize federal safety funding. Currently, in many cases, only the number of crashes is considered, which puts rural areas with lower total numbers of vehicles at a disadvantage.
An amendment to give states the flexibility to spend funding on local and county roads within ten miles of the international border when 50 percent or more of the traffic is for federal purposes. This amendment addresses concerns expressed by Luna and Hidalgo counties regarding the increase in maintenance requirements on local roads due to the rise of border patrol activity in the area.
An amendment to allow rural towns to invest their federal dollars to improve roads adjacent to their main streets. This provision gives small towns more flexibility to maintain their main street character while addressing congestion and accessibility concerns. Currently, small towns are faced with the choice of building expensive bypasses that direct traffic around the city, hampering main street and downtown businesses, or widening the main street itself, which also often has detrimental impacts on downtown areas.
An amendment to ensure that non-motorized users of the transportation system (bicyclists and pedestrians) have a voice at the table during the development of safety, statewide and metropolitan area transportation improvement plans.
Udall also reported improvements to the Tribal Transportation Formula, to avoid a 20 percent cut in funding to the Navajo Nation, which was included in an earlier version of the legislation. Instead, the Navajo Nation's funding will remain stable and the Pueblos in New Mexico will receive a significant boost in funding.
"This is a good bill for America and New Mexico. It would now be in the best interest of our nation for the House to act expediently so we can send it to the president to sign," Udall concluded.
March 15, 2012 at 12:42 PM in Jobs, Sen. Tom Udall, Transportation | |
Sunday, January 29, 2012
Commissioner Michelle Lujan Grisham- Paseo Del Norte I-25 Interchange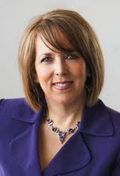 By Michelle Lujan Grisham, Bernalillo County Commissioner
Last year alone there were over 400 accidents in the Paseo del Norte interchange area.  Since 1995, it has been a priority in this community to rebuild this interchange and bring the needed upgrades to promote public safety and reduce congestion,  accidents,  air pollution and, last, but not least, driver frustration.
Thanks to cooperation from city, county and state governments, this important project may become reality at last.
In these times of tight budgets and political bickering at every level of government, people become justifiably skeptical of their public officials' ability to get anything done.  However, I believe that our progress on the Paseo project demonstrates that those of us in public service can accomplish great things when we set aside our differences and work together on what matters to the community.
The rebuilding of Paseo has long presented financial challenges as the cost of Phase I of rebuilding the Paseo Interchange is estimated at $93 million.  However, just this week, we have seen the County, the City and State each find a way to help solve this problem and pledge significant funds to this effort.
Since the County Commission supported my call to pledge bond money to fund this project on Tuesday, January 24, we have seen enormous support and positive reaction to our efforts.  Now, with $50 million from the City and $30 million from the State added to the $5 million committed by my colleagues and me on the County Commission, we are on the way to accomplishing our common goal and making our community safer. I hope the Federal Government will also share this responsibility, as I-25 is part of the national interstate system.
Improving the Paseo del Norte interchange is a win-win situation for Bernalillo County, the City of Albuquerque, and the State of New Mexico. Not only will this address long overdue traffic and safety issues, the re-design and construction of this interchange will have a broad positive impact on our community. It will create many needed jobs during the design and construction phases.
Furthermore, after the necessary improvements, fewer accidents will lead to fewer injuries and fewer insurance claims. Law enforcement officers from the County and the City of Albuquerque will have more time and energy to attend to other duties.
We are so close.  I salute my partners in this effort, Republicans and Democrats, at the state and local level.  Without their commitment of funds, success would not be in our sights. Let's all work together to get this across the finish line and make this happen.
January 29, 2012 at 01:06 PM in Bernalillo County, Michelle Lujan Grisham, Transportation | |
Friday, June 17, 2011
Transit Board Votes to End Weekend Rail Runner Service
I'm not kidding. Read it and weep. New Mexico is moving further and further backwards. Day in and day out. What kind of future is in the cards for us? One that lacks even the most basic of forward-thinking progressive elements that nourish a culture and its communities so that they thrive.
Thank all the Dems who voted for Susana Martinez for governor, for starters. Then move on to thanking all the legislators who refuse to raise taxes on our richest citizens or to close corporate tax loopholes -- including the fake Dems in power positions in the Roundhouse.
June 17, 2011 at 06:49 PM in Economy, Populism, Susana Martinez, Transportation | |
Thursday, April 14, 2011
Sen. Tom Udall Welcomes Las Cruces Mayor Pro-Tem to Testify on Transportation
Senator Tom Udall (D-NM) welcomed Las Cruces City Councilor and Mayor Pro-Tem to Washington today to testify before his Environment and Public Works Committee on the importance of surface transportation for New Mexico communities. Click here to watch Thomas' testimony.
Udall, a member of the committee, invited Thomas to participate in the panel to ensure that New Mexico priorities are being addressed as the Safe Accountable Flexible Efficient Transportation Equity Act: A Legacy for Users (SAFETEA-LU) bill comes up for re-authorization.
"I felt it was important for the committee to hear from a New Mexican about the importance of this long-term reauthorization, and I applaud Sharon for her powerful testimony," Udall said. "A long-term reauthorization will allow communities to strategically plan for important maintenance and improvements, and determine where critical capacity expansion can occur. I will continue pushing for its passage in the Senate."
Thomas focused her statement on the need for 'livable communities.'
"In New Mexico, too often, transportation planners have torn out our Main Streets for better traffic 'flow' and destroyed our small towns. We want to see transportation planning that takes into account all users of the roadway, as well as the surrounding context for that roadway. As part of the Surface Transportation Authorization, we would like to see financial support for livable communities projects, such as the recent TIGER grants, that can help us build communities that are safer, more livable, and welcoming to everyone," Thomas said in her testimony to the committee.
Thomas is a retired English professor who moved to Las Cruces in 2003. She has been a city councilor since 2007.
April 14, 2011 at 04:06 PM in Las Cruces, Sen. Tom Udall, Transportation | |
Tuesday, February 15, 2011
Sen. Tom Udall Guest Blog: Protecting Privacy at the Airport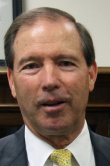 This is a guest blog by U.S. Senator Tom Udall (D-NM), who is a member of the U.S. Senate Committee on Commerce, Science and Transportation.
Around the holidays last year, we saw significant public concern about personal privacy at our nation's airports. At the time, the Transportation Security Administration (TSA) had expanded screening measures at security checkpoints in airports like the Albuquerque Sunport.
The new standard became Advanced Imaging Technology (AIT) or whole body scanners, which produce highly revealing body images of the individual being screened. If you refuse an AIT scan, the alternative is a full body pat-down -- also hardly ideal for personal privacy.
I asked New Mexicans to share their thoughts with me on this issue. In more than 7,000 email responses, my constituents overwhelmingly expressed concern about these TSA screening procedures.
To address these concerns, I've put forward a practical proposal that meets current airport security standards while helping travelers maintain personal privacy.
New software can be installed on existing scanners to replace passenger-specific pictures with a generic, non-identifiable outline of the person being screened. I have offered an amendment to the Federal Aviation Administration (FAA) Reauthorization bill that would require this software to be installed on existing scanners nationwide within a year.
Advanced Imaging Technology Currently In Use
The body images produced at airport checkpoints are highly revealing and many passengers are justifiably uncomfortable being screened by the technology. Today, this is the kind of image AIT screening creates: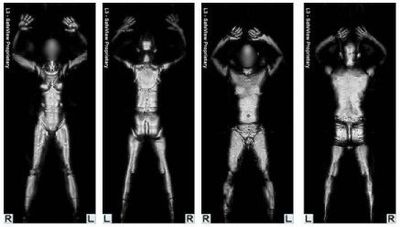 Proposed Automatic Target Recognition Software
I propose a deadline of Jan. 1, 2012, for Automatic Target Recognition software to be installed nationwide on existing AIT machines. This software enhances privacy by eliminating passenger-specific images and instead detects potential threat items and indicates their location on a generic outline of the individual being screened, like this: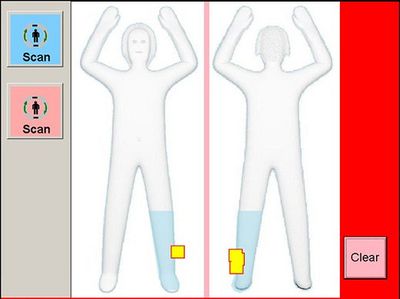 This month, the TSA is beginning to field-test the program in Atlanta, Las Vegas, and Washington, D.C., and similar software is already being used abroad.
With existing technology, we can enforce airport security without sacrificing our personal privacy. By imposing a deadline for the transition to this software, we will ensure that the TSA and manufacturers have ample time to test and make any necessary modifications while preventing unnecessary delays for its implementation.
This is a guest blog by Sen. Tom Udall. To submit a piece for consideration as a guest blog, click on the Email Me link at the upper left-hand corner of the page.
February 15, 2011 at 02:21 PM in Civil Liberties, Homeland Security, Sen. Tom Udall, Terrorism, Transportation, Travel | Permalink | Comments (3)
Thursday, September 23, 2010
9/30: Community Dialogue to Re-Envision the West Central and Old Coors Corridors in Albuquerque
On Saturday, September 25, the University of New Mexico's Community and Regional Planning Program (UNM-CRP) will host a community forum in collaboration with the West Central Community Development Group (WCCDG) to gather community input for a re-visioning of the West Central and Old Coors Corridors. The event will run from 10:00 AM to 5:00 PM in the Alamosa Multi-Purpose Center at 6900 Gonzales Road SW in Albuquerque.
Albuquerque City Council President Ken Sanchez will open the event. Other speakers will include Klarissa Peña on behalf of WCCDG and Professor Tim Imeokparia (UNM-CRP).
The purpose of the dialogue is to receive input from community members on topics ranging from improving transportation, enhancing economic and community development and learning about other community interests. Community members are welcome to spend as much time as they would like to share their thoughts and ideas. The dialogue will help us develop community recommendations for future planning, design and development.
Refreshments and children's activities will be provided. A wrap up of the community recommendations will start at 4:00 PM. If you have questions, please contact Tim Imeokparia at (505) 277-1666 or timeokpa@unm.edu.
September 23, 2010 at 09:18 AM in Economy, Populism, Events, Transportation | Permalink | Comments (0)
Friday, September 10, 2010
Las Cruces Hosts Key Transportation Summit

Click for photo album
Contributing writer Stephen Jones checks in with another report from Southern New Mexico.
The City of Las Cruces hosted a regional conference yesterday, September 9, addressing the multi-modal transportation needs of southern New Mexico and, specifically, road, rail, and air in the Las Cruces-El Paso corridor. New Mexico and Texas elected and other government officials spoke to participants, area residents and members of other interested groups about regional planning for the transportation needs of the growing region that straddles southern New Mexico and west Texas. The day-long event was co-sponsored by Congressman Harry Teague.
Local and intercity roadway needs were covered, along with current and proposed bus and rail transportation. Mass transportation advocates hope to see passenger rail and other clean transit development in a corridor whose current commuter traffic now exceeds that of the Belen-Albuquerque-Santa Fe Railrunner corridor. The theme of the conference, "Road, Rail and Rockets," also tied into the Spaceport America project currently underway 45 miles north of Las Cruces.
Demand for Mass Transit On The Rise
There is a growing demand for mass transit options between New Mexico's second largest city and El Paso, a commuting distance of just under 50 miles. Currently an express bus partially funded by the two states provides service daily between the two points. Ridership has tripled in the eleven months since the "Gold Line" bus service began.
Demand has been growing locally along the corridor between the two cities for a Railrunner type service. Feasibility studies are being conducted by the regional authorities, New Mexico, the two municipalities and BNSF, the railroad that owns the right of way between Las Cruces and El Paso. Passenger rail service would require an upgrade in signaling and improvements of roadbed on the current freight line. New Mexico officials called the planning initiative "furthest along" of its current rail plans for the state.
State Representative Jeff Steinborn, who has been a leading advocate for rail, urged all parties to be ready to "make an application for Federal support and funding." He was joined in promoting the service at the summit by State Representative Nate Cote and State Senator Steve Fischmann. Texas State Representative Joe Pickett, whose district includes the western part of El Paso, joined the New Mexico legislators in urging the region to become "shovel ready." Las Cruces Councillor urged the region to follow the model of the local El Paseo transit project. The project to develop Las Cruces' El Paseo Avenue was one of four community projects to win a national grant for development in 2009.
Aerospace, Spaceport, Roads
Las Cruces Mayor Pro Tem , who coordinated the regional event, announced that New Mexico State University (NMSU) has also been awarded an education grant by the Federal government for air and aerospace research. The Spaceport Authority also addressed the group and outlined the shuttle services that will carry visitors between Hatch and Truth and Consequences to the space facility. Also noted was the adjoining rail line that might eventually carry travelers between Las Cruces and Albuquerque at some future date. 
Rail and aeronautics were not alone on the agenda. Much of the summit was devoted to outlining current and planned road projects in the regional corridor.
Smart Planning for a Growing Las Cruces
Mayor of Las Cruces welcomed participants to what he termed New Mexico's "best city." Mayor Miyagishima also noted his city's recognized leadership status in education and pointed out the upturn in the city's current economic outlook. Goods and services revenues are up more than 6% over a year ago, and the city is again gaining in population, leading economic indicators for Las Cruces specifically, and New Mexico generally. Along with Miyagishima, most of the participants stressed urgency in smart planning for future growth.
Among the other local elected officials addressing the summit were Councillor of Las Cruces, Dona Ana County Commissioners Scott Krahling and Leticia Duarte-Benavidez and Mayor Art Franco of Anthony, Texas. 
The summit is part of a series of regional meetings leading up to a larger transportation conference featuring U.S. Transportation Secretary Ray LaHood that is scheduled for later this fall.
All photos by Stephen Jones. Click on photos to see larger versions. To see more posts by Stephen, visit our archive.
September 10, 2010 at 01:01 AM in By Stephen Jones, Contributing Writer, Las Cruces, NM Legislature 2010, Rep. Harry Teague (NM-02), Transportation | Permalink | Comments (0)
Tuesday, August 31, 2010
New Denish TV Ad Highlights Her Commitment to Communities All Over NM

Watch
The campaign today unveiled "Communities," a new 30-second TV ad (above) that it says "sets the record straight about Diane Denish's commitment to New Mexico's small communities and highlights Susana Martinez's plans to take money from public schools and give it to private schools." 
The ad opens with an image of a plane with the word "False" written across it, a reference to GOP gubernatorial candidate Susana Martinez's misguided attacks on Denish about the use of one of the state's planes. A recent Martinez ad incorrectly claims Denish has used the plane to "taxi" family members around the state, and previous ads have featured other falsehoods about Denish's use of a state plane. 
Martinez likes to suggest there's no reason for anyone to use the government's air transportation system to visit the many far-flung communities in a big, rural state like New Mexico. I guess she doesn't understand the importance of getting out of Santa Fe and interacting with constituents, and the kind of tight scheduling issues and other situations those who serve the state often face -- or does she?
Even though Martinez has tried to make a big deal out of the use of state planes, it turns out she's actually FOR using them. At least two of them. According to a recent article on the New Mexico Independent,
Republican candidate for governor Susana Martinez has pledged to sell New Mexico's state jet if elected—but she told The Independent she would not sell two other aircraft that cost almost as much to operate. One of those two planes is newer than the jet.
Maybe Susana finally got that state air transportation is used most heavily for things like ferrying sick kids. As NMI reports,
A review of the flight records since 2003 show that the primary agencies that use state aircraft are the state Transportation Department, the School for Visually Handicapped, Children's Medical Services, and the State Engineer's Office. After that come the governor and lieutenant governor.
"New Mexicans won't be fooled by Susana Martinez's misleading attacks. Diane Denish has worked in communities across the state to help small businesses create jobs and to expand educational opportunities for young children," said Denish spokesman Chris Cervini. "Susana Martinez has never created a job and is now running attack ads to distract New Mexicans from her risky plan to take money from public classrooms and divert it to wealthy private schools -- plain and simple."
"As Governor, Diane Denish will continue to fight for all New Mexico communities -- from Quay to Luna, San Juan to Eddy -- to ensure New Mexico has the public-education system to help our kids compete in the 21st Century Economy," Cervini added.
Need some facts to back up the claims made in the Denish ad? You can find them right here (pdf).
Below is the transcript of the ad:
Voice Over: Another false attack by Republican Susana Martinez.
The truth: Diane Denish is working in communities accross the state. Helping small buisnesses and especially our local schools. Diane expanded Pre-K. Helping 17,000 kids learn to read. While Martinez would give public school dollars to wealthy private schools.
Diane Denish: As governor, I'll take on anyone to keep money in the classroom, where it belongs. Because standing up for New Mexico families, means giving our kids a great education.
August 31, 2010 at 02:25 PM in 2010 NM Governor's Race, Diane Denish, Education, Political Ads, Susana Martinez, Transportation | Permalink | Comments (2)
Tuesday, June 15, 2010
6/23-24: Sierra Club and League of Women Voters Present "Beyond the Motor City" - Free Movie Screenings
From the Sierra Club, Northern New Mexico Group:
The League of Women Voters of New Mexico and the Sierra Club are hosting a free screening of the new PBS film Beyond the Motor City on June 23 and June 24 -- a documentary about the past and future of transportation. The June 24th screening will be followed by a panel discussion about transporation issues. See below the break for the details on both screenings.
In a journey that takes us into the neighborhoods of Detroit and then beyond to Spain, California and our nation's capital, Beyond the Motor City urges us to ask how a symbol of America's urban decay might transform itself into a model of urban revitalization.
The movie aims to provoke public attention and energize debate on:
New hopes for accessible, clean, and modern mass transit in America
The role of cities, and consumers, in shaping the next generation of transportation systems
A roadmap for revitalizing the way we move through our cities and neighborhoods
Can we finally push America's transit system into the 21st century?
"Improving transit opportunities in and between our cities is critically important to achieve our goals to reduce our greenhouse gas emissions in New Mexico," said Lora Lucero, a land use attorney and Natural Resources Director of the League of Women Voters of New Mexico.
"Our addiction to oil threatens not just our coasts and climate, but our economic and national security as well", said Shrayas Jatkar with the Sierra Club in NM. "We have the solutions and technical know-how to create a 21st-century transportation system. What we desperately need now is strong political leadership to develop a plan to move America off oil in less than 20 years."
What: "Beyond the Motor City" - Free Movie Screening
When: Wednesday June 23 - 11:30AM - 2:00PM
Where: Mid-Region Council of Governments Offices, 809 Copper Ave., NW, Albuquerque
What: "Beyond the Motor City" - Free Movie Screening and Panel Discussion
When: Thursday June 24 - 6:00PM - 9:00PM
Where: UNM School of Architecture & Planning Auditorium, 2401 Central Ave NE (Building east of the UNM Bookstore)
Panel Discussion to follow the 6/24 screening with confirmed panelists:
Albuquerque City Councilor Isaac Benton
Chris Blewett - Staff Director, Rio Metro Transit District
Sandy Gaiser - Regional Planner at Mid-Region Council of Governments
Ken Hughes - Transportation Chair, Sierra Club Rio Grande Chapter
For more information, contact David Van Winkle, Chair, Northern New Mexico Group, Sierra Club at david@vw77.com or 505-820-1006.
June 15, 2010 at 09:37 AM in Climate, Energy, Environment, Events, Film, Transportation | Permalink | Comments (0)
Sunday, May 09, 2010
Stephen Jones: Congressman Teague, State Rep. Steinborn Welcome Visitors to 'National Train Day' in Las Cruces

Click for larger version or photo album
This is a post by contributing writer, Stephen Jones, who is a progressive political activist and a resident of Las Cruces, New Mexico. He IS our Southern NM Bureau.
Congressman Harry Teague, State Representative Jeff Steinborn, State Senator Steve Fischmann and several other local officials welcomed hundreds of visitors attending the 'National Train Day' event held in Las Cruces on Saturday, May 8. The event, one of many held around the nation, was sponsored by the Las Cruces Museums and the City of Las Cruces as a celebration of New Mexico's rail heritage and to promote modern rail services.
Congressman Harry Teague (NM-02) welcomed visitors to the event and called for support for greater mass transit services in southern New Mexico and elsewhere in the state. Teague has sponsored HR 2337, the Southwestern Transit Corridor Planning and Fuel Use Reduction Act. The Act would direct the Secretary of Transportation to allocate funds for a mass transit feasibility study for southern New Mexico and west Texas. The bill primarily focuses on mass transit options for the Las Cruces–El Paso corridor, but would also study expanding rail passenger service south of Belen. "My plan will take cars off the road and save energy," Teague said. "I look forward to working with the community to make rail transportation a reality."
State Senator Steve Fischmann thanked Teague for his efforts to expand mass transit and highlighted his work with state and local officials to create the El Paseo Rd. Transportation corridor in Las Cruces. The proposed corridor, one of four designated by the Federal Government, envisions a shopping and mass transit connection between downtown Las Cruces and the New Mexico State University campus. Las Cruces Mayor Pro Tempore Sharon Thomas outlined an EPA grant awarded to the city for the corridor.
State Representative Jeff Steinborn, who has sponsored several bills in the New Mexico legislature promoting mass transit, noted that the New Mexico Rail Runner Express had carried over three million passengers since it began running in the Belen-Albuquerque-Santa Fe corridor. "If we had the train here," Steinborn said, "it would take cars off the highway, promote business development and help raise people in our area out of poverty." Steinborn identified the 10,000 students that travel between El Paso and Las Cruces as well as thousands of commuters, city and Colonia residents that travel daily between the cities as the core base of travelers needing a Las Cruces-El Paso commuter train.
"We see the ramifications of the oil spill in the Gulf of Mexico and can contemplate the natural costs of rising carbon levels and environmental destruction of waiting to build rail service" Steinborn said. "Now is the time and we are the people to make it happen."
Steinborn and Thomas also sponsored a community question and answer session Saturday afternoon aboard the Rail Runner, which made an overnight journey from Albuquerque for the event, with Chris Blewett, Project Manager for the New Mexico Rail Runner Express. Blewett responded to questions about commuter rail from Steinborn, Thomas and local residents.
In his remarks Blewett outlined the density issues that had faced the communities between Belen and Santa Fe and led to construction of the new rail line. "When I-25 fails, there are no alternatives," Blewett noted. Blewett said he saw parallels in the congested Las Cruces-El Paso corridor, particularly around the south rim of the Franklin Mountains. I-10 frequently has extensive traffic congestion and has seen many closures in that segment of the highway.
Blewett also noted that Las Cruces is eligible for Federal grant opportunities that the Rail Runner didn't have. Blewett stated that New Mexico must approach transportation on a multi-modal model. "There really is not an either-or option between roads and rail. We need both." Citing the 4,500 riders the service attracts daily, Blewett stated that the Rail Runner had succeeded in taking cars off the highway and alleviating parking problems in Santa Fe. Responding to a question about cost-effectiveness Blewett noted that no transportation system is profitable. "95% of the roads in New Mexico serve less than 2,000 cars per day" Blewett said.
Also highlighted at the celebration was the rededication of the . The current Pueblo revival station was built 100 years ago and recently placed on the National Registry of Historic Places. A centennial caboose exhibit was also dedicated. The caboose once belonging to the Atchison, Topeka and Santa Fe Railroad, and was donated to the museum by a private owner.
Other exhibits included railway equipment of the BNSF and Union Pacific Railroads, Amtrak, the New Mexico State Museum's travelling 'Van of Enchantment,' and models of the Dona Ana Modular Railroad Club. Period re-enactors entertained visitors outside the station.
Click photos for larger versions. All photos by Stephen Jones. To read more posts by Stephen, visit our archive.
May 9, 2010 at 01:19 PM in By Stephen Jones, Contributing Writer, Las Cruces, NM Legislature 2010, Rep. Harry Teague (NM-02), Transportation | Permalink | Comments (3)