Tuesday, September 04, 2012
Maggie Hart Stebbins: Highlight Of My Time on County Commission
On August 20th, Commissioner Maggie Hart Stebbins issued the following press release.
Leading the Way on Innovative Bernalillo County/UNM Partnership that Protects North Golf Course from Development
I'm thrilled to share with you exciting news of an event that will always stand out as a highlight of my first three years as a Bernalillo County Commissioner-- This past week, I had the privilege of joining Jack Fortner, President of the UNM Board of Regents; UNM President Dr. Robert Frank; and leaders from UNM Area neighborhoods to celebrate an outstanding accomplishment -- the approval of a partnership that will preserve the UNM North Golf Course as Open Space!
Saving the North Course has been a top priority for me from my first day on the Commission and I'm overjoyed that concerned neighborhood and community leaders and UNM Officials worked with me to find a solution that protects the last, best open space in our part of the county.
Both the Board of Regents and the County Commission approved an agreement that allows the County to dedicate $1.5 million from our Open Space budget in exchange for a 15-year conservation easement on the 80-acre North Course property. The County's investment will fund installing a new, more efficient irrigation system, replacing aging trees and landscaping, and improving the very popular pedestrian path along the perimeter of the course.
The University and the County leveraged our respective resources to engage in a partnership that is truly a win-win-win for everyone involved. The 80-acre course provides a host of environmental and recreational benefits -- the new irrigation system alone will save an estimated 20 million gallons of precious groundwater every year, at a time when our water resources are threatened on a number of fronts.
And I am pleased that the residents of District 3, who have faithfully contributed to the County Open Space program, finally have a property that is within easy reach of our neighborhoods.
In these days when partisanship and turf battles seem to paralyze our governments, I'm especially proud of this partnership because it demonstrates how local leaders can do great things for the community when we work together. I hope that it will serve as a model for future collaboration between governments in this region.
Also this past week, at dusk, I paid a visit to the North Course. As I walked my dogs, with the 70-year-old elms arching above me, I joined at least a hundred other residents who were doing the very same thing – children and parents, kids with soccer balls and dogs and runners - dozens of people just like me who were taking advantage of the peacefulness of that open space. It was a beautiful sight and I felt very proud to have had a part in preserving that experience for years to come.
As always, I am grateful for your support that gave me the opportunity!
September 4, 2012 at 09:44 AM in Bernalillo County, Land Issues | Permalink | Comments (0)
Thursday, August 30, 2012
Sarita Nair To Run For Lujan Grisham Seat On Bernalillo Co Commission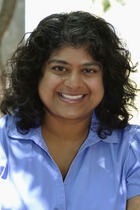 Albuquerque attorney Sarita Nair announced her campaign for the District 1 Bernalillo County Commission seat that Michelle Lujan Grisham will vacate on September 7th. Sarita stated:
"I am grateful to Michelle Lujan Grisham for her service to the County and I congratulate her on the thoughtful, courageous decision to step away from the Bernalillo County Commission as she continues her momentous campaign to represent New Mexico's 1st Congressional District.
"I am enthusiastic about putting my experience as a community planner, lawyer, and advocate for families and small businesses to work for the people of Bernalillo County. In meeting with the people of our District, I hear again and again that they want an energetic, solution-oriented advocate who understands the challenges of the County. Now is the time to pull together with our neighbors to tackle our infrastructure, economic development and planning issues. I am that candidate.
"For the past 15 years I have had the privilege of working on a wide range of issues: from multi-million dollar public-private partnerships to preservation of environmentally sensitive areas; from counseling non-profit, political and faith-based organizations to advocating for land grant water rights; and from community garden preservation to voter protection. These opportunities have given me the skills, experience and network to get the job done for the people of the County."
The first step in Sarita's campaign will be to win the votes of the Democratic Party County Central Committee members who live in District 1, about 150 people, in order to appear on the ballot in the general election. The winner of that election will go on to run against the Republican nominee. Sarita's experience and enthusiasm for campaign work makes her ideal for this intensive ten-week process. "It would be a joy and an honor to work on the coordinated campaign with the other Democratic candidates on the ballot," explained Sarita. "My commitment to raising the money necessary for a successful campaign and getting out the vote will be critical as we head to this pivotal election in November."
Sarita is a graduate of the University of New Mexico School of Community and Regional Planning and School of Law. She received her undergraduate degree at Wesleyan University in Connecticut. She has been recognized nationally for her work in business law and for her efforts to increase diversity in the legal profession. She also enjoys pro bono and board service to a diverse group of organizations. Prior to becoming a lawyer, she worked in international development, focusing on environmental planning. She worked on her first issue campaign - to save an open space lot from development - before she was old enough to vote, and has been involved in issue and candidate campaigns ever since. She was a founding board member and served as President of Emerge New Mexico, which trains Democratic women to run for public office and win.
August 30, 2012 at 01:00 PM in 2012 Bernalillo County Commission Race, Bernalillo County, Candidates & Races | Permalink | Comments (0)
Wednesday, August 15, 2012
Commissioner Maggie Hart Stebbins & UNM Area Residents Celebrate Partnership with UNM to Preserve North Golf Course
Agreement with University of New Mexico Protects Open Space for 15 Years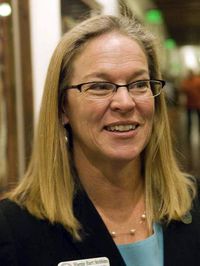 Bernalillo County – District 3 Commissioner Maggie Hart Stebbins tonight celebrated a new partnership with the University of New Mexico that will protect the UNM North Golf Course as green open space.
The 76-acre course is now protected from development for 15 years and becomes the first Open Space property in Bernalillo County located in Commission District 3.
"Today we celebrate the actions of two public entities, UNM and Bernalillo County, who have come together in a true partnership to do something great for the people of this community," said Commissioner Maggie Hart Stebbins. "Preserving this last, best open space in the urban core of Bernalillo County is a major accomplishment and I'm grateful to the many people from our UNM area neighborhoods, my fellow commissioners, and the UNM Board of Regents who helped make this possible."
The University of New Mexico Board of Regents and the Bernalillo County Commission both unanimously approved the agreement in respective meetings held today. The county will invest $1.5 million from the voter-approved Open Space fund to upgrade the outdated and inefficient irrigation system, replace aging tree stock, and improve the popular pedestrian path around the course. The improvements to the irrigation system could save up to 20 million gallons of groundwater every year.
"UNM is pleased to partner with Bernalillo County and the North Campus neighborhoods in this innovative approach to preserving a treasured piece of green space enjoyed by the campus community," says UNM President Dr. Robert Frank. "This agreement is a prime example of how the University is committed to working closely with our communities to enrich the quality of life we all share."
Bernalillo County's Open Space program currently manages approximately 1,000 acres at 12 properties around the county. The properties are located in the North and South Valleys and the East Mountains. UNM will continue to own and operate the golf course which is the first open space to be located in County Commission District 3.
August 15, 2012 at 01:05 AM in Bernalillo County, Land Issues, Recreation/Open Space | Permalink | Comments (0)
Wednesday, August 08, 2012
8/12: Democratic Party of Bernalillo County Fundraiser
Come support the Democratic Party of Bernalillo County. Please attend this backyard fundraiser, hosted by Senator Tim and Sandra Eichenberg. Thank you Senator Eichenberg for committing to help the Democratic Party and helping us all win in November!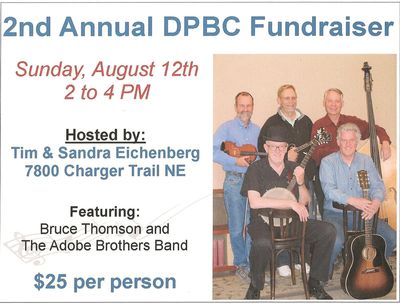 August 8, 2012 at 03:37 PM in Bernalillo County, Democratic Party, Events | Permalink | Comments (0)
Tuesday, June 26, 2012
Democratic Special Election for New Mexico Senate District 15
The following review of the three candidates running in the special election to replace Senator Tim Eichenberg SD15 on the general election ballot is provided by Marsha Garcia of ProgressNowNM. 
New Mexico District 15 will soon have a new Democratic nominee for State Senate. On June 5th, incumbent Tim Eichenberg announced that he will be resigning from his District 15 Senate seat in order to properly care for two ailing family members. On July 7th, the Democratic Party of Bernalillo County Central Committee will be nominating a Democrat to replace Tim Eichenberg on the November ballot. The meeting will be held at the Erna Fergusson Library, located at 3700 San Mateo NE, Albuquerque, on July 7that 10:00 am. Voting will only be open to Central Committee members that reside in District 15.
There have been many democrats interested in replacing Mr. Eichenberg on Albuquerque's east side. Progress Now New Mexico recently spoke to the potential candidates on why they hope to receive the nomination on July 7th, and other issues that are important to progressives in District 15.
Daniel Ivey Soto, Attorney and former Director of the state Bureau of Elections
Mr. Ivey Soto confirmed that if he is nominated on July 7th by the Democratic Party of Bernalillo County Central Committee, he will accept and run for Senate District 15. Ivey-Soto wants to make sure that New Mexicans are being stood up for, and will be represented in the Senate.
 He stressed that the Senate is the last line of defense in stopping a number of policies from going into effect, and that he will take a stand on the issues. Ivey Soto spoke about his previous work on a number of innovative bills at the legislature that were introduced, though he did not offer specific examples, and that he understands the process. After the elections this fall a fourth of the Senate will be new, his experience will allow him to hit the ground running.
Vanessa Alarid, Consultant and former Executive Director of the Democratic Party of New Mexico
Ms. Alarid confirmed that she too will accept the nomination to represent the Democratic Party in the Senate District 15 race if she is named on July 7th. Alarid stated that she is the best candidate to represent District 15 in the November election. She has lived in District 15 her whole life with the exception of her time attending Columbia University, and is the only potential candidate that owns a home in District 15. Alarid added that the Democratic Party needs someone strong who can raise money, knock on doors, and ensure that this seat remains a Democratic seat.
Alarid addressed questions that have arisen in part to her previous work for SunCal and to donations she's given to Republican legislators Bill Rehm, Nate Gentry, and Nora Espinoza. She spoke of her work with SunCal as economic development. Alarid says that specific bills that she worked on would have brought 20,000 jobs to Albuquerque and were supported across the aisle by both Democratic and Republican legislators. Unfortunately, some of the biggest job creating bills did not pass. In regards to donating funds to Republican legislators, she attributes some to personal relationships she has had for years, and others to work.
Alarid also spoke about questions that arose from her engagement to a legislator who represents a district on Albuquerque's west side and where she would reside should she be elected to represent Senate District 15. Alarid stated that her family has always lived in District 15, that she is completely committed to District 15, and that is where her family will live. No word on how that decision would affect her fiance's status as a legislator when he would be eligible for reelection in two years.
Scott LeFevre, Marketing and Organizing United Association of Plumbers and Pipefitters Local Union 412
Mr. LeFevre also confirmed that he is interested in receiving the nomination from the Democratic Party of Bernalillo County Central Committee for Senate District 15. He sees running for this seat as an opportunity to be a public servant working on behalf of the working families in District 15 and in our state.
LeFevre added that this is a critical time for our state and District 15 needs a strong leader who is willing to stand up and fight for issues in the district as well as issues that are on a broader spectrum such as economic fairness, meaningful job creation, and educational issues. LeFevre stated that the district needs a leader who is not just another political insider striving to make inroads in Santa Fe. Senate District 15 needs a leader who is willing to reach out to all constituents within the district, and work to not only better the district, but to better New Mexico by working together on issues that affect us as citizens and avoiding partisan politics.
LeFevre also added that he will fight to assure that the constitutional promise of a sufficient education to our children is upheld. He will stand up and fight to assure that as a state we fulfill our obligations to our seniors and veterans by providing the resources needed for seniors to have a good quality of life, and our veterans are afforded all the benefits they are entitled too. He stated that he is the leader who can and will fulfill these obligations, and will work tirelessly to win this district through a rock solid work ethic and unbreakable spirit.
Kevin Hoover, Mortgage Broker
Mr. Hoover confirmed that he had explored a run for the seat, but has since stricken his name from consideration for nomination for Senate District 15. He added that if either Daniel Ivey Soto or Scott LeFevre are nominated, he will be supporting them.
June 26, 2012 at 11:00 AM in 2012 Legislature Races, Bernalillo County, Candidates & Races, Democratic Party | Permalink | Comments (1)
Tuesday, June 05, 2012
June 5th; Primary Election Day Voting Information
Today is the long awaited primary election day for New Mexico. In Bernalillo County please click on the following link to find out all about where to .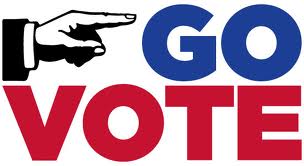 Go to the following link, my voter info; and all you have to do is enter your name and date of birth and you can find all the information you need to know about who your choices are to vote for at your registered voting address.
The turnout is low, real low, pitifully low. As of the end of early voting we are at a 6% turnout. There are a total of 406,093 registered voters in Bernalillo County and 25,859 have voted.
We spend millions and millions of tax dollars setting up vote centers and monitoring the elections. We go to other sides of the world to supposedly fight for democracy, for people to have the right to vote for their leaders. And this is the best we can do Albuquerque?  GO VOTE! It matters!
June 5, 2012 at 08:00 AM in 2012 Primary Election, Bernalillo County | Permalink | Comments (3)
Tuesday, May 29, 2012
NM Hispanic Bar Association Endorses Judge Alisa Hadfield for District Court Judge
The New Mexico Hispanic Bar Association endorsed the judicial candidacy of Alisa Hadfield for District Court Judge on May 17, 2012.
Judge Hadfield is running to keep her seat as a Family Court/Domestic Violence District Judge in Division 21 of the 2nd Judicial District for Bernalillo County. Under New Mexico Law, judges must run in one opposed election following their appointment, after which they stand for retention elections.
Judge Hadfield was appointed to the Family Court/Domestic Violence bench by Governor Richardson in 2010 after being recommended by the non-partisan Judicial Nominating Commission. From 2004 to 2010 she served as a Domestic Violence Special Commissioner, and is the former Director of the Family Assessment Intervention Resources ("FAIR") Program, a collaboration with the Courts and University of New Mexico Psychology Department that assisted families experiencing domestic violence. From 1996 to 2004, Judge Hadfield was in private practice where she specialized in family law. She also served as a prosecutor and a public defender. Judge Hadfield is a graduate of the Hofstra University Law School.
"I am honored to be endorsed by the New Mexico Hispanic Bar Association," said Judge Hadfield, adding "For the past twenty years I have been working with families facing many significant challenges including divorce and domestic violence. Promoting safety and the best interest of children is critical. This is my passion and I'm honored to serve my community in this capacity."
The NM Hispanic Bar Association is the state-wide association for Hispanic attorneys, and is currently composed of approximately 300 members. The Association's mission is to promote the education and development of Hispanic legal professionals, and it currently works to fulfill this mission through judicial endorsements, community mentorship programs, and continuing legal education programs. For more information on the NM Hispanic Bar Association and its initiatives, visit https://nmhba.blogspot.com.
May 29, 2012 at 03:08 PM in 2012 Judicial Races, Bernalillo County, Candidates & Races | Permalink | Comments (1)
Thursday, May 10, 2012
Bernalillo County Commissioner Wiener Complete Video of Censure

Video above taken of the County Commission censure of Commissioner Wiener.
On Tuesday evening the Bernalillo County Commission held one of their scheduled meetings to conduct the serious business of the County. The agenda was long, the Commissioners approved the county budget for 2013 which totals $229 million. Follow this  to see how our Bern County funds will be allocated. And at the end of the meeting other important county business had to be conducted, the first censure of one of the County Commissioners. If you do not know why Wiener was being censured see these past DFNM posts here.
During the public comment portion of the meeting a few men stepped up to the mic and spoke in support of Wiener. No big surprise there. They spoke at the meeting of what a waste of time it was for the commissioners to have to deal with this matter of Commissioner Wiener having a lay over in Angeles City and being photographed with scantily clad women. "Let him be, the trip was done on his own time and on his own dime. He didn't do anything wrong."
One of the men speaking said he could go over the allotted two minutes because Wiener said he could. Note no one else was able to go over the two minutes, in fact when the two minute bell was rung you had to stop where you were in your statement and step away. It was an uncomfortable meeting to say the least.
The women who spoke about the Wiener censure all spoke how he should be censored, that it is not befitting of an elected official to be caught up in this scandal. Wiener has a history of poor judgement while serving on the county commission. He has wrote emails containing racist statements, he has been involved with sexual harassment matters, and now this.
Of course Wiener in his prepared statement stated his innocence, and how he is being victimized. How it would be different if he was a democrat. How he has been tried in the court of public opinion unfairly. The fact is that Wiener has lied from the beginning about the reason he was in Angeles City, because of a plane layover?  It has been researched there are no layovers in Angeles City. It does not add up. It seems Commissioner Wiener has much to keep hidden about this trip. Commissioner Wiener has poor judgement, and should be investigated in more detail. Where there is smoke there is fire.
Thank you to the three County Commissioners; Maggie Hart Stebbins, Michelle Lujan Grisham, and Art De La Cruz who stood up to Wiener, and censured him. Commissioner Johnson recused himself, stating he had already asked for Wiener's resignation a few days prior to the censure.
May 10, 2012 at 10:50 PM in Bernalillo County, Republican Party, video | Permalink | Comments (0)
Tuesday, May 08, 2012
ProgressNowNM to Commissioner Wiener: Actions Speak Louder than Words
ProgressNow NewMexico has compiled a great synopsis; "Wienergates 1 through 10. A recap of Michael Wiener's Top-10 exploits"of Republican Bernalillo County Commissioner Michael Wiener's history of his actions. It is very well done describing Wiener's past while representing Bernalillo County.
Wiener is one of five of our commissioners, he maintains he has every right to do what he wants on his time. Attend the Bernalillo County Commission meeting this evening at 5:00 and voice your opinion on Wiener's actions. The censuring of Wiener is listed as item 10C on the agenda. The Bern Co. Commish meeting is held at One Civic Plaza, in the basement, in the Vincent Griego Chambers.
May 8, 2012 at 03:00 PM in Bernalillo County, ProgressNow New Mexico, Republican Party, Women's Issues | |
Thursday, April 26, 2012
Bernalillo County Commissioner Republican Michael Wiener No Stranger to Controversy
Republican Michael Wiener our very own Bernalillo County Commissioner scumbag. 
Republican Wiener is no stranger to controversy. Democratic Party of NM and others were asking for Wiener's resignation back in March 2010 for making racist comments in an email. DFNM did a piece on his racist comments, you can read it here and KRQE has this report from a rally calling Wiener out on his racist comments.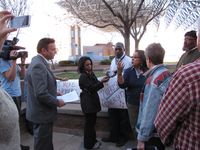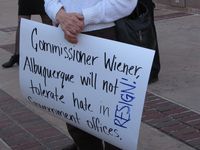 Above DFNM photos from Resign Wiener Rally March 2010
Then there was also this call from the Young Democrats of NM for Wiener's resignation in June 2011. When Wiener allegedly made inappropriate comments towards a female staff member, please read all about that sexual harassment here.
And now we have this scandal, or is it just another day in the life of a New Mexico Republican. Wiener was outed on a double x-rated red light district in Angeles City Philippenes. Just "a flight layover" says Wiener. This guy can just say whatever he wants, how come there is not outrage from his own Republican colleagues and party over this inappropriate behavior? Imagine if it was a democratic leader?
The NMTelegram has a great article about Republican Wiener's latest adventure. The NMTelegram interviews the two reporters who  found the smiley Wiener in the double x-rated red light district. The NMTelegram reports that Keatley and Eric Becker "were in the Philippines , a . Keatley and his friend, filmmaker Eric Becker, were to document the sexual slavery and sex trade in the Philippines for the group." The NMTelegram goes on to explain "Keatley was in the Philippines for over a week. "My job was to tell a story of these red light districts, who are these people, try to put a face to it," he said."
Try to put a face on it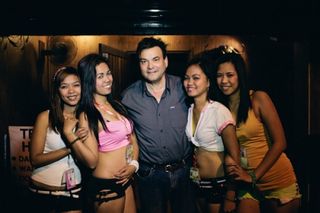 Photo by: Keatley; Republican Commissioner Michael Wiener looking a little disheveled

Of all faces to show up, our very own Republican Bern. County Commissioner Michael Wiener. Keatley and Becker, these two good human beings, outed the smiling Wiener. Keatley and Becker were traveling and reporting and exposing the dirty truth of sexual exploitation Wiener was found in the middle of. Keatley admits he was uneasy having to do this reporting but felt it is important to expose. Look at the age of these young women in this photo flanking Wiener, does it conjure up the exact image of the piece Keatley and Becker set out to expose? "Sex slavery and the buying of women by 40, 50, 60, 70 year old men."
Meet the Fiancee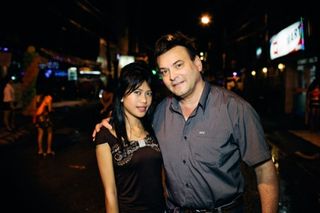 Photo above by Keatley; Wiener and the future Mrs. Wiener

Michael Wiener works for all of the people in Bernalillo County. By looking at Wiener's own campaign website and facebook page there is not much about his personal life. The only new information is a FB update on April 25th 2012 saying he is "In a relationship." Go figure.
Isn't it weird and creepy? When did he really meet her? How old is she? How long have they been seeing each other? Will anyone ask Wiener these questions? Not to mention the conservative republican hypocrisy for not letting gays and lesbians get married, even after years and years of commitment.
As written in the Abq Journal this morning he is "oh so innocent", just like all the other harassing, rude, sexist, racist, behavior he has been accused of and is innocent of. Look at the age of these girls in these photos on Keatley's journalism piece regarding sex slavery and the buying of women by 40, 50, 60, 70 year old men. Does our very own Bernalillo County Commissioner fit that discripition? Let's help Keatley and his group expose this sexual enslavement prostitution network that they went to great lengths to expose. Commissioner Wiener can do whatever he wants but my expectations of elected officials is way higher than what he consistantly displays.
One more thing: Think of all the Woman's rights issues being attacked, and then think of Republican Michael Wiener. 
April 26, 2012 at 04:59 PM in 2012 Bernalillo County Commission Race, Bernalillo County, Republican Party, Women's Issues | Permalink | Comments (6)
Monday, March 26, 2012
4/1: DWBC presents: Afternoon at the Movies, "Good Nite and Good Luck"
Provided by the Democratic Women of Bernalillo County: Sunday Afternoon at the Movies. Movie to be shown "Good Nite and Good Luck" with discussion afterward.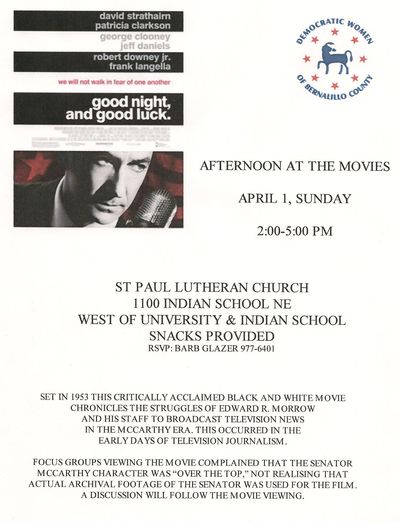 March 26, 2012 at 07:17 PM in Bernalillo County, Democratic Party | Permalink | Comments (0)
Thursday, March 22, 2012
Inquiry into ABQ House Candidate Becomes Criminal
Bernalillo County Clerk Maggie Toulouse Oliver tells ProgressNow NM that she has referred the case of GOP State House candidate Johnny Luevano to the Sheriff and a criminal investigation is underway.
On Tuesday, ProgressNow NM reported that Luevano had registered to vote and declared his candidacy for State House in a district where he did not live.  We shared the report with the County Clerk, and late yesterday received a response that she had turned over Luevano's voter registration card in question and requested the county sheriff initiate an investigation.
ProgressNowNM questioned whether Luevano could have legally registered to vote at a District 16 address where no certificate of occupancy had ever been issued.
"The law says you can only register to vote where you actually live or intend to return.  But, there was no house there for years, and a certificate of occupancy was only issued on March 14 - eight days after the deadline to establish residency for candidates for office.  You can't return to a place you never lived, and you sure shouldn't represent a neighborhood if you don't even know your way to the grocery store," says Pat Davis of ProgressNow NM.
"We applaud our county clerk for her efforts to uphold the integrity of our voting system," adds Davis. "Ironically, those who try to gain an upper hand by breaking voting laws will likely lose their right to vote in the end. And, that's the way it should be."
Mrs. Toulouse Oliver also tells us that the case was assigned to the same detective currently investigating the family of US Senate Candidate Heather Wilson's senior staffer whose dog was illegally registered to vote earlier this month.  ProgressNow NM exposed that scandal in early March.
March 22, 2012 at 12:20 PM in Bernalillo County, Candidates & Races, Legal Issues, ProgressNow New Mexico | |