Thursday, July 26, 2012
Congresswoman Tammy Baldwin Coming to Santa Fe
Great event!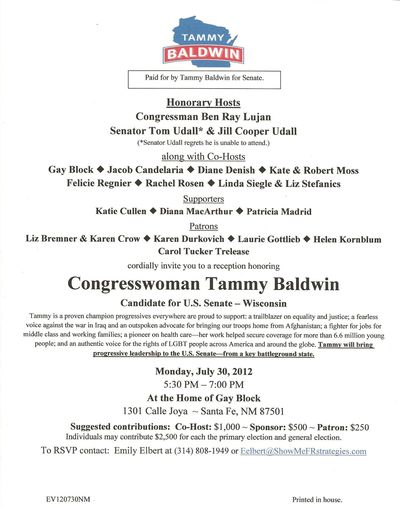 July 26, 2012 at 09:00 AM in Candidates & Races, Events, GLBT Rights, Santa Fe | Permalink | Comments (1)
Tuesday, June 19, 2012
Luján Bill to Strengthen Santa Fe Indian School Passes in the U.S. House
Congressman Ben Ray Luján of New Mexico's Third District spoke on the House floor today in support of H.R. 1556, his legislation to encourage educational sovereignty by providing Santa Fe Indian School with the tools to generate income for its own academic and cultural programs. The bill passed the House with unanimous support and will now move to the Senate to await further action. Below are Luján remarks as prepared. Click below to watch his speech.
"Mr. Speaker, I would like to thank Chairman Hastings, Chairman Young, Ranking Member Markey, and Ranking Member Boren for working with me in the Natural Resources Committee to help address the many issues impacting Indian Country and the tribes I represent in New Mexico.
"I also want to recognize the hard work of the Superintendent of Santa Fe Indian School and Former Governor of Kewa Pueblo, Everett Chavez, and former AIPC President and former NCAI President Joe Garcia on this bill. They worked with the Pueblos and the All Indian Pueblo Council to support this legislation which will help Santa Fe Indian School and New Mexico's 19 Pueblo's achieve educational sovereignty for Native American students across New Mexico.
"Santa Fe Indian School and the 19 Pueblos approached my office early last year seeking the introduction of a technical change to the Omnibus Indian Advancement Act to allow certain lands designated to the school to be used to generate income to provide funding for academic and cultural programs at the Indian School. Knowing the importance of what Santa Fe Indian School provides to Native American students in New Mexico, I was very interested in this approach to move toward true financial independence and educational sovereignty for Santa Fe Indian School and its students.
"I want to point out the importance of sovereignty and what it means for our tribal brothers and sisters to be able to provide a quality education for their own children. Education is truly empowering – especially when Native American students are able to get an education that embraces their cultural and traditional identities – and that is the type of education Santa Fe Indian School provides.
"I worked with Superintendent Chavez and Santa Fe Indian School to draft a bill that would make a technical amendment to allow the school to explore economic opportunities so that students at the Indian School can attain the best possible education and to be able to support their mission.
"Santa Fe Indian School provides a challenging, stimulating, and nurturing learning environment that shares educational responsibility with Native communities, parents, and students to develop the students' true potential to meet obligations to themselves and their tribal communities.
"In this time of financial uncertainty and the limitations of the federal government to assist in federal education programs, it is important to give Santa Fe Indian School the tools they need to help their students receive a quality education regardless of the political and financial climate in Washington. H.R. 1556 would achieve that goal.
"I am proud to be able to assist Santa Fe Indian School in amending the Omnibus Indian Advancement Act to allow the school to achieve new heights in educating Native American students. This technical amendment will help make Santa Fe Indian School more self sufficient and create greater opportunities for students attending the Indian School by ensuring the financial capability to maintain and expand the level of academic and cultural education for Native American students.
"This is a common-sense amendment that will help Native Americans students in New Mexico and I urge the support of my colleagues, and I thank the Chairman for his support as well."
June 19, 2012 at 07:40 PM in Education, Native Americans, Rep. Ben Ray Lujan (NM-03), Santa Fe, video | Permalink | Comments (1)
Sunday, June 03, 2012
David Coss Files Ethics Complaint Against Republican Front Group Reform New Mexico Now and Urges Immediate Investigation
David Coss filed an Ethics Complaint today asking Secretary of State Dianna Duran and Attorney General Gary King to immediately investigate the actions of Governor Susana Martinez, her campaign consultant Jay McCleskey, Susana PAC, the Reform New Mexico Now political committee and any other entities involved, for illegally hiding money from voters and failure to disclose the formation of their political committee in a timely manner.
Download A-120529 reform nm now ethics receipt
Download B-120531 susana pac report
Download C-120531 reform new mexico SOS report
Download D-120531 reform new mexico SOS report AMENDED
Reform New Mexico Now is Susana Martinez's Republican front group funded by Governor Martinez's major oil and gas donors from Artesia, NM. They are spending over $200,000 in Democratic primaries across the state. This Republican oil and gas PAC has endorsed Carl Trujillo for House District 46.
David Coss said: "It is outrageous that Susana Martinez would get involved in a Democratic primary, especially in northern Santa Fe County and then try to hide her involvement from the voters."
Coss campaign manager Sandra Wechsler added, "We've wondered all along where Carl Trujillo stands. Now we know – with Republican Governor Susana Martinez and big oil and gas."
Reform New Mexico Now sent mailers to Democrats in HD46 endorsing Carl Trujillo and attacking Coss on Friday and Saturday. The election is June 5th.
DFNM editorial two cents:
Thank you Mayor Coss for connecting the dots here and discovering violations of campaign PAC money raised by Governor Martinez. Gov Martinez ran her campaign on stomping out corruption in NM. NO more "Pay to Play". No more cronyism. The longer Martinez is in the office the more she violates her own promises to the people of New Mexico. The buck stops with Gov Martinez.
June 3, 2012 at 04:48 PM in 2012 Legislature Races, Candidates & Races, Santa Fe, Susana Martinez | Permalink | Comments (1)
Monday, May 07, 2012
Congressman Ben Ray Luján Endorses David Coss for State Representative
Today, Congressman Ben Ray Luján, NM CD3, announced his endorsement of David Coss for New Mexico House District 46. His father, Speaker Ben Lujan, is retiring from the seat after thirty-seven years serving Northern New Mexico. David faces Carl Trujillo in the Primary. The election is June 5, 2012.
At an event last week, Congressman Luján praised David Coss for his leadership as Mayor and his conviction on issues such as the living wage, job creation and his work to preserve the Santa Fe River. Congressman Luján also highlighted David's commitment to Northern Santa Fe County in video below.
While announcing his support of David, Congressman Luján also said: "I know where the Mayor stands on human rights, on civil rights and on workers rights, David does not hides from his positions. He's not worried about what people are going to say because of what he believes in."
"The Mayor is a man of his convictions. He believes in people and he's going to do a phenomenal job. Él es un hombre de la gente. Él es un amigo aquí en el norte y la misma sangre que corre en mis venas es la misma sangre que corre en las venas de David Coss."
David stated that he is honored by the endorsement and stressed that he will work hard for the people of District 46.
"Congressman Luján is a tremendous champion for northern New Mexico, we're lucky to have him on our side in Washington. I'm honored by his support and will continue building on the years of hard work that his father has put into this district.
We've got a lot of work to do to improve the economy, create good paying jobs, and ensure that our children get the best education. It's going to take determination and experience to stand up to Governor Martinez and the Republicans in the Roundhouse. I know the issues and what it takes to win good policies that impact people's lives. I will always work hard to ensure that there is strong representation for HD46 at the state level."
David Coss is also endorsed by: American Federation of Government Employees, Local 4041; AFSCME New Mexico Council 18; Conservation Voters New Mexico (CVNM); CWA Local 7076; Green Fire Times; IATSE Local 480; International Union of Operating Engineers, Local 953; Iron Workers, Local 495; LIUNA, Local 16; National Union of Hospital and Health Care Employees, DS 1199NM, Executive Board; NEA – New Mexico; New Mexico Building and Construction Trades Council; New Mexico Federation of Labor, AFL-CIO; New Mexico Home Builders Association; Operating Engineers, Local 953; Plumbers and Pipe Fitters Local 412; Pojoaque Tribal Council; Sheet Metal Workers, Local 49; Rio Grande Chapter of the Sierra Club; University Professional and Technical Employees, CWA Local 9119; United Food and Commercial Workers, Local 1564
May 7, 2012 at 06:00 PM in 2012 Legislature Races, Candidates & Races, Rep. Ben Ray Lujan (NM-03), Santa Fe | Permalink | Comments (0)
Wednesday, January 25, 2012
Youth Spend Day in Court Fighting for Climate Change Protection
From Wild Earth Guardians: Government's failure to act is endangering the well-being of future generations
Today, New Mexico youth and WildEarth Guardians will go to New Mexico First Judicial District Court to defend their right to a healthy earth and sustainable future. They hope that Judge Sarah Singleton will rule in their favor in what experts have called one of the most remarkable legal actions that has the potential to halt human-induced climate change.
On May 4, 2011, seven young plaintiffs filed a lawsuit against Governor Martinez and the State of New Mexico, No. D-101-CV-2011-1514, to compel the State to prevent further increases in carbon dioxide (CO2) emissions and to compel government action in reducing CO2 emissions. Though 16-year-old plaintiff Akilah is young, she has been fighting to protect the environment for many years through environmental service projects along the Rio Grande and educating the youth of the State about the imminence of the climate change crisis through her leadership role in Kids vs. Global Warming. WildEarth Guardians works to replace fossil fuels with clean, renewable energy in order to safeguard public health, the environment, and the Earth's climate for future generations.
Akilah's and WildEarth Guardians' drive in entering the lawsuit also comes from the alarming research of our nation's top scientists. According to leading climate scientist Dr. James Hansen, "the science is crystal clear—we must rapidly reduce fossil fuel carbon dioxide emissions if we are to have a chance of protecting Earth's natural systems for these young people."
The New Mexico lawsuit is part of a larger, innovative climate litigation strategy—the international iMatter Trust Campaign. As part of this campaign, youth plaintiffs launched legal actions in 49 states and the District of Columbia, in addition to a federal lawsuit.
The young plaintiffs have based their lawsuit on the Public Trust Doctrine, which requires sovereign governments to manage and protect vital, natural resources for the common benefit of its citizens. By evoking this doctrine, the plaintiffs are not asking for monetary or punitive damages. They are instead petitioning the court to require that the State of New Mexico fulfill its obligation to protect the climate from excessive greenhouse gas emissions, which will ultimately protect New Mexico's resources for future generations.
There is evidence that New Mexico is particularly vulnerable to climate change and must develop and implement an informed plan to protect the State's public trust resources. In its Statement of Reasons for adopting Greenhouse Gas Cap and Trade Provisions issued on November 10, 2010, the New Mexico Environmental Improvement Board acknowledged that "[c]limate change caused by anthropogenic emissions of GHGs will have a particularly severe impact o[n] the American Southwest, including New Mexico. The warming trends in this region are double the annual global average."
According to Samantha Ruscavage-Barz, attorney for the plaintiffs, "our State has an obligation to our youth to ensure the protection of natural resources on which their security and livelihood depends. That is the essence of the public trust, and it is broken when it comes to climate."
In July of last year, the State of New Mexico and Governor Martinez filed a motion to dismiss the case.
To protect Earth's natural systems and our way of life, the consensus among scientists is that average global surface heating must not exceed 1 °C and CO2 concentrations must decline to less than 350 parts per million this century (we are currently over 390 ppm). To accomplish this reduction, Dr. James Hansen and other renowned scientists conclude that carbon dioxide emissions need to peak in 2012 and decline by 6% per year starting in 2013.
If this is not accomplished, the predicted human-induced impacts of climate change in New Mexico are severe. In a recent report by the U.S. Department of the Interior, the Bureau of Reclamation predicted a temperature increase of 5-6°F for the Upper Rio Grande Basin in the 21st century, accompanied by a decrease in precipitation. Consequences of increased temperatures include decreased snow pack, decreased water availability for agriculture, and reduced habitat for riverine species. Hotter temperatures coupled with decreased precipitation will pose challenges to human health and increase the risk of wildfires, which threaten the State's forests, ecosystems, and rural populations.
Despite the plaintiffs' formidable scientific and legal claims, the state is asking that the public trust case be dismissed. Today, state attorneys will raise jurisdictional defenses in an attempt to prevent the court from hearing the substance of the case. Ultimately, it will be Judge Singleton, who will consider the arguments and decide whether to give New Mexico youth a chance to state their case on the merits and move one step closer to a real climate recovery plan.
"If our government doesn't act quickly to plan for my future, fossil fuel emissions will dictate the future of my entire generation," says plaintiff Akilah Sanders-Reed. "I'm not old enough to vote yet, but I have rights. I hope the court will do the right thing and hear our case."
January 25, 2012 at 09:00 AM in Action Alerts, Children and Families, Climate, Energy, Environment, Santa Fe | |
Thursday, January 19, 2012
NM-1: Eric Griego Endorsed by Rep. Keith Ellison, Co-chair of the Progressive Caucus and Griego Signs the 99 Pledge at Roundhouse
From the Eric Griego for Congress Campaign. With video of Roundhouse event at the end.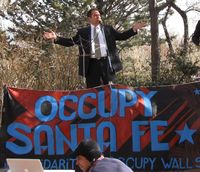 On Januray 12, 2012, Eric Griego for Congress (NM-1) announced the endorsement by Congressman Keith Ellison (MN-5), Co-chair of the Congressional Progressive Caucus.
With Ellison's endorsement today and Congressman Raúl Grijalva's previously announced endorsement, Griego now has the support of both co-chairs of the caucus.  This latest endorsement indicates Griego's continuing momentum to consolidate support from the progressive Democratic base nationally and locally.
"I deeply respect the great work Rep. Ellison and other progressive Democrats in Congress do every day to improve the lives of all Americans throughout our nation," Griego said.  "That is why I am honored by his support for my candidacy, and if elected, I am committed to joining the Congressional Progressive Caucus to fight together for America's working families."
Statement by Rep. Ellison:
"Whether it's fighting to privatize Social Security, opposing tax cuts for the middle class, or believing that corporations are people, Republicans in Washington clearly care about one thing above all else: their powerful corporate patrons and the wealthiest 1%.
"Progressives in Congress are fighting hard every day to hold the line against radical Republican policies, but we need more help.  To put America back to work and to fix what's broken in Washington, we need more bold progressive Democrats such as Eric Griego fighting by our side in Congress.
"Eric joins me in supporting my Get Corporate Money Out of Politics Constitutional amendment. This amendment reverses Citizens United by declaring that corporations are not people and limits corporate influence in our democracy.
"For Eric, this isn't just an election year promise. He fought to get corporate money out of politics as an Albuquerque City Councilor, where he passed public financing of elections -- the first in New Mexico and one of the few cities to do so in the nation. As State Senator, he has sponsored numerous bills to limit political activity by corporations and to hold elected officials accountable to stronger ethical standards.
"We can count on Eric's consistent record of standing up to powerful corporate interests and fighting for the middle class. Like my Progressive Caucus Co-chair, Congressman Raúl Grijalva, I'm excited about Eric's commitment to join the caucus and advance a progressive agenda.
"With Eric by our side, Raúl and I will have another committed voice to keep the American Dream alive for all Americans, not just the richest 1%."
99 Pledge
"On Tuesday 1/17, at the Occupy the Roundhouse event, I signed the 99 Pledge because we need a democracy that works for children, for seniors, for people trying to keep their houses, for those who advocate for others.
We need a democracy that works for us, not the wealthiest 1%."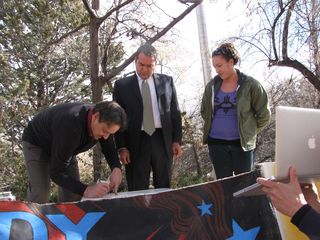 Above State Senator Eric Griego signs the 99 Pledge with two witnesses to hold him accountable signing as well.
To hear and watch Eric Griego accept and sign the 99 pledge click here.
January 19, 2012 at 03:47 PM in Candidates & Races, Economy, Populism, Eric Griego, NM Legislature 2012, Occupy Wall Street, Santa Fe | |
Sunday, November 13, 2011
FOOD AND COAT DRIVES IN SANTA FE 11/14/2011 to 11/20/2011
WHAT: The Food Cadre of Earth Care is hosting a Food and Winter Coat Drive November 14 - 20th to benefit the SFPS ADELANTE Program for Homeless Youth. The drive coincides with National Hunger and Homelessness Awareness Week. White rice, dry pinto beans, canned fruit, pasta, and peanut butter are especially needed.
WHERE: The following locations are accepting donations of food and coats from the public: Amy Biehl Community School, Capital High School, the City of Santa Fe Solid Waste department (1142 Siler Rd.), Earth Care, Farmers Market (during Tues. and Sat. markets), Milagro Community Garden (morning of 11/12 only), Salazar Elementary, Santa Fe High School, Santa Fe Prep, and Tesuque Elementary.
WHY: The Youth Food Cadre is a group of 16 young professionals who have dedicated a year to work with local food and food justice in Santa Fe at the City, Farmers Market Institute, Food Policy Council, Cooking With Kids, Santa Fe Public Schools, ADELANTE Program, and the Teen Parent Center. The ADELANTE Program provides support to more than 1,300 students with the average age of nine. Santa Fe has about 8% students who are in homeless situations, which is significantly higher than average for the U.S. According to "America's Youngest Outcasts," a comprehensive national study on child homelessness.
November 13, 2011 at 02:03 PM in Children and Families, Events, Santa Fe, Youth | Permalink | Comments (0)
Thursday, October 20, 2011
10/22: Halloween Carnival at Elk's Lodge to Benefit Boys and Girls Club of Santa Fe, More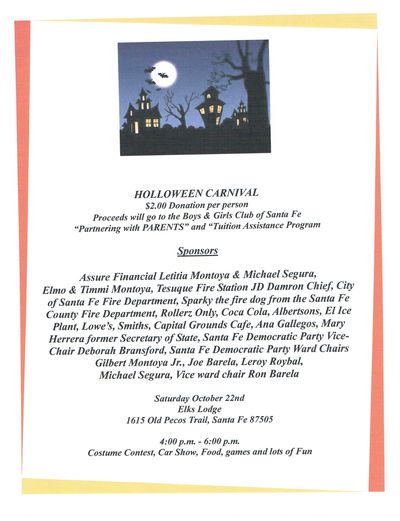 Click image for larger version
October 20, 2011 at 07:05 PM in Children and Families, Events, Holidays, Santa Fe | Permalink | Comments (0)
Friday, October 14, 2011
10/15: Occupy Events in Albuquerque and Santa Fe!

Albuquerque's Hakim Bellamy: I'm in love with a 1%er (For Occupy Wall St.) Written on Day 26 of the Occupy Wall St. protest in New York City and Day 12 of the Occupy Albuquerque protest. They're making their move on NYC and Denver. Be prepared, my people. Love.

There will be a number of events this Saturday in New Mexico in solidarity with Occupy Wall Street and as part of activities in 719 cities and 71 countries being held internationally all over the globe on that day.
Join Occupy Albuquerque on Saturday, October 15, at 12:00 Noon at the Wells Fargo Bank Nob Hill located at Richmond and Central Avenue in Albuquerque, NM. Fight corporate greed! Invite your friends! Come to protest, stay to celebrate. The protest will be followed by a family-friendly fiesta at Camp Coyote (UNM Campus at Yale and Central). Join us for music, art, comedy, and good company. Bring your instruments if you want to join in!
This is a celebration of consensus, direct democracy, and the movement that is sweeping the nation and the world. This is also a time to get to know your community.
Join Rebuild the Dream in Solidarity with Occupy NM in working with MoveOn and Southwest Organizing Project at Nob Hill, Wells Fargo Bank at SW corner of Central Ave. & Richmond Dr. SE, 3022 Central Ave. SE, Albuquerque, NM, Saturday 10/15 from Noon to 2:00 PM.  .
Occupy Los Angeles - The Beginning Is Near from Marta Evry on Vimeo.
Let's stand together and demand a solution to the jobs crisis, corporate money out of politics, fairer tax rates, and policies that work for 99% of Americans instead of the 1% at the top. Wall Street isn't the only place where greed is undermining the American Dream. By bringing these speak outs to Albuquerque and as many communities as possible, we'll help to spread and amplify the energy of the Occupy Wall Street protest across the country.
Right here, right now. This is when we stand up to those who have brought us to financial ruin and proudly align ourselves with those whose democratic innovations are breathing life into our finest ideals.
Occupy Santa Fe Gathering in Solidarity with Occupy Wall Street on Saturday, October 15 from 10:00 AM to 5:00 PM The Roundhouse, NM State Capital Bldg., Old SF Trail and Cerrillos, Santa Fe.
We will be gathering before 9:00 AM at our Base Camp location (St. Francis across from BOA) and we will march to The Roundhouse, arriving there by 10:00 AM. If you choose not to march, meet us there. Speakers are planned (with human microphone), break out groups, teach-ins, drumming, a meditation hour. We have chosen the state capitol grounds (East concourse) so that we have plenty of gathering space for general assembly.
Restrooms are open to us inside the building. Bring your placards and posters, water, a hat, your food. Dress for the weather. Leave no trash on the grounds.
Also check out related events organized by Occupy the Present Moment.
www.15october.net
www.occupytogether.com
www.occupywallstreet.org
October 14, 2011 at 08:24 PM in Economy, Populism, Events, Finance, Investments, Jobs, Occupy Wall Street (Everywhere), Rebuild the Dream, Santa Fe | Permalink | Comments (0)
Monday, October 03, 2011
Santa Fe's Salazar Elementary to Host Harvest Celebration at Salazar Green, A Sustainable Food Project Supported by Earth Care
On Thursday, October 13th, from 5:00 to 7:00 PM, Salazar Elementary in Santa Fe will celebrate the bounty from their school garden by hosting a dinner from the garden for families and friends. The evening of community and simple pleasures will include live music, fresh bread from the horno, student tours of the garden and a gallery of garden art.
The garden is part of the school's  landscape project, which opened in May of 2010, and includes a track + field and community + garden. The project's main focus was to design a space that could help to reverse the rising rates of childhood diabetes and obesity by encouraging positive habits of physical health and nutrition.
"At Salazar, we're making a special effort to give children and their families opportunities to work and play in our excellent outdoor space, and to take care of living things," said Mollie S. Toll, Science Literacy Coach at the school.
The school garden program is supported by local non-profit Earth Care, which was recently awarded a renewal grant from AmeriCorps via the Corporation for National and Community Service to continue its Food Cadre program for a second year. The grant provides 14 full-time positions for AmeriCorps volunteers to work with schools, nonprofits and local government to strengthen the local food system in Santa Fe County.
The mission of the Food Cadre program is to build a sustainable and just local food system that addresses the needs of the environment and of the community's most vulnerable populations. The goals of the program are to build a local sustainable food system, involving youth throughout the process; to bring the food system back into balance with the ecological system that supports it; and to increase access to healthy food, sustainability resources and nutrition education for underserved communities.
According to Bianca Sopoci-Belknap, Associate Director of Earth Care, "New Mexico ranks 46th in the nation for children living in poverty. The natural innovation and problem solving skills of young people are needed to improve this situation. Our approach with this program is to support the positive development of young people in a way that also benefits their nutrition, environment, local economy, and community."
The Food Cadre is hosted by Earth Care in partnership with the City of Santa Fe, Santa Fe County, Santa Fe Public Schools, Cooking with Kids, the Santa Fe Farmer's Market Institute, and the Santa Fe Alliance.
Santa Fe Public School Gardens
's AmeriCorps members have been working with students, parents and teachers at seven school sites, including Salazar Elemenary, to implement school gardens. A on Earth Care's website explains that Salazar Green's garden is the first garden officially installed by the Santa Fe Public School District and hopes to be exemplary for future school gardens and those with already existing programs. The garden supplies food to students through a variety of ways including Cooking with Kids, lunch programs, and in-garden tasting and to the surrounding community through the annual fall Harvest Fest.
The Garden and its facilities act as a classroom for all students at Salazar. At present, all K-6 classes spend an hour a week with the Sustainability and Garden Coordinator delving into the world of food and sustainability practices in an experiential and fun manner. The objective of these endeavors is to promote a local, just and sustainable food system and human system for all in the region.
You can keep up with garden activities at Salazar Elementary at the Salazar Verde Garden Blog. For further information, contact Science Literacy Coach Mollie Toll (670-8658), or principal Margo Shirley (467-3902).
Earth Care needs the help of the Santa Fe community to meet the matching funds requirement of $70,000 for its grant from AmeriCorps. Each dollar invested in this program leverages double the funds coming in to our community from the state and federal government. Donations can be made at www.earthcare.org or by calling 505.983.6896.
October 3, 2011 at 11:03 AM in Agriculture, Education, Food and Drink, Santa Fe, Youth | |
Wednesday, September 28, 2011
Steve Klinger Guest Blog: New Independent Newspaper 'The Light of New Mexico' Seeks to Illuminate Inconvenient Truths
This is a guest blog by Steve Klinger, a long-time journalist and editor of the Grassroots Press, on the recent launch of a new, independent print and online newspaper called The Light of New Mexico. Steve will be editing the paper, which will initially be published monthly. The first print issue of The Light of New Mexico hit the streets of Santa Fe on September 15, with a cover story on "The Politics of H2O: Who Controls Your Water?" It's also available for download as a pdf by clicking here.
The newspaper, published by Skip Whitson, will focus on "Illuminating Inconvenient Truths," and will be covering "Conscious Culture, including Politics, Reviews, Books and Entertainment." The Light of New Mexico is designed to serve as a progressive, alternative source of ideas, information and a networking nexus for north-central New Mexico and beyond, providing a newspaper, a blog and a community resource.
According to the paper's Mission Statement, "Our focuses include state and local politics, peace/nonviolence, environment, civil liberties, foreign policy, social justice, global awareness, fair trade, localism and sustainability, as well as an abiding appreciation for music and art as a force for change. We maintain a commitment to outreach, education, and peaceful dialogues to safeguard democracy and raise consciousness within our communities.
"It is the role of a newspaperman to comfort the afflicted and afflict the comfortable." –-Chicago journalist Finley Peter Dunne
Connecting the Dots
There are those who think the print newspaper is in its death throes and others who think words of any kind are just useless spitballs hurled by naïve optimists into the maelstrom of a crumbling democracy and a planet hurtling toward disaster.
Among the dwindling minority who are still willing or able to commit words to the printed page, even fewer are doing anything like real journalism, as the money behind the surviving mainstream media is too busy advancing the corporate agenda, promoting the so-called balance of false equivalents, or in some cases hacking the phones of crime victims in the race to pander to the lowest common subscriber denominator.
We won't be doing things that way, and we thought you'd like to know.
I feel privileged to be associated with The Light of New Mexico, a new, independent monthly newspaper based in Santa Fe that will take a higher road in attempting, as our tagline states, to illuminate inconvenient truths. We considered numerous titles for our new publication, and various slogans as well, with a common theme of shedding light on the issues of the day: political corruption, connecting the dots between manmade climate change, gridlocked government, skyrocketing corporate influence in campaigns and legislation, and the threats to democracy our republic is facing on every level.
As I have done before in my nearly 40 years of newspaper work in New Mexico, most recently with Grassroots Press, I'll be looking for stories that illustrate the realities ordinary people are facing in their daily lives, hoping to educate our readers and ourselves on the forces that are shaping our future in a downsizing and endangered nation. I'll be exploring the ways in which the forces of greed and self-interest are attempting to hijack public policy. I'll be featuring commentary from journalists, authors and experts on the critical times we face, plus a mix of pertinent syndicated material and open pages for you, our readers to fill, with your comments and unique perspectives on everything from politics to the arts.
Without deep pockets or any corporate support, we'll also be relying on you to help us grow with your display advertising and your donations, as well as your feedback and suggestions.
Santa Fe is a remarkable place, with a rich history of cultural alchemy, a place that tolerates and elevates diversity, eclecticism and artistic expression. One of the oldest capital cities in North America, it arose on the site of far older Pueblos, a product of European colonialism and an often bloody clash of cultures -- Native American, Hispanic, Anglo -- and has been endlessly reinventing itself for better and worse ever since. These days, it's a world-class destination, but also a place called home for nearly 70,000 folks, including some of the most talented and successful individuals on the planet, and the organizations they've brought with them. These include a vital emerging community of locavore, sustainable, nonprofit endeavors. Santa Fe also holds but a fraction of the population of the state of New Mexico that is our larger home, a coverage area into which we hope to expand as The Light of New Mexico grows; we hope to serve it with dedication and distinction.
Most of all, we hope you'll read our words and help us write them. We hope to prove worthy of your interest and support. Obviously, we believe in the power of words to educate human beings and change history. We also think that time is growing short to do that under the umbrella of a free press in a besieged democracy. That's why we feel our work is important, especially in a time when ever more of us are feeling afflicted, and those with the money and power are growing ever more comfortable.
This is a guest blog by Steve Klinger, who can be reached at Steve@thelightofnewmexico.com.
If you'd like to submit a piece for consideration as a guest blog, contact me by clicking on the Email Me link at the upper left-hand corner of the page.
September 28, 2011 at 10:03 AM in Arts, Civil Liberties, Education, Environment, Journalism, Local Politics, Media, Music, Santa Fe, Weblogs | |
Thursday, September 15, 2011
9/17: Grassroots Fundraiser for Martin Heinrich for Senate, Special Guest Santa Fe Mayor David Coss
From Heinrich for Senate:
Please Join us for a
Grassroots Fundraiser
to support
Martin Heinrich for Senate
with special guest
Santa Fe Mayor David Coss

Saturday, September 17th, 4:00-6:00 PM
Santa Fe Democratic Party Headquarters
1420 Cerillos Road, Santa Fe, NM

To R.S.V.P. or Purchase Tickets Online Click Here
Suggested Contribution: $50, Host: $500, Sponsor: $250
For questions or to RSVP, contact: Mike Sullivan at 505-242-4416 or mike.sullivan@martinheinrich.com or Steve Fitzer at 505-270-4079 or steve.fitzer@martinheinrich.com.
September 15, 2011 at 04:54 PM in 2012 NM Senate Race, Events, Rep. Martin Heinrich (NM-01), Santa Fe | Permalink | Comments (0)