« August 2013 | Main | December 2014 »
Wednesday, September 25, 2013
VOTE Pete Dinelli for Mayor of Albuquerque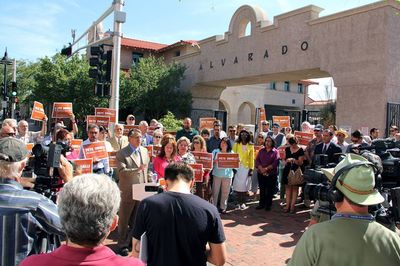 Pete Dinelli-Leader. Problem Solver. Born & raised in Albuquerque, New Mexico.
Pete's running for Mayor because he won't stand on the sidelines while City Hall is engulfed in a public safety crisis & petty partisan politics. Pete knows our prosperity depends on creating the good-paying, long-lasting jobs of the future, providing a world-class education for our children & public safety that will make our city a model around the state & nation.
Pete has served as Chief Public Safety Officer, Deputy City Attorney, Director of the Safe City Strike Force, Chief Deputy District Attorney, 911 Interim Director, Workers' Compensation Judge, Albuquerque City Councilor, Assistant District Attorney and Assistant Attorney General.
See where Mr. Dinelli stands on the issues by following this link.
Vote Pete Dinelli !
September 25, 2013 at 06:00 PM in 2013 Albuquerque Mayoral Race, Candidates & Races, Democrat | Permalink | Comments (0)