Tuesday, April 27, 2010
Top GOP Governor Candidates Support Arizona SB 1070, Show Me Your Papers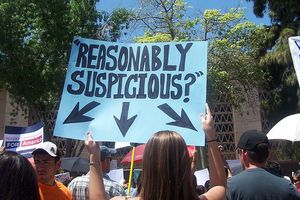 The leading Republican candidates for New Mexico Governor today came out in support of Arizona's controversial immigration law, siding with the extreme right over New Mexico families. In an Albuquerque Journal article published today, the three GOP frontrunners -- Allen Weh, Susana Martinez and Pete Domenici JUNIOR -- praised the Arizona law. Amazingly, not one of the GOP candidates took the opportunity to condemn the racial profiling that will no doubt result from the bill.
The law has been strongly criticized, worldwide, for going too far and creating an environment conducive to racial profiling and infringement on the individual rights of law-abiding citizens. , U.S. Attorney General Eric Holder said the federal government may challenge Arizona's new law, and Homeland Security Secretary Janet Napolitano, who served as Arizona governor prior to her federal appointment, said Arizona's new immigration law could siphon federal money and staff needed to go after truly dangerous immigrants. Testifying before the Senate Judiciary Committee, Napolitano said the office of Immigration and Customs Enforcement fears it will have to use its stretched resources to deal with those arrested under Arizona's new law. Napolitano twice vetoed similar legislation when she was governor of Arizona.
Many experienced law enforcement professionals are also against the new law. The AP that, "Current law in most states doesn't require police to ask about the immigration status of those they encounter, and many police departments prohibit officers from inquiring out of fear immigrants won't cooperate in other investigations."
The Arizona Republic reported that police chiefs said officers "will have to make immigration enforcement their priority over every other type of crime." The Arizona Association of Chiefs of Police stated that SB 1070 "will negatively affect the ability of law enforcement agencies across the state to fulfill their many responsibilities in a timely manner."
"It's shocking that in a state as diverse as New Mexico, the three GOP frontrunners would not immediately come out against this dangerous law," said Democratic Party of New Mexico Chairman Javier Gonzales in a statement released today. "New Mexicans know racial profiling and fear is not the way to address immigration reform but, unfortunately, the Republican candidates disagree. Weh, Martinez and Domenici Jr. are showing their true colors, siding with the extreme right-wing instead of New Mexicans. Their extreme positions will not be forgotten on Election Day."
The Republicans, however, have a tendency to see everything in black and white or, in this case, brown and white. They don't see any constitutional dangers in giving the police free rein to demand papers from anyone they deem "reasonably suspicious" -- thus opening the door to racial and ethnic profiling and potential harassment of virtually anyone whose look isn't appealing to a given law enforcement officer. Talk about creating a police-state atmosphere! 
Here's what the leading GOP gubernatorial candidates had to say:
Frontrunner Allen Weh, who has angered and insulted many New Mexicans over the years because of a perceived anti-immigrant, even anti-Hispanic bent, said, "Arizona's new law compels us more than ever to enforce existing law, or risk becoming an even bigger magnet for illegal immigrants and criminals. I'll start by rescinding the executive order barring State Police from reporting illegal immigrants that they stop or apprehend, and ending driver's licenses for illegal immigrants."
Note Weh's rhetorical connection of "immigrants" to "criminals." Because, you know, in Weh's world the line is blurred. He doesn't explain how Arizona authorities will be able to know, just by looking, whether someone is an "illegal immigrant," an Hispanic who has lived in what is now the United States for centuries or someone who has a visa or has attained citizenship.
Susana Martinez raised the specter of out of control crime, insinuating that most undocumented immigrants are, by nature, violent criminals: "Just last week, an illegal immigrant was arrested in Las Cruces for sexually assaulting an 8-year old girl. I prosecute these cases and understand the concerns in Arizona. We must end policies that attract illegal immigrants, such as providing them with driver's licenses and sanctuary policies that provide criminals refuge."
I have to wonder if she'd enjoy being stopped and harassed in Arizona because her Hispanic features make her look "reasonably suspicious" in terms of how the law is written. Maybe she never sets foot in Arizona or she doesn't get that if a law requires the police to judge whether people are citizens or not by how they look, she might just might find herself suspected of being a criminal and locked in a holding cell if she isn't carrying her birth certificate.
Pete Domenici JUNIOR apparently thinks it's a good idea for states to usurp federal administration of immigration laws and go it on their own. He also seems completely unaware that prominent law enforcement experts believe Arizona's law will hurt their efforts to fight crime, not enhance it. And he's even contemplating the enactment of a similar law in New Mexico: "As governor, I will oppose sanctuary status in New Mexico, will secure our borders and will enhance law enforcement tools while recognizing New Mexico's heritage and protecting individual rights. It may be possible to tailor appropriate provisions of Arizona's recent law for New Mexico. Waiting for Congress is not sufficient."
Funny, it's the right-wing Republicans in Congress who are most vehemently opposed to comprehensive immigration reform!
April 27, 2010 at 03:13 PM in 2010 NM Governor's Race, Allen Weh, Civil Liberties, Crime, Hispanic Issues, Immigration, Law Enforcement, Minority Issues, Pete Domenici Jr., Republican Party, Susana Martinez | Permalink | Comments (22)
Wednesday, April 21, 2010
Wow. Allen Weh Admits 20 New Mexicans Would Be a Better Governor Than He Could
After watching the video above of Allen Weh, GOP primary candidate for governor, I think you, too, will finally see eye-to-eye with him on at least one important point -- his fitness (or lack thereof) to be governor. I never thought I'd see the day.
In a rare moment of agreement with the Republican right winger, the Democratic Party of New Mexico today voiced its support for Allen Weh's assertion that he doesn't make the Top-20 list of New Mexicans qualified to be Governor. I know you'll want to join the Democratic Party of New Mexico in calling on Weh to identify the 20 New Mexicans he believes would make a better Governor, so Republican primary voters can consider writing in their names on the ballot.
The video clip is from a campaign event in Los Lunas yesterday, where Weh said, "I like telling people, that there's probably 20 people in the state that could be a better Governor than I could. But they're not running."
"Needless to say, Allen Weh makes a good point -- many, many New Mexicans would make a better Governor. It's the first honest thing we've heard him say in this campaign," said DPNM spokesman James Hallinan.
Weh's comments may remind New Mexicans of fellow Republican candidate Pete Domenici JUNIOR's statement that he didn't believe he could win. In case you forgot, here is that exchange:
Jim Villanucci: You obviously have a feeling on that. You said that ... not all of you can win, so somebody can't, and you think you can. So, who can't?

Pete Domenici Jr.: Actually, I would even include myself in the group that can't. Uh, I don't think this is a sure thing by any stretch ... it is gonna to be extremely tough. [Interview with Villanucci 770 KKOB, 2/17/10]
Maybe they're both revealing something they subconsciously believe to be true -- that Democrat Diane Denish is the best candidate and has the best chance to win. The truth will out!
April 21, 2010 at 05:21 PM in 2010 NM Governor's Race, Allen Weh, Democratic Party, Pete Domenici Jr., Republican Party | Permalink | Comments (20)
Sunday, January 17, 2010
The Facts on Pete Domenici JUNIOR, the new GOP Candidate for NM Governor
By now you've probably heard that former Senator Pete Domenici's son, Pete Domenici JUNIOR, has decided to become the 5th candidate running in the GOP primary for Governor of New Mexico. What will JUNIOR be running on? It's clear from his new campaign logo, which features the word DOMENICI in all caps -- without the Pete Jr. I guess the Repubs are hoping people won't notice that this is JUNIOR, not former Senator Domenici.
In his first political snafu, JUNIOR officially announced his candidacy at an event today in Albuquerque held at the exact same time as the city's traditional parade to honor Martin Luther King Jr. kicked off. I guess it was to be expected given the modern GOP's lack of enthusiasm about equality, but you'd think they'd at least go through the motions.
Anyway, Democratic Party of New Mexico Chairman Javier Gonzales responded to Pete JUNIOR's announcement with a statement and some very interesting facts about the new GOP gubernatorial candidate:
"Since Republicans insiders have been unable to find a candidate for Governor with an actual record of fighting for New Mexico families, they're settling for the biggest name they could find," said Chairman Gonzales. "The people of New Mexico won't be fooled. It's common for voters to ask candidates for office 'what have you done for me lately?' In this case, they'll be asking 'what have you done for me ever?'"
A few facts about the Republican Party's latest would-be Governor:
Domenici JUNIOR calls himself an "Environmental Lawyer" when in fact he represents the special interests that pollute New Mexico's environment ...
Domenici JUNIOR represented Ryder Truck Rental Inc., responsible for the largest diesel fuel spill in Albuquerque history: Attorney Pete Domenici Jr. brokered an agreement between Ryder Truck Rental Inc. and the state Environment Department over the cost of cleaning up what Steve Reuter, chief of the state's Underground Storage Tank Bureau, called the largest diesel fuel spill ever in the city. [AP, 3/11/00]
Domenici JUNIOR represented a man who sought permission to discharge up to 8,000 gallons per day of dairy wastewater less than two miles from Caballo Lake: Attorney Pete Domenici Jr. represented a dairy applying for a permit to discharge up to 8,000 gallons of dairy wastewater a day just 30 feet from a flood plain. The Environment Secretary Ron Curry said he opposed the permit because "New Mexico has limited surface water and we must protect it." [AP, 2/28/08]
Domenici JUNIOR represented a Valencia County dairy indicted on 14 counts of polluting water of irrigation canals: When defending dairy farm owner Nick Van Tol, attorney Pete Domenici Jr. said there was no environmental harm involved in the charges that Van Tol illegally discharged pollution into the water. The farm owner was indicted on 14 counts of dumping pollution into irrigation canals. State Attorney General Tom Udall said he took the case seriously, "Pollution of ground water is obviously a serious issue for a state that has scarce ground water resources." [Albuquerque Journal, 4/17/97]
Domenici JUNIOR represented Agronics Inc., which did not have a mining permit: Agronics Inc. was also cited for failing to obtain a ground water discharge plan. Agronics Inc., which was shut down for failure to obtain a permit, was represented by attorney Pete Domenici Jr. According to the Environment Department, the company also failed to obtain an approved ground water discharge plan despite the potential for ground water contamination. [Albuquerque Journal, 4/18/00]
JUNIOR has also represented other bad actors, such as the infamous "Drunk Nurse" ...
Domenici JUNIOR represented a nurse who admitted to treating a 5-year-old child while intoxicated: Attorney Pete Domenici Jr. said his client, Ann Barnes, a nurse at Lovelace Pediatric Urgent Care Clinic, was skilled despite her alcoholism. Barnes claimed she was not responsible for the death of a 5-year-old in 2004, despite her intoxication. [Albuquerque Journal, 2/14/08]
January 17, 2010 at 03:52 PM in 2010 NM Governor's Race, Minority Issues, Pete Domenici Jr., Republican Party | Permalink | Comments (22)