Wednesday, July 25, 2012
Let's Get It Clear: The Message Behind the Heather Wilson Attack Ads
Produced by Peter Moulson, Special Correspondent
This June, a coordinated group of TV ads highlighted Heather Wilson's history of siding with oil and gas corporations as they pollute groundwater while she collected hundreds of thousands of dollars in campaign contributions from these industries.

Photo from Heather Wilson's Facebook page.
Note: Heather drinks a warm beverage, not water.  
The TV commercials produced by The League of Conservation Voters and Defenders of Wildlife Action Fund met with muted acceptance by the mainstream New Mexico media, and even Wilson herself. But at least one New Mexico TV station and a widely-read and syndicated New Mexico newspaper chewed on the TV ad from the Sierra Club for making Wilson "look like the Wicked Witch of the West", and over all being "vague." It appears that one more attack on Wilson was too much.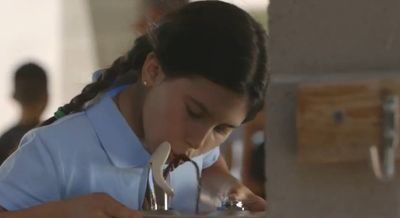 Still from "Drinking Fountain". Courtesy: Sierra Club.
It was The Santa Fe New Mexican which described the Sierra Club's TV "attack ad" on Heather Wilson's oil company cronyism as "vague". The 30-second commercial did not mention the polluting chemical by name (it's MTBE), or details of her voting record--for three consecutive years beginning in 2003, she voted in favor of energy bills that would have shielded MTBE manufacturers from lawsuits—and we thank The Santa Fe New Mexican for that research.
What political TV ad gives exact chapter and verse of their research? Try it yourself—in 30 seconds or less. Sounds as if Wilson's oil and gas megabuck contributions are getting her in deep water, and somebody's fighting back.
Thanks for stirring the pot.
July 25, 2012 at 09:21 PM in Guest Blogger, Heather Wilson, Political Ads, Regulation | Permalink | Comments (0)
Thursday, June 14, 2012
Advertisement Falsely Accused Organizations of Illegal Activities
Legal counsel representing New Mexico's Center for Civic Policy (CCP) and the SouthWest Organizing Project (SWOP), two non-profit nonpartisan civic engagement organizations, sent letters to Senator Phil Griego and the Albuquerque Journal calling for a public apology and retraction of a defamatory advertisement.
The advertisement, paid for by the Committee to Elect Phil Griego, ran in the Albuquerque Journal North on Saturday, June 2nd, 2012 and falsely accused both organizations of illegally funding the work of the campaign of Senator Phil Griego's opponent in the June primary election. See ad here Journal North P. Griego Ad
"The blatantly false allegations made by Phil Griego's campaign are unacceptable. To accuse us of these kinds of illegal electoral activities is malicious and requires public correction," said Stephanie Maez-Gibson, CEO of the Center for Civic Policy. "Our organizations have extensive track records of non-partisan civic engagement. This is an example of Senator Griego's apparent intent to obstruct and retaliate against our efforts to educate New Mexicans on important legislative issues.
Phil Griego's half-page advertisement dishonestly alleged that CCP and SWOP secretly paid the campaign manager of one of Griego's opponents in the June election. Those flagrant falsehoods contain serious charges, implying that CCP and SWOP have been engaged in criminal conduct. The actual facts in the matters concerned, which contradict those charges, could have been easily obtained and verified by both Griego and the Albuquerque Journal.
"Our history of non-partisan civic engagement year in and year out, including directly communicating to the public about voting records of public officials, is well established." said Bineshi Albert, Co-Director of the SouthWest Organizing Project. "To see an ad like this that attempts to paint our non-partisan work as electioneering strikes us as a low-blow, especially in light of the media's extensive coverage of the recent 10th Circuit Court ruling that established irrefutably our right to such free speech."
With regard to the Albuquerque Journal's role in the matter, both organizations are inquiring about the newspaper's process for fact-checking the material that it publishes. In this instance, it is particularly troubling that the Journal appeared to have run these ads without verifying the truth or falsity of these accusations, given that the Journal is well aware of the free speech protections that have been accorded to the civic engagement work of CCP and SWOP.
As recently as April 13th of this year, an article in the Journal recognized the 10th Circuit District Court affirmation of the organizations' free speech right to engage New Mexicans in the public policy process – a piece of reporting that effectively refuted previous false accusations that the work instead was a prohibited form of "express advocacy." Electioneering, or coordinating with any campaign, would jeopardize the non-profit statuses of each organization. Conspiring to hide campaign donations would also subject them to various criminal penalties.
June 14, 2012 at 09:10 AM in 2012 Legislature Races, Legal Issues, Political Ads | Permalink | Comments (0)
Thursday, May 17, 2012
Heinrich in New TV Ad: I'll Never Stop Fighting for New Mexico
Martin Heinrich released his third television ad in three weeks today, one that assures voters that he will "fight for the things New Mexicans have worked so hard for." The new spot highlights the jobs Heinrich saved at Kirtland Air Force Base and his effort to stand up for seniors and stop Republican attempts to weaken Social Security and Medicare. The ad will air in both the Albuquerque and El Paso media markets.
Since he was elected to Congress in 2008, Martin Heinrich travels home almost every weekend to meet with the people of New Mexico. From day one, Martin has put the interests of his constituents before the special interests and knows that the best ideas don't come from Washington, they come from the folks back home. That is why he organizes job fairs, speaks directly with small business owners, visits with veterans at the VA hospital in Albuquerque, and meets with seniors to discuss how he's protecting their Social Security and Medicare.
May 17, 2012 at 02:06 PM in 2012 NM Senate Race, Candidates & Races, Jobs, Political Ads, Rep. Martin Heinrich (NM-01), Social Security, Television | Permalink | Comments (0)
Chavez for Congress New TV Ad: Marty Can Take the "Hits"
Today, former Albuquerque Mayor and current Congressional candidate Marty Chavez debuted a new television ad titled "Hits."
Set in the historical Jack Candelaria/San Jose gym and filmed with local professional boxer Josh "Pit Bull" Torres (7-1-1, 5KOs), the spot reinforces that to get things done in Congress, you have to be able to take the hits from powerful interests.
Throughout his career, Marty has always taken the hits on behalf of New Mexican families. Whether it was as the ONLY elected official to testify to save Kirtland Air Force Base and nearly 7,000 jobsi, standing up to developers to pass one of the toughest green building codes in the nationii, suing the Bush Administration over greenhouse gas emissionsiii or supporting President Obama's fuel efficiency standardsiv, Marty has proved tough enough to get things done, even in the most hostile environments.
As President Bill Clinton said in endorsing Marty earlier this year, "I know that Marty will take on our big challenges, stand up to special interests, and fight to create clean energy jobs in New Mexico because he's proven time and again that he can get the job done."
May 17, 2012 at 09:53 AM in Candidates & Races, Martin Chavez, NM-01 Congressional Race 2012, Political Ads, Television | Permalink | Comments (4)
Tuesday, April 24, 2012
Congressional Candidate Michelle Lujan Grisham Launches First TV Ad
Democratic Congressional Candidate Michelle Lujan Grisham unveiled her first television commercial today, kicking off an aggressive TV campaign designed to show voters her tenacity and dedication to fighting for New Mexicans. The first ad, titled "Stand Up," goes on the air starting today in the Albuquerque TV market.
"The national media is describing this primary race as extremely competitive and the momentum is clearly with Michelle Lujan Grisham," said campaign manager Dominic Gabello. "Michelle was endorsed this week by a major New Mexico union, enters the final 6 weeks with the most money and is working hard to secure more high-profile support for the final weeks of the campaign. As voters are starting to pay attention to this race, we are confident that they will be impressed with Michelle's fighting spirit and her strong and effective record as an advocate and a reformer for New Mexico families."
Click above to watch Michelle Lujan Grisham's first ad, "Stand Up."
During nearly two decades as a public servant, Michelle Lujan Grisham was the voice for senior citizens, veterans and disabled New Mexicans. She served as Director and Cabinet Secretary of the New Mexico Department of Aging and Long-Term Services and the Department of Health. She currently serves as a Bernalillo County Commissioner.
The "Stand Up" ad highlights one of the defining experiences of Michelle's career in public service. In 1997, she went undercover as a totally dependent stroke victim and checked into a long-term care facility to expose inexcusable neglect. As a result, the state cleaned up several facilities, changed state law, and became the only state to have undercover care evaluations modeled after the work that she did.
April 24, 2012 at 05:35 PM in Candidates & Races, Michelle Lujan Grisham, NM-01 Congressional Race 2012, Political Ads, Television | |
Wednesday, November 30, 2011
New Ad Released Exposing MittyMitt's Lack of Consistency on Core Issues
From the Democratic Party of New Mexico; Albuquerque N.M. one of six markets where "Trapped" television ad is airing
On November 28, 2011the Democratic National Committee released a hard-hitting web video highlighting Mitt Romney's stunning inability to maintain a single position or establish core principles on a range of issues for any reasonable period of time. In conjunction with the release of the web video, the DNC also released a new television spot "Trapped," further highlighting Mitt's willingness to say or do anything to win the Presidency.
The ad is airing in 6 key markets, including New Mexico:
The TV ad is a trailer for the longer, must-see video: " ." Both can be found on the DNC'S new website, - Giving the public an in-depth view of Mitt Romney's ideological struggle against himself on issues from the economy and immigration to a woman's right to choose and workers' rights.
"The new ad makes a strong point: Mitt Romney is a chronic waffler who lacks the strong principles and ethical compass that is required of candidates for the highest office in the land. No matter how hard he tries to deceive and mislead New Mexicans on his positions, we will continue to hold him accountable to his own record." said Democratic Party of New Mexico Chairman Javier M. Gonzales.
"Mitt Romney has literally reversed himself - sometimes within the same day - on immigration, TARP, abortion, the stimulus, healthcare reform and more, but New Mexicans aren't buying Romney 2.0 anymore than they were before."
The ad also launches in Raleigh-Durham, NC; Columbus, OH; Pittsburgh, PA; Washington, DC; and Milwaukee, WI on a mix of broadcast and cable.
Please visit the website at .
November 30, 2011 at 06:51 PM in 2012 Presidential Race, Mitt Romney, Political Ads, Republican Party | |
Tuesday, April 19, 2011
Politics 24/7: Susana Martinez Formed PAC Less Than 2 Months After Taking Office

According to an AP story, New Mexico's right-wing governor, Susana Martinez, used $5,000 of her leftover gubernatorial campaign money to create a political PAC in late February -- less than two months after her administration took office. At a time when most newly elected governors would be busy making staffing decisions, learning the ropes and working hard to create a coherent strategy for the upcoming legislative session, Martinez was apparently hung up on continuing her campaign activities via Susana PAC.
According to her campaign spokesman, the governor planned to back legislative candidates with "pro-growth economic policies that keep taxes low and reduce regulations, reform the education system to increase accountability and results in the classroom, and protect New Mexicans with common sense policies like ending the practice of giving driver's licenses to illegal immigrants." In other words, it appears she'll be shilling on behalf of GOP candidates who toe the administration line on right-wing wedge issues.
Funny, the next legislative election isn't until 2012, when all 112 seats at the Roundhouse are up for grabs. What was the hurry? According to the article,
With a PAC, Martinez will have flexibility to spend and raise money to influence legislative races next year without draining her re-election fund, which will be needed in 2014 and had a cash balance of nearly $327,000 earlier this month.
Wow, that's quite a balance after a heated gubernatorial contest. Then again, the Martinez campaign was the recipient of huge sums of cash from Texans, oil and gas and other moneyed big-business interests. I guess even she had a hard time spending all she received. And I'm sure she thinks it's a good idea to hang onto some of that cash because new campaign finance rules now prohibit donations larger than $5,000 to statewide and legislative candidates.
DPNM Weighs In
After learning about the new PAC, , who chairs the Democratic Party of New Mexico, had this to say:
Susana PAC is a clear move by Susana Martinez to continue to promote wedge issues at the expense of New Mexico's families who are looking for leadership in job growth.

The truth is Democrats are right on the issues when it comes to economic growth. Investments in education, manufacturing and clean industries will be the key for putting New Mexico back to work and Democratic Legislators will be at the forefront of those efforts.
Campaign Spending Questions
Serious questions have been raised about Gov. Martinez's use of gubernatorial campaign funds post-election. Somo Un Pueblo Unido and Common Cause New Mexico whether the governor had a right under state campaign spending restrictions to spend campaign money on radio ads during the legislative session advocating the repeal of driver's licenses for foreign nationals. Although the language of the law seems to clearly prohibit such use, New Mexico's Republican Secretary of State, Dianna Duran, said she saw no problem with it. However, Attorney General Gary King said the ads appeared to be lobbying, rather than campaign, expenses.
Apparently, Martinez's new PAC was designed to avoid such questions about her use of campaign funds going forward. I'm sure we'll be seeing and hearing a bunch of Susana-PAC ads in the coming months and all the way up until election day 2012 attacking Democrats on Susana's issues of choice -- stirring up New Mexican's about immigration, protecting tax breaks for the rich at almost any cost to vital government programs, ditching common-sense regulations that protect our air, land and water and blaming teachers for problems caused by economic and social inequities.
April 19, 2011 at 09:47 PM in 2012 Legislature Races, Ethics & Campaign Reform, Political Ads, Susana Martinez | |
Thursday, March 31, 2011
More Trouble for SOS Dianna Duran? AG Office Disagrees With Her Opinion on Susana Martinez Radio Ads
Uh oh -- another incident questioning the judgment of New Mexico Secretary of State Dianna Duran came to light today via Attorney General Gary King's office. Close on the heels of today's call for Duran to immediately resign her post due to racist "humor" contained on an official document issued by her office, it was revealed that AG's office issued a letter disagreeing with Duran's decision that anti-immigrant radio ads paid for by Gov. Susana Martinez's campaign office were a proper use of the funds.
According to a story by Steve Terrell in today's Santa Fe New Mexican, the AG's office said yesterday that "Gov. Susana Martinez's campaign committee might have violated campaign laws by spending money on radio ads in support of a bill to prohibit driver's licenses for illegal immigrants."
In a letter to Secretary of State Dianna Duran, Albert Lama, deputy attorney general, said Duran's office should reconsider its decision that the Martinez ads were not in violation of the Campaign Reporting Act. 

"Although you did not seek our advice in this matter, we are concerned that your interpretation of the Campaign Reporting Act is unnecessarily broad and may open the door to use of campaign contributions contrary to the Legislature's intent," Lama wrote. 
At Issue
Last month, both Somos Un Pueblo Unido and Common Cause New Mexico about the use of Martinez's campaign fund for the ads, contending that the governor violated campaign finance laws by tapping into the fund after her campaign had ended. Somos Un Pueblo Unido filed a formal complaint about the funding with Duran's office. Duran later said the use of the funds was proper, although she failed to consult with the Attorney General's office before issuing her decision letter.
On March 3, Duran wrote Somos, saying, "Susana Martinez meets the definition of a 'candidate' who has authorized her campaign committee to make expenditures for the purpose of seeking future election to office. ... I have no reasonable belief that Susana Martinez for Governor Committee committed any violation of the Campaign Reporting Act, and I do not intend to refer this matter to the Attorney General or a District Attorney." 
Martinez's campaign committee spent $5,648 in February on radio ads that urged listeners to contact legislators and tell them to support bills aimed at repealing the issuance of driver's licenses to undocumented people and foreign nationals. Despite a big push from the Martinez administration -- and her staffers videoing debates on the issue in an apparent attempt to gather footage that could be used against Democrats in the 2012 election -- repeal of the law failed. 
Lama and Martinez Campaign Disagree
In yesterday's letter to Duran:
... Lama argued that the act requires campaign money to be spent on campaign-related expenses. "Based on the information available to us at this time, the content of the radio ads does not obviously relate to a campaign or suggest that the purpose of the ads is to elect Gov. Martinez to office," he wrote. "The circumstances and the timing of the ads also are not consistent with an election campaign," he said, noting that the next gubernatorial election is in 2014."

Instead, the radio ads seek to influence the Legislature's decision regarding laws that make driver's licenses available to illegal immigrants," Lama wrote. "In effect the committee is using campaign contributions to lobby the Legislature on an issue that is important to the governor and her administration." 

Lama said the act "clearly distinguishes" campaign expenses from an elected official using money in promoting positions they take while in office or trying to influence the Legislature. 
In a response to Lama's letter, a spokesman for the Martinez campaign said Duran's decision on the funding was the right one because the governor was merely exercising her First Amendment rights with the ads.
"Just like other groups and political parties that aired ads during the session, the governor has a First Amendment right to promote ideas and issues, including her desire to ban driver's licenses for illegal immigrants," Danny Diaz said. "The secretary of state has ruled this was perfectly fine, which is consistent not only with common practice, but more importantly, with the opinion of the United States Supreme Court."

He was referring to a 1976 case, Buckley v. Valeo, which, among other things, struck down limits on campaign expenditures in federal law.
What Does the Law Say?
Click to see the provisions (pdf) of New Mexico's Campaign Reporting Act describing the lawful uses of a candidate's campaign funds.
As Somos Un Pueblo Unidos pointed out in their complaint to Duran's office:
"(The act) allows such funds to be used only for the payment of campaign debts, donations to charities or the state's general fund, contributions to other candidates or political parties and refunds to the contributors."
Is Dianna Duran just misinterpreting the law, or is this another example of Martinez and her right-wingers putting politics above ethical practices and the law? Seems pretty clear to me that campaign funds are supposed to be used for campaign activities -- not for lobbying the legislature. What do you think?
March 31, 2011 at 02:53 PM in Dianna Duran, Ethics & Campaign Reform, Hispanic Issues, Immigration, Legal Issues, NM Legislature 2011, Political Ads, Susana Martinez | Permalink | Comments (5)
Friday, November 05, 2010
Hate Email Typifies Approach of Right Wing "Movement"
See below the break for a message I received today at the email address for this blog. I decided to share it with you as I believe it illustrates the kind of hateful mindset that is being fomented and nourished by right-wing and tea party strategists, politicians and pundits, as well as their misguided supporters.
As we've learned, a significant amount of funding for this "movement" is being funneled through secretive right-wing organizations that are getting their donations from large corporate interests, wealthy hedge fund managers and even foreign governments -- thanks to the Citizens United decision by the Supreme Court. Karl Rove's Crossroads GPS and American Crossroads, American Action Network and the US Chamber of Commerce are examples of "movement" players that poured millions of dollars into nasty ad campaigns attacking Democrats and using appeals to the baser nature of voters to do it. One of the "movement's" favorite techniques is to use immigration as a wedge issue. Another is to question the citizenship and religion of President Obama -- as we saw now congressman-elect Steve Pearce do in this campaign cycle.
On another local note, one of the donors who contributed seven million dollars to American Crossroads was none other than Swiftboater Bob Perry of Texas. You may recall that Perry and his wife gave now governor-elect Susana Martinez the largest donation in New Mexican history -- $450,000. It's all of a piece, isn't it? And there's more of it to come. Rove has announced that he and others intend to keep up the barrage of attack ads and other initiatives all the way through the coming lame-duck session of Congress and beyond. This is the new America courtesy of conservative and corporatist extremists. And it's not a pretty picture.
I reproduced the email just as it was received -- odd spacing and all -- so you could get the true flavor of the sender. I did remove the sender's email address:
Subject: Illegal Wetbacks

| | | |
| --- | --- | --- |
| Sent by "Mario"   | On: |  Nov 11/05/10 8:56 AM |



To: "dfnm albq" 
Subject: Obama/Scumbag
Impeach the Black Muslim Bastard ! ! !

  
Pelosi,
 
You along with this Raghead in the Whitehouse are a total disgrace to this nation ! ! The only thing that would personally make me feel better,along with millions of Americans,is that you along with Harry Reid and Obama are diagnosed with terminal cancer.
 
 This Black Raghead Obama has to go ! !
 
This handling of this oil spill in the Gulf is just another
reason your are a total failure as
President of the United States.Every
bill you have pushed
through Congress has been a total failure,including Healthcare reform,
the failed stimulus bill along with the total out of control spending and
lack bi-partisanhip on the behave of this administration,also your
refusal to secure are borders to stop the flow of illegal Wetback
Scum ! !
 
To whom it may concern:
 
Mexican murder suspect: US consulate infiltrated ! !
 
Put the Wetback Bastards through a
woodchipper and use
their the remains for fetilizer in the
gardens of the Left
Wing Liberal Democrats that support amnesty for
these Wetback Scum !
 
Mario P. Hepp

 
This email was recently sent to all state Governors ! !
 
Subject: Gov .Jan Brewer

Congratuation Governor Brewer ! !
 
This law  was way over do,something has to be done to stop the flow of illegals into this country.Now maybe other border states will do the same.These illegals are committing voilent
crimes and taxing the already overloaded  social programs here in the United states.This Left Wing Liberal Barack Hussein Obama is certainly not doing anything to stop the flow of these Wetbacks into this great nation ! !
 
This email was recently sent to Allen Bersin.
 
Attention: Allen Bersin ( Border Czar )
 
 
This is a recent email I sent to my Congressman Scott Murphy of New York (21st
District
 
Congressman Murphy,
 
What the hell is wrong with this Rep.Luis Gutierrez
from Illinois,what part of illegal doesn't this"Wetback"
idiot understand ? These illegal aliens living here in
the U.S.A. are entitled to nothing ! !
These "Wetbacks"and their siblings should be deported back to the counties they came from period.I and the millions of legal hard working men and women of this great country are tired of seeing are tax dollars going to programs in the 
United States being used by this "Wetback" illegal scum ! !
I believe I have the solution to this illegal alien problem.
Have the federal government order shoot to kill those illegals trying to cross are borders,then take their dead bodies and put them through a woodchipper then the remains
could be used as fertilizer in the gardens of the Left Wing Liberals Democrats,that support amnesty for this scum ! !

 
 
Bring this email to the attention of this Lius Gutierrez.

P.S This certainly doesn't surpise be that this Luis Gutierrez is pushing to take care of his illegal "Wetback"
aliens.Why is it that many corrupt low life politicians such
as Barack Hussein Obama,Eric Holder,Rahm Emamuel,Jessee
Jackson Jr,Valeri Jarrett,Senator Burris,Van Jones all come from the state of Illinois.

This email was also sent to Bill O'Reilly,Glenn Beck,Sean Hannity,Rachel Maddow,Keith Olberman,Cnn,ABC,NBC and CBS,Eric Holder,Janet Napolitano,L.A. Mayor Antonio Villaraigosa,Media Matters
L.A. Times,Washington Post,Miami Herald,Chicago Tribune,N.Y.Times,
and Senator John McCain.

Mario P. Hepp
Glens Falls N.Y.
November 5, 2010 at 10:53 AM in 2010 General Election, Border Issues, Corporatism, Hispanic Issues, Immigration, Karl Rove, Political Ads, Republican Party, Right Wing, Susana Martinez | Permalink | Comments (7)
Thursday, October 28, 2010
Acclaimed NM Poet and Youth Leader Jimmy Santiago Baca Cuts Radio Ad Supporting Diane Denish
Renowned poet Jimmy Santiago Baca recently cut a radio spot for for broadcast around the state. In the ad, Baca -- who also does a lot of youth outreach and literacy work -- talks about his family's long history in the state, of growing up in a small village here and of being the first in his family to be educated. Click to listen to the ad (mp3). Excerpt:
Education is key. And every step of the way Diane Denish has been there, in person, in spirit, and in support ... I can think of noone better to serve as our governor than Democrat Diane Denish, helping thousands of our kids to start reading young. She's proven over 30 years that she walks the talk. A vote for Diane is a vote for your children's future, my kids future, ours altogether.
October 28, 2010 at 12:02 PM in 2010 NM Governor's Race, Children and Families, Diane Denish, Education, Political Ads | |
Wednesday, October 27, 2010
New TV Ad: Martin Heinrich Pledges to Keep Fighting for New Mexicans
The Martin Heinrich for Congress campaign has announced the release of its next television advertisement highlighting Martin's commitment to keep fighting to grow jobs in New Mexico, preserve Social Security and make sure our veterans get the benefits they've earned. The ad, titled "By Now," began running today on network television stations (video above, transcript below).
Note: Rep. Heinrich's final fundraiser before the election is set for tonight at O'Niell's Irish Pub in Nob Hill, Albuquerque, from 5:30 to 7:30 PM. He'll be joined by Sen. Tom Udall and DNC Chair Tim Kaine. Outside special interests so far have spent about $1.3 million for nasty opposition ads against Rep. Heinrich. We need to step up once more and help give him the resources to stay on the air during the waning days of the campaign. R.S.V.P. to Jeff at (505) 242-4416 or email Jeffrey.Gordon@MartinHeinrich.com
The campaign also needs as many volunteers as possible. Call one of Martin's campaign offices and set up a time to phone bank and/or canvass!
Transcript:
MARTIN HEINRICH: By now, we've all had enough of these commercials. But it's important to remember just what's at stake in this election.
Especially in times like these, New Mexicans need a Representative who works hard for them, one who puts our interests ahead of the special interests. I've always done that and with your vote, I'll keep fighting to grow jobs in New Mexico, preserve Social Security and make sure our veterans get the benefits they've earned.
I'm Martin Heinrich and I approve this message because there is still so much work to be done.
October 27, 2010 at 01:58 PM in NM-01 Congressional Race 2010, Political Ads, Rep. Martin Heinrich (NM-01) | |
Legendary Labor Leader Dolores Huerta Supports Diane Denish in New Radio Ad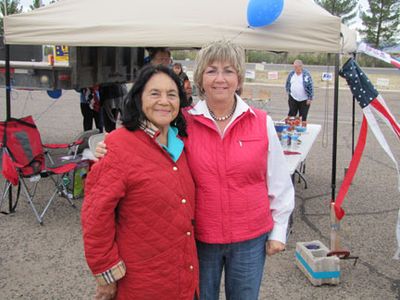 Huerta and Denish in Deming NM
today unveiled a new radio ad featuring United Farm Workers stalwart and contemporary of Cesar Chavez, Dolores Huerta. Huerta also accompanied Denish at rallies this past weekend in Las Cruces, Bayard and Deming, and spoke out strongly in support of her campaign (click for story and photos).
"I am honored to have such a strong and inspiring fighter for working people in my corner," Diane Denish said. "As governor I will fight every day to create good jobs for New Mexicans and stand up to the powerful interests who seek to take advantage of our working families."
Click to listen to the ad (mp3), which is in Spanish. Here's a transcript in English:
This is Dolores Huerta -- and I've spent my life fighting for Hispanic families.
In the race for New Mexico Governor, everything we've fought for is on the line.
Don't let Susana Martinez fool you. She's a Republican. She's not for our families and I don't trust her.
I'm supporting the Democrat, Diane Denish. She's for early childhood education, good jobs in our communities. More opportunities for us.
Join me. Vote for Democrat Diane Denish.
Photo by Stephen Jones.
October 27, 2010 at 01:32 PM in 2010 NM Governor's Race, Diane Denish, Hispanic Issues, Labor, Minority Issues, Political Ads, Susana Martinez | Permalink | Comments (2)