« Lack Of Transparency In NM Governor Martinez Downs Deal | Main | Pride Blog on HIV by Marshall Martinez »
Monday, June 11, 2012
More Netroots Nation 2012 Keynote Speech by Van Jones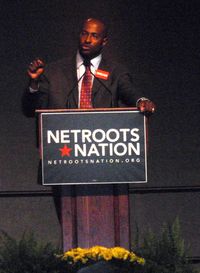 On Saturday night, the last night of NN12, we had several great speeches. The keynote was from Van Jones, the author and founder of the "Rebuild the Dream" project, and the author of the book The Green Collar Economy.
Van Jones was appointed by President Obama to a new position in the white house wikipedia says: In March 2009 Jones was appointed by Obama to the newly created position of Special Advisor for Green Jobs, Enterprise and Innovation at the White House Council on Environmental Quality, where he worked with various "agencies and departments to advance the administration's climate and energy initiatives, with a special focus on improving vulnerable communities."
Now doesn't that sound frightening and horrible? The republicans went after Van Jones like rabid dogs. In September 2009 he had to step down from the position. Think of where we would be in advancing Green Jobs if the republicans did not systematically go after this man who would have been so helpful and so needed for our country.
Listening to his speech at Netroots was very inspirational. In this shorter 6 minute portion of Van Jones speech below, he describes how we know exactly what we will be getting if the republicans gain control of the whitehouse and the senate and keep control of the congress. They come right out and say they will dismantle the EPA, and the Department of Education and more. They will take a wrecking ball to everything our fathers and mothers and grandfathers and grandmothers have fought so hard for. Listen to this short video.
Then if you have tome I would highly recommend listening to this 20 minute video of Van Jones speech. It is funny and direct and I found it inspirational for what we all have ahead of us.
June 11, 2012 at 07:40 PM in Economy, Populism, Green Economy, Netroots Nation | Permalink
Comments
ME, do you think he really HAD to go, or do you think Obama could have kept him on?
Posted by: bg | Jun 11, 2012 8:04:03 PM