« Amb. Joe Wilson Guest Blog: Why I Endorse Marty Chavez for Congress in NM-1 | Main | NM Senate Dems Urge Gov. Susana Martinez To Fund Drug Treatment Center »
Friday, September 23, 2011
Report on Energized MoveOn and NM Unions Rally for Jobs, Not Cuts in Santa Fe 9/17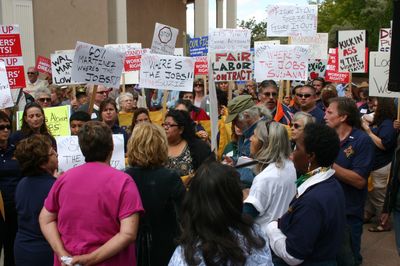 This is a report from the field by Elizabeth Cook-Romero one of the citizen activists of MoveOn New Mexico. The group is involved in helping to coordinate a series of demonstrations in New Mexico advocating citizen action to help Rebuild the Dream.
Their next event, in conjunction with the Southwest Organizing Project (SWOP), will take place TODAY, starting at 5:00 PM at the Albuquerque Civic Plaza, to counter the right-wing, astro-turf Hispanic Leadership Network that's meeting across the street. Click for details. Activities coordinated by 100 Thousand Poets for Change follow on the Plaza at 6:00 PM. On Saturday, 100 Thousand Poets groups around the globe, including here in Albuquerque, will offer more events.
A half hour before MoveOn's September 17 rally began last Saturday, singing filled the park behind the Roundhouse. The Union Town Criers were warming up, and MoveOn organizers and their union partners sang along as they assembled the stage and arranged literature on tables.
The event started a few minutes after one. The crowd was still small -- perhaps a hundred people. The Criers sang two old-time union songs, then guitarist Carol Oppenheimer stepped into the audience, as dozens of health care workers streamed into the space between the stage and the Roundhouse. Protestors were arriving from every direction, and the crowd swelled to more than 300. Many held handmade signs that read, "Where are the jobs, Susana?" AFSCME members held yellow banners. Everyone was singing and swaying as Oppenheimer, strumming her guitar, circled through the crowd.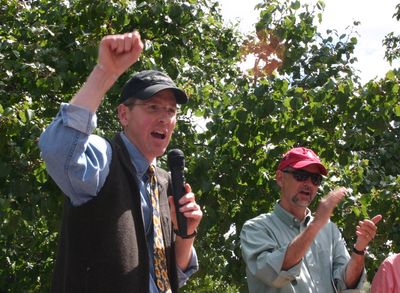 Sen. Peter Wirth, Mayor David Coss
Santa Fe Mayor David Coss served as MC, a daunting task since almost two dozen speakers were on hand to address the crowd. Jon Hendry, President of the NM Federation of Labor kicked off the event, then Coss turned the mike over to state legislators who needed to return to the capitol to cast votes. State Representatives Brian Egolf, Eleanor Chavez, Antonio Luján, Bobby J. Gonzales, Rick Miera, Sheryl Williams Stapleton and Luciano "Lucky" Varela made it abundantly clear that New Mexico isn't Wisconsin. Like Scott Walker, Gov. Martinez's campaign was funded by big business, but policies that hurt workers and preserve tax breaks for oil, gas and out-of-state businesses will not get an automatic pass here.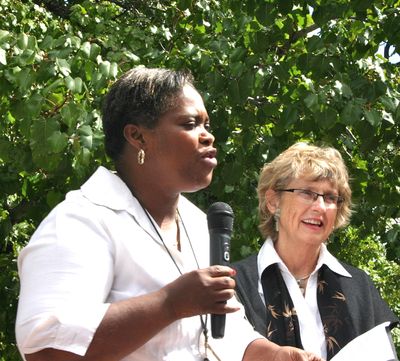 Sen. Dede Feldman, Rep. Sheryl Williams Stapleton
Teachers, artists, nurses and communications workers stood side-by-side as State Senators Peter Wirth, Mary Jane M. Garcia and Eric G. Griego talked about the governor's lack of proposals to create jobs. For a while, old-time songs were replaced by the 21st-century slogan of resistance: "This is what democracy looks like!"
State Senator Dede Feldman, who was not scheduled to speak, climbed onto the stage. She had heard the rally from the Senate Floor, and she urged everyone to yell louder so Gov. Susana Martinez, in her fourth-floor office, would hear.

Sen. Eric Griego revs up the crowd
A half dozen labor leaders, including Jennifer Garcia (Northern NM Labor Council), Miles Conway (CWA), Delma Delora (NUHHCE) and Carter Bundy (AFSCME) reminded the crowd that industry didn't agree to the 40-hour week and weekends off without a long, hard fight. A majority of those listening were union members, and their shouts proved they knew history and understood that privatization of government services would replace middle-class civil servants with workers with few rights or benefits -- so that profits could flow to out-of-state stock holders.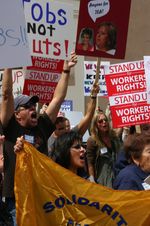 Cheryl A. Bumpus, president of NEA Santa Fe, shouted that she would like to talk to Susana about cheating. Loud hisses and laughter rose toward the governor's office as Bumpus was dissing the Martinez administration's plan to spend $70 thousand tax dollars on an erasure-analysis program to see if teachers are changing their students' answers on standardized tests.
Santa Fe County Commissioner Kathy Holian told the crowd she would leave inspired by their courage. And radio host Craig Barnes reminded everyone that radical conservative ideology threatens more than decent wages, workers' rights and benefits; it threatens the earth we live on.
By the time the last three speakers, Dr. Wanda Ross Padilla (NAACP), Marcella Diaz (Somos Un Pueblo Unido) and Todd McElroy (Equality NM) took the stage, a warm bond had developed -- not only among the three human-rights workers -- but between speakers and audience. Though the fight ahead will be hard, many were smiling. The smiles expressed hope and defiance, but most of all they expressed self-respect.
This is a guest blog by Elizabeth Cook-Romero. If you'd like to submit a piece for consideration as a guest blog, contact me by clicking on the Email Me link at the upper left-hand corner of the page.
September 23, 2011 at 10:48 AM in Economy, Populism, Education, Eric Griego, Events, Jobs, Labor, NM Legislature Redistricting 2011, Progressivism, Susana Martinez | Permalink
Comments
I'd like to see an analysis of the likely votes in the legislature for any legislation that might affect jobs in New Mexico. Obviously a veto override has to be contemplated.
I'm curious as to how this translates into districts at risk in the next election.
The problem is whether there will be more Republicans in the lege after the next election or if Democrats might build on their majority. What are the districts in play?
Posted by: Stuart Heady | Sep 23, 2011 11:36:59 AM
Yesterday the Senate voted unanimously for a jobs bill in the form of Sen. Tim Keller's proposal to make sure NM firms get a break in bidding on projects and that the loopholes that allow out of state companies to get the break are ended. If the bill passes the House as expected, Martinez will probably sign it this time because she is now pretending it's her bill.
Posted by: David | Sep 23, 2011 12:06:43 PM
Is there an expected impact to the NM Keller proposal, which is a NM preference concept, that would really mean a difference?
This isn't really a way to rebuild the middle class or to create a widespread economic lift. The current problem seems to stem from a lack of interest by banks in lending and a lack of interest on the part of business to hire. Some of it is inspired by the idea that keeping unemployment high might cause Obama to lose.
The issue of raising revenue by employing that same taxes that big box stores like WalMart pay just about everywhere else, seems to be permanently stalled.
Given all that, what can the legislature do?
Posted by: Stuart Heady | Sep 23, 2011 2:28:11 PM
Try reading this very blog Stuart Heady. http://www.democracyfornewmexico.com/democracy_for_new_mexico/2011/09/sen-kellers-bi-partisan-jobs-bill-back-on-track-despite-veto-by-gov-martinez-in-regular-session.html
States do what they can but of course the feds hold the key to most job growth. Duh.
Posted by: The Fierce Urgency of Not Now and Probably Not Ever | Sep 23, 2011 6:41:57 PM