« AFT New Mexico Endorses Brian Colón for Lt. Governor | Main | Register Now for Mountain States Peace Conference in Albuquerque: Keynote Speaker Rep. Dennis Kucinich »
Friday, May 07, 2010
Former Albuquerque Mayor Marty Chavez Endorses Joe Campos for Lt. Governor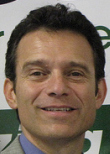 Former state senator and three-term Mayor of Albuquerque, Marty Chavez, has announced what he calls his "enthusiastic endorsement" of Joe Campos for Lieutenant Governor in the Democratic primary.
"As Mayor of Albuquerque, I worked with a lot of elected officials over the years. Jose Campos, running for Lieutenant Governor, has always impressed me -- he's smart -- even tempered and knowledgeable on the issues," Chavez said in a statement released by the campaign. "Jose Campos is clearly the best choice for Lt. Governor. As Lt. Governor, Jose Campos will bring jobs to New Mexico and he will help the Democratic Ticket win in November. I am calling to encourage you to support Jose Campos for Lt. Gov. He is right for New Mexico and will make an excellent Lt. Governor," Chavez continued.
"I am proud to have Mayor Marty Chavez's endorsement," said Rep. Campos. "We have much in common, both serving as Mayors, both dedicated to growing business and creating jobs, and both being responsible stewards of our environment. Mayor Chavez led the initiative to transform Albuquerque into a green city and I have been a strong advocate for a green economy here in New Mexico. Mayor Chavez is a nationally recognized leader and to have the endorsement of a leader of his stature is a great honor," Campos stated.
A statement released by the Campos campaign said that Mayor Chavez's leadership positioned Albuquerque as a business friendly city, which was acknowledged by Forbes Magazine, naming Albuquerque as the number one city in America to do business. During Mayor Chavez's administration, Albuquerque was named the "Greenest City in America" by the U.S. Conference of Mayors. Mayor Chavez has received national recognition for his accomplishments and his principles. Howard Dean, former Chair of the National Democratic Committee, states, "I have witnessed the best of America and I have also seen how rare it is to meet a public servant who delivers on his word. Mayor Martin Chavez is one of those rare public servants." Mayor Chavez served as the Vice President of the National Conference of Democratic Mayors and served as the Vice-Chair of the 1996 Democratic National Convention.
Mayor Chavez recently accepted the position as Executive Director of the International Council for Local Environmental Initiatives, a membership organization of more than 1,000 cities, towns and counties in the world, committed to climate protection and sustainable development.
May 7, 2010 at 10:54 AM in 2010 NM Lt. Governor Race, Green Economy, Joe Campos, Martin Chavez | Permalink
Comments
I have to question whether this endorsement really helps Joe. Marty is not popular in Albuquerque anymore, and he's never been popular statewide. Were I a candidate, the only endorsement I'd like less would be Governor Richardson's. JMHO.
Posted by: Proud Democrat | May 7, 2010 12:57:03 PM
I'm surprised Lawrence Rael didn't get Marty's endorsement. They worked together a long time, didn't they?
Posted by: Old Dem | May 7, 2010 1:34:42 PM
These to has been's deserve each other. To bad Joe has to throw a hailmary for any chance. Marty helping is like Obama helping Big Bill. No effect...
Posted by: Christina C | May 7, 2010 2:49:56 PM
I seriously doubt the endorsement will move voters, either way.
Posted by: Mark | May 7, 2010 3:21:28 PM
The endorsement is a very astute tactically, here's why. Rael and Colon are strong in ABQ, Campos is stronger outside ABQ. Campos needed to get Dem votes in ABQ and the Mayor Marty endorsement will add a significant block of ABQ votes for Campos. If Campos can add the Marty votes to his outside of ABQ votes, that is a winning hand.
Posted by: Quarterback | May 7, 2010 5:05:48 PM
I think Chavez endorsed Campos over Rael because Campos has a lot more governing experience than Rael.
Campos has experience both as a mayor and as a county commissioner, Rael's experience is more narrow.
Posted by: Ellen Wedum | May 7, 2010 10:48:38 PM
I am sure that the other candidates would have been very happy to receive Marty's endorsement. Marty is very popular and will bring Joe votes, I have to agree with Quarterback, this helps Joe split the Alb vote and might be game changer.
Posted by: Santiago S | May 8, 2010 7:50:58 AM
I think Marty was supported more by Republicans and Independents than Democrats in the supposedly non partisan mayor elections. How will this help Campos in a Democratic primary?
Posted by: Question | May 8, 2010 12:25:46 PM
Congratulations Joe Campos! What a great endorsement! What I see is two winners as Mayors, pushing similar agendas of Green/ sustainable economic ideas. I dont have an attitude towards Mayor Marty, I think he was a good Mayor for Abq. And as far as I know Mayor Campos was the same, an excellent Mayor for Santa Rosa.
Good job to both of you Energized People.
Posted by: mary ellen | May 8, 2010 3:47:50 PM
I have to disagree with Santiago. Marty Chavez is deeply unpopular with Democrats in Albuquerque, more so since he left office. Question is correct about who supported him, and those people don't get a vote in the Democratic primary. I understand that Joe wants to appeal more to Albuquerque voters, but I don't think Marty's endorsement will help that much. It might help a little.
Posted by: Proud Democrat | May 8, 2010 4:50:44 PM
Most of the impractical voters who supported Richard Romero in his tilt at a windmill are supporting Jerry Ortiz y Pino in his tilt at a windmill. That leaves many Marty voters who might choose Colon, Campos or Rael so I think it could be a big help. True that both Marty and Jose are strong advocates of green jobs and energy so it fits.
Posted by: Westsider | May 8, 2010 5:21:51 PM
The only reason that Marty did not win the last election was because Richard Romero split the democrat vote. Marty would have been re-elected, how does that equal being unpopular.
Posted by: Santiago S | May 8, 2010 7:39:09 PM
@Santiago: You must not be from Albuquerque, or you would know what a pounding Marty was taking during the recent mayoral election. Virtually every Romero voter was a Democrat, and Romero ran an ugly, negative race. Those 20-odd percent of municipal voters voted for Romero any way, because they despise MayorMarty@Thief.com. Those Democrats would not vote for him under any circumstances. He has become even less popular since the election because of the political gifts he gave to his cronies on the way out the door, leaving the city in the worst financial shape it's ever been in. That's what I mean by "deeply unpopular."

Posted by: Proud Democrat | May 9, 2010 1:45:31 PM
@Westsider: I voted for Romero. I did not vote for Jerry Ortiz y Pino (or Joe Campos, for that matter. I like him; he just wasn't my first choice.) Many Democrats voted against Chavez rather than for Romero. Romero gained far fewer votes than Eric Griego did in 2005.
I completely agree that Joe has to appeal to ABQ voters to win this race, but he risks alienating more liberal voters at the same time he attracts the Martistas. Joe may pick off some Rael supporters with this endorsement, but I think that's all. Only Democrats can vote in the primary election, and Marty attracted more than his share of moderate Republicans and independents.
Posted by: Proud Democrat | May 9, 2010 3:36:47 PM
Marty received about 35% of the vote, if Joe gets half of that it is a huge advantage for Joe.Marty is very popular with hispanics statewide so it helps Campos there also.As for liberal voters they love green energy and that is one of Joe's strong points.
Posted by: Santiago S | May 9, 2010 6:44:17 PM