« Photos Part 1: Diane Denish Nominated for Governor at DPNM Pre-Primary Convention 2010 | Main | Photos Part 3: Friday Fun at DPNM Pre-Primary Convention 2010 »
Sunday, March 14, 2010
Photos Part 2: Lt. Governor Contest, DPNM Pre-Primary Convention 2010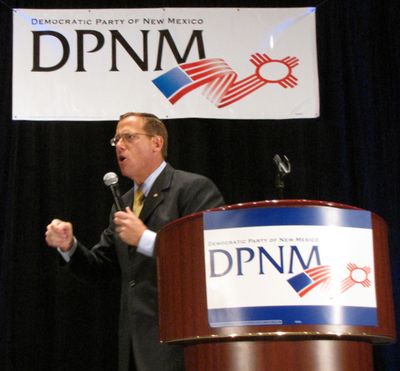 Brian Colón was the top vote getter with 34.5% and gave a fiery speech accepting the nomination
This is one of a series of posts about this weekend's Democratic Pre-Primary Convention. Check back for more photos, videos and commentary on all the action as we get everything processed and organized. Click to see the whole series of posts.
This year, Democrats fielded five primary candidates for Lieutenant Governor and the competition for delegates was spirited. Rep. Joe Campos, Brian Colón, Sen. Linda Lopez, Sen. Jerry Ortiz y Pino and Lawrence Rael participated in a number of candidate forums and debates and worked hard to attract supporters, get them elected as delegates and convince State Central Committee members to get on board.
With two large video screens bracketing the stage and animated, sign-wielding campaigners leaping in the aisles or hopping up onto the platform, there were numerous colorful and noisy tableaux of the political kind for delegates to savor. We had family members, former teachers, energetic supporters dressed in all kinds of get-ups, fellow politicos and more joining in the nominating spectacles.
Lawrence Rael's supporters marched onstage blowing train whistles. Jerry Ortiz y Pino had almost all of his supporters dance up the aisles and try to get on stage with him, all at once. Joe Campos filled the stage with friends and followers with his family front and center. Brian Colón provided a contrast by commanding the stage on his own, with hundreds of cheering supporters all over the hall. Linda Lopez concentrated on speech, emphasizing her "passion and hunger for politics." You can get a taste of what went on in the photo slideshow below:

Click for larger version or photo album
When all was said and done, only two candidates got the 20% needed to get on the primary ballot without having to get more petition signatures according to the machine count and a later review. The latest results are the product of a ballot review (or preliminary recount) performed because some of the candidates were so close to getting the 20% needed to get on the primary ballot, although the review didn't seem to change things much on that score:
Lt. Governor
Total votes: 1711
Gerald Ortiz y Pino: 323 votes, 18.87%
Jose Campos: 337 votes, 19.69%
Brian Colón: 591 votes, 34.54%
Linda Lopez: 81 votes, 4.73%
Lawrence Rael: 379 votes, 22.15%
We understand that a formal recount for certification will start tomorrow morning at the DPNM office, so we'll see how that goes.
It was a heartbreaker for Joe Campos, his family and all his supporters. In the machine tally, he was two tenths of a percent away from 20% -- at least given how the figures were rounded. If you looked at it another way, he had the exact number of votes needed -- but the official rules dictated otherwise. Ortiz y Pino was also very close to 20%. Indications are that all candidates under 20% will try to get the signatures they need by March 31 to get onto the ballot despite the Party vote.
Colón Comments
Brian Colón's campaign released a statement saying he had "solidified his place as the front runner."
"I'm honored by this nomination and humbled that so many Democrats from all corners of New Mexico are supporting our campaign because they share my belief that Government should be in the business of helping people," Colón said. "Democratic values are much more than cheap campaign rhetoric. They make a difference in people's lives. I know, because I've lived those values," Colón continued.
"Growing up I learned that we help our neighbors when they're down. We make sure every child gets a good education. And if somebody's sick, they get the best health care available. That's what the Democratic Party stands for and that's why I'm working so hard to be Diane Denish's running mate for Lieutenant Governor," Colón added.
Rael Comments
Lawrence Rael released a statement saying he had "strong support" from delegates, that "reflected a growing sentiment that Rael is the best complement for Diane Denish on the Democratic ticket."
"I'm pleased that New Mexicans are responding to the many things we have accomplished together during my 25 years of public service," Rael said. "My experiences, coupled with Diane Denish's leadership, are key to moving our state forward."
"It's really remarkable that the other four candidates in this race have all run for office before and have been working on the convention delegates for years," said Rael campaign manager John Gerhart. "We're pleased that people have been won over this quickly to Lawrence and his candidacy. We're really looking forward to the primary campaign."
Campos Comments
The Campos campaign hasn't released a formal statement, but Joe wrote these comments on his Facebook page:
"Thanks to our many friends & supporters. We fell just short of our goal of 20% of the 1776 votes - got 355, needed 355.2. This is amazing considering the time dedicated to the legis. session and special session midcampaign. I'm overwhelmed w/ your support & desire to go on with the campaign. The actual vote recount is on but regardless of the outcome WE'RE GOING FOR IT! Go Team Campos! Go Diane Denish!"
Ortiz y Pino Comments
On Monday, Jerry Ortiz y Pino sent an email message to supporters that said, in part:
"We will start gathering additional signatures on petition forms and submit them by the deadline in ten days. And on with the campaign! Now we have the toughest part of the race, but the one that we all know is the most crucial: getting our message out to the voters and then getting those voters out to the polls on June 1.
"... If we don't get a big turnout of the left wing of the Party, it will be very hard for Diane to win. None of the other candidates for the Lt. Governor nomination have a message that will excite the left wing."
Lopez Comments
I haven't seen any statement released by the campaign of Sen. Linda Lopez.
March 14, 2010 at 11:46 PM in 2010 DPNM Pre-Primary Convention, 2010 NM Lt. Governor Race, Brian Colon, Democratic Party, Jerry Ortiz y Pino, Joe Campos, Lawrence Rael, Linda Lopez | Permalink
Comments
It's nice that Bernalillo county and Dona Ana county, probably Santa Fe county, could see what was going on. The smaller counties, stuck behind the barricade of camera operatives, could neither see or hear. DPNM chair Gonzales did a lousy job with the setting and the acoustics. Those two big screens were invisible from the back rows, except perhaps from the aisle seats. And the room was way too small.
Try the Roswell convention center in 2012.
Posted by: Ellen Wedum | Mar 15, 2010 6:47:48 AM
One really important point in support of Ellen's comment is the history of having so many of our meetings in Albuquerque. However Albuquerque is close to the geographical center of the state and is the commercial center. Also, Northern New Mexico has a much higher percentage of Democrats than Roswell or the southeastern corner of the state and this justifies the northern NM drifting of the convention.
It is tough for any chair to get everything right. Our Chair would have been in much more hot water had he booked a facility that we did not fill. Which problem would you take?
I would like to focus on the fantastic spirit that was evident in the party on Saturday. The energy was contagious and everybody that I spoke with liked the event.
Thank you Javier!
Terry Riley
Posted by: Terry Riley | Mar 15, 2010 8:05:11 AM
A better sound system would have helped tremendously. Even if people in the back rows couldn't see everything, they would have been able to hear it. Also, place the big screens farther back in the room. Live and learn.
Posted by: Barbara Weintraub | Mar 15, 2010 9:07:21 AM
OK nitpickers, did you get the most important part of what makes a good convention? I'm talking about getting energized from interacting with a couple thousand fellow Democrats and hearing from all the candidates. I have run big meetings for my job and know first hand there are always people who complain no matter what. The loudest complaints are often from people who have never run a big meeting and have no idea how much work it takes.
The Democratic Party operates with only a handful of paid staff - the officers get paid nothing. The rest are all volunteers. Accommodating 2000 people for a weekend is hard, even for professional meeting planners. I think everyone did wonderful to get this thing operating smoothly and having so many fun events in a beautiful meeting place in a beautiful location.
My friends and I had a great time all weekend and want to commend Javier and everyone else for pulling out all the stops. Thank you!
Posted by: First Time Delegate | Mar 15, 2010 9:46:42 AM
Ortiz y Pino has some nerve claiming the Democratic base and "progressives" support only him and that his message is the only one that resonates with liberals. Get a grip Jerry. You voted for the Sun Cal TIDDs. You voted for the food tax without apology. You voted for the increase in the gross receipts tax like it was nothing. You have been the only lt. governor candidate to go so badly negative on other candidates.
There is a good reason so many of the base and progressives in the Party are supporting Brian Colon. He has a strong liberal and labor message and has helped many progressives become active in the Party and wield real power. Before this, when did Jerry ever come to a Party function? He has done nothing to build the Party and his voting record is very mixed.
Now he attracts all these greens and Democrat haters to be delegates who don't support any Democrat but him and who act like jerks at the convention. These are base Democrats? I don't think so. Will he encourage them to get involved in the Party and help Democrats if he loses this race?
Posted by: Wake Up Jerry | Mar 15, 2010 1:36:35 PM
It may be true that the candidates needing more signatures to qualify have less to lose than the others, but it also means that they'll have less to spend, possibly far less. I know that Joe was only 6 (not 1 as originally thought) votes short of the 20% threshold when invalid ballots were thrown out. I am told that most rejected votes were unsigned (or possibly illegibly signed) ballots. Because delegates represent the wards/counties who elected them, by rule their votes are public information, and unsigned votes cannot be counted.
This year's LG race is likely to be the most expensive ever. Colon and Rael have raised substantial sums, and they have demonstrated the institutional party support required to raise more. Joe Campos can self-fund, but how much of his own money does he want to expend for the sake of a miracle or his ego? Hope may spring eternal, but the realization of those hopes is expensive! The same goes for Jerry Ortiz y Pino, who does not have Joe's resources. He came up 20 votes short.
It's time for the three legislators to be brutally honest with themselves about their chances in the primary. Which one wants to be the next Letitia Montoya? I don't see any plausible scenario for any of them to win the primary, and I'd really prefer voters to have a clear choice of candidate philosophy, and that's what we'll have if Campos, Lopez, and Ortiz y Pino drop out now. JMHO.
Posted by: Proud Democrat | Mar 15, 2010 2:29:41 PM
Of the original 1776 votes cast, Campos had 355 and needed 355.2 to make 20%. Seriously, .2? Since when are we the Party of exclusion? The results of the recount have not been announced or posted yet. If Campos comes up with 20% after an actual hand count we'll have a 3 way race. I think that's great. Then we'll really have a choice: a seasoned politician, a professional bureaucrat, and a successful public servant.
Posted by: True Blue | Mar 15, 2010 2:44:24 PM
@Wake Up Jerry: I agree with your analysis of JOP's votes, but not of his delegates. The JOP delegates from my ward are base Democrats, many of whom are hard-working party volunteers. I'm sorry you had a problem with other delegates at the convention, but I suspect that they found you just as unpleasant.
I had many productive, respectful conversations talking to delegates who supported other candidates, including many of Jerry's hard-core idealistic supporters. You see, I don't question their motives because I know that I have to listen to them now because we'll need them later. My job as an organizer is easier if I know what my people want and what motivates them.
The convention is an early part of the primary process. We fight now, hopefully without drawing blood, because we must work together later to elect our candidates in November. Please expand your perspective a bit.

Posted by: Proud Democrat | Mar 15, 2010 2:45:41 PM
You think those Taos people were good Democrats? Look again. The point is that Jerry represents a very narrow slice of the Democratic electorate. Jerry doesn't appeal to ordinary working class Democrats or many Hispanics but to the well educated and often moneyed Anglo elites who aren't having a bad time in this economy. Colon does well with worker bee Democrats as well as unions and many liberals inside and outside the Party.
I encourage all who want to continue to stay in the race. We still have no idea who can bring in the Hispanic North and that is essential. Jerry's voters are not. I think Joe Campos is being underestimated. he appeals to liberals, workers and Hispanics and has good ties in the North. I'm not so sure Colon does.
Posted by: Another Analysis | Mar 15, 2010 3:12:53 PM
@True Blue: Joe lost several invalid votes in the recount. Moreover, the 20% threshold is in state law, not party rules. If you round, the (admittedly arbitrary) 20% threshold becomes 19.5%, which is not what the statute says. Party officials have absolutely no authority to interpret the law; it is what it is. Joe came up 6 votes short. I'm certain he'll have no problem getting the additional 4400 signatures to qualify for the ballot. I disagree with any candidate's decision to qualify by extra signatures, but they have every right to do so. I don't think it will help us win in November, but that's just my opinion.
Posted by: Proud Democrat | Mar 15, 2010 9:02:14 PM
i think the convention was pretty good. i met alot of nice people. there was a couple of things i would change, like moving the check in area down more, so we could get in the delegate room. There should have been another entrance also, so it would not have been so crowded. the sound system was really bad, and i was in the second row. i know its hard to put on a function on like this but, it should be noted so the next convention can be better.
now lets talk lt gov,
I like campos, colon and ortiz y pino.I think campos would be the best choice. he can draw those independants and dts voters.
the RAILRUNNER is not liked down in southern Nm and it would be very detrimental to the demo party if Rael becomes lt gov. as a state worker down here in roswell, everytime we are furloed or our budget is cut, the first thing everyone thinks of is the railrunner and what a waste of money it is.that is the perception anyway. the republicans will use this issue very well against us.
thats the way i see it.
lets keep it togeather guys, it will be a good year if we dont fight each other.
Posted by: george | Mar 15, 2010 9:10:33 PM
This was a poll of a small number of active Democrats. Colon naturally had the inside track because of being party chairman last time. Rael and Campos had few ties inside the party so they had to work to get some and they did pretty good in a short time. Ortiz y Pino will keep having the same percentage as he did here because he appeals to only a few outsider types. My question is who can bring in the north and hispanics. Denish needs help with these two groups so who can help her bring them in? I saw few hispanics in Ortiz y Pino's people on stage or holding signs.
It is not clear from this party vote and it won't be clear for some time. We have to wait and see how these candidates campaign all over the state and how much support they can get outside the party regulars. Until then it's anyone's guess who the best guy is to be on the Denish ticket.
Posted by: Wait and see | Mar 15, 2010 10:34:32 PM
looking back at old pre-primary conventions numbers....many times the leader in the dem pre-primary lost in the primary election. There is no for sure, there are many twists and turns on the highway to the next fueling station. And this race has its own unique qualities.
George your comments are really even handed and well taken, please come back to the site often and enlighten us on what is going on in your part of the state. It is all so important.
Posted by: mary ellen | Mar 15, 2010 11:34:33 PM
@First Time delegate: Welcome! Please keep playing with us!
Just FYI, the state chair is now paid $30,000/yr. That's a new development; no previous chair was paid. Still, I agree that the convention was as well-run as anybody could reasonably expect.
Posted by: Proud Democrat | Mar 16, 2010 2:13:01 PM
Big bucks! I wonder what that comes to when all the hours devoted by the chairman are counted up!
Posted by: Just Give Me Money | Mar 16, 2010 3:08:05 PM
@Just Give Me Money: It comes to a pittance. I have no problem paying the chair a small sum to recompense him for the time taken from other work. Now if we could just pay our elected officials a decent salary, too!
Posted by: Proud Democrat | Mar 16, 2010 3:23:59 PM