« Welcome to the New Year and the Second Decade of the 21st Century | Main | Alamogordo Gun Rights-Tea Party Protester Hints Armed Violence to Come if Obama Doesn't Change »
Friday, January 01, 2010
USDA Stimulus Money Almost Triples Funding For Rural New Mexico Projects in FY- 2009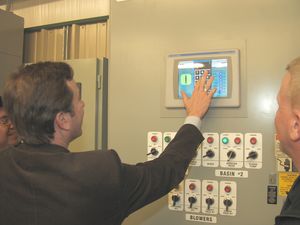 State Director Terry Brunner programs a computer that gave commands to initiate the treatment of wastewater at the new sewer plant in Acoma Pueblo. Rural Development's community loan and grant program provided $6.4 million to build the project.
USDA Rural Development State Director Terry Brunner announced yesterday that USDA Rural Development (RD) investments almost tripled from Fiscal Year 2008 to Fiscal Year 2009. American Recovery and Reinvestment Act (ARRA) funding combined with regular program funding boosted USDA RD's FY 09 spending to $354 million in loans and grants throughout rural New Mexico -- a boost from $154 million in FY 08. The funds paid for the construction of water and wastewater systems, community facilities, business development, homeownership, electric and telecommunications projects.
In making the announcement, Brunner said, "USDA Rural Development made a significant difference in rural New Mexico in 2009." Brunner added, "The Obama Administration has worked hard in rural America to build a foundation for economic strength and future prosperity. Creating quality jobs, providing housing opportunities and ensuring that rural communities have safe, clean water is just some of what we did last year." Brunner added, "We've also funded the upgrade and expansion of electric and telecommunication transmission across the State—vital infrastructure improvements for our rural communities. Rural New Mexico made great strides in 2009 and we expect to continue that pace in 2010."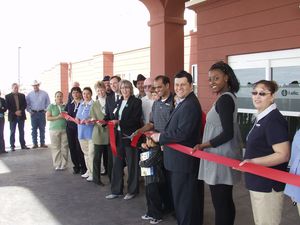 Ribbon cutting event for grand opening for Hampton Inn Hotel in Deming, New Mexico. Rural Development's Business and Industry (B&I) Guaranteed loan program provided a $5 million guaranteed loan for hotel construction.
In FY '08 RD made more than $84-million in loans and grants in the programs administered in New Mexico and another $50-million was obligated for electric and telecommunications loans administered in Washington, D. C.
In FY-09, USDA Rural Development funded a total of $155,524,007 in business, community facility, housing, and water and wastewater projects. Electric and telecommunications projects across the state received $199,475,648 in funding for a grand total of $354,999,655 in USDA Rural Development loans and grants in New Mexico.
The loans and grants were distributed to rural New Mexicans in the following areas: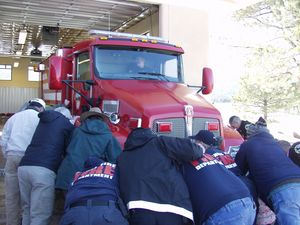 Firefighters from the Angel Fire Fire Department push a fire engine back into the bay of newly-constructed fire station #2. USDA Rural Development's community facilities loan program provided $700,000 for the project.
RD Business Programs issued $11,972,653 in loans and grants to fund nineteen business projects located in communities of less than 50,000 people. USDA RD funded a wind turbine for Lalo's convenience store in Vaughn, NM.
RD Water and Environmental Programs financed $46,853,854 in loans and grants to build or refurbish 23 water and wastewater projects in communities of less than 10,000 people in rural New Mexico. This year, USDA RD assisted with $9.7 million in funding for a new wastewater treatment plant for Ruidoso and Ruidoso Downs.
RD Community Facilities Programs financed eleven projects with loans and grants, for the construction of numerous community buildings and the purchase of first responder equipment in communities of less than 20,000 people for a total of $43,425,049. Stimulus funding provided $9.4 million for the constriction of Guadalupe County's new hospital.
RD Housing Programs issued loans and grants in the amount of $53,272,451 in several housing programs which helped 472 become homeowners or helped families refurbish and remodel their homes in areas populated by less than 20,000 people
RD Electric Programs issued four loans to electric co-ops for a total of $103,625,000. Some of the co-operatives also provide electric services to communities in neighboring states.
RD Telecommunications Programs provided $95,850,648 to eight telephone cooperatives and educational institutions to expand broadband, communication and distance learning infrastructure throughout rural New Mexico. LEACO telephone cooperative received more than $50 million in funding for internet service to northern Lea County.
USDA Rural Development's mission is to increase economic opportunity and improve the quality of life in rural communities. Further information on rural programs is available at a local USDA Rural Development office or by visiting USDA's web site.
January 1, 2010 at 02:03 PM in Agriculture, Business, Energy, Healthcare, Obama Administration, Rural Issues, Telecommunications, Water Issues | Permalink
Comments
Glad to see Terry sent this out - these programs get lost in all the discussions about health care reform and war...
Posted by: suz | Jan 1, 2010 2:29:05 PM