« Economic Wake Up Call for All Politicos | Main | Gov. Bill Richardson Releases Proposals to Balance New Mexico Budget »
Tuesday, January 05, 2010
This Week: Book Signing Events with Craig Barnes in Santa Fe & Albuquerque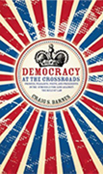 Santa Fe resident, author, playwright and mediator, Craig Barnes, who also hosts the radio program Our Times, will be presenting "Democracy at the Crossroads: A Talk and Book Signing" in Santa Fe and Albuquerque.
Santa Fe
Collected Works
202 Galisteo
Friday, January 8, 6:00 PM
Please call 877-988-4226 to reserve your copy
Albuquerque
Bookworks
4022 Rio Grande Boulevard NW
Sunday, January 10, 3:00 PM
505-344-8139
Come hear a storyteller's history of the rule of law, the modern temptation to give it all up under Bush and Obama, and an exploration of the way forward. This fascinating treatise examines how Western ideals of democracy have evolved and emerged through the ages and across continents. Craig S. Barnes shares the inspiring stories of a diverse group of men and women (whether they be leaders, poets, or peasants) who pioneered due process, habeas corpus, and the balance of powers.
Exploring the premise that "democracy is not a given in social evolution," Barnes contrasts the heroic figures of history to those in recent administrations who he argues have ignored the precious nature of our inheritance and have placed democracy at risk. Democracy at the Crossroads: Princes, Peasants, Poets, and Presidents in the Struggle for (and against) the Rule of Law is a stirring reminder of the fragility of our rule of law and the need for vigilant protection of our hard-won liberties.
Craig S. Barnes begain his career as a public interest lawyer dealing with women's rights and the environment. He was also active in politics and civil rights, running for Congress in Denver as a peace candidate in 1970. You can learn more about Barnes and his latest book, Democracy at the Crossroads, here.
January 5, 2010 at 03:41 PM in Books, Events | Permalink
Comments