« Brian Colón Announces Lt. Gov. Campaign Co-Chairs | Main | NM House Speaker Lujan's Revenue Bills Pass HBIC »
Friday, January 29, 2010
State Rep. Joe Campos Lauds $1 Billion Solar Power Plant for Guadalupe County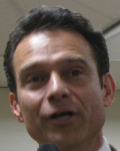 Governor Bill Richardson has announced that GA-Solar, a subsidiary of the Spanish industrial giant Corporación Gestamp, will invest $1 billion in a solar photovoltaic power generating plant to be built in Guadalupe County. New Mexico Representative Joe Campos (D-Santa Rosa), who represents Guadalupe County and is an advocate for renewable energy, was energized by the news. "This is huge for the district I represent. The development of this project will create 300 construction jobs and 75 full time jobs," he said in a statement released by his office. The plant is expected to generate 300 megawatts of power, enough energy for up to 50,000 households.
Rep. Campos sees this project as a significant precedent that will attract further investment in solar energy projects in New Mexico. "New Mexico has many attributes to attract investments in solar energy; an abundance of sunshine, affordable building sites, a skilled labor force, forward-looking leadership, and a business climate that promotes investment. This solar power plant news is attracting worldwide attention to New Mexico and I expect other investments will follow."
Campos observed, "GA-Solar is a diversified company that invests in photovoltaic power, wind power and biomass power projects. The company recognizes that New Mexico has the resources that support diversified renewable energy production."
Commenting on the New Mexico project, Juan Riberas, CEO of GA-Solar, stated, "The U.S. renewable market is the largest in the world, and we are fortunate to be in a region that has the necessary abundance of sun, wind and biomass activity for the production of renewable energy as well as the development of all business units within Gestamp Renewables."
Governor Richardson said, "I believe this unprecedented investment shows that New Mexico has not only become the center of the North American solar industry, but is ready to take its place as a global player in the production of renewable energy." The Governor continued, "Building a comprehensive clean energy economy is key to the economic stability and vitality of New Mexico's future."
Rep. Campos, who sponsored the legislation that created the Renewable Energy Transmission Authority, stated, "A key to attracting alternative energy investment is facilitating the development of an energy transmission infrastructure. New Mexico, by creating the Renewable Energy Transmission Authority, has demonstrated a forward-looking and comprehensive understanding of energy production and distribution infrastructures that support alternative energy producers."
"Guadalupe County and I welcome GS-Solar to New Mexico and we look forward to a long and rewarding partnership," added Rep. Campos.
Rep. Joe Campos is a candidate for New Mexico Lt. Governor.
Photo by M.E. Broderick.
January 29, 2010 at 01:20 PM in Energy, Environment, Green Economy, Jobs, Joe Campos | Permalink
Comments