« New Mexico Ranks 49th in the Nation in Overall Child Well-being | Main | Congresswoman Tammy Baldwin Coming to Santa Fe »
Wednesday, July 25, 2012
Let's Get It Clear: The Message Behind the Heather Wilson Attack Ads
Produced by Peter Moulson, Special Correspondent
This June, a coordinated group of TV ads highlighted Heather Wilson's history of siding with oil and gas corporations as they pollute groundwater while she collected hundreds of thousands of dollars in campaign contributions from these industries.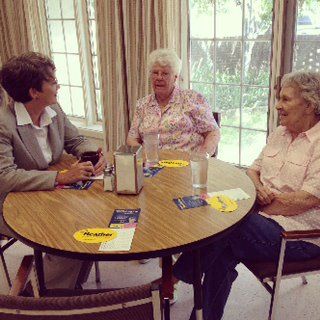 Photo from Heather Wilson's Facebook page.
Note: Heather drinks a warm beverage, not water.  
The TV commercials produced by The League of Conservation Voters and Defenders of Wildlife Action Fund met with muted acceptance by the mainstream New Mexico media, and even Wilson herself. But at least one New Mexico TV station and a widely-read and syndicated New Mexico newspaper chewed on the TV ad from the Sierra Club for making Wilson "look like the Wicked Witch of the West", and over all being "vague." It appears that one more attack on Wilson was too much.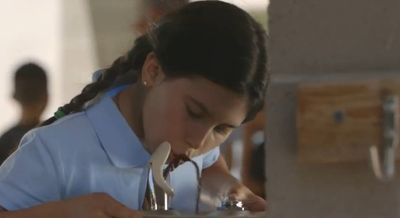 Still from "Drinking Fountain". Courtesy: Sierra Club.
It was The Santa Fe New Mexican which described the Sierra Club's TV "attack ad" on Heather Wilson's oil company cronyism as "vague". The 30-second commercial did not mention the polluting chemical by name (it's MTBE), or details of her voting record--for three consecutive years beginning in 2003, she voted in favor of energy bills that would have shielded MTBE manufacturers from lawsuits—and we thank The Santa Fe New Mexican for that research.
What political TV ad gives exact chapter and verse of their research? Try it yourself—in 30 seconds or less. Sounds as if Wilson's oil and gas megabuck contributions are getting her in deep water, and somebody's fighting back.
Thanks Sierra Club for stirring the pot.
July 25, 2012 at 09:21 PM in Guest Blogger, Heather Wilson, Political Ads, Regulation | Permalink
Comments