« 3/31: Bernalillo County Family Court Judge Alisa Hadfield | Main | Heinrich Statement on GOP Budget Proposal »
Wednesday, March 21, 2012
3/24: Come Celebrate the Re Election Campaign of One of New Mexico's Most Dynamic Young Leaders State Senator Tim Keller
Senator Tim Keller was elected in 2008 to serve the people of Senate District 17. He has done a great job in that endeavor. The area of Albuquerque once called the "War zone" is now called the "International District" do in large part of Tim's outstanding leadership for the community. If you drive through the International District there is a sense of pride and dignity that has developed since Tim has been their Senator.
Tim Keller is being challenged by Shannon Robinson the old Democrat that used to represent District 17. Tim Keller beat Shannon Robinson in the 2008 Democratic primary. Shannon has been upset over this defeat since then, crying foul in every possible manner. Shannon has gone to the extreme now to change to a Republican so he can run against Tim Keller. Talk about the quintessential "GOP turncoat Sour Grapes Campaign." Shannon your constituients voted you out and voted Senator Tim Keller in.
Senator Tim Keller needs our help right now. Please attend Senator Tim Keller's Re-election campaign to be held on March 24th.  Download TK4NM Re Election Launch.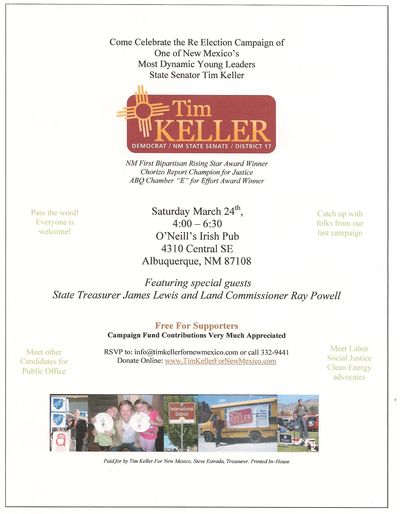 March 21, 2012 at 02:51 PM in 2012 Legislature Races, Candidates & Races, Events, Tim Keller | Permalink
Comments