« Enviro Groups' Ad Urges Sen. Bingaman to Close the Deal on Historic Clean Energy Bill | Main | 7/22: Otero County Dems to Visit With Cool Dem Candidates, Sell Raffle Tix, Register Voters »
Thursday, July 15, 2010
NM Rep. Moe Maestas, House Candidate Joel Davis Speak Out For Innovative Approach to Budget Challenges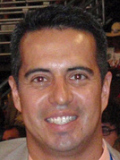 State Rep. Moe Maestas, D-House District 16 (right), and Democratic candidate for Representative in House District 44, Joel Davis, held a joint press conference yesterday afternoon at the Metropolitan Courthouse in downtown Albuquerque. They discussed the fiscal problems facing the State of New Mexico -- and how innovative thinking and collaboration can produce effective solutions.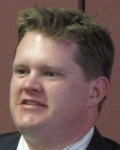 First off, Davis (left) pointed out that, "most of the fiscal problems are related to the downturn in the local and national economies." In other words, New Mexico is suffering from the same kind of budget shortfalls being encountered in virtually every state in the union. The solution? Thinking out of the box on ways we can more effectively utilize the funds we have.
Treatment vs. Incarceration
Maestas and Davis explained how an important piece of legislation, which passed the New Mexico House this past February by a margin of 34-31, could help do just that. Unfortunately, HB 178, sponsored by Rep. Maestas and known as the Substance Abuse & Crime Prevention Act, never got a vote in the Senate as time ran out on the session.
That's sad, because passage of the legislation could result in significant budget savings -- money that could be used to support other critical law enforcement functions that are now suffering from damaging funding gaps. The legislation would provide nonviolent drug offenders with an opportunity to receive treatment rather than incarceration -- avoiding the high costs associated with jail and prison time. Rep. Maestas says he'll reintroduce the bill in the 2010 legislative session.
"This bill, if enacted, would free up approximately $20 million that could more effectively be allocated for prosecutors who already have scarce resources to combat violent crime," Rep. Maestas said.
Just the Facts, Ma'am
Here are some eye-opening facts on this issue cited by Maestas and Davis:
Non-violent offenders make up more than 60% of the prison and jail population. Non-violent drug offenders make up about 25% of all offenders behind bars.
While the overall population of the United States increased by 33% since 1980, the prison population has increased by more than 350%.
The average annual cost to incarcerate an individual in New Mexico State prisons is $30,000/per year; the average cost in a New Mexico detention facility is $20,440.
The average annual cost of substance abuse treatment in New Mexico is $1,295 per person.
Why Davis Supports the Bill
Davis said he supported the treatment option legislation before he was a candidate for the House because of its potential to save the state money. Now, one of the primary focuses of his campaign is on coming up with better ways to spend state dollars and more equitable ways to distribute the burden of taxes.
"As Moe stated, we need to look at more innovative ways to solve our problems with shrinking revenue and the need to better serve our citizens. The Substance Abuse & Crime Prevention Act is one of those measures."
A Personal Perspective and Lessons Learned
Davis explained that he also has a personal perspective on the issue.
"I was an assistant DA in Sandoval County. I understand the need to be tough on violent crime. I also understand that part of correcting bad behavior is to offer hope for a more productive life if you get your act together. And that is not something I just read in a book or heard someone say -- I know it from personal experience," he said.
"When I was a young man, a young Marine," Davis continued, "I saw all the hard work and pride I put into my first three and a half years of service to my country go down the drain because I experimented with marijuana -- and shortly after that I got a DWI. But because of my family and the values I was taught, I realized that if I owned up to my mistakes -- made no excuses and took my medicine -- I could get my life back on track."
"That was almost fifteen years ago," Davis explained. "I went back to college. I studied hard. And then I applied to Law School. Studied hard again for three years and then took the Bar -- and I passed. I got on with my life because some people cared and helped direct me. It was tough, but it paid off."
"I have never forgotten those lessons, Davis said. "And I think more people today need to know that there is always a solution to problems ... there is always a way to correct bad behavior ... correct mistakes."
According to Davis, "Rep. Maestas' bill is one way we can help some people start down the road to recovery and becoming active, responsible members of their community. And what is also encouraging is that we can save money at the same time ... despite what the obstructionists and naysayers would have you believe."
"It is easy to say NO to everything ... it doesn"t require any work or any serious thought. But some of us feel it is about time legislators start coming up with answers and solutions, not just excuses and slogans," Davis said.
Creating An Ongoing Opportunity for Brainstorming
Maestas and Davis want to begin a discussion now on potential ways to address the shrinking resources in state government -- including trying to reapportion some resources, save on others and provide equitable new sources of income for necessary state services. The two Dems said yesterday's press conference was the first in what they hope will be a series of press conferences and meetings held over the next few months. 
Joel and Moe are offering an open invitation to participate to those who are already serving in the state legislature and those running for the House. They stressed the importance of bringing ideas to the table now -- rather than waiting until January when everyone's backs will once again be against the wall.
The idea is to provide an opportunity for lawmakers and House candidates to offer ideas to be batted about, debated and amended. It's all about making an effort at being positive and proactive in trying to solve our problems -- instead of just copping out, throwing up our hands and complaining.
My Take
I gave Rep. Maestas major props for having the courage and smarts to introduce an excellent treatment option bill at this year's session -- and for having the fortitude to push on and get it passed by the House. Now we know that if we make sure Moe gets reelected in District 16, and we work hard to help Joel Davis grab the seat in District 44 from Republican Jane Powdrell-Culbert, the legislation will come up again with an even better chance of passing. And that's just the start of what could be one of the most important and ground-breaking legislative sessions in many years -- IF we hang onto power and capture even more seats.
I think we can all agree that we need more legislators like these two Dems -- who are willing to fight for the people and speak out on innovative ways to address the many challenges we face. The same old, same old just isn't a viable option anymore. But if we want "more and better Dems," as the saying goes, we have to support the candidates who are willing to step up to the plate and advocate for fresh, effective and inherently Democratic approaches to governing. We can start by volunteering and/or donating some bucks to the campaigns of Moe and Joel. Time's a'wasting.
July 15, 2010 at 03:05 PM in 2010 NM Legislature Races, Crime, Drugs, Alcohol, Economy, Populism, Law Enforcement, Legal Issues, NM Legislature 2010, Prisons, Corrections, Taxes | Permalink
Comments
The treatment for addiction would be more effective if they were entered voluntarily. Once, a person crosses the threshold, they have to detox all the way.
Otherwise, stop locking up people for using drugs. Stop ruining people's lives for using drugs. We may be surprised to find that most people outgrow their addictions and compulsions. We might be surprised to find that most people use very moderately just like with alcohol use.
Posted by: qofdisks | Jul 15, 2010 9:20:45 PM
Kudos to both candidates...Davis for his full fledged support of this bill, and also for his personal honesty. Maestas for the bill which is certainly overdue, and both, for planning early, holding open forums, and exploring rational new solutions. i could go on; this is very impressive !
Posted by: Anita Walsh | Jul 15, 2010 11:48:44 PM
This is the kind of campaigning that I really want to see. Candidates explaining what they want to do if they are elected and explaining why it is important. They also explained how it will affect all of us. I strongly support Moe and Joel.
I would like to suggest that we should ask all of our candidates to support the repeal of the 2003 tax cuts for the very rich, to change our laws so we tax out-of-state corporations (big box stores) at the same rates that we tax in-state corporations, plus pass the Health Security Act. I believe that the combined savings/income from these actions will boost the New Mexico general fund by more than ONE BILLION dollars.
This suggestion is not an impossible dream. We have to bring this conversation up now while the candidates are running for office as Joel and Moe have with their plan.
Please support Joel and Moe and please act to bring financial solvency to New Mexico in this election.
Terry Riley
Posted by: Terry Riley | Jul 16, 2010 8:20:11 AM
During the last legislative budget struggle, there were elephants in the room that were ignored, despite a huge amount of effort to address the budget. The shortfall was not because of spending on education or something else, but revenues from oil and gas falling with commodity prices in the recession.
The lowest hanging fruit would seem to have been allowing the big box retailers like Wal Mart and Target, etc. to operate in New Mexico with a reduction in taxes. Only one other state lets these operators out of paying taxes.
To bring New Mexico into alignment with almost every other state on this would not have been that hard, but Republicans and enough Democrats were afraid that if they were asked to pay their fair share, they would abandon their stores in NM.
Probably there is really not a shortage of good ideas. The question is how to generate the political courage necessary for doing the right thing.
That's one of the things that strikes me about this press conference. Being willing to articulate issues and to be honest and forthcoming, is smart campaigning and it could be smart leadership.
Posted by: Stuart Heady | Jul 16, 2010 9:28:55 AM