« GOP Guv Candidate Susana Martinez Calls for Creation of State Government Sunshine Portal (Oops!) | Main | NM Rep. Moe Maestas Calls for New Mexico Boycott of Arizona »
Saturday, May 15, 2010
President Bill Clinton to Host Fundraiser to Support Diane Denish Tuesday in Albuquerque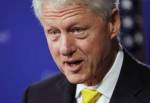 President Bill Clinton will be in Albuquerque on Tuesday, May 18, for a fundraiser to support the gubernatorial campaign of Democrat Diane Denish. Clinton and Denish will appear together at the event, which starts at 4:00 PM at the Embassy Suites at I-25 and Lomas. An email about the event from the Denish campaign says:
President Clinton is a leader who knows a thing or two about turning an economy around and he's supporting Diane because he knows these difficult times demand someone with innovative ideas to create jobs and has a track record of being on the side of hard-working New Mexicans.
There reportedly are a few reserved seats left for $500 each and a limited number of standing-room-only tickets available for $100 per person. You should email Steve Fitzer at sfitzer@dianedenish.com if you'd like to attend.
May 15, 2010 at 12:15 PM in 2010 NM Governor's Race, Bill Clinton, Diane Denish, Events | Permalink
Comments
President Clinton should endorse Jose Campos for Lt Governor, since Jose is the only Lt Gov candidate that can actually help Diane Denish win in November. Colon and Rael are tied to Richarson and the Republicans are hoping that they can use this against us.
Posted by: Santiago S | May 18, 2010 10:15:57 AM
This BS about ties to Richardson is getting old. Richardson has not been found guilty or even indicted on any charge. Two grand juries looked into it and found nothing. Stop repeating GOP talking points and concentrate on what being a Democrat means. A candidate who has no money for TV cannot win.
Posted by: demodemoL | May 18, 2010 12:41:03 PM
Woo! sounds like your mad! The GOP is going to come at Colon and Rael in the general and you can deny it all you want. Don't bury your head in the sand.
Posted by: ED | May 18, 2010 2:17:35 PM
I guess they will be coming at Diane too because she was closest to Richardson serving in his administration.
Posted by: Sean | May 18, 2010 3:00:56 PM
That's why we need someone on the ticket that has some separation from Richardson. We can't pretend that the GOP isn't already strategizing there attack.
Posted by: ED | May 18, 2010 3:44:30 PM