« (Updated) Back from the DPNM Pre-Primary Convention: Down from the Mountains and Through the Snow | Main | Photos Part 2: Lt. Governor Contest, DPNM Pre-Primary Convention 2010 »
Sunday, March 14, 2010
Photos Part 1: Diane Denish Nominated for Governor at DPNM Pre-Primary Convention 2010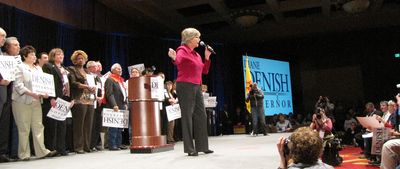 Denish speaks to the crowd accepting nomination
This is one of a series of posts about this weekend's Democratic Pre-Primary Convention. Check back for more photos, videos and commentary on all the action as we get everything processed and organized. Click to see the whole series of posts.
Below is a photo slideshow of the first part of the Democratic Party of New Mexico's 2010 Pre-Primary Convention held on Saturday, March 12, at Buffalo Thunder Resort on Pojoaque Pueblo. The gathering was historic in a number of ways -- there were more delegates than ever before, it was the first Democratic Convention anywhere held on sovereign tribal land and Diane Denish is the first woman ever nominated for governor in the state.

Click for larger version or photo album
The huge crowd of delegates and other Democrats was welcomed to the Convention by Chairman Javier Gonzales and Pojoaque Pueblo Governor George Rivera. The Los Alamos High School Color Guard and Pojoaque Pueblo Buffalo Dancers opened the ceremonies. Dorothy Gonzales sang the National Anthem, Army Staff Sergeant Kevin P. Holmes led the Pledge of Allegiance and Kathy Duffy, President of the New Mexico Democratic Women, led the Pledge to the New Mexico flag.
Lt. Governor Diane Denish was nominated as a candidate for governor by New Mexico's Senior Senator Jeff Bingaman.
Denish stepped away from the podium and delivered her speech town-hall style, bringing the cheering crowd to its feet as she gave her acceptance speech outlining a "New Way Forward for New Mexico" to nearly two thousand energized Democratic delegates in Buffalo Thunder's packed main ballroom. As she said, "I'm going to do things a little differently. Because I am going to be a different kind of governor."
"As governor I'll be fighting every day for middle-class families -- to create jobs and to strengthen and transform education so that every child in New Mexico can succeed," Denish told the crowd. "And what about New Mexico's small businesses? The people who have a good idea, get a loan and hire their neighbors -- they are the best job creators we have."
"People ask me why I would want to be governor when times are so tough? I tell them because now is when it matters most. Times are tough, no doubt about it -- but New Mexicans are tougher. We can't rely on Wall Street bailouts. We have to pull together like a family and kick-start the economic recovery ourselves. We must help small businesses expand by cutting red tape and invest in our workforce so that we can compete for the high-wage jobs of the future."
March 14, 2010 at 07:55 PM in 2010 DPNM Pre-Primary Convention, 2010 NM Governor's Race, Democratic Party, Sen. Jeff Bingaman, Sen. Tom Udall | Permalink
Comments