« Same Day Voter Registration Bill Passes NM Senate Rules Committee | Main | Howard Dean Blog: You STILL Have the Power (See Him in New Mexico Today) »
Monday, February 08, 2010
NM Senate Votes to Override Veto of Sen. Tim Keller's Intra-Government Transparency Bill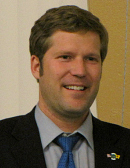 Today the Senate voted to override the Governor's veto of Senate Bill 531. SB 531 was introduced by Senator Timothy M. Keller (D-Bernalillo-17) and was passed almost unanimously by both chambers during last year's regular legislative session. Last week the Senate voted to recall SB 531 in order to consider a possible veto override. The motion to override was debated today in the Senate, which finally voted to override the veto by a 34-8 vote (see below fold for no votes). The bill now goes to the House for override consideration. A two-thirds majority of legislators present and voting in each body is required for a veto override to be effective.
SB 531 directly addresses a recent report by the Attorney General's Office (AGO) that pointed out the difficulties the AGO had faced in trying to obtain Medicaid contractor information. SB 531 would ensure the legislature and other government branches could receive and protect confidential information. This would overcome an obstacle to having contractors provide the information necessary for program evaluation.
"Our agencies and legislature are unable to perform program evaluation because of confidentiality issues that can be resolved if SB 531 is made law by overriding the veto," said Sen. Keller in a statement released today. "I want to be clear; this isn't about personal politics or rivalry between branches of government. Right now 20% of our budget -- the $1 billion spent on healthcare -- is a black hole when it comes to understanding funding effectiveness. It's time to put aside traditional government rigidity over disclosure of this information and get to the bottom of what is going on with our Medicaid providers."
"This is but a prudent first step in the monitoring process," Sen. Keller continued. "It gives our state an option to deal with the opaque nature of state contractors and agency performance with issues ranging from prison to hospitals to schools. An override is probably the most efficient and immediate way to address this ongoing challenge. But I'm very open to any ideas or bills that could accomplish the same goal. I will be working with agencies and my colleagues in the next few weeks to make sure we do the right thing to ensure our tax payer money is well spent."
Senator Keller can be contacted at: www.timkellerfornewmexico.com.
According to Steve Terrell, the Senators who voted against the override are:
Pete Campos (D-Las Vegas)
Carlos Cisneros (D-Questa)
Mary Jane Garcia (D-Dona Ana)
Phil Griego (D-San Jose)
Richard Martinez (D-Espanola)
Cynthia Nava (D-Las Cruces)
Vernon Asbill (R-Carlsbad, the only Republican to vote no)
David Ulibarri (D-Grants)
Photo by M.E. Broderick.
February 8, 2010 at 06:36 PM in Healthcare, NM Legislature 2009, NM Legislature 2010, Transparency | Permalink
Comments
What is the current admin. afraid of here? Why veto a bill that would enable transparent evaluations of health care funding, programs and progress for all New Mexicans???
Oh, wait...I guess that's the point...the "progress" part. We'll never know without a veto override for SB 531.
Closets are for clothes, not for public health policy.
Posted by: Terry Schleder | Feb 8, 2010 10:32:20 PM
The veto override process itself is bizzare, they had to wait for a YEAR to override the veto? Couldn't even bring this up in last fall's special session?
Seems like a good time to call Lujan's office and ask for the veto override to be brought to the House floor immediately. Call (505) 986-4782.
Posted by: Ellen Wedum | Feb 9, 2010 4:48:23 AM