« Stephen Jones: A Moral Outrage | Main | Santa Fe's Mayor Coss Endorsed by Two Prominent Environmental Groups »
Thursday, January 14, 2010
1/23: Grand Opening, Organizing for America State Office in Albuquerque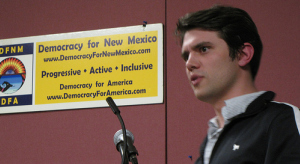 OFA's Frank Cole at this month's DFA-DFNM Meetup
Organizing for America invites you to join them for the grand opening of the OFA State Office on Saturday, January 23 at 1:00 PM! It's located at 115 Montclaire Blvd. SE, just south of Central. There'll be refreshments, music and speakers.
Please RSVP to: Frank Cole at (505) 715-0801. Or email: colef@dnc.org.
As Frank explained at this month's DFA-DFNM Meetup, OFA will be working hard for Democratic candidates up and down the ticket during the 2010 election cycle. Whether you were involved with the Obama campaign or you're new to grassroots activism, now's the time to learn more about OFA and how you can get active to keep New Mexico Blue.
January 14, 2010 at 10:54 AM in Events, Organizing for America | Permalink
Comments
Can anybody explain to me why this group exists or deserves our support?
Its backer, Obama, has turned his backs on gays, lesbians, unions, teachers and every other group that supported him. Where is real health care reform, repeal of DADT or DOMA, where is Card Check, where is Gov reform? Obama's only concern is Banks, Drug Companies, forcing us to pay tribute to Insurance Companies and keeping several wars going. I want to publicly apologized for supporting him - a mistake I won't make again - and now these folks show up to "mobilize" us - for what? To back up a weak, lying President who believes in nothing? Why are they here? What do they want to happen? What will they be mobilizing folks for - to increase the profits of Citibank or BigPharma?
Give us a break. Would somebody tell these folks to GO AWAY!

Posted by: mwfolsom | Jan 15, 2010 9:11:00 AM
If you read the post, OFA will be mobilizing turnout for the 2010 elections. Would you rather have Republicans take over all the offices in the state and Congress because Obama hasn't done exactly what you want? Doesn't make much sense.
Posted by: A Democrat | Jan 15, 2010 10:04:36 AM
What I would like is a President who does SOMETHING that he said he would do besides expand a war.
Personally the idea of electing more Corporate Democrats (Bingaman & Heinrich for sure - we will see about Udal) leaves me cold.
Posted by: mwfolsom | Jan 15, 2010 9:53:46 PM
So you'd rather have tea bagger supporters in there?
Posted by: A Democrat | Jan 16, 2010 10:25:30 AM