Monday, April 11, 2011
Stephen Jones: Harry Truman Had It Right, Harry Teague Didn't
This is a post by contributing writer, Stephen Jones, of Las Cruces.
"Given the choice between a Republican and someone who acts like a Republican, people will vote for the real Republican all the time," President Harry Truman often said.
Faced with the so-called wisdom of the chattering class and the august advice of Washington's political insiders, Truman chose instead to take his own counsel and run his own re-election effort, his way. In the process, as we all should know, Truman transformed his often forecast loss into a solid victory, going away. In doing so, he overcame two fractious third-party efforts by former Democrats and recaptured both houses of Congress to boot.
A day after his historic election, from the rear of a train platform at St. Louis Union Station, Truman held aloft the famously overconfident journalistic faux pas of the Chicago Tribune, whose headline read, "Dewey Defeats Truman."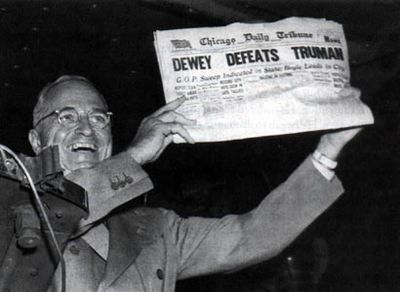 Harry Truman, as was most often the case, got it right. If Democrats expect to win they need to run on honest principles, get a backbone and stand for something. We need not look too far afield to see that Harry Truman's plainspoken wisdom still holds as true today as it did in 1948. Faced with difficult re-election efforts, two of New Mexico's freshmen Congressmen banked on totally opposite strategies, both in their voting records in Congress, and in their re-election efforts in 2010.
In New Mexico's 1st Congressional District, Martin Heinrich established a progressive voting record in Congress and ran forthrightly on that record in his re-election campaign. In New Mexico's 2nd Congressional District Harry Teague frequently ran away from the tough votes, or failed to support or deliver on many of the key national and local issues that he was first elected on, and which his constituency expected of him. Instead, he expended much of his energy and political capital trying to placate conservative voters in his southern New Mexico district that never had any intention of backing him for re-election and who were always destined to be far beyond his reach.
In his 2010 re-election efforts, Heinrich fielded an enthusiastic and energized base of supporters and won with over 52% of the vote in a district whose boundaries were drawn for his Republican predecessor. Teague, in contrast, ran campaign commercials running away from the Democratic Party and took an arms-length approach to the progressive base of voters in his district. Teague lost, and most importantly he lost badly, not at the hands of progressive critics, but by the votes of the very constituencies on which he had expended all his energy.
In his 2008 election, Harry Teague captured 50% of the vote in his home base, Lea County in far southeast New Mexico (see ). In 2010, Harry Teague only garnered a devastating 21% of the vote in his home base (see ). The same happened in Chaves and Eddy Counties.
In Doña Ana County, the largest county in the district, Teague captured 60% of the electorate in 2008 and held onto a solid 57% of the vote in his 2010 re-election effort. Harry Teague rolled up an even more impressive victory in Grant County, where he took 61% of the votes cast. In 2010, Teague won Luna and Hidalgo Counties as well.
Given the high registration numbers in Doña Ana County and the low voter turnout in Lea, Chaves and Eddy counties, Harry Teague might have won if he had been a little more progressive in the votes he cast in Congress, and if he had run another kind of campaign. Instead, he tried to play it safe. In the end, the majority of voters in the 2nd District just weren't all that happy with Harry Teague, and what had been a promising start to a Congressional career ended after only one term.
Hindsight is 20/20, of course, but last year's election should be instructive to Democrats everywhere, from the President on down the line, both inside and outside the power centers of the Washington, D.C. "beltway" and in Santa Fe. As Harry Truman told us back in 1948, when Democrats keep to their principles and stand for something, we win. When we don't, we lose.
To see more posts by Stephen, visit our archive.
April 11, 2011 at 11:49 AM in By Stephen Jones, Contributing Writer, Democratic Party, History, NM-02 Congressional Race 2008, NM-02 Congressional Race 2010, Progressivism, Rep. Harry Teague (NM-02), Rep. Martin Heinrich (NM-01) | |
Tuesday, January 06, 2009
NM-02 Congressman Harry Teague Sworn In Today in DC (with Photos)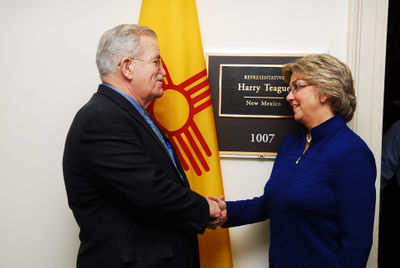 Rep. Harry Teague being congratulated in front of his new DC office by New Mexico Lt. Gov. Diane Denish, a friend since their childhoods in Hobbs
Today, Harry Teague was sworn into the 111th Congress as the U.S. Representative for New Mexico's Second Congressional District. Mr. Teague was joined on the House floor by two of his grandchildren, Trey Teague and Summer Goodwin, as he took the oath of office.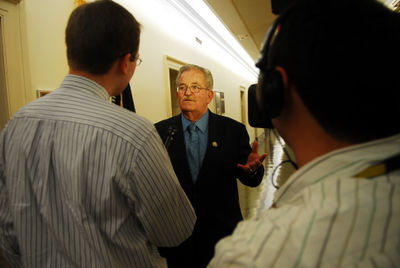 Rep. Teague being interviewed on his first day as a Congressman
"I am honored and humbled to have been elected to this important position during a challenging time in our nation's history. Economic development and job creation will be my top priorities and I will work hard each day to address the varied needs of New Mexico's Second Congressional District," said Congressman Teague. "As your Representative I will have an open-door policy and I encourage citizens to contact my offices in Washington and in New Mexico with any concerns, questions or comments."
Like the rest of the members of the U.S. House, Rep. Teague took the oath of office in the House chamber in DC at a mass swearing-in ceremony. Later, Speaker Nancy Pelosi performed a marathon of individual "ceremonial" swearing-in photo-ops with each of the 442 members of the new Congress, if they wished to participate. Amazing.
Warm well wishes go out to Rep. Harry Teague and family as New Mexico's new Congressman from the Second District begins a new career during a time of tumultuous change and challenge.
Rep. Teague's Washington D.C. office:
1007 Longworth H.O.B.
Washington, D.C. 20515
Phone (202) 225-2365
Rep. Teague's District office:
400 North Telshor, Suite E
Las Cruces, NM 88011
Phone: TBD
Rep. Teague's Congressional website is currently under construction but will be launched in the coming weeks.
(Click on photos for larger images.)
Technorati tags:
January 6, 2009 at 07:07 PM in NM Congressional Delegation, NM-02 Congressional Race 2008 | |
Monday, January 05, 2009
NM-02: Teague Appointed to Key Transportation and Infrastructure Committee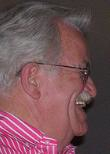 Today, a day before the new Congress is officially sworn in, House Leadership announced the appointment of incoming freshmen to House Committees. The steering panel gave one committee assignment to each of the 33 incoming freshmen Democrats. Many will get an additional committee slot. Representative-Elect Harry Teague (D, NM-02) was appointed to the influential Transportation and Infrastructure Committee, one of the most powerful Committees of the U.S. House of Representatives.
As a member of the influential Transportation and Infrastructure Committee Teague will work with the new Administration to improve infrastructure and create jobs in New Mexico. Representative-Elect Teague stated "I am honored to have been appointed to the Transportation Committee. We must have a voice for southern New Mexicans as we develop the economic recovery and infrastructure package that is so vital to the people of my district and to the health of our nation."
The Transportation and Infrastructure Committee's jurisdiction includes highways, bridges, public transportation, rail, aviation, ports, waterways, wastewater treatment facilities, and Federal buildings. The Committee should see significant action this year as the Obama administration seeks to implement wide-ranging and diverse infrastructure projects as part of its economic stimulus package.
Technorati tags:
January 5, 2009 at 10:20 PM in Economy, Populism, Government, NM Congressional Delegation, NM-02 Congressional Race 2008 | |
Monday, December 15, 2008
NM-02: Teague Says Orientation 'Like Getting a Drink Out of a Fire Hose'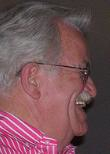 It's a steep learning curve for new members of the U.S. Congress. So much to learn, so little time -- whether it's practical info or how things really work in the complicated culture of Washington politics. I like NM-02 Rep-elect Harry Teague's downhome take on it.
He described the orientation process as "informative, but "kind of like getting a drink out of a fire hose."
Teague told the Las Cruces Sun-News he's in the process of hiring staff and will be ready to take office in January. So far, he's announced that Adrian Saenz will serve as his Chief of Staff. Teague's DC office will open January 6, along with regional offices in Las Cruces, Hobbs and Socorro. "We'd like for people to come see us," he said. No word yet on where the offices will be located.
December 15, 2008 at 01:16 PM in NM Congressional Delegation, NM-02 Congressional Race 2008 | |
Friday, November 21, 2008
NM-02: Teague Names Adrian Saenz as Chief of Staff
I was wondering when we'd start getting more info about staff hirings by our new members of Congress. To my knowledge, the only one we'd heard about so far was NM-01 Congressman-Elect Martin Heinrich's hiring of 31-year-old Steve Haro, who was the Democratic Congressional Campaign Committee's Western Regional Political Director, as his Chief of Staff. NM-02's Congressman-Elect Harry Teague just announced his choice for Chief of Staff. Excellent pick. By all accounts, Adrian Saenz did a terrific job chairing Obama's campaign here in New Mexico during the general election. Here's the release: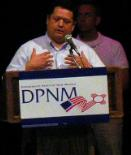 Today, Harry Teague, Congressman-elect for New Mexico's 2nd Congressional District, named Adrian Saenz (right) as Chief of Staff for his Congressional office.
"I am excited to have Adrian on board," said Teague. "His experience working on Capitol Hill makes him a valuable asset in advocating for the issues important to New Mexican families: jobs, health care, energy independence and education. His strong ties to the Southwest, and New Mexico in particular, mean that he has a good sense of the needs of people here in New Mexico struggling to make ends meet in these tough economic times."
Saenz has worked on several campaigns in New Mexico, most recently as the New Mexico State Director for Obama for America. Previously, he worked on the Kerry / Edwards campaign in New Mexico in 2004. Saenz brings more than seven years of Capitol Hill experience having served as Chief of Staff to Congressman Ciro Rodriguez (D-Texas) and as Communications Director for Congressman Charles Gonzalez (D-Texas). Saenz holds a Bachelor's Degree in Political Science from the University of Texas at San Antonio.
Photo of Adrian Saenz speaking to the Democratic Party of New Mexico this year by M.E. Broderick.
November 21, 2008 at 12:59 PM in NM Congressional Delegation, NM-02 Congressional Race 2008 | Permalink | Comments (0)
Wednesday, November 05, 2008
Blue Blowout in New Mexico

State Treasurer James Lewis at Dem Victory Party,
Albuquerque Convention Center:
Of the people, by the people, for the people. A clean sweep.
I don't even know where to begin writing about this. I don't think it's totally sunk in yet. Intense emotions bubble to the surface. Sharp realizations of the extent of our victories puncture my thoughts. But I haven't yet grasped the true enormity of the change that was set in motion yesterday in precincts large and small as the people came out in huge numbers to end the bleeding and start the healing.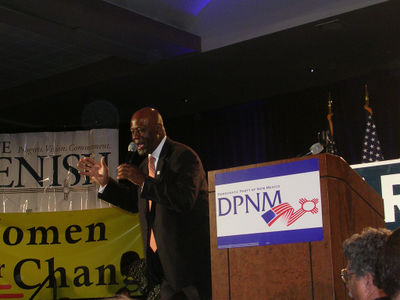 James Lewis riffs on victory
All I can say is, we did it. Yes we could, and we did. WE DID! It's almost beyond my comprehension at this stage, but we turned our state into a True Blue New Mexico and took our country back from the forces of ruin. The corner is turned. The change is coming. Positive messages beat negative smears. Hope defeated fear. And the painful shackles of the Bush-Cheney-Rove years are broken at last. Can you believe it?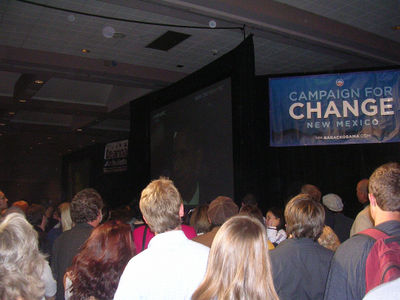 The crush of people at victory party witness Obama speech
I mean, people, New Mexico's entire Congressional delegation is BLUE! And the victory margins were substantial. We didn't edge them out -- we ran the table in every race. Check out these preliminary results for NM as of 9:39 AM today:
President NM
56.7% Barack Obama
42.0% John McCain
U.S. Senate
61.2% Tom Udall
38.8% Steve Pearce
NM-01
55.4% Martin Heinrich
44.6% Darren White
NM-02
55.7% Harry Teague
44.3% Ed Tinsley
NM-03
56.8% Ben Ray Lujan
30.4% Dan East
12.8% Carol Miller
I'll be writing more today on each of these races and on other contests around our state and our nation. But for now, I'm having trouble just absorbing what went down yesterday -- and beginning to discern its meaning and power. Bravo, New Mexicans. Bravo Americans. The Change We Need is coming. And it's coming from inside every one of us.
Photos and video by M.E. Broderick. See more photos from last night and more videos.
November 5, 2008 at 10:38 AM in 2008 General Presidential Election, 2008 NM Senate Race, NM-01 Congressional Race 2008, NM-02 Congressional Race 2008, NM-03 Congressional Race 2008 | Permalink | Comments (3)
Tuesday, November 04, 2008
March to Blue in New Mexico (with Updates)
I give up on updates. We're winning EVERYTHING!
MSNBC and ABC call New Mexico for Obama!!!!!!!
ABC calls Ohio for Obama!
Brian Sanderoff calls NM-03 for Ben Ray Lujan!
Fox and Sanderoff call Udall for US Senate!
November 4, 2008 at 07:28 PM in 2008 General Election Voting, 2008 General Presidential Election, 2008 NM Senate Race, NM-01 Congressional Race 2008, NM-02 Congressional Race 2008, NM-03 Congressional Race 2008 | Permalink | Comments (3)
New Mexico Congressional Campaigns in Great Spirits, Working Hard
We spoke with NM-03 Congressional candidate Ben Ray Lujan before Noon today and he was very upbeat and excited, but still deterrmined to devote every minute to campaigning until the polls close at 7:00 PM tonight. You know how he is -- always on the go, always reaching out, always working to get more votes for the team. Ben Ray made a point to call and wish Mary Ellen a happy birthday. There was actual singing involved. And it wasn't that bad. Can you believe M.E.'s turning 50 on what is arguably the most important Election Day of our lifetimes? She'll always remember it, that's for sure.
We also heard from Michael Huerta of the Harry Teague campaign in NM-02. No surprise, it looks and feels like a tight race down there and Harry and company are using every last minute to contact more voters. Things seem to be running smoothly at the polling places down South, and campaign staffers and volunteers are in constant motion around the district. Hopes are high. 
Just a few minutes ago we got a chance for a few words with NM-01 Congressional candidate Martin Heinrich, who was in a car traveling to his next stop while juggling two or three calls and no doubt checking his watch. Martin said things seem to be going smoothly at the polling places -- good news. Although he said they're optimistic about a big turnout for Democrats, he wanted us to urge our readers to call everyone they know to make sure they get out and vote.
We also spoke with Heinrich campaign manager Jon Blair just a moment ago and he said they sent out some huge canvassing groups today. There were 125 volunteers in the morning canvass at the main campaign office alone, plus more at their five satellite offices and additional folks working with the Udall and Obama teams. There have been groups of 50 volunteers working the phones most of the day, while Martin travels all over the district, shaking hands and winning more votes.
Last Minute Help Needed at Heinrich Campaign
There are still some Heinrich supporters who haven't yet voted, and Martin stressed they want to leave no vote uncast. If you have time, the Heinrich campaign still needs phone banking help at the main office on 4105 Silver SE, as well as at their satellite offices. If you can help, call the campaign at (505) 244-0022 and find out where you're needed most. This could be the closest race of the three, and we need Martin to head to Congress come January. He's the real deal.
November 4, 2008 at 04:16 PM in NM-01 Congressional Race 2008, NM-02 Congressional Race 2008, NM-03 Congressional Race 2008 | Permalink | Comments (0)
Monday, November 03, 2008
NM-02: Harry Teague to Host Election Night Party in Hobbs; Campaign Hosts Party in Las Cruces
NM-02 Congressional candidate Harry Teague plans to be in his hometown of Hobbs and in the surrounding area on Election Day and will host a victory party at his Hobbs campaign headquarters at 124 E. Broadway on Election Night. All are invited.
Also even though Harry won't be able to be there, the Teague campaign will host an election night party at their headquarters in Las Cruces at 139 N. Downtown Mall, starting at 7:00 PM. The more the merrier. Go Harry!
November 3, 2008 at 11:03 AM in Events, NM-02 Congressional Race 2008 | Permalink | Comments (0)
11/3: Udall, Bingaman Visit Roswell, Carlsbad, Santa Rosa, Albuquerque
U.S. Senate candidate Rep. Tom Udall along with U.S. Senator Jeff Bingaman will campaign in Roswell, Carlsbad, Santa Rosa, and Albuquerque today. Udall will speak at a Rotary Club in Albuquerque before flying to Roswell with Bingaman for an event at the Roswell Industrial Air Center Airport. Udall and Bingaman will then help NM-02 Congressional Candidate Harry Teague get out the vote in Carlsbad before flying to Santa Rosa for his final town hall of the campaign season. Details:
ALBUQUERQUE ROTARY CLUB ADDRESS
Rep. Tom Udall
Monday, November 3rd, 12 – 1 PM
Hotel Albuquerque, 800 Rio Grande Boulevard
GOTV MEET AND GREET & ROSWELL CONTROL TOWER TOUR
Rep. Tom Udall and Sen. Jeff Bingaman
Monday, November 3rd, 2:30 – 3:30 PM
Roswell Industrial Air Center Airport
Great Southwest Aviation Training Classroom
1 Jerry Smith Circle, Roswell, NM
CARLSBAD RALLY WITH HARRY TEAGUE
Rep. Tom Udall, Harry Teague, Sen Jeff Bingaman
Monday, November 3rd, 4 – 5 PM
Courthouse Lawn, 102 N. Canal St.
SANTA ROSA TOWN HALL
Rep. Tom Udall, Sen. Jeff Bingaman
Monday, November 3rd, 6:15 – 7:15 PM
Route 66 Auto Museum, 2766 Historic Route 66
Technorati tags:
November 3, 2008 at 10:33 AM in 2008 NM Senate Race, Events, NM-02 Congressional Race 2008 | Permalink | Comments (0)
Sunday, November 02, 2008
Clean Sweep in the Making? Albuquerque Journal Poll Has Obama, Udall, Heinrich, Teague, Lujan Leading
Following on the heels of the last SurveyUSA poll that has Obama leading McCain 52-45% (58-39% with early voters), and Tom Udall ahead of Steve Pearce 56% to 42% (61-35% with early voters), the final polls of this election cycle conducted by Research and Polling Inc. for the Albuquerque Journat show Democrats ahead in the Presidential contest and all the Congressional races. Unfortunately, the Journal polling has small samples and a high margin of error in the U.S. House races, at plus or minus 5%. The surveys interviewed about 400 voters in NM-01 and NM-02, and only 201 in NM-03.
The Presidential and U.S. Senate sampling is somewhat better, with an MOE at plus or minus 3%, based on phone interviews with 1,002 registered voters statewide. 
As usual, the Journal has failed to release the full cross-tabs, so we're operating somewhat in the dark here. Weighting methodology? Not revealed. Breakdown of respondents who've already voted vs. those who say they will? Not revealed. You get the picture. But the results nonetheless provide an interesting snapshot of New Mexico's registered voters who said they had voted or will vote during the period October 28-30, 2008, and the trends are all tilting Democratic:
Presidential
Obama (D) 51%
McCain (R) 43%
Undecided 5%
Other 1%
Women:
Obama 52%
McCain 42%

Men:
Obama 50%
McCain 44%

Hispanics:
Obama 66%
McCain 25%
Undecided 7%

Anglos:
Obama 43%
McCain 52%

Ages Groups:
18-34: Obama 56%, McCain 38%
35-49: Obama 43%, McCain 49%
50-64: Obama 57%, McCain 38%
65+: Obama 50%, McCain 45%

Geographic:
Central (ABQ Metro): Obama 58%, McCain 36%
North Central: Obama 70%, McCain 30%
Northwest: Obama 26%, McCain 69%
Southwest: Obama 48%, McCain 41%
Eastern: Obama 34%, McCain 58%

Independents (Decline to State):
Obama 49%
McCain 34%
Undecided 11%

Democrats:
Obama 83%

Republicans:
McCain 88%
According to the Journal:
"There is not a lot of cross-over voting going on, and, for the Republicans to win, they typically need to get around 20 percent of the Democratic vote and slightly more independents," Sanderoff said. "McCain hasn't picked up as many Democrats as he needs and Obama is ahead on independents. "People are pretty much voting along party lines, but the independents are moving toward Obama," Sanderoff said.
U.S. Senate
Tom Udall (D) 53%
Steve Pearce (R) 39%
Undecided 8%
NM-01 U.S. House
Martin Heinrich (D) 47%
Darren White (R) 43%
Undecided 10%
NM-02 U.S. House
Harry Teague (D) 45%
Ed Tinsley (R) 41%
Undecided 14%
NM-03 U.S. House
Ben Ray Lujan (D) 51%
Dan East (R) 23%
Carol Miller (I) 12%
Undecided 14%
November 2, 2008 at 10:38 AM in 2008 General Presidential Election, 2008 NM Senate Race, NM-01 Congressional Race 2008, NM-02 Congressional Race 2008, NM-03 Congressional Race 2008, Polling | Permalink | Comments (3)
Wednesday, October 29, 2008
The State of the Election (and Me)
You may have noticed that I've been concentrating on posting info on candidate- and election-related events. You may also have noticed that I'm still not keeping up with the explosion of events that are happening all over New Mexico as we count down the six days left before the November 4th election. Democrats are swarming to early voting events, polling places, canvasses and phone banks. Our candidates are all making the final push for money and volunteers. Get out the vote is the imperative. GOTV is IT.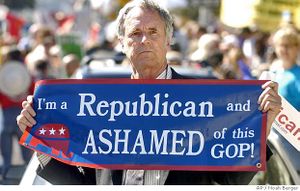 Meanwhile, the Republicans are concentrating almost entirely on slinging mud, trying to create doubts about our candidates and attempting to suppress voting in any way they can, no holds barred. Truth, ethics, fairness, facts? Not much of that on the R side of political spectrum as a tsunami of change builds and threatens to swamp Republicans up and down the ticket in almost every state -- even the red ones like Indiana, Montana, North Carolina, Virginia and more.
The Morally Bankrupt GOP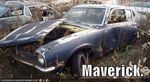 The GOP and its candidates are running scared, rudderless and desperate -- and their last-ditch efforts are taking on the gothic tones of a horror movie, the anti-logic fog of a dadaist work of art (without the irony). Without any appealing policies and few positive, attractive candidates, the Repubs have given up on winning on the issues and plunged into the realm of outrageous smears, illegal tactics, baseless innuendo and outright lies.
The Rove-Limbaugh-wingnut buzzwords are parroted everywhere among their ranks, calling our candidates socialists, Communists, fascists, redistributors in chief, elites, eco-terrorists, extremists, pals of domestic terrorists, scary, outsiders and worse.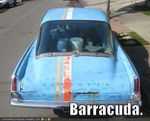 The "voter fraud" hounds are on the loose again, digging up fake "evidence," intimidating voters at their homes, using Drudge and Fox to flog their false claims and insulting community activists like ACORN.
They've been busy in battleground states trying to "purge" legitimate voters from the rolls in the tens of thousands and hold up the registrations of tens of thousands of new voters. They've been orchestrating vile robocalls, airing crazy ads, distributing phony election information and sending out viciously dishonest direct mail pieces.
The Good News? IT'S NOT WORKING
This time, it's not working. At last, it's not working. And candidates, activists, organizations, the Party and voters are fighting back. Lawsuits are being filed against the perpetrators, like "voter fraud" pusher Pat Rogers, his hired-hand private investigator and the New Mexico GOP. We're challenging the massive purge projects, and winning in the upper courts. Our candidates are refusing to take the bait, and are staying cool, loose and rational -- continually turning the focus back to the issues, where we're winning on almost every single one with Americans.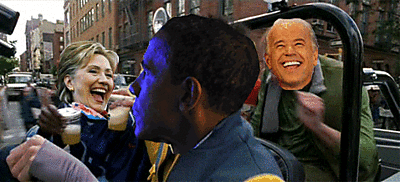 The Dems are on the right track. Electing more Repubs would keep us on the wrong track. These are the memes that are predominating among the voting public. Turning the page. Making a new start. Daring to try something new and different. Basing votes on the issues, not the scare tactics. Hoping. Uniting. Working hard to make it real. Winning.
Enough Is Enough
I know I'm not alone when I say I've had enough of the hate mongering, the veiled racism, the vapid insults, the accusations that we're not REAL Americans or patriotic, the nasty lies and the desperate, unethical measures being employed by the GOP and its minions. I find I can't even bring myself to write about it anymore, except generically. To probe and report every instance of the GOP's wrongdoing takes too much energy and brings too little return.
We all know what they're doing, and what they've been doing in every election in the past decade or more. They're just doing it with more vehemence and with even fewer ethical considerations this time around -- if that's possible. Because they know their neo-con, anti-regulation, screw the middle class concoction has been deconstructed, defrocked, thoroughly discredited and rejected. They know they're gonna lose, big time. And they just can't quite believe it. But as Honest Abe once said, you can't fool all of the people all of the time. Voters have wised up, mindful of the awful consequences of the Bush years that are crashing down on America, and the world.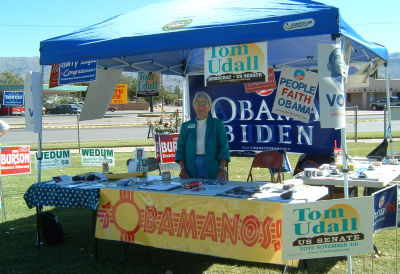 Onward to the Finish Line
So, anyway, I guess I'm gonna stick mostly with helping to publicize the events we can attend, the actions we can take, the info we need to help our GOTV be the best it's ever been. If you want the latest details on the latest outrages, the latest attack ads, the latest "voter fraud" garbage etc., it's easy to find elsewhere in this era of the internet. Thank goodness. As for me, I'll mostly keep plugging along with the tedious calendar items, the event announcements, the press releases and the recaps of gatherings for now.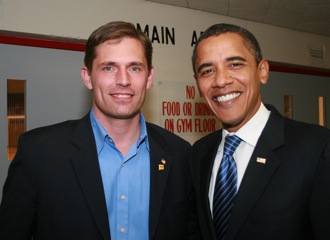 I've been blogging and we've all been meeting and working and pushing for grassroots activism and progressive Democratic gains since 2004 now -- and we're coming into the home stretch of what could really be our time, our mandate, our widespread victories. The only thing left to say is: vote early, volunteer, donate, don't let up, go to rallies, bring your friends, show up. They could still steal it. They could still pull something that works. We could still lose, so keep the pressure on.
Six days, six days, six days. We have to do whatever we can to elect Barack Obama, Tom Udall, Martin Heinrich, Ben Ray Lujan, Harry Teague, Jason Marks, Rick Lass, Victor Raigoza, Tim Eichenberg, Jeff Steinborn, Mimi Stewart, Maggie Toulouse Oliver, Bill O'Neill, Steve Fischmann and more. (Who am I forgetting?) It's now or never.
PS: Talk about timing. I just received a nasty robocall from the RNC "on behalf of John McCain," warning me how Obama is "dangerously inexperienced" and droning on about his intent to sit down with terrorists and side with all the wrong people. Ha. If they're robocalling the likes of me -- a Democrat since day one -- they must REALLY be panicking.
PSS: I just that people in ARIZONA are getting the same robocall. My, my. McCain's home state.
October 29, 2008 at 03:54 PM in 2008 General Election Voting, 2008 General Presidential Election, 2008 NM Senate Race, 2008 NM State Legislature Races, 2008 PRC Election, Democratic Party, John McCain, NM-01 Congressional Race 2008, NM-02 Congressional Race 2008, NM-03 Congressional Race 2008, Progressivism, Republican Party | Permalink | Comments (3)