« PRC Candidate Forums by NM Green Chamber of Commerce | Main | Republican Party of Sex and Money »
Thursday, April 26, 2012
Bernalillo County Commissioner Republican Michael Wiener No Stranger to Controversy
Republican Michael Wiener our very own Bernalillo County Commissioner scumbag. 
Republican Wiener is no stranger to controversy. Democratic Party of NM and others were asking for Wiener's resignation back in March 2010 for making racist comments in an email. DFNM did a piece on his racist comments, you can read it here and KRQE has this report from a rally calling Wiener out on his racist comments.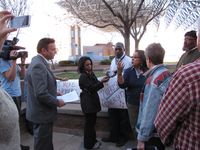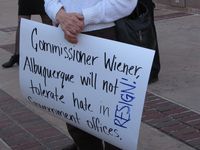 Above DFNM photos from Resign Wiener Rally March 2010
Then there was also this call from the Young Democrats of NM for Wiener's resignation in June 2011. When Wiener allegedly made inappropriate comments towards a female staff member, please read all about that sexual harassment here.
And now we have this scandal, or is it just another day in the life of a New Mexico Republican. Wiener was outed on a double x-rated red light district in Angeles City Philippenes. Just "a flight layover" says Wiener. This guy can just say whatever he wants, how come there is not outrage from his own Republican colleagues and party over this inappropriate behavior? Imagine if it was a democratic leader?
The NMTelegram has a great article about Republican Wiener's latest adventure. The NMTelegram interviews the two reporters who  found the smiley Wiener in the double x-rated red light district. The NMTelegram reports that Keatley and Eric Becker "were in the Philippines , a . Keatley and his friend, filmmaker Eric Becker, were to document the sexual slavery and sex trade in the Philippines for the group." The NMTelegram goes on to explain "Keatley was in the Philippines for over a week. "My job was to tell a story of these red light districts, who are these people, try to put a face to it," he said."
Try to put a face on it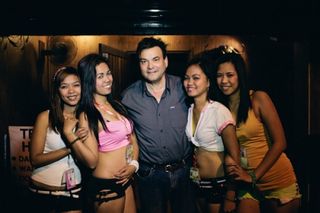 Photo by: Keatley; Republican Commissioner Michael Wiener looking a little disheveled

Of all faces to show up, our very own Republican Bern. County Commissioner Michael Wiener. Keatley and Becker, these two good human beings, outed the smiling Wiener. Keatley and Becker were traveling and reporting and exposing the dirty truth of sexual exploitation Wiener was found in the middle of. Keatley admits he was uneasy having to do this reporting but felt it is important to expose. Look at the age of these young women in this photo flanking Wiener, does it conjure up the exact image of the piece Keatley and Becker set out to expose? "Sex slavery and the buying of women by 40, 50, 60, 70 year old men."
Meet the Fiancee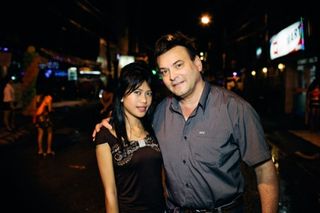 Photo above by Keatley; Wiener and the future Mrs. Wiener

Michael Wiener works for all of the people in Bernalillo County. By looking at Wiener's own campaign website and facebook page there is not much about his personal life. The only new information is a FB update on April 25th 2012 saying he is "In a relationship." Go figure.
Isn't it weird and creepy? When did he really meet her? How old is she? How long have they been seeing each other? Will anyone ask Wiener these questions? Not to mention the conservative republican hypocrisy for not letting gays and lesbians get married, even after years and years of commitment.
As written in the Abq Journal this morning he is "oh so innocent", just like all the other harassing, rude, sexist, racist, behavior he has been accused of and is innocent of. Look at the age of these girls in these photos on Keatley's journalism piece regarding sex slavery and the buying of women by 40, 50, 60, 70 year old men. Does our very own Bernalillo County Commissioner fit that discripition? Let's help Keatley and his group expose this sexual enslavement prostitution network that they went to great lengths to expose. Commissioner Wiener can do whatever he wants but my expectations of elected officials is way higher than what he consistantly displays.
One more thing: Think of all the Woman's rights issues being attacked, and then think of Republican Michael Wiener. 
April 26, 2012 at 04:59 PM in 2012 Bernalillo County Commission Race, Bernalillo County, Republican Party, Women's Issues | Permalink
Comments
His excuse is so ridiculous as to be insulting. Even better, the insinuation that this was "politics". As if some local pol hired a photog from Seattle to follow Wiener around and frame him. In the Philippines.
He must be scared s***less right now. I would be, in his shoes.
Of course, if he IS telling the truth, it would be a simple thing to forward the airline reservation email, which would clearly show his brief, nighttime "layover" in Angeles City's airport.
If he had such an email. Which he does not.
But since I know you are reading this post, Mr. "Passionate World Traveler" Wiener, I challenge you to post the airline email on your website. So we will know that you are telling the truth, and thus were not in Angeles City for the same reason all of those other creepy middle aged while male sex tourists were.
I challenge you right here and now.

Posted by: Commissioner Wiener's Wiener | Apr 26, 2012 5:40:51 PM
At least his fly appears to be zipped up. Thank goodness for that.
Posted by: Cheryl Harris | Apr 27, 2012 6:14:46 PM
Gross!
These girls are in their early 20's or maybe lower?? Correct me, please?
Posted by: BlahBlah | Apr 29, 2012 6:01:14 AM
It is very difficult to find practiced people on this topic, but you be understood as you no doubt know what you are referring to! Thanks
Posted by: Herve Leger Dresses | May 7, 2012 7:09:36 PM
He screwed me over in the license plate collecting club and I will tell you all the stuff I know about him if you are interested.
Posted by: John Mifflin | May 10, 2012 2:09:11 AM
Good article,this is really useful for me.

Posted by: camera accessories | May 17, 2012 1:24:28 AM