Wednesday, November 09, 2011
Stephen Jones: Progressives Win Big in Las Cruces
This is a post by contributing writer, Stephen Jones, of Las Cruces, New Mexico.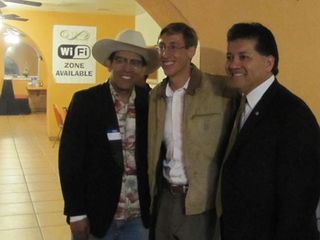 Silva, Small, Miyagishima 
Mayor Ken Miyagishima handily defeated both of his challengers, and two incumbent City Council progressives, Councillors Miguel Silva and Nathan Small, were easily re-elected in the Las Cruces municipal election on Tuesday, crushing their Tea Party-backed rivals by lopsided margins. Joining Tuesday's rout over conservatives, Gregory Z. Smith, another progressive candidate, appeared to have narrowly won his contest as well.

Leading the sweep, Mayor Miyagishima won a second term as Las Cruces Mayor, garnering a landslide 60% of the vote against Councillor Dolores Conner, his closest rival, who took only 29% of the vote despite far outspending Miyagishima, and Michael Ray Huerta who captured 11% of the vote.





In Las Cruces City Council District 1, Councillor Miguel Silva hammered  Natalie Chadborn, a leader of the Tea Party in Las Cruces. Silva beat Chadborn by a lopsided 69%-31% margin. In Las Cruces City Council District 4, Nathan Small was re-elected by an even wider margin against his Tea Party-backed rival Aaron Diaz, 71% to 29%.

In the District 2 City Council contest to replace Dolores Conner, who vacated the seat to run for Mayor, Gregory Z. Smith, a local architect and one of two progressive candidates in the district, had just over 40% of the vote, enough to avoid a runoff against the second place candidate, Scholz, who also has a progressive base. The third candidate, conservative Fred Espinoza trailed the top two candidates badly.

Councillors Gil Sorg (Las Cruces-5) and Mayor Pro Tem Sharon Thomas (Las Cruces-6) who hold staggered terms were not up for re-election. Sorg and Thomas are also part of the progressive caucus in the Las Cruces City Council. With the sweep on Tuesday night, progressives now hold all seven of the elective municipal offices in the city of Las Cruces. Tuesday's big wins were among the widest winning pluralities in Las Cruces history.
To see more posts by Stephen, visit our archive 
November 9, 2011 at 11:13 PM in By Stephen Jones, Contributing Writer, Las Cruces City Elections | |
Tuesday, October 11, 2011
10/19: Fundraiser Honoring Las Cruces Mayor Ken Miyagishima
From Mary Gail Gwaltney:
You are invited to a Fundraiser
Honoring Mayor Ken Miyagishima
Wednesday, October 19th, 5:00 – 7:00 PM
At the home of
Mary Gail Gwaltney
Democratic National Committeewoman
And
Senator Lamar Gwaltney
1910 North Alameda Avenue, Las Cruces
Co-Hosted by
Joni Marie Gutierrez, NM State Representative
Click for Flyer
Minimum Donation: $50 per person at the door
October 11, 2011 at 05:45 AM in Events, Las Cruces, Las Cruces City Elections | Permalink | Comments (0)
Wednesday, September 28, 2011
Las Cruces Mayoral Candidates Spar at Tech Debate

Ken Miyagishima, Michael Huerta
Contributing writer Stephen Jones checks in with more on-the-ground coverage from Southern New Mexico.
All four Las Cruces mayoral candidates faced off at a public forum sponsored by the High Tech Consortium of Southern New Mexico (HTC) on Wednesday morning at the New Mexico Farm and Ranch Museum auditorium. The candidates responded to questions related to bringing high tech jobs into New Mexico's second largest city. Wednesday's event featured Mayor Ken Miyagishima and his three challengers, Las Cruces City Councillor Dolores Connor, community activist Michael Ray Huerta, and newspaper reseller Michael Fleming. It was the first event in which all four of the candidates participated on the same stage.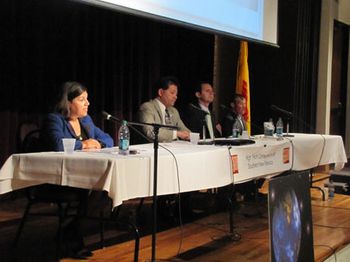 The four candidates stressed the proximity of New Mexico State University, White Sands Missile Base and the Spaceport USA as potential engines of new business growth in the tech sector for Las Cruces. "Every year we see more and more businesses that are looking at Las Cruces" as a potential place to locate, Mayor Miyagishima said, "Once the Spaceport is up and running, we are looking at a $500 million dollar economic boom per year," he said.
"There's so much research wealth here in our County," Dolores Connor said. "You're going to hear a lot about the Spaceport and White Sands Missile Range. I have been a supporter of the Spaceport since day one and continue to be," she said. Connor also pointed to White Sands, NASA and the area testing facilities as engines of business growth. "People from all over the world travel here to work with those facilities. It is our opportunity to engage those businesses and work with them to make them a part of our community," she said. Connor also talked about the importance of working with secondary schools in building bridge programs in science education.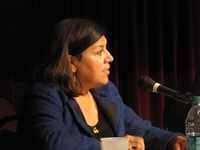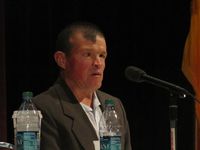 Dolores Connor, Michael Fleming
Michael Ray Huerta said the city needed to do more to address quality of life issues to get and keep good paying technical jobs. He pointed to Austin, Texas as the model he would try to emulate in that regard. "The Brookings Institute came out with a study that said diversity of human capital is the key indicator of whether or not cities can maintain a workforce," Huerta said. "What does that mean for Las Cruces?" he asked. "We've done a lot in the last few years to address the quality of life for retirees and seniors," he said, "but what we need to do to retain people in high tech business, is to address their quality of life." Huerta singled out development of the arts and entertainment, music and outdoor recreation as areas that needed to be addressed.
Michael Fleming concurred that the City needed to partner with NMSU and the aerospace facilities. "We need to strengthen education, especially at the lower grades, so that they have the three 'R's' down and can successfully complete their college educations," Fleming added.
Addressing the expansion of solar and broadband in Las Cruces, each of the candidates agreed more needed to be done in the City. However, Miyagishima pointed out that once solar facilities are completed they do not leave behind large workforces. Connor agreed, adding that the private sector needed to do more, particularly in the area of broadband. "We simply don't have the public dollars to address the deficiency," she said. Huerta said more could be done to educate the public on the use of internet technologies to generate greater demand from the private sector in building out broadband in Las Cruces.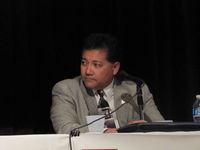 Ken Miyagishima, Michael Huerta
Connor called for a lower tax rate and reform of the State Goods and Services Tax to help drive economic development. She said she strongly supported Governor Susana Martinez's efforts to reform the tax. Mayor Miyagishima pointed out that, under his administration, he had built "a healthy business environment," and noted that the City had "twice the financial reserves" that are required by the state, putting the city of firm economic ground. He noted that, through the direction of the current administration, Las Cruces has not overbuilt speculative housing, and has avoided many of the economic problems of its competitors.
While Miyagishima pointed to good planning as an engine of future job growth, Connor said that it was the private sector that needed to create the jobs. "Once we've built the streets and sewers, we've done our job," she said. In one late exchange between the candidates, Huerta called on the Mayor and City Council to slash their own salaries. Huerta said that -- in real terms -- there was a 15% unemployment rate in the city. "It's time the Mayor and City Council make some sacrifices, too," he said.
As each of the candidates pointed out, Las Cruces has a weak-mayor form of government. While the Mayor holds a key vote on the seven-member City Council, that individual has no administrative duties, but does set the agenda for the Council. Las Cruces has a full-time City Manager who reports to the full City Council.
The Las Cruces municipal election will be held on Tuesday, November 8, 2011. In addition to the Mayoral race, three City Council seats and the Municipal Judge contest will be decided in the 2011 municipal election.
HTC, which sponsored the forum, is headquartered in Las Cruces. It is a non-profit membership organization made up of tech-oriented individuals, small business owners, corporate leaders and educators that has come together to promote a positive business atmosphere conducive to growing the high-tech sector in southern New Mexico.
Photos by Stephen Jones. Click images for larger versions. To see more posts by Stephen, visit our archive.
September 28, 2011 at 07:58 PM in By Stephen Jones, Contributing Writer, Events, Las Cruces, Las Cruces City Elections | Permalink | Comments (1)
Wednesday, July 20, 2011
Doña Ana County Democrats Speak Out Against Steve Pearce Budget Vote
In a statement issued Tuesday evening, Doña Ana County Democratic Chair Christy French spoke out against Congressman Steve Pearce's (NM-2) vote on Tuesday in favor of the "Cut, Cap, and Balance" bill. The proposed legislation would cost Doña Ana County, and other New Mexico citizens jobs, cripple public education, drastically slash Medicare and Social Security, escalate health care costs and gut programs that protect our environment and natural areas. At the same time the bill protects Pearce's millionaire and billionaire buddies, and insures that Americans hard earned tax dollars will continue to flow into the pockets Congressman Pearce's oil and gas industry cronies.
"The Doña Ana County Democratic Party stands in opposition to this radical plan, and we oppose Congressman Pearce who takes his marching orders from Grover Norquist, Paul Ryan, Eric Cantor and the extremist Tea Party. We stand beside our fellow New Mexicans and call on our two U.S. Senators, Jeff Bingaman and Tom Udall, and President Obama to stand firm, and turn back this reckless and radical plan to destroy the American dream," Christy French said.
The "Cut, Cap, and Balance" bill, if enacted, will curtail investment in infrastructure and clean energy, and hurl our already fragile economy back into deep recession. The so-called "Cut, Cap, and Balance" bill supported by Steve Pearce would:
Cut education resources by 25 percent;
Slash clean-energy investment by 70 percent;
Eliminate health coverage for 50 million people, including people with disabilities and low-income children;
Increase seniors' Medicare out-of-pocket costs by an average of $6,400 per year;
Slash Social Security benefits by as much as $3,000 per year for an average recipient.
"We call on Steve Pearce and others in Congress to abandon their reckless path of undermining our economy and get back to the business of representing the hard working Americans in the Second Congressional District" French said.
July 20, 2011 at 08:37 AM in Democratic Party, Economy, Populism, Las Cruces City Elections, Steve Pearce | Permalink | Comments (0)
Monday, June 20, 2011
Michael Huerta Launches Campaign for Mayor of Las Cruces
Michael Ray Huerta, a native of Las Cruces who describes himself as "a longtime advocate for education reform and the prevention of youth bullying and suicide," today announced his campaign to become Mayor of Las Cruces, New Mexico.
"Over the past few months, I've been asked by hundreds of Las Crucens to run for mayor," Huerta said in a statement released today. "I, like all Las Crucens, want leadership that puts results above rhetoric, and people above political agendas. I'm running for mayor because I'm the candidate who will bring that fresh approach to City Hall."
Huerta also announced his first initiative of the campaign through his website, MichaelRayHuerta.com, and the campaign's YouTube channel (see video above). The initiative, which focuses on fiscal accountability, proposes that elected politicians at Las Cruces City Hall reverse the pay increase they implemented in 2008.
"In the past four years, the city budget has decreased by nearly 30%," Huerta said. "Middle class incomes have gone down, and one out of every five Las Crucens now live in poverty, including 35% of our children. Revenues are down, and services to Las Crucens have been drastically cut. Yet in that same time, city politicians - some of whom now want to be Mayor - voted to increase their own salaries by 10-15%. That isn't right, it isn't fair, and it isn't fiscally accountable to Las Cruces tax payers."
"I don't expect this initiative to be popular with some of the politicians at city hall," added Huerta. "For years, they've failed to act on this important issue. It's about time they put the fiscal interests of Las Crucens ahead of their own personal agendas. They need to cut back the salary increase they gave themselves because in this economy, we can't afford to keep a 15% raise for elected politicians."
Michael Ray Huerta is a native of Las Cruces. He previously served as the Press Secretary for a US Member of Congress, while working various high level positions on national campaigns. Most recently, Huerta he worked in education reform that focused on low-income, low-performing schools throughout New Mexico. Now, Huerta says he works with his family's small businesses across the Mesilla Valley.
The Las Cruces mayoral election is set for November 8. Current Mayor Ken Miyagishima says he is running for re-election, and District 2 City Councilor Dolores Connor has announced she is giving up her seat to run for mayor. Although the election is officially nonpartisan, it's well known that Miyagishima is a Democrat, as is Huerta. Connor is a Republican.
June 20, 2011 at 08:02 PM in Las Cruces, Las Cruces City Elections | Permalink | Comments (5)