Thursday, September 22, 2011
NAACP, LULAC Denounce Gov. Susana Martinez's Extremist Allies on Driver's License Issue and Discriminatory Anti-Immigrant Agenda
In a joint press release issued today, New Mexico's chapters of the National Association for the Advancement of Colored People (NAACP) and the League of United Latin American Citizens (LULAC) said they are concerned and appalled by the involvement of the Americans for Legal immigration PAC (ALIPAC) in New Mexico politics, as well as Governor Susana Martinez's continued attacks on immigrants and her apparent abuse of power.
"It has become apparent that Governor Martinez's anti-immigrant political agenda relies on support by national organizations with no ties to New Mexico and with questionable motives," said Pablo Martínez, a member of the LULAC Board and former law enforcement administrator. "We're concerned by ALIPAC's documented ties to white supremacists and other extremist organizations."
In an article in today's Albuquerque Journal, ALIPAC President William Gheen said the group will lobby New Mexico lawmakers to fight the "illegal immigrant invasion of America."
NAACP and LULAC pointed to reports by the Southern Poverty Law Center (SPLC) that have repeatedly labeled ALI-PAC as an "nativist extremist" group and an organization that goes beyond mere advocacy of restrictive immigration policy to actually confront or harass suspected immigrants or their employers. Click for SPLC report.
They also pointed to statements in 2009 by the Anti-Defamation League decrying actions taken by white supremacists and Neo-Nazi groups on behalf of ALIPAC: click here and here. 
Both organizations stated they believe Governor Martinez overstepped her authority in August, when she instituted the now-halted "Residency Certification Program" that targeted 10,000 individuals in the MVD foreign national driver's license database. The program has since been stopped by New Mexico District Judge Sarah Singleton, who ruled on September 13 that requiring re-verification based on national origin could violate the Equal Protection Clause of the New Mexico Constitution.
"LULAC views ALIPAC's attempt to influence our New Mexico State Legislature as a continuation of a national trend of racist militancy against Hispanic civil rights," said Dennis W. Montoya, LULAC's New Mexico Civil Rights Chair and District 1 Director.
"Our shared concern is the continued harassment of immigrants by the Governor's administration, as well as her apparent lack of concern for the impact her approach is having on New Mexico families," said Sam Bone, President of New Mexico's NAACP. "This constant attack on people that have abided by the current driver's license law is an abuse of power at the very least and is not at all reflective of New Mexico's values. We worry that this driver's license repeal effort is a the first step in the erosion of civil rights for all vulnerable minorities in our state."
Montoya went on to state that the Governor's approach towards immigrants represents "her lack of connection to the people of New Mexico, and a frightening display of overt discrimination. This repeal effort isn't about what's good for New Mexico, it's a part of a larger political strategy to alienate Latino communities from Arizona to Alabama. New Mexico has worked hard to foster positive and respectful race relations since statehood, and we don't appreciate these outside ideologies based on the politics of hate."
"We encourage the legislature to stand up to the Governor and support reasonable proposals that address fraud in the driver's license process, keep all New Mexico drivers insured and protect all of us from run-ins with uninsured motorists," said Bone of the NAACP.
Photo by M.E. Broderick.
September 22, 2011 at 06:59 PM in Border Issues, Civil Liberties, Hispanic Issues, Impeachment, Legal Issues, NM Legislature 2011, NM Legislature Redistricting 2011, Right Wing, Susana Martinez | Permalink | Comments (0)
Wednesday, June 30, 2010
As Holiday Weekend Approaches, ACLU NM Issues Alert To NM Residents Traveling To Arizona
Planning on taking a trip to Arizona or driving through the state during the upcoming holiday weekend (or anytime)? Here's what you need to know to protect your rights in a state where the Republican governor and legislature have purposefully stirred up the populace on the issue of immigrants in an election year.
In response to civil liberties threats caused by the recent passage of Arizona's racial profiling law, the American Civil Liberties Union of New Mexico (ACLU-NM) issued a travel alert (pdf) today informing New Mexico residents of their rights when stopped by law enforcement when traveling in Arizona. The organization also released the following statement:
The unconstitutional law, known as SB 1070, requires law enforcement agents to demand "papers" from people they stop who they suspect are not authorized to be in the U.S. If individuals are unable to prove to officers that they are permitted to be in the U.S., they may be subject to warrantless arrest without any probable cause that they have committed a crime.
Although the new law is not scheduled to go into effect until July 29, ACLU-NM is concerned that some police officers and sheriff's deputies are already beginning to act on provisions of the law. Arizona law enforcement has a well-documented history of racial profiling, especially in Maricopa County. Arizona lawmakers have espoused a policy of "attrition through enforcement" that is meant to create such a hostile environment for people perceived to be immigrants that they flee the state.
"We want to ensure that New Mexicans understand the increased risk for illegal harassment and unlawful detentions when traveling in Arizona," said Peter Simonson, Executive Director of the ACLU-NM. "Our proud tradition of diversity and multi-culturalism means that one in two New Mexicans would fit the racial profile that police will inevitably use to enforce the law. New Mexico residents should also be aware that, because our driver's licenses do not require proof of legal residence to obtain, they may not satisfy Arizona's criteria for identification under the new Arizona racial profiling law."
In addition to the travel alert, the ACLU has made available in English and Spanish materials on individuals' rights if stopped by law enforcement in Arizona or other states as a result of SB 1070 or for any other reason. The materials include a downloadable card (see below) with instructions -- applicable in any state -- on coping with vehicle stops and questioning by police, U.S. Immigration and Customs Enforcement agents or the FBI, as well as a Frequently Asked Questions document about SB 1070.
"If I could only give one piece of advice to New Mexicans planning to travel in Arizona, it would be 'Know your Rights'," said Vicki Gaubeca, Director of the ACLU-NM Regional Center for Border Rights. "If you look or sound 'foreign,' you are more likely to be subjected to pretextual stops for minor infractions such as a cracked windshield or jaywalking. Law enforcement officers may believe that you are in the country unlawfully just because of the way you look, and your best protection against harassment is a thorough understanding of your rights."
The ACLU and other leading civil rights organizations filed a lawsuit challenging the Arizona law in May, but until the law is struck down, the ACLU warns that individuals traveling in Arizona must be aware of their rights if stopped there. If you are stopped by law enforcement in Arizona and you believe that racial profiling was a factor, you can submit a written complaint online on this page of the ACLU-NM website.
Materials informing individuals of their rights when stopped by law enforcement can be found here and here in Spanish.
More information about the Arizona law, including an ACLU video and slide show, can be found here.
Click for more information about the lawsuit, including information on co-counsel and plaintiffs -- including ACLU-NM's own Vicki Gaubeca.
More information about the ACLU of New Mexico's work on racial profiling can be found at our website.
June 30, 2010 at 11:32 AM in Border Issues, Civil Liberties, Hispanic Issues, Impeachment, Minority Issues | Permalink | Comments (1)
Wednesday, January 02, 2008
Photo of the Day: Rose Bowl Parade Protests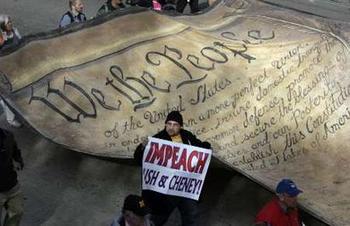 Protesters advocating impeachment of U.S. President George W. Bush and Vice President Dick Cheney carry a giant copy of the Constitution as they follow at the end of the 119th annual Rose Parade in Pasadena, California January 1, 2008. REUTERS/Mark Avery (UNITED STATES)
Also see these photos of the Rose Bowl protests on Flickr.
January 2, 2008 at 07:30 PM in Civil Liberties, Crime, Current Affairs, Impeachment, Iraq War, Justice, Visuals | Permalink | Comments (0)
Sunday, December 30, 2007
Wexler's Impeach Cheney Effort Gaining Momentum
Rep. Robert Wexler (D-FL) has joined with two other members of the House Judiciary Committee -- Rep. Luis Gutierrez (D-IL) and Rep. Tammy Baldwin (D-Wi) -- to urge the start of hearings on the Cheney impeachment resolution that was referred to the committee by the U.S. House on November 7th. Learn more at WexlerWantsHearings.com, where you can read an op-ed by the three representatives and sign a petition in support of impeachment hearings that will be submitted to Congress when they return in January. So far, more than 166,000 people have signed it.
December 30, 2007 at 11:58 AM in Impeachment | Permalink | Comments (6)
Saturday, November 24, 2007
Black Friday: Gotta Love This
Crooks and Liars has the story.
November 24, 2007 at 05:00 PM in Impeachment, Visuals | Permalink | Comments (0)
Tuesday, November 06, 2007
(Updated) Kucinich Introduces Cheney Impeachment Resolution
UPDATE: Here's The Nation writer John Nichol's take on what happened today on the U.S. House floor. Rep. Steny Hoyer acted like the cowardly, stubborn loser he is saying, "Impeachment is not on our agenda. We have some major priorities. We need to focus on those." Yeah, because the House is getting so much done!
After much wrangling and "mischievous" voting on the part of Repubs, Steny got the impeachment measure referred to the House Judiciary Committee, effectively preventing a floor debate. Oh, we wouldn't want that, now would we? Heaven forbid if the crimes of the Bush administration were to be debated in the People's House. Excerpt:
It took two more roll calls before members completed the procedural business of sending Kucinich's articles to the Judiciary Committee -- on a final vote of 218-194. That was technically a "win" for Hoyer, but the day belonged to Kucinich. After all, the Ohio congressman and Democratic presidential contender had succeeded -- albeit briefly -- in getting impeachment on the table.
******************
Read all about it and how you can take action to support the measure. There will be an impeachment rally today from 4:00 to 6:00 PM at the corner of Carlise and Comanche in Albuquerque outside the KOAT TV-7 studios. The protest is organized by Call4Democracy.org.
November 6, 2007 at 12:55 PM in Impeachment | Permalink | Comments (4)
Thursday, September 06, 2007
Lawless: Tell Congress to Do Their Damned Job
Raise a ruckess. If we don't do it, who will?
September 6, 2007 at 04:24 PM in Civil Liberties, Crime, Impeachment, Terrorism, Visuals | Permalink | Comments (0)
Tuesday, September 04, 2007
American Democracy: Time Has Come Today
I often feel speechless these days, which isn't a natural state for me. But what more can really be said about the eternal, unabated horrors of the Bush administration and its assaults on government accountability, reason, democracy, the Constitution, civil liberties, the rule of law, the environment, the economy and even common decency? It's all been said -- the savaging of so much has been documented infinitely clearly, repeatedly. And there's more new evidence every day.
What's needed is some listening and, most of all, action on the part of people who have the power to do something about this lawless demogogue and his complicit cronies. We need them (if there are any) to get real -- to be as serious about their opposition as BushCo is about its relentless assault on justice and democracy. Without that, we are dead. Our democracy is dead. Our future is dead. The planet is dead.
Instead, we have business as usual in the Congress, business as usual in the traditional media, business as usual in the citizenry, business as usual everywhere. Are we really supposed to content ourselves with weak, toothless, picky complaints about minor, peripheral matters as the infrastructure of self-government implodes in full sight of anyone willing and able raise their eyes to it?
I do it myself. Busy myself with political day-to-day, with the latest wrinkles in the latest political maneuverings, with the minutia of the machine. I convince myself that doing things that might possibly help to mitigate the worst of BushCo's impacts is worth it, at least for now. But with almost zero in the way of genuine, effective or honest responses from our "leaders" and "representatives," how much longer can I keep it up?

I'm sure many of you reading this can relate. We can't afford any more beating around the bush, literally or figuratively. What we need is for people with real power to wake up and use it on behalf of the people and the democracy. As ex-Marine Bruce Clark (whose son is stationed north of Baghdad) said at the recent Iraq Summer event -- this is TREASON, this is TYRANNY. More and more of the people -- some in relatively high places -- are admitting it, yet our public figures and power brokers limp on, murmuring platitudes. We raise our voices, we protest, we petition, we build cases, we attempt to apply pressure but no matter how convincingly or loudly we do these things, the status quo is allowed to carry on or worsen.
There is a sort of deadly paralysis infecting those who should know better, those who know in their hearts they must act now or forever be silent. We can only do so much out here in the hinterlands. Those in the circles of power are the ones who must, at last, LEAD. They must take it all seriously, for what it is: a no-holds-barred attack on our democracy and everything positive it has ever achieved or can achieve. But is it already too late for even that?
Eloquent critic and writer Chris Floyd says it is in his very long, chilling, but eminently logical piece entitled, "Post-Mortem America: Bush's Year of Triumph and the Hard Way Ahead." I can't possibly quote enough for you to get the full flavor, so please do read the entire post. Here are just a few nuggests, to lure you into reading the whole thing:
The Republic you wanted -- and at one time might have had the power to take back -- is finished. You no longer have the power to keep it; it's not there. It was kidnapped in December 2000, raped by the primed and ready exploiters of 9/11, whored by the war pimps of the 2003 aggression, gut-knifed by the corrupters of the 2004 vote, and raped again by its "rescuers" after the 2006 election. Beaten, abused, diseased and abandoned, it finally died. We are living in its grave.

The annus horribilis of 2007 has turned out to be a year of triumph for the Bush Faction -- the hit men who delivered the coup de grâce to the long-moribund Republic. Bush was written off as a lame duck after the Democrat's November 2006 election "triumph" (in fact, the narrowest of victories eked out despite an orgy of cheating and fixing by the losers), and the subsequent salvo of Establishment consensus from the Iraq Study Group, advocating a de-escalation of the war in Iraq. Then came a series of scandals, investigations, high-profile resignations, even the criminal conviction of a top White House official. But despite all this -- and abysmal poll ratings as well -- over the past eight months Bush and his coupsters have seen every single element of their violent tyranny confirmed, countenanced and extended.
What can we do? What can we do? What can we do? Does anyone know the answer? How can we get those in positions of power to act -- appropriately, strongly and now?
In certain circles words like rebellion and revolution and anarchy and resistance are bandied about as necessities, as the only ways to counteract the forces of high tech fascism. But even in these enclaves, there is no movement strong enough to make a dent. There is only more hand-wringing, criticism, fatalism, empty gestures, rote responses. I suppose this post is just more of the same. The truth is, no-one seems to know what to do or how to do it or how to foment it or how to shape it and inspire it.
The war which we were told the Democrats and ISG consensus would end or wind down has of course been escalated to its greatest level yet -- more troops, more airstrikes, more mercenaries, more Iraqi captives swelling the mammoth prison camps of the occupying power, more instability destroying the very fabric of Iraqi society. The patently illegal surveillance programs of the authoritarian regime have now been codified into law by the Democratic Congress, which has also let stand the evisceration of habeas corpus in the Military Commissions Act, and a raft of other liberty-stripping laws, rules, regulations and executive orders. Bush's self-proclaimed arbitrary power to seize American citizens (and others) without charge and hold them indefinitely -- even kill them -- has likewise been unchallenged by the legislators. Bush has brazenly defied Congressional subpoenas -- and even arbitrarily stripped the Justice Department of the power to enforce them -- to no other reaction than a stern promise from Democratic leaders to "look further into this matter." His spokesmen -- and his "signing statements" -- now openly proclaim his utter disdain for representative government, and assert at every turn his sovereign right to "interpret" -- or ignore -- legislation as he wishes.

What we lack are leaders up to the task, no matter where we look, whether within or without. We need a new Martin Luther King, Jr., a new Mahatma, a new Mother Jones, a new Jefferson, a new suffragette city of sorts. I don't sense anything or anyone like that on the horizon, do you? And I certainly don't sense anything truly up to the task within myself. How about you? Can we the people rise at last, bidden or unbidden, and make any difference at all? Isn't there at least intrinsic value in trying something? But what?
Again, as Floyd writes:
... there is no place left for the kind of [civil disobedience] action that Thoreau advocated. His way – and that of Gandhi and King, who took so much from him – envisions a state opponent which one could hope to shame into honorable action by the superior moral force of principled civil disobedience. But the very hallmark of the present regime is its shamelessness, its utter lack of any sense of honor or principle, its bestial addiction to raw power.
Still, there is this, if only this:
So whatever we can do, we must do it ourselves. If we have no power or influence, if we cannot take large actions, then we must take small ones. Every word or action raised against the overthrow of the Republic will find an echo somewhere, from one person to another to another to the next -- each isolated, individual voice slowly finding its way into a swelling chorus of dissent.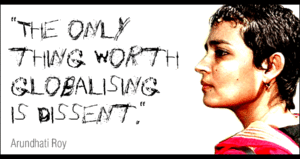 September 4, 2007 at 02:42 PM in Civil Liberties, Corporatism, Crime, Economy, Populism, Environment, Impeachment, Iran, Iraq War, Peace, Public Policy | Permalink | Comments (6)
Monday, September 03, 2007
We Can't Make It Here Anymore: Labor Day Edition
The mood of the country this Labor Day seems ripe for a little James McMurtry. A house of cards collapsing in on itself because of crooked deals and unpayable debt. "Free" trade robber barons piling up their tax-free bloat. Criminals in the board rooms and government and K Street. We're entrenched in one corporate quagmire war, while another threatens as Bush plots ways to attack Iran. Oh, and here's what our Democratic "leaders" are saying about continuing funding for Iraq. Happy Labor Day 2007. Think I'll head to the mountains, for some grounding.
September 3, 2007 at 08:59 AM in Civil Liberties, Corporatism, Crime, Economy, Populism, Impeachment, Iran, Iraq War, Labor, Music, Peace, Veterans, Visuals | Permalink | Comments (0)
Sunday, August 26, 2007
(Updated) Monday: Honk to Impeach Bush-Lights On for Impeachment
UPDATE: Event changes: Folks should meet at 8:00 AM to about 9:15 AM at Comanche and Carlisle (KOAT TV, Channel 7). Click for more info.
************************
From Committee to Elect Jason Call:
When: Monday, August 27, 7 AM - 9:30 AM (Bush will be at fundraiser in Albuq. later in the day.)
Where: 10 major intersections in Albuquerque (see proposed list below)
Who: 10 teams of 4-8 people at each site. Please email us if you can participate.
What: Signs will be provided.
Why: 40-80 volunteers at 10 intersections will reach 10's of thousands of commuters. HONK FOR IMPEACHMENT and the LIGHTS ON will let everyone know they are not alone.
Proposed intersections: Yale & Gibson SE, Montgomery & San Mateo NE, Paseo Del Norte & I-25, Ellison and Coors By-pass NW, 4th & Montano NW, Rio Bravo & Isleta, Louisiana & Menaul, others to be added.
For more information contact: Committee to Elect Jason Call, US Cong. 1st Dist. NM Email: Jason@Call4Democracy.org or visit www.Call4Democracy.org
Editor's Note: For other actions on Sunday, August 25 and on Monday, August 26th related to Bush's visit to Los Ranchos de Albuquerque, see this post.
August 26, 2007 at 01:08 PM in Events, Impeachment, Local Politics | Permalink | Comments (4)
Tuesday, July 31, 2007
Rep. Tom Udall to Cosponsor Gonzales Impeachment Resolution
The plot thickens. An AP story reports Rep. Tom Udall (D-NM3) will join other House Dems today in introducing a resolution directing the U.S. House Judiciary Committee to investigate whether to impeach Alberto Gonzales:
Rep. Jay Inslee, D-Wash., who was a prosecutor in Washington state in the late 1970s and 1980s, is the lead sponsor of the measure.

Co-sponsors of the resolution include Democratic Reps. Xavier Becerra of California, Michael Arcuri of New York, Ben Chandler of Kentucky, Dennis Moore of Kansas, Bruce Braley of Iowa and Tom Udall of New Mexico.
July 31, 2007 at 09:46 AM in Civil Liberties, Crime, Ethics & Campaign Reform, Impeachment, U.S. Attorney Iglesias | Permalink | Comments (5)
Wednesday, July 25, 2007
The Contemptuous Alberto Gonzales

Keith Olbermann's report on Gonzales appearance
Last night, I forced myself to sit through most of CSPAN's rebroadcast of AG Alberto Gonzales' smirking, sullen appearance (I won't call it testimony) before the Senate Judiciary Committee. I admit it -- I yelled at the TV set. Again.
Alberto's rude arrogance, his abject refusal to answer legitimate questions and his "I can't recall" refrains were frustrating enough, but his obvious lying and dissembling were executed without even a smidgeon of shame. Publicly. As if daring the Committee members to do something about it. He obviously feels protected by the Bush-Cheney cabal. As long as he continues to provide them cover, he can break any rule, any law, any protocol, for Bush himself has said he won't allow the Justice Department to investigate or prosecute Alberto for anything.
In any other era, the mainstream media would be all over the story of Alberto's deceit, incompetence and refusal to answer questions representing entirely legal constitutional oversight by the Congress. It would be on TV 24/7, like the Clinton stories were back in the days of Special Prosecutor Starr. Citizens would be up in arms, demanding action.
In any other era, of course, the person serving as president would never have appointed a slug like Gonzales and certainly would have forced a resignation if the AG behaved like Gonzales. In the Bush era, however, this is mere business as usual -- incompetence, dishonesty and acting above the law are commonplace, from the highest echelons of the White House on down. It's the modus operadi of the Bush administration: anti-democratic, unconstitutional and venal.
Will the Congress ever reach its limit and make a stand against Gonzales and his partners in crime? At least the language used by Senators yesterday was blunt indeed. Some Senatorial quotes from the SJC hearing, provided by Dana Milbank of the Washington Post:
"The department is dysfunctional. . . . Every week a new issue arises. . . . That is just decimating, Mr. Attorney General. . . . The list goes on and on. . . . Is your department functioning? . . . What credibility is left for you? . . . Do you expect us to believe that? . . . Your credibility has been breached to the point of being actionable."

And that was just from the top Republican on the committee, Arlen Specter (Pa.). Democrats had to scramble to keep up with the ranking member's contempt.

"I don't trust you," announced Chairman Pat Leahy (D-Vt.), who paused, while swearing in the witness, to emphasize "nothing but the truth" -- as if lecturing a child.

"You just constantly change the story, seemingly to fit your needs to wiggle out of being caught," added Chuck Schumer (D-N.Y.).

"You, sir, are in fact the problem," submitted Sheldon Whitehouse (D-R.I.).
What are the Senate's options to get at Gonzales? The choices are confusing, to say the least. A special prosecutor? Contempt of Congress or perjury charges? Impeachment of the AG? What's called "inherent contempt," whereby a trial would be held in the Senate and Gonzales would be seized by the Sergeant-at-Arms if convicted? Legal minds are no doubt working overtime to come up with something that can puncture the in-your-face criminality of Bush and company. Let's hope they get somewhere.
If the precedents being set by this bunch are allowed to stand unchallenged, what hope can we possibly have for the survival of our democracy, constitution or civil liberties?
More video:
July 25, 2007 at 02:00 PM in Civil Liberties, Crime, Impeachment, Terrorism, U.S. Attorney Iglesias | Permalink | Comments (5)