« Commissioner Maggie Hart Stebbins & UNM Area Residents Celebrate Partnership with UNM to Preserve North Golf Course | Main | Tax Policy in New Mexico »
Wednesday, August 15, 2012
ONE VOTE 2012 Kick-Off Event
The following announcement is provided by Samantha Kerley; Field Organizer, ONE VOTE 2012.
What is ONE Vote 2012? Read this aboutONE and this ONE Vote 2012.
Vote 2012 kick off event in New Mexico. There will be free food, guest speakers, and great opportunities to learn about ONE, ONE Vote, and how to get involved in an awesome campaign. We focus on issues such as preventable diseases and breaking the cycle of poverty and hungry through smarter agricultural improvements in countries within Africa. Our main goal is to create smarter federal policy priorities for foreign aide and assistance by educating and engaging Senate candidates, elected officials, and members of the community. Learn more and get involved!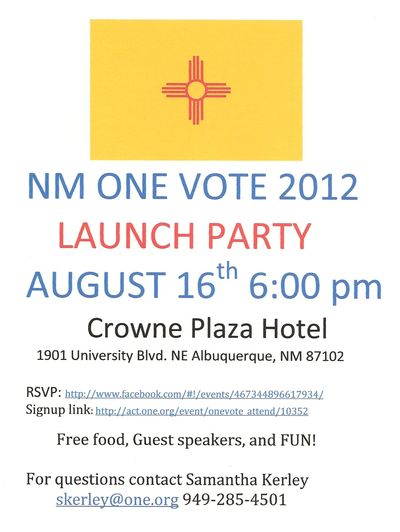 August 15, 2012 at 12:27 PM in Events, International Relations, Poverty | Permalink
Comments