« Pride Blog on HIV by Marshall Martinez | Main | New Mexico In Depth, a New Organization Receives Kellogg Foundation Grant »
Tuesday, June 12, 2012
Wild Wildfires in Colorado and New Mexico
The wildfires burning at 1.5 miles an hour in Colorado and New Mexico. Devastating. Barb and I loved Colorado. We took many many trips up into the mountains. In 2009 we went to the Cache La Poudre River canyon, just west of Fort Collins. We rented a cabin for a week and got our first up close view of the health of the forest with the bark beetle infestation. It was not on our radar at all but what we saw was forests mile after mile dead. Dead trees, millions of dead pine trees, rendering entire forests dead. 
We had both heard of the Bark Beetle (Pine Beetle), we knew the Pine Beetle was wreaking havoc, but to see the full extent was shocking and sad. I can remember thinking this is as bad as the gulf coast disaster but in a different way. There is very little coverage of this disaster, the killing of whole forests happened fast, and it is already gone. These hundreds of square miles of standing ghost trees are a tinderbox waiting to happen.
Here is a link to an article from the NY times published in 2008. There is an excellent 6 minute video within the article describing the Pine Beetle infestation, how they infiltrate the tree, and kill the tree.
There are not many articles that tie the Pine Beetle's killing of entire forests to these very wild wildfires, burning intensely hot and very fast. But it does not take a rocket scientist to determine that forest that are full of dead trees will burn fast and hot.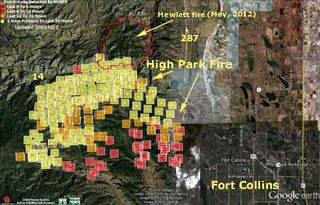 Map of High Park Fire 2:25 a.m. MT, June 11, 2012, showing heat detected by satellites at 2:25 a.m. MT, June 11, 2012, MODIS/Google Earth/Wildfire Today
The Pine Beetle has done much damage and it is not finished in some forests. It is clear the pine beetle has been able to survive because of warmer temperatures in the winter, more very cold below freezing days would kill the beetles off. In the natural past cold winters kept the forest in balance. We are watching more collateral damage of global warming, too much fossil fuel burned, too much living out of balance. Bye bye to the beautiful back forests along the Cache La Poudre river, see ya next life time.
June 12, 2012 at 05:00 PM in Climate, Environment, Land Issues | Permalink
Comments