« Treatment Center Funding Announced | Main | Georgene Louis Running for New Westside House District 26 »
Thursday, March 29, 2012
Local Leaders Endorse Al Park for Public Regulation Commissioner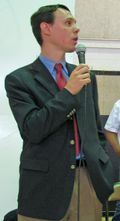 A little more than a week after submitting nominating papers, Al Park's campaign for Public Regulation Commissioner is proud to announce its endorsement by several prominent local leaders. The diverse group of state, county, and local elected officials includes:
Eleanor Chavez, New Mexico State Representative
Isaac Benton, Albuquerque City Councilor
Maggie Hart Stebbins, Bernalillo County Commissioner
Michelle Lujan Grisham, Bernalillo County Commissioner
Rey Garduno, Albuquerque City Councilor
Tim Keller, New Mexico State Senator
Representative Eleanor Chavez cited Al Park's commitment to consumer protection as a New Mexico Representative saying "While serving with Al in the State House he wrote the used car lemon law and was the prime co-sponsor for the payday lending reform bill, he is exactly the type of consumer watchdog we need on the Public Regulation Commission." Bernalillo County Senator Keller commented, "I've known Al for years and I am confident that he will be the same tireless fighter for New Mexicans as a member of the PRC that he was as a State Representative".
"I am grateful for the support of these community leaders," said Park "In the coming months I look forward to talking with New Mexicans about what the PRC can do to protect their consumer rights and ensure it operates in an ethical and transparent manner." Park added, "And as someone who championed an independent ethics commission, open conference committees, and increased criminal penalties for corrupt public officials while in the State House you can be certain my commitment to ethics reform is real and not just campaign rhetoric."
March 29, 2012 at 12:30 PM in 2012 NM PRC Races, Candidates & Races | Permalink
Comments
I have seen Al Park in action as my State Representative and I can't think of anyone who will represent the interests of the consumer better than Al. He has shown me that he has that wonderful blend of honesty, commitment, integrity and community well being that we richly deserve and desperately need at the PRC.
Posted by: Jeffrey Paul | Mar 29, 2012 7:06:30 PM