« 03/02: Rep. Patrick Kennedy Event for Congressman Martin Heinrich | Main | 02/21: DPNM Invites You to Meet DNC Chairwoman Debbie Wasserman Shultz! »
Wednesday, February 15, 2012
02/23: Meet Eric Griego and Jim Hightower at Los Poblanos!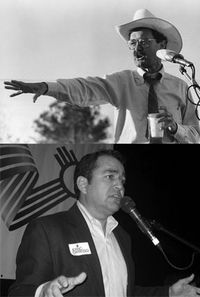 It was once said that "if Will Rogers and Mother Jones had a baby, Jim Hightower would be that rambunctious child -- mad as hell, with a sense of humor."

So, it's exciting that America's most popular populist, Jim Hightower, is traveling to Albuquerque to support Eric Griego for Congress.

Join Jim and Eric for a talk and book signing on Thursday, February 23 from 6:30-8:00 p.m. Click here to RSVP.

Eric has the record to win this critical congressional race. He passed campaign finance and ethics reform, a green jobs bill, and works for the people to "fight the powers that be." Having two passionate 99% warriors together is sure to make for a fun night.

As Jim would say, "even a dead fish can go with the flow." Come meet with fellow Democrats on February 23, and "we'll stir things up a bit."
If you have any questions, please call (505) 304-3355.
February 15, 2012 at 02:22 PM in Candidates & Races, Eric Griego, Events, NM-01 Congressional Race 2012, Progressivism | Permalink
Comments