« Guest blog: Santa Fe County Commissioner; Kathy Holian Supports Local Green Building Code | Main | Senator Keller Announces New Mexico Economy Legislative Package »
Thursday, January 05, 2012
1/12: A Celebration of Barbara Rose Wold's Life on January 12, 2012
Please Join us for
A Celebration of Barbara Rose Wold's Life
May 5, 1948 to December 18, 2011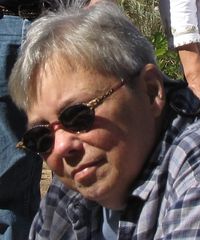 to be held on Thursday, January 12, 2012
at the United Association of Plumbers and Steamfitters Union Hall,
510 San Pedro SE, (SE corner of Zuni and San Pedro)
from 5:00pm to 9:00pm.
 In lieu of flowers, please contribute to her blog:  DemocracyforNewMexico.com
make checks out to: Democracy for New Mexico
Mail to 8522 Flower Pl. NE Abq NM 87112 or donate through PayPal on the blog
Help us keep Barb's passion for justice and
her legacy alive.
Due to the outpouring of love and support for Barb and Mary Ellen, we decided to change the location to a slightly larger space. So that everyone can be comfortable, we will have plenty of seating and tables, plenty of standing and chatting room, and plenty of space to Celebrate Barb's life.
Food and beverages will be provided. And some words of remembrance will be started at around 6:30. Look forward to celebrating Barbara's life with you all. With love and peace - Thank you all.
January 5, 2012 at 06:42 PM in Barbara Rose Wold, DFNM - Albq, Events | Permalink
Comments
So sorry that I will be out of town, but I will send a check!
BRW rocks, now and always!
Posted by: bg | Dec 28, 2011 3:57:27 PM
That name Rose, in the middle, really hit me. Her arrival as a baby...sigh.
Posted by: Foodie | Dec 29, 2011 9:29:28 PM
I don't know if I will be at the 1/17/12 "Occupy the Roundhouse" rally (cost of gas about $50 roundtrip from Cloudcroft) but if I make it, I will have a sign that just says ""What She Said"-- Thank you Barbara"
Posted by: Ellen Wedum | Dec 31, 2011 8:20:13 PM
i wish i could be one of the many sisters and brothers who will be there busting out the walls of a union hall on behalf of barb. i'll be thinking about her and you.
Posted by: linda | Jan 5, 2012 7:27:24 PM
Thank you dear friends. I know foodie the name Rose. was fitting thorn and all!
Posted by: Mary Ellen | Jan 5, 2012 7:51:52 PM