« Governor Bill Richardson Announces Establishment of New Solar Technology and R & D Facilities at Mesa Del Sol | Main | Check out Women Count Interview with Rep. Karen Giannini: She Needs Our Support »
Friday, June 18, 2010
Otero County Democrats Vow to Hit the Line Running at Celebration for Liberty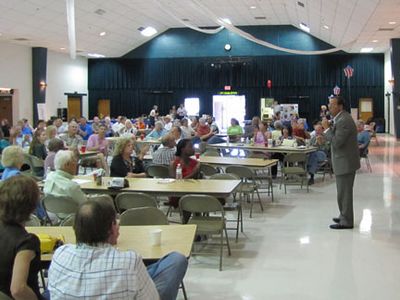 Lt. Gov. candidate Brian Colón speaks to Otero County Dems
This is a post by contributing writer, Stephen Jones, who is a progressive political activist and a resident of Las Cruces, New Mexico. He IS our Southern NM Bureau.
Raising the banner of education, jobs, and ethics at its Celebration for Liberty event in Alamogordo, Otero Democrats vowed to fight for change in the traditionally Republican-dominated southeastern New Mexico County Thursday night. Responding to well-known Sarah Palin's stump speech line, "How's that hopey-changey thing working out for you?" Dawn Provencher, Chair of the Otero County Democratic Party, responded, "Thank you, we think it's working out just fine, and we're working to continue to effect change!"
Headlining the Otero County 2010 general election kickoff celebration, held at the Sgt. Willie Estrada Community Center on 1st Street in Alamogordo, was Brian Colón, the Democratic nominee for Lt. Governor. "It's about education, the economy, and ethics" Colon told the crowd. Colón's Alamogordo appearance was one of several he made on Thursday including events in Valencia County in central New Mexico, Santa Fe in Northern New Mexico and finally the Alamogordo event in southern New Mexico. Commenting on his extensive schedule that crisscrossed the state on Thursday, Colón vowed, "Diane Denish and I are not going to concede one inch of New Mexico to our opponents. Not one precinct, one ward, or one county!"
"I am a product of New Mexico Democratic values," Colón said, "and I was the first in my family to break the cycle of poverty." He promised to raise the bar of New Mexico's education system, and help provide all of New Mexico's children with a chance. Colón promised to work alongside Diane Denish, the Democratic nominee for Governor, for better schools and opportunities in the state.
Stephanie Dubois, running in District 2, and Bill McCamley, running in District 5, promised to bring new energy and ethics to the New Mexico Public Regulation Commission, the state board that regulates insurance. "I believe in the Democratic process," DuBois said, "I'm here to give voters a real choice. I'm qualified and I'll bring ethics to the commission."
Bill McCamley charged that the current Public Regulation Commission has been rubber stamping insurance and utility rate increases without demanding written evidence from the applicant businesses. He pointed to the recent massive increase granted to Blue Cross Blue Shield. "It's vital that we keep rates low," McCamley said, "We can't be afraid to say no!"
Ellen Wedum, who is running for State Representative in District 59, called campaign finance reform the key to ethics. She raised her opposition to recent Supreme Court cases that equate money with speech. "How are we going to limit the size of government, unless we can limit the money spent on campaigns by special interests?" she asked.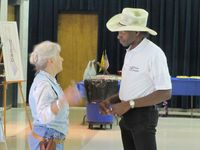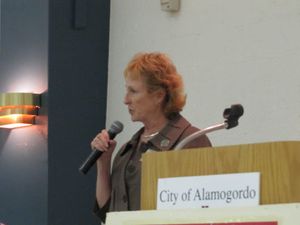 Ellen Wedum, Sheldon Compton, Sue Medina
Sue Medina, an Alamogordo School Board member who is running for State Representative in District 51 promised that she would "take Otero County into the 21st Century."
Sheldon Compton, the Democratic Candidate for Otero County Assessor of Otero County, said voters in the County were sick of being taken for granted. This year's election is Compton's second try for the office. Promising a breakthrough in 2010, Compton noted that he had received 49% of the vote in his first try in the traditionally Republican county four years ago. He stressed his twenty years experience in the Assessor's office. "I promise to be a full-time, accessible public servant," Compton said.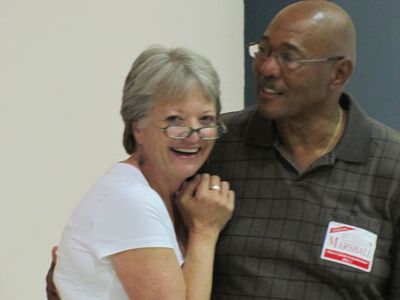 Dawn Provencher, L.C. Marshall
L.C. Marshall, candidate for Otero County Commissioner, District 1, is making his first try for office. "My district runs to the Texas border," he said, "We all deserve representation, not just the folks up around the Country Club." Promising to take it to the Republican establishment head on this fall, Dawn Provencher said Otero County Democrats were "energized."
Click on photos for larger versions. All photos by Stephen Jones. To read more posts by Stephen, visit our archive.
June 18, 2010 at 11:21 AM in 2010 NM Governor's Race, 2010 NM Legislature Races, 2010 NM PRC Races, Brian Colon, By Stephen Jones, Contributing Writer, Democratic Party, Otero County | Permalink
Comments
Good to see that the Otero Dems are energized!
Posted by: Old Dem | Jun 18, 2010 4:33:16 PM
We really appreciated Brian's driving all the way down from Santa Fe for our event. And it was a pleasure to have Stephen Jones there to report.
Posted by: Ellen Wedum | Jun 18, 2010 6:30:39 PM
The Honorable Judge Robert Robles was there as well running for the Appellate Court. It was good to see and hear him. He has an opponent in the general. As a down ballot position Judge Robles needs our help. This was a wonderful event for all of the candidiates. WE must be able to energize the vote or we will lose some excellent people like Judge Robles
Posted by: Stephanie DuBois | Jun 19, 2010 7:28:01 PM