« Tonight: Free Outdoor Films and Family Events at Sanchez Farm in ABQ | Main | Commentary on Obama's Nobel Peace Prize: DPNM Chairman Javier Gonzales, IAEA's ElBaradei »
Friday, October 09, 2009
The Laramie Project 10 Years Later, An Epilogue: 10/12 Gala and Three More Performances in ABQ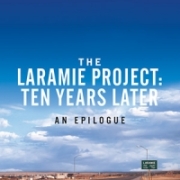 The Laramie Project: Ten Years Later ~ An Epilogue
Presented by Mayor Martin Chávez & the City of Albuquerque,
Equality New Mexico, and Working Classroom.

Gala, October 12, 2009, $100 Per Person
Includes Pre-Show Reception at Standard Diner, 5:00-7:00 PM
Performance at South Broadway Cultural Center at 8:00 PM
Coffee & Dessert with Cast at 9:30 PM

Additional Performances October 16 and 17 at 8 PM
October 18 Performance at 2 PM
South Broadway Cultural Center
1025 Broadway SE, Albuquerque
$15/general and $10 student & seniors

All Performances Benefit
Equality New Mexico Foundation and Working Classroom
Written by Moisés Kaufman, Leigh Fondakowski,
Greg Pierotti, Andy Pari and Stephen Belber
A Working Classroom Production Directed by Jesse Ontiveros
Purchase tickets online at workingclassroom.org and at the South Broadway Cultural Center. For more information call Daniel Garcia at 505-242-9267.
Prior to the Gala performance, a live webcast will be presented from Lincoln Center, with Moisés Kaufman and the original cast introducing the play. Following the performance, another webcast will be available for a live question and answer session via social media technology.
Tectonic Theatre Project traveled to Laramie in 1998 a month after the beating of Matthew Shepard to conduct interviews with the people of the town. In June 2008, members of Tectonic Theater Project returned to Laramie, Wyoming to explore how the town had changed in the ten years since Matthew Shepard's murder. What they found defied their expectations. The result is a new play about how we construct our own history.
This is the continuing story of an American Town.
Please also check out the online community at 
laramieproject.org
 and read the
New York Times
article
on the project.
October 9, 2009 at 01:46 PM in City of Albuquerque, Civil Liberties, Events, GLBT Rights, Theater | Permalink
Comments
About the Laramie Project, people have the right to raise questions. Why did Matthew Shepard get in a car with straight guys in the middle of the night? (it's amazing to me that no one has raised this question). Recently in a Newsweek interview, his mother , Judy Shepard, said that Matthew had a "dark side." Did he seek out dangerous situations with heterosexual males? Since Matthew obviously had "gaydar," he knew he was going out with straight men.
An earlier episode in his life seems to show his penchant for seeking this kind of danger. In a March, 1999 interview with Vanity Fair, Judy Shepard discussed that while Matthew was on vacation in Morocco during his senior year in high school, a gang there raped him. Again, it seems that Matthew Shepard put himself in a perilous situation with straight males (I've been to Morocco many times and people don't get dragged off the street and raped).
Obviously, Shepard didn't deserve to be murdered, but it is doubtful that he was the innocent martyr he is made out to be.

Posted by: Frank | Nov 3, 2009 1:40:54 PM
It may well be that one or more of the violent males who attacked Matthew are, in fact, closet or repressed homosexuals. This is often the case. Males who are secure in their sexuality don't maim or murder someone who is openly gay or who flirts with them.
Your viewpoint is pure conjecture. Regardless of whether it's true or not, the fact remains that nobody deserves to be kidnapped, tortured or murdered because they allegedly failed to recognize danger. This is like saying women who get raped deserve it for being out on the town or in a bar. Doesn't compute.
As far as getting in the car, Laramie is a small town and a relaxed atmosphere where crime is low. People don't fear for their lives from strangers like they do in places like New York City. If you go to bars, you're familiar with others who go to bars. There aren't that many.
I resent your implication that Matthew's behavior -- whatever it was -- somehow excuses those who kidnapped, tortured and murdered him in the most grotesque manner. Even if he came on to them, that doesn't give them the right to kill him. If that were the case, many straight males would be killed by straight women when they don't feel like being grabbed or whistled at.
Posted by: barb | Nov 3, 2009 1:59:35 PM