« NM Legislative Majority Leadership Responds to Governor's Statements on Special Session Budget Bills | Main | NM Finance Authority Oversight Committee to Meet in Santa Fe Nov. 2-3 »
Saturday, October 31, 2009
Local Groups Demonstrate Power of Weatherization & Energy Efficiency on National Weatherization Day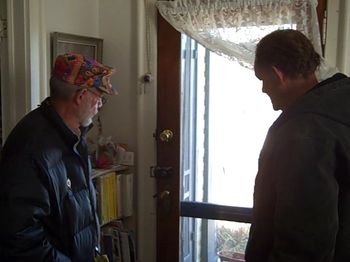 Lloyd Goding (Sustainable Las Vegas) & Brooke Burkey, a volunteer with the Safe & Dry program at a local Las Vegas home, discuss ways to stop cold drafts from entering house
Local faith and community leaders gathered in Las Vegas, New Mexico Friday morning to call attention to the urgent need for weatherization and energy efficiency in New Mexico's rural communities. The event coincided with National Weatherization Day and featured a press conference highlighting the vast potential of weatherization -- a general term for a suite of energy conservation and efficiency measures in the building sector. The press conference was followed by a tour that featured a baseline energy assessment of St. Paul's Peace Episcopal Lutheran Church conducted by Jim Palmer (P.E.) of NRG Engineering from Albuquerque, and a demonstration of residential weatherization measures at a local Las Vegas home.
The baseline assessment helped to identify opportunities for energy conservation measures that would lower the church's energy bills, such as addressing air gaps and evaluating an aged furnace. At the Las Vegas home, a demonstration of weatherization practices included sealing cracks around windows, insulating the hot water tank and installing more energy-efficient light bulbs. Greenhouse gas (GHG) emissions associated with the energy consumed in U.S. buildings accounts for about forty percent of the country's total global warming pollution, and retrofitting the housing stock alone could cut GHG emissions by up to 160 million metric tons annually by 2020.
Speakers representing Congressman Ben Ray Luján and the Clean Energy Works coalition addressed the ability for a ramp up of weatherization to create good jobs, cut consumer energy costs, and reduce emissions that cause global climate change.
At the same time, community organizations Sustainable Las Vegas and Community Action NM, as well as St. Paul's, stressed the difficulty rural New Mexicans experience in accessing weatherization services.
"With the predominance of older homes here in Las Vegas, we have a great opportunity to reduce energy use by making energy efficiency investments," said Lloyd Goding, President of Sustainable Las Vegas. "Energy efficiency has fallen through the cracks, as have the needs of rural areas like Las Vegas where many economically-vulnerable folks live."
"Our faith community supports the need to address energy efficiency for low income and elderly homes because we believe we need to care for people and God's creation," said Rev. Pat Halverson whose faith community is a partner with New Mexico Interfaith Power & Light. For approximately 3 years, a volunteer from St. Paul's Peace has assisted Las Vegas families in need in lowering their energy bills and saving money through "Safe & Dry" -- a program funded in part by the faith community and others. Rev. Halverson went on to say, "We have a huge issue in rural New Mexico and we often feel neglected. Energy efficiency is good stewardship and is the easiest way to lower people's energy bills, our house of worship's bills, and lower our carbon footprint. This is faith in action and it offers hope."
Friday's event in Las Vegas was part of a nationwide effort to raise awareness about the need for weatherization and the positive economic benefits it would provide to communities across the country.
"What we know is that retrofitting a home saves dollars and energy, while creating jobs and decreasing a community's overall carbon footprint -- it's a win-win-win-win situation," said Kira Jones of Community Action New Mexico. "On the other hand, we're hearing that the federal- and state-funded weatherization programs are not reaching rural New Mexico. Therefore, we're here to celebrate and to send out an urgent message to policy makers and funders that rural New Mexicans need energy efficiency!"
Friday also marked the end of the first week of committee hearings in the U.S. Senate on the Clean Energy Jobs & American Power Act. The hearings were held in the Senate Environment & Public Works Committee on which Senator Tom Udall (D-NM) serves.
"Our Senators Jeff Bingaman and Tom Udall have a lot of influence when it comes to helping build an energy efficiency economy", said Shrayas Jatkar with the Sierra Club and Clean Energy Works coalition in New Mexico. "With a clean energy jobs bill in front of them now, Senators Bingaman and Udall should seize the opportunity to boost investments in weatherization and energy efficiency while ensuring that such services reach rural as well as urban communities."
To learn more about the benefits of weatherization and energy efficiency read these recent reports:
October 31, 2009 at 04:49 PM in Economy, Populism, Energy, Environment, Faith Community, Las Vegas NM, NM Congressional Delegation, Sen. Jeff Bingaman, Sen. Tom Udall | Permalink
Comments
Wonderful work. People need more help doing weatherization and it's good see they're getting some help.
Posted by: Jay | Nov 1, 2009 10:47:54 AM