Wednesday, October 12, 2011
Action Alert: New Mexicans Renew Call for State Republicans to Return Iran-funded Campaign Contributions
On word that the US Department of Justice has indicted two men working for the Iranian government on charges that they attempted to assassinate the Saudi Arabian ambassador and possibly injure hundreds of innocent Americans in a terrorist attack on American soil, New Mexicans are renewing last week's call for Governor Susana Martinez, Congressman Steve Pierce and the New Mexico Republican party to return tens of thousands of dollars in campaign contributions received from corrupt business interests who are reported to have benefited from illegal oil and equipment sales to the terrorist-sponsoring state.
In the story on the Democracy for New Mexico blog last week, the New Mexico GOP and its candidates were big beneficiaries of Koch Industries donations in their 2010 campaigns. Together, they accepted $25,000 in donations from Koch Industries and KOCHPAC to fund races for governor, congress and state races across the state. Governor Martinez even used money from that same account to launch her SusanaPAC political action committee to continue her campaign efforts in 2011 and beyond.
A Bloomberg report recently called into question the legality of Koch profits which benefited the GOP. Koch is alleged to have skirted US embargoes to illegally sell oil equipment to Iran in violation of US law.
Responsible New Mexicans are continuing to call on Martinez and the GOP to return the contributions or donate them to causes working to advance New Mexican issues. To date, no response has been received.
Take Action: If you're disturbed about the kind of tainted money that is making it's way into right-wing Republican hands right here in New Mexico, you are urged to contact Gov. Susana Martinez, NM-02 Congressman Steve Pearce (or call 855-4-PEARCE (732723) or (202) 225-2365) and the Republican Party of New Mexico.
October 12, 2011 at 05:58 PM in Action Alerts, Iran, Koch Brothers, Republican Party, Right Wing, Steve Pearce, Susana Martinez | |
Wednesday, October 05, 2011
New Mexicans: Urge Governor Martinez and GOP Politicians to Return Contributions from Corrupt Koch Brothers
Guess who received campaign "donations" from business interests that secretly sold petrochemical equipment to terrorism-sponsor Iran?
New Mexico's right-wing Governor Susana Martinez ($10,000)
NM-2 Congressman Steve. Pearce ($10,0000)
NM Republicans ($5,000)
New Mexicans should start calling for politicians who have accepted contributions from Koch Industries -- and their political arm KOCHPAC -- to return the money or donate it to charity ASAP. Of course you have to wonder why these Republicans need to be urged to return the tainted money. Have they no consciences of their own?
A Bloomberg investigation revealed Sunday that Koch businesses, owned by conservative activists David and Charles Koch, circumvented US trade embargos to sell millions of dollars worth of petrochemical equipment to Iran. Iran is one of four countries designated by the U.S. State Department as a state sponsor of terrorism.
In a 2009 report, the State Department called Iran the most active state sponsor of terrorism, stating "Iran's financial, material, and logistic support for terrorist and militant groups throughout the Middle East and Central Asia had a direct impact on international efforts to promote peace, threatened economic stability in the Gulf and undermined the growth of democracy."
Of course well before the latest revelations about the Koch brothers emerged, they had a horrible reputation as greedy, crooked, obsessed right-wing operators who have little respect for the law or for the facts. They only care about one thing: protecting and expanding their already massive financial empire. And they're ready, willing and able to buy off politicos, launch underhanded attacks on unions and teachers, fund astro-turf political organizations or do whatever else they can conjure -- legal or not -- to do just that. I guess Martinez, Pearce and others in the GOP political machine just hadn't noticed all that scum on the Koch brothers pond of "donation" money.
According to New Mexico Secretary of State election filings, Koch Industries and their political action committee KOCHPAC donated $10,000 to New Mexico Governor Susana Martinez and another $5,000 to the Republican Campaign Committee of New Mexico in the final days of the 2010 election. Records show that the Republican committee provided polling, fundraising, direct mail, postage and direct contributions to unidentified state candidates and county political parties through at least 27 different transactions after receiving Koch money.
Martinez has since started her own PAC, known as SusanaPac, with $5,000 transferred from the same campaign account Koch money entered.
Congressman Steve Pearce (NM-2), also received $10,000 from Koch Industries in his 2010 campaign.
Meanwhile, Koch Industries has circumvented U.S. law to make money off of business dealings with a terrorist-supporting foreign country. They're a patriotic bunch, aren't they?
That dirty money has been funneled into New Mexico's Roundhouse and Republican establishment and should be returned or donated to charities doing real work to move New Mexico forward. New Mexico's right-wing politicians have no business taking money from companies or individuals that do business with terrorist-supporting Iran. Every Republican who benefited from the Koch's illegal profiteering should immediately denounce this, but I won't hold my breath. Money is money and where it comes from doesn't seem to bother NM right-wing politios one iota.
October 5, 2011 at 11:55 AM in Iran, Koch Brothers, Republican Party, Right Wing, Steve Pearce, Susana Martinez | |
Tuesday, October 13, 2009
Terry Riley Guest Blog: Do Demonstrations Work?
This is a guest blog from Albuquerque activist Terry Riley.
Do demonstrations work? I listened to Elliot Adams on Sunday at the Pentagon for Peace presentation at the Immanuel Presbyterian Church on Silver SE in Albuquerque. Elliot is the past president of Veterans for Peace. He feels that though we have not stopped the Iraq war/occupation or the Afghanistan war/occupation we have extremely likely prevented a pre-emptive attack on Iran. Now, that is really quite an accomplishment! We have likely also had an impact on how the military industrial complex has conducted themselves in Iraq and Afghanistan, though it is hard to imagine that it could be much worse.
Locally, here in Albuquerque there was a recent demonstration in response to a young mother who is dying of an extremely rare disease. The reason for the demonstration was that her insurance company, Presbyterian Health Care, had chosen to stop providing a (extremely expensive) medicine that was giving her relief even though her insurance premiums have always been paid. The demonstration was held in front of Presbyterian Hospital on a Sunday afternoon and, in addition to this action, many people e-mailed the head of Presbyterian Health Care in support of Kendra.
Yesterday the Albuquerque Journal had a front page article announcing that Presbyterian Health Care has begun providing that medicine for her again. There are many details and certainly many influences to Presbyterian's decision, but I believe that the demonstration and the e-mails applied pressure in support of Kendra.
I believe that demonstrations do work. Demonstrations are not the only avenue to take but they are a necessary part of a strong campaign to support or oppose an important issue. Please consider this when you read the next request for people to come out and stand in the streets. We do matter, we do affect the outcome. We do need more people to join us so that our issues are acted on more quickly, please join us, we have a world to save, environmental issues, military issues, healthcare issues, etc.
This is a guest blog by Terry Riley. If you'd like to submit a piece for consideration as a guest blog, contact me by clicking on the Email Me link on the upper left-hand corner of the page.
October 13, 2009 at 10:58 AM in Afghanistan, Guest Blogger, Healthcare, Iran, Iraq War, Peace | Permalink | Comments (3)
Monday, September 28, 2009
Pentagon of Peace to Visit New Mexico in October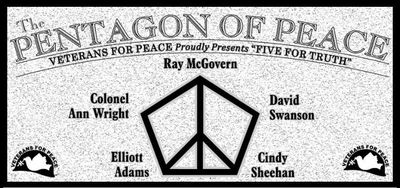 From Veterans for Peace:
PENTAGON OF PEACE:
"FIVE FOR TRUTH"
New Mexico Tour Presented by
:
Taos, Santa Fe and Albuquerque
OCTOBER 9, 10 & 11TH

Click for schedules and flyers for all three locations.
September 28, 2009 at 11:27 AM in Afghanistan, Books, Events, Iran, Iraq War, Military Affairs, National Security, Peace, Progressivism, Santa Fe, Taos | Permalink | Comments (0)
Saturday, May 30, 2009
KUNM's Social Justice Fair with David Barsamian Set for 6.8.09

From KUNM: David Barsamian, the award-winning founder and director of Alternative Radio, will be speaking at KUNM's first-ever Social Justice Fair on Monday, June 8th. We invite you to come to the UNM Continuing Education Conference Center at 1634 University Boulevard NE in Albuquerque at 6:30 PM to check out what local organizations are doing for social justice, and then stay for David Barsamian's speech at 7 PM. He is a witty and engaging speaker, and we will be giving out quite a few really great door prizes (CDs, restaurant gift certificates, etc.) to people in random numbered seats.
Barsamian has been working in radio since 1978. Over the years he has interviewed the likes of Angela Davis, Ralph Nader, Vandana Shiva, and Carlos Fuentes. In addition to his radio work he is an author and lecturer. His interviews and articles appear regularly in The Progressive, The Nation, and Z Magazine. He is the author of numerous books with Noam Chomsky, Howard Zinn, Eqbal Ahmad, Tariq Ali and Edward Said. His series of books with Chomsky, America's leading dissident, have sold in the hundreds of thousands and have been translated into many languages. His latest books are What We Say Goes with Noam Chomsky and Targeting Iran. Barsamian also lectures on U.S. foreign policy, corporate control, the media, and propaganda.
Tickets for the event are $5, but if you are a current KUNM member and reserve your tickets ahead of time, you will pay for only 1 but get 2. It's a benefit of membership.
To reserve your 2 tickets for the price of 1, call Cris Nichols at 505-277-3968 or Carol Boss at 505-277-0768 before 5 PM on Thursday, June 4th. The 2-for-1 membership special will NOT be available at the door because we need to verify that your membership is current and we do not want to tie up a line at the event by checking against a roster of thousands of current members.
May 30, 2009 at 09:57 AM in Books, Events, International Relations, Iran, Justice, Middle East, Peace, Progressivism, Public Policy | Permalink | Comments (0)
Friday, March 20, 2009
This Weekend: ABQ Protests of Wars of Occupation, Rally to Bring Troops Home
From the Y6C: The New Mexico Year 6 Coalition (Y6C) will hold an "Occupation is a Crime" rally on Saturday, March 21, 2009 from 11 AM to 1 PM at the corner of Second and Copper NW, Albuquerque, at the Galleria Plaza, next to the Convention Center, downtown. The New Mexico Iraq Veterans Against the War will be joining the demonstration.
This local rally is in solidarity with the massive national March on the Pentagon being organized by ANSWER in Washington, DC on the 6th anniversary of the illegal invasion of Iraq in 2003. The rally is calling for an end to the expansion by the administration and Congress of the wars of occupation taking place in Iraq, Afghanistan, Pakistan, Palestine, and the impending invasion or Iran.
The Y6 rally is addressing in specific the vote of the new 1st Congressional District representative, Martin Heinrich, who voted on his first day in office for HR 34. This resolution was the political green light for Israel to continue the massacre in Gaza in January which was only made possible due to their large supply of U.S. weapons. About 1,500 people died, many of them women and children. Many new experimental weapons such as the DIME were tested on the civilian population, which is also a war crime.
Politically many people are calling for a democratic one-state solution, not a two-state apartheid arrangement.
The Y6 Coalition is calling on Rep. Heinrich to work with the national S30 movement to stop the next $30 billion installment of U.S. weapons to Israel. A representative for the Congressman's office will also address the rally.
Participants are being encouraged to bring signs, bring banners, shout loud. There will be political speakers and music.
PLUS: Early Friday morning, in support of the Saturday rally, the local chapter of the Iraq Veterans Against the War (IVAW) will set up a Tower Watch at the rally site. They will stay all day and night through Saturday. The Tower Watch is a national campaign by Iraq war veterans to demand an end to the colonial occupation of Iraq. They are asking supporters to come join them Friday and Saturday.
The Y6C is composed of the following organizations:
Albuquerque Another Jewish Voice
Albuquerque Center for Peace and Justice
Albuquerque Chapter Veterans for Peace
Albuquerque Raging Grannies
Columbia Solidarity Committee of New Mexico
Grassroots Press, www.grass-roots-press.com
Gray Panthers of Greater Albuquerque
Green Party of Bernalillo County
Iraq Veterans Against War - Albuquerque
Los Alamos Study Group
Middle East Peace and Justice Alliance
Nob Hill Tutoring
Nukes Out of Duke City
The Mission Committee of the Albuquerque Mennonite Church
Pax Christi Holy Rosary
School of the Americas Watch Albuquerque
Social Justice Council of the First Unitarian Church
Stop the War Machine
Stop $30 Billion Coalition
Unitarian Universalist Fellowship Social Concerns Committee
March 20, 2009 at 10:58 AM in Events, International Relations, Iran, Iraq War, Middle East, Military Affairs, Peace, Veterans | Permalink | Comments (0)
Wednesday, February 13, 2008
Tonight in ABQ: Stephen Kinzer & Folly of Attacking Iran Tour
NATIONAL TOUR: THE FOLLY OF ATTACKING IRAN
WEDNESDAY, FEBRUARY 13, 2008, at 7:30 PM
UnNM Continuing Ed Conference Center
1634 University Blvd NE, between Indian School and Menaul
(plenty of extra parking to the north and in back)
Click for FLYER (pdf)
Reception & Refreshments to Follow

STEPHEN KINZER, author, All the Shah's Men
Dr. Michael McCally, Physicians for Social Responsibility
Justin Logan, Foreign Policy Analyst, Cato Institute
New Mexico Sponsors: Middle East Peace & Justice Alliance, Justice First!, Stop the War Machine, Physicians for Social Responsibility, Women for a Better World, Kim Fisher
Information: (505) 898-4544, dtwm@earthlink.net or at https://www.FollyofAttackingIran.org. Brand-new 6-minute YouTube video featuring Stephen Kinzer on Iran and the 1953 CIA-sponsored coup.
February 13, 2008 at 02:45 PM in Events, Iran, Military Affairs | Permalink | Comments (0)
Thursday, December 13, 2007
Guest Blog: State of Fear Averts Eyes from Bush's Errors
This is a guest blog by Ashleigh Steele, who graduated from Albuquerque's Eldorado High School in 2005 and is currently a junior majoring in international studies at the University of Nebraska at Lincoln. She writes a weekly op-ed for the Daily Nebraskan. This piece was originally published in that newspaper on December 7, 2007.
For the past several months, both the media and the government have inundated us with information about the developing nuclear weapons program in Iran.
According to the media and the Bush administration, Iran is on the verge of developing a nuclear weapon, and they pose a serious threat to the United States. But according to the National Intelligence Estimate released earlier this week, Iran halted its nuclear weapons development program in 2003. This report came as a surprise to most Americans who have been forced to listen to the rhetoric of the Bush administration in their media battle against Iran.
The National Intelligence Estimate stated that "in the fall of 2003, Tehran halted its nuclear weapons program" due to heightened international pressure. This is contrary to recent statements made by the Bush administration concerning the Iranian government.
The administration has repeatedly accused the government in Tehran of pursuing a weapons-grade uranium enrichment program. Even after the release of the National Intelligence Estimate, the Bush administration has maintained this stance against Iran.
On Tuesday President Bush said, "Iran was dangerous, Iran is dangerous and Iran will be dangerous if they have the knowledge necessary to make a nuclear weapon."
Clearly the administration has learned nothing from the occupation of Iraq.
Before entering Iraq in March 2003, the Bush administration adamantly maintained that Saddam Hussein was desperate to obtain weapons of mass destruction. In spite of the fact that both the CIA and the United Nations' weapons inspectors could not find any evidence that there were weapons of mass destruction, the administration still sent forces into Iraq.
The parallels between the rhetoric leading up to the war in Iraq and the rhetoric the administration is using to describe Iran today are striking.
Before the war in Iraq, the administration maintained that we, as Americans, should be terrified of the prospect of Saddam Hussein obtaining weapons of mass destruction; today it seems as though the administration would like us to be just as afraid of Mahmoud Ahmadinejad and the prospect of Iran enriching weapons grade uranium.
Bush wants nothing more than to keep us in a constant state of fear. This constant state of fear only serves to distract us from the economic slump, the sub-prime mortgage crisis, the illegal surveillance of the American people and the various other sins of the Bush administration.
The National Intelligence Estimate was released at a most inopportune time for the administration. In previous weeks, Bush has stated that a nuclear conflict with Iran could set off World War III; Cheney warned us that Iran is a terror-supporting state attempting to fulfill its grandest ambitions of acquiring nuclear weapons and taking control of the Middle East.
According to Flynt Leverett, a former senior director on Bush's National Security Council, the President and his staff were well aware of the conclusions of the NIE as early as August 2006. Yet the administration has maintained its adamant stance against the government in Tehran and continues to claim an attempt to enrich weapons-grade uranium.
This deception of the American people has to stop. The Bush administration has demonstrated its contempt for the truth throughout its time in office by lying to us about the reasons for invading the nation of Iraq and blocking a full investigation into the Sept. 11 terrorist attacks - this only continues with the claim that Iran is attempting to obtain weapons of mass destruction.
When will this deception end?
An April 2006 article in the New Yorker suggests that President Bush believes that Iran will be his saving grace. If he can force some type of regime change in Iran and prevent the development of nuclear weaponry, then his presidency will be vindicated. The majority of opinion polls put the President's approval rating somewhere between 30 and 35 percent.
Due to the war in Iraq, the growing deficit, the torture of prisoners of war, the disaster that was Hurricane Katrina, the controversy surrounding the dismissal of the U.S. attorneys and thousands of other mistakes, the presidency of George Walker Bush is now viewed by the majority of Americans as a failure.
So he's convinced that if he can save the United States from the threat of Iran that his legacy will be saved.
But the NIE tells us that Iran poses no threat. The earliest Iran could produce enough enriched uranium for a nuclear bomb is 2010, but they have stopped working toward the production of a nuclear weapon and are complying with the 1968 Non-Proliferation Treaty.
Clearly the Bush administration has motives other than protecting the interests of the American people. The United States should learn from its previous mistakes in Iraq; the American people should not allow themselves to once again get caught up in the rhetoric of the Bush administration and be driven into a senseless action against another nation in the Middle East.
This is a guest blog by Ashleigh Steele, a student at the University of Nebraska. You can reach her at ashleighsteele@dailynebraskan.com. Guest blogs provide readers with an opportunity to express their views on relevant issues and may or many not reflect our views. If you'd like to submit a piece for consideration as a guest blog, contact me by clicking on the Email Me link on the upper left-hand corner of the page.
December 13, 2007 at 09:19 AM in Guest Blogger, Iran, Iraq War | Permalink | Comments (2)
Monday, October 29, 2007
Chilling
Flynt Leverett on Washington Journal: What the White House Doesn't Want You To Know About Iran. Another ex-Bush adviser blows the whistle.
October 29, 2007 at 12:57 PM in Iran | Permalink | Comments (1)
Monday, October 22, 2007
Friday: Juan Cole at College of Santa Fe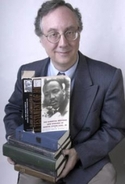 Juan Cole writes one of the most influential and visited blogs on Iraq and the Middle East, in addition to his many other distinguished activities. His most recent book Napoleon's Egypt: Invading the Middle East has just been published. He'll be speaking in Santa Fe this Friday:
College of Santa Fe
Friday, October 26, 7:00 PM - Forum
Juan Cole: Steps Toward Peace in Iraq
Click for Campus Map and Directions
This lecture by Mid-East scholar Juan Cole will explore processes for establishing a peaceful Iraq -- although Cole doesn't mince words in his recent Nation article: "There is no plan that can guarantee peace in the region." He argues that a U.S. withdrawal could lead in the right direction if a highly calculated series of conditions are met and Sunnis can be brought back to the negotiating table. Such conditions include American diplomacy toward Iran and Syria; Saudi leadership on behalf of Sunni Iraqis; a newly elected Sunni Arab political class; a six-plus-two meeting in which Mid-East foreign ministers assume crucial leadership roles; and the presence of a UN Peacekeeping force.
Cole's writings have been published in the Washington Post, The Guardian, and Salon.com. As a commentator, he can often be heard on such news shows as "Democracy Now!" Al Jazeera, "Lehrer News Hour," and "CNN Headline News." He is a professor of Modern Middle East History at the University of Michigan, and author of the popular weblog "Informed Comment."
Discussing the theoretical implications of war-time torture tactics or negotiating peace among Los Angeles gang members can be an engrossing way to spend the evening -- but theoretical debate turns experiential when the discussion includes participants in the events being explored.

In CSF's 2007-08 Beyond-the-Lecture Series, "Bridging the Cultural Divide," each event features the first-hand perspectives of people who bore witness or actively work to find solutions to epic problems. The series includes presentations by Samuel Toe, the Hearings Officer of the Liberian Truth and Reconciliation Commission; Tony Lagouranis, former Abu Ghraib Army interrogator; Alfredo Corchado, the Mexican Bureau Chief of the Dallas Morning News; and Santa Fe Mayor David Coss, as well as scholars, documentarians and others who will share their experiences with major world issues.

All lectures are free and open to the public. For more information, call (505) 473-6282. Co-sponsored by the Santa Fe Reporter and the United World College-USA/Bartos Institute. (From the CSF website.)
More info:
October 22, 2007 at 11:35 AM in Books, Events, Iran, Iraq War, Middle East | Permalink | Comments (0)
Monday, October 01, 2007
Hillary Joins Webb on Prohibiting Funding for Military Action vs. Iran
Here's her statement reiterating that Bush would need Congressional authorization before attacking Iran. Here's info on Webb's original amendment from March. Here's some excellent analysis by Steve Clemons. Excerpt:
There is breaking news via Taylor Marsh that Hillary Clinton will support Senator Webb's Resolution demanding that the President seek Congressional approval before any military action against Iran and prohibiting the use of funds for military operations in Iran.

This is significant news because while Hillary Clinton did support the Kyl-Lieberman Resolution calling for the Iranian Revolutionary Guard to be formally labeled a terrorist organization -- and thus providing the President with a potential back door Congressional authorization for yet another war in the Middle East -- her opposition to White House military action against Iran without Congress's sign off cuts a different and healthy direction.
Is there still some hope, however slim, that at least some Dems will try to stop this madness?
October 1, 2007 at 06:38 PM in Iran | Permalink | Comments (2)
Mario Cuomo on Dems, War, Constitution
It's about time a prominent and well-respected Dem called on Democratic members of Congress and the Dem presidential candidates to take their Constitutional responsibilities seriously and quit passing off their power to Bush. I've always been a fan of Cuomo and wish he'd run for president, but I suppose he isn't bought off enough by the war profiteers to pass muster. Maybe we should send a link to this video to every Dem member of Congress and every Dem presidential candidate. Of course that action might have more clout if we attached a pledge to raise big money for their campaigns. You know how it works. Maybe we should add a link to Why We Fight so they know we know what they're doing.
October 1, 2007 at 11:37 AM in 2008 Presidential Primary, Democratic Party, Iran, Iraq War | Permalink | Comments (2)