« Bottoming Out Culture 2012 | Main | Speaker Lujan Passes Away »
Tuesday, December 18, 2012
One Year Ago Today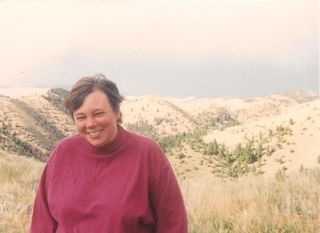 Barbara Rose Wold loving our earth
One year ago today Barb left the planet at least in the form we recognized her in.
The support from the community of friends has been outstanding, fantastic, life sustaining. Thank you is too small of a word to express the gratitude. Time and love from friends and friends we do not even know we have heals us. 
There is not a day that goes by without me remembering in full detail some aspect of our life together.
I find rest with the understanding that Barb is fullfilling her souls journey. And that we found each other and had the good fortune of traveling together for 23 years. I have to fulfill my life journey, you have to fulfill your life journey and there is no time to waste.
Love and Service
December 18, 2012 at 10:57 AM in Barbara Rose Wold | Permalink
Comments
RIP, Barb. The whole NM blogging community still misses you.
Posted by: Matt | Dec 18, 2012 11:05:45 PM
This linear perception is an illusion. Be assured that every moment spent with Barb is eternal.
Like the raindrop striking a still pond the waves emanating from her influence continue outward forever creating change for the good.
Posted by: qofdisks | Dec 19, 2012 12:58:43 AM
Your life will continue to be a tribute to Barb, Mary Ellen. Thank you for running for the NM House of Representatives!
Posted by: Gail | Dec 19, 2012 11:07:47 AM
Hard to believe she is gone and so soon. Thanks for all the reminders, we keep going, we keep the faith.
Rest and revel, Barb! Still sending our love and appreciation to you.
Posted by: bg | Dec 19, 2012 5:29:04 PM