« Help Pete Dinelli Qualify for Public Financing | Main | Boston Marathon Sadness »
Sunday, April 07, 2013
Lovie McGee to Seek Election to Abq City Council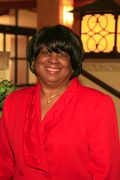 Long-term group volunteer and previous Air Force non-military personnel laborer, Lovie McGee pronounced nowadays that she will search for decision to city gathering, District 9.
She is directly a specialist realty representative, gaining practical experience in private deals inside Albuquerque. Before turning into a merchant, she labored for a long time as a government PC, fund, and information authority at Kirtland Air Force Base, Department of Defense. She holds a Bachelor of Science in Computers and Information Systems degree (Cum Laude) from National College in Rapid City S.D.
Her long history of group contribution incorporates benefit as Chair of the New Mexico Dr. Martin Luther King Jr. Commission and working with the State Fair Commission to set up the African American Pavilion. She as of now serves on the Albuquerque Public Schools Superintendent's Council on Equity and has been the seat of her Neighborhood Association. She beforehand served on the City of Albuquerque Human Rights Board and volunteers with Roadrunner Food Bank.
Her priorities will be:
Reforming Albuquerque Police Department and devoting adequate public safety resources to keep our neighborhoods safe;
Cooperating with Albuquerque Public Schools so every child gets a great education;
Supporting firefighters and first responders.
Growing small, local businesses and making Albuquerque attractive to employers.
Building and maintaining city infrastructure throughout District 9
Ms. McGee firmly believes that the special interests who finance campaigns have too much power in our government. Therefore, she has committed to seeking election under the City's groundbreaking Public Financing System, which will require her to gather $5 contributions from hundreds of District 9 residents.
"Alone we can do very little – Together We Can Move Mountains," Ms. McGee said
April 7, 2013 at 06:12 PM in 2013 Albquerque City Council Races, Candidates & Races, Democrat | Permalink
Comments