« Heinrich Exceeds Fundraising Goal, Garners National Praise | Main | Right On, Right On, Right On »
Tuesday, July 10, 2007
Join Noted NM Activist and Rancher Tweeti Blancett for a Discussion on Oil and Gas Drilling in Santa Fe County
Editor's Note -- Background on this issue and the Blancetts: Here's some excellent material from Orion Magazine about the battle against irresponsible oil and gas drilling in New Mexico and other parts of the West. And here's a video in the fine Sierra Club Chronicles series about the Blancett's fight against the drillers on their ranch in Northwestern New Mexico and beyond.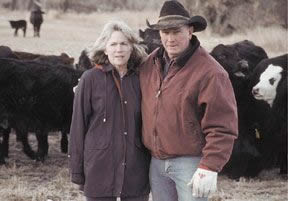 Tweeti Blancett and her husband, Linn
From Drilling Santa Fe:
On Tuesday, July 17, 2007, from 6:30 PM to 8:30 PM, Tweeti Blancett, longtime activist and New Mexico rancher, will present her graphic story of the ravages of oil and gas exploration and production in the San Juan Basin. Join Tweeti at the El Dorado Community Center, 1 Hacienda Loop, Santa Fe. Admission is free. Click for flyer.
Oil and gas exploration and production have not been an issue in Santa Fe County since the '80s. As energy prices skyrocket and as federal environmental regulations ease, the situation is quickly changing. Tweeti will discuss these changes.
In 2006, an oil company leased the mineral rights to 64,000 acres of private lands between the villages of Galisteo and Cerillos. In March 2007, over 6,000 acres of state-owned mineral rights between the village of Galisteo and County Roads 44/45 were leased by oil and gas interests. Already, one 1980's well in the Galisteo watershed has been revisited with high-pressure injections of possibly toxic chemicals to get the high grade oil flowing. Applications for more wells are pending.
Most of the land in Santa Fe County is a "split-estate." This means that even though one owns the surface of the land, the mineral rights belong to someone else. In Santa Fe County that "someone else" is likely to be oil and gas interests that can invade property, bulldoze a large site, set up a pit and drill through the water table for oil and gas.
It is critical that the County protect Santa Fe's many natural resources and quality of life, enforce its existing regulations, and strengthen certain provisions to address oil and gas production. Oil companies are now arguing that less stringent State regulations preempt local regulations, but citizens in other areas of New Mexico have fought back against the influence of the oil and gas industry. Counties can protect residents, wildlife and water.
Tweeti Blancett has traveled tirelessly for years speaking to groups from Montana to Otero Mesa. She brings together ranchers and environmentalists with a common message -- protect our land and water. Encourage local governments to stand up to the threats of immensely powerful industries. It is time for the citizens of Santa Fe County to hear her message.
For more information on this event and the issue, visit https://drillingsantafe.blogspot.com/ and or email us at drillingsantafe@earthlink.net.
July 10, 2007 at 01:44 PM in Energy, Environment, Events, Local Politics | Permalink
Comments