Friday, July 27, 2012
Love thy chikn. Love thy gay. Guest Blog by Cara Valente Compton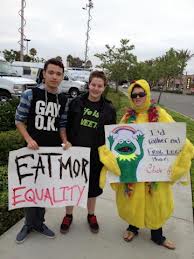 Following is a great guest blog by Cara Valente Compton. Photo to the right is from ThinkProgress.
You know, it is easy for me. I am a straight woman, married for many years to the same man. We have four kids. We live here in the city, and we raise our children with the liberal values of inclusion, equality, and tolerance. No one told me I couldn't marry the man I love. No one ever told me that my family was wrong, immoral, or a sin. I have it easy.
This is not the case for so many of my friends, who see their relationships demeaned, disrespected, and condemned by people who think that they know the way, the light, and the truth. They claim to be pro-family, but they are not promoting love, they are encouraging hate. Such is the case with Chick-fil-A, who now is backpedalling, issuing this statement today:
"The Chick-fil-A culture and service tradition in our restaurants is to treat every person with honor, dignity and respect - regardless of their belief, race, creed, sexual orientation or gender. We will continue this tradition in the over 1,600 Restaurants run by independent Owner/Operators. Going forward, our intent is to leave the policy debate over same-sex marriage to the government and political arena..."
Those words ring pretty hollow when you go online and read the commentary left by people who call themselves Christian, yet promote hate for gays. Mike Huckabee and Rick Santorum, two well-known, anti-gay Republicans, are leading the charge for a Chick-fil-A Appreciation Day on August 1st, asking those who agree with the anti-gay messaging of Chick-fil-A, to come on down and spend their money to show just how many good Christians agree with this homophobic agenda. Well, as alluring as a peach shake sounds on this hot summer day, I will pass. Instead, I will be joining my friends...people who believe in LOVE and equality, and the dignity of all people outside my local Chick-fil-A for the "Love thy Chikn, Love thy Gays" Rally!
What: "Love thy chikin, Love thy gays!" rally
When: Wednesday August 1, 2012, 11:30 am - 1:00 pm
Where: Chick-Fil-A, 5009 Montgomery Blvd, NE, Albuquerque, NM (San Mateo & Montgomery)
What: LGBT community supporters will provide 100 "hate free" chicken sandwiches to the community, and will rally in cow suits with signs and statements against Chick-Fil-A's hateful and community divisive policies.
Visit the Facebook event for more information.
The community is welcomed to join and encouraged to show their opposition to fundamentalist hate and intolerance by wearing cow and chicken costumes adorned with gay pride accessories.
"Chick-fil-A and these fundamentalist leaders are doubling-down on hate, trying to capitalize on intolerance by asking people to eat at their restaurant if they hate their neighbor," says Pat Davis, Executive Director of ProgressNow New Mexico. "We want to show Chick-fil-A that our community has another choice, and by giving our sandwiches away for free we won't be trying to make a buck off of intolerance." at no charge on Wednesday, August 1, from 11:30 to 1:00, to support equality for all.
The truth is you CAN eat your chicken without swallowing your pride. On August 1st I will stand proudly with my friends in the LGBT community in solidarity for equality and justice. I urge you to do the same.
So come on down, bring your friends, bring your lover, bring a happy heart and a hungry belly, and take a stand for love, for freedom, and for equality.
Love thy neighbor. Love thy chikn. Love thy gay.
#lovethychiknlovethygay
July 27, 2012 at 06:40 PM in GLBT Rights, Guest Blogger, ProgressNow New Mexico | Permalink | Comments (0)
Wednesday, July 25, 2012
Let's Get It Clear: The Message Behind the Heather Wilson Attack Ads
Produced by Peter Moulson, Special Correspondent
This June, a coordinated group of TV ads highlighted Heather Wilson's history of siding with oil and gas corporations as they pollute groundwater while she collected hundreds of thousands of dollars in campaign contributions from these industries.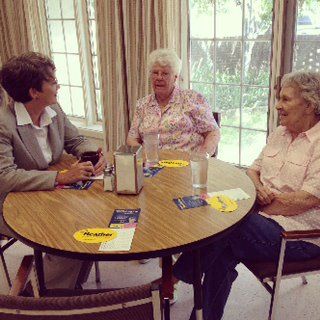 Photo from Heather Wilson's Facebook page.
Note: Heather drinks a warm beverage, not water.  
The TV commercials produced by The League of Conservation Voters and Defenders of Wildlife Action Fund met with muted acceptance by the mainstream New Mexico media, and even Wilson herself. But at least one New Mexico TV station and a widely-read and syndicated New Mexico newspaper chewed on the TV ad from the Sierra Club for making Wilson "look like the Wicked Witch of the West", and over all being "vague." It appears that one more attack on Wilson was too much.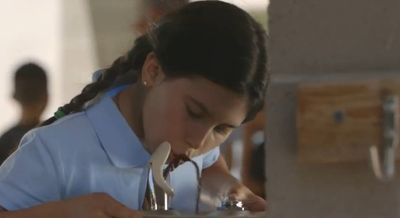 Still from "Drinking Fountain". Courtesy: Sierra Club.
It was The Santa Fe New Mexican which described the Sierra Club's TV "attack ad" on Heather Wilson's oil company cronyism as "vague". The 30-second commercial did not mention the polluting chemical by name (it's MTBE), or details of her voting record--for three consecutive years beginning in 2003, she voted in favor of energy bills that would have shielded MTBE manufacturers from lawsuits—and we thank The Santa Fe New Mexican for that research.
What political TV ad gives exact chapter and verse of their research? Try it yourself—in 30 seconds or less. Sounds as if Wilson's oil and gas megabuck contributions are getting her in deep water, and somebody's fighting back.
Thanks Sierra Club for stirring the pot.
July 25, 2012 at 09:21 PM in Guest Blogger, Heather Wilson, Political Ads, Regulation | Permalink | Comments (0)
Tuesday, July 24, 2012
Sen. Feldman Guest Blog: Gun Control in New Mexico Has Been Lost Cause: NRA on Ascendant since 2003
Following is a guest blog by Senator Dede Feldman. Sen. Feldman has her own blog with many great articles, follow this link here.
Even before last week's tragic shooting in Aurora, and the rush of commentary it has aroused, I'd been thinking about the legislature's total abdication to everything NRA. There's a chapter on this very thing in the book I am now writing about the New Mexico Senate. Now it's déjà vu all over again in Colorado and you've got to wonder whether New Mexico is next. New Mexico's gun laws are so liberal. You can carry any kind of loaded gun as long as it is not concealed if you are not a felon or are over 19 years old. No permits, licenses, training, registration or fingerprinting are required for the possession or purchasing of rifles, shotguns or handguns. And if you have a gun—you can take it almost everywhere except federal buildings, courthouses, buses, bars and pre schools. And we're not even talking concealed weapons here. State law now enables 24,000 licensees (at least they're trained) to carry concealed weapons into movie theatres, banks, child care centers, churches, liquor stores, restaurants and-- as of 2010-- bars which serve food.
As far as I'm concerned, New Mexico lost its way on guns back in the early 200Os. In the wake of the Columbine shooting, New Mexicans, like the rest of the nation, were much more interested in gun control, particularly given our high rates of youth suicide and homicide). In 2001, in the name of child safety, Rep. Gail Chasey and I were successful in passing a "trigger lock" bill to prevent accidents resulting from unsafe storage of weapons, especially handguns. But Gov. Gary Johnson vetoed it and the legislature instead passed a concealed carry law, which, after initially being ruled unconstitutional (the NM Constitution states "Nothing her in shall be construed to permit the carrying of concealed weapons), went into effect in 2003. The NRA has spent tons since that time to weaken training requirements, and lower the qualifying age. And they have been successful. They've also been trying, with the help of their allies in ALEC, to get the legislature to adopt a "stand your ground" bill like the one so famous in Florida's Trayvon Martin case. We already have these rights embedded in the NM constitution, but for the NRA, no matter. It would be another notch in the belt.
The Democrats lost their huevos on this one long ago, on the federal level, and when pro-gun Richardson became Governor, the funding for all the advocacy efforts dried up. Moms on a Mission, the mothers of three boys killed in the East Mountains who came to help us lobby for safety have disbanded. The families of other victims are now just support groups--- not rabble rousers asking why anyone should be guaranteed the right to carry a 100-round a minute assault rifle like the ones used in the Virginia Tech shooting, and now Aurora.
Meanwhile, on the Republican side of the aisle our Governor tweets about her perfect aim and great performance on the Concealed Carry test. And the Republican stronghold of Catron County has had a law on the books since 1994 requiring heads of households to maintain a firearm and the ammunition to use it.
For the past decade there have only been about eight or nine of us on the floor of the Senate resisting the flood of guns everywhere-- or even complaining about the fact that citizens are now carrying guns in the Roundhouse. Not even the shooting of Gabby Gifford, Albuquerque's Emcore tragedy provokes a rational discussion here in the Wild West.
  What a surprise! It's the policy of the NRA, with approximately 30,000 members in New Mexico, not to discuss shootings like the one in Aurora. After all, people are crazy and it would happen anyway. What you gonna do? Wait until we've solved everyone's unresolved psychological issues, I guess. Meanwhile, it could happen to your kids.
July 24, 2012 at 07:16 AM in Guest Blogger, Guns, Regulation | Permalink | Comments (1)
Friday, June 29, 2012
Obamacare: Surreal in so many ways by Peter Moulson
The moment so many had been waiting for, the Supreme Court's decision on what has become known as Obamacare started with a crash as Fox and CNN got it wrong by broadcasting that the Supremes had struck down the Individual Mandate from the ACA (Obamacare). It soon became clear that these Bastions of the Truth had got it wrong, and the Supreme Court had in fact upheld Obamacare.
As the initial shock wore off and strategy meetings were held, a group of excited, surprised, even astonished activists and politicians met for a 2:00pm press conference in front of the Federal Court building in downtown Albuquerque, almost oblivious to the near-100 degree heat.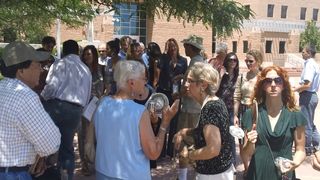 "ACA supporters gather outside the Federal Courthouse." (Photo: Peter Moulson)
Chris Cervini, director of Know Your Care New Mexico introduced Senators Dede Feldman and Jerry Ortiz y Pino, and physician Dr. Dan Derksen to the waiting TV media. The well-messaged points were that today's ruling was an outstanding success for healthcare in our country and it is now time to pressure the Martinez administration to take advantage of the millions of dollars being made available to us to assist with Medicaid in New Mexico.
Senator Feldman called on the governor and the legislature "to stop horsing around and implement this law of the land." Expanding Medicaid and developing a strong healthcare insurance exchange are essential she said, and then millions of dollars in Federal aid will be made available to New Mexico. "Hundreds of thousands of New Mexicans will benefit."
Dr. Derksen highlighted the fact that in New Mexico with a population of little over 2,000,000 -- 340,000 are without health insurance.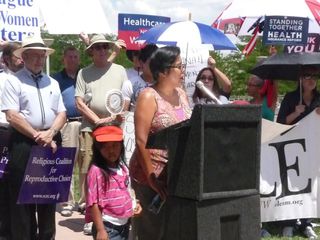 "This woman is Dine and with OLE New Mexico. She supports the ACA and noted that 40% of Native Americans in NM are currently uninsured." (photo Lora Lucero)
The excitement was palpable. Yet so was the underlying confusion. What did this mean? Why did they vote this way when we were so convinced they were going to shred the Affordable Healthcare Act in its entirety? And where exactly do we go from here?
Racing out of the heat in search of shelter, a large group from the press conference landed at Marble Brewery to celebrate. Chris Cervini brought the house to order by raising his glass in a toast to Justice Roberts, "certainly for the first and last time."

"A toast to Justice Roberts!" (photo: Peter Moulson)
You can bet your boots the Republicans will continue to challenge the ACA, but right now, let's enjoy the moment.
June 29, 2012 at 08:23 AM in Events, Guest Blogger, Healthcare, Obama Health Care Reform | Permalink | Comments (3)
Thursday, June 21, 2012
Guest Blog by Alex Cotoia: Supreme Court's Ruling on the Constitutionality of the ACA

Alexander Cotoia is a paralegal with the firm of Holt Mynatt Martinez P.C. in Las Cruces, and a member of the Democratic Party State Central Committee.  He has authored several guest columns that have appeared on this site.
In a matter of days, the U.S. Supreme Court will weigh in on the future of the Patient Protection and Affordable Care Act ("ACA"), as it issues its much anticipated decision governing the constitutionality of the law under the federal Constitution. Exhaustively discussed in legal and political circles, the ACA contains a number of controversial provisions, including the hotly contested "individual mandate" or "minimum coverage provision" that conservatives view as anathema; an impermissible encroachment on an individual's economic liberty.
If the Court were to accept this argument and strike down the ACA or any portion of the Act as constitutionally incompatible, it would be engaging in an egregious act of judicial activism; upending the principle of congressional deference and subverting the justification for "rational basis" review, which long recognized that Congress possesses plenary, or exclusive power over the regulation of interstate commerce. As Justice Breyer noted in dissent in the landmark case of U.S. v. Lopez—the seminal case in which the Court departed from nearly a half century of settled jurisprudence—the Court's function is to assess "not whether the regulated activity sufficiently affected interstate commerce, but, rather, whether Congress could have had a rational basis for so concluding."
That a rational basis exists for regulating the health insurance market is beyond legitimate contention. The unique nature of American health care, coupled with the inability of an individual to opt out (even those with the strongest immune systems are likely to fall ill at least once during their lifespan) left Congress little choice but to fashion legislation that included a minimum coverage provision to curb skyrocketing health care costs, and eradicate the 'cost-shifting' that is largely responsible for escalating premiums. Far from being without precedent, this is exactly the kind of "broader regulatory scheme" that the Supreme Court has consistently deemed constitutionally permissible, even in cases where the regulated activity was of a "wholly intrastate [and] . . . non-economic" character. (For a more detailed discussion about Commerce Clause jurisprudence, see opinion by a federal judge upholding the constitutionality of the ACA here: http://www.hfma.org/WorkArea/linkit.aspx?LinkIdentifier=id&ItemID=24259)
I'm not saying the ACA is perfect—it isn't. In a world in which the United States stands alone among our industrialized counterparts in providing health care as a matter of right to its citizens, the better, but far more controversial option would have been to expand Medicare and eliminate the private insurance market altogether. But this President recognizes political reality, and chose to pass legislation that dramatically expanded health care coverage to uninsured Americans; banned discrimination based on pre-existing conditions; and required insurance companies to cover a host of preventative care services without requiring a co-payment from the consumer. On balance, the ACA is a positive first-step in recognizing that access to quality, affordable health care is an integral part of American competitiveness. If Americans are to have an edge with our competitors the world over, it is imperative that we live both productive and healthy lives.
For this reason, the Court would do well to reject the frenzied contentions of the reactionary right and give new meaning to the principle of stare decisis. Allowing the ACA to stand is both legally sound and practically expedient. If conservatives truly were champions of judicial restraint, they would agree.
June 21, 2012 at 02:49 PM in Guest Blogger, Healthcare, Obama Health Care Reform | Permalink | Comments (2)
Wednesday, June 20, 2012
McCleskey and Martinez Should Come Clean to the Voters: Guest Blog by Eli Lee
Following is a guest blog by Eli Yong Lee, Consultant, Albuquerque, NM.
New Mexico's primary election is over, and what a bruising season it was.
From my days as a political consultant and as the former Executive Director of the Center for Civic Policy, I am no stranger to giving and receiving attacks. I believe strongly in the right of any nonprofit to highlight the wrongdoings and achievements of elected officials. Similarly, I believe in the right of candidates and political committees to point out differences and make one's best case for why a candidate should be elected or defeated.
However, I believe it is essential that everyone play by the rules. That is where Governor Susana Martinez and her campaign operative, Jay McCleskey, may have done a tremendous disservice to the voters.
The Center for Civic Policy and I were involved in a series of court cases against New Mexico's Attorney General about the right of nonprofit organizations to hold elected officials accountable for their voting records. The Center meticulously followed the state and federal rules of civic engagement for nonprofits. A New Mexico district court judge, New Mexico's Court of Appeals, and the federal courts agreed that our actions were in full compliance with state and federal law. Many disagreed with our approach, but the indisputable fact is that we followed the rules.
Last month, McCleskey and Martinez created a new political action committee with an innocuous-sounding name: the Reform New Mexico Now PAC. This PAC is run by McCleskey and shares an office with Susana PAC office.
Reform New Mexico Now quickly raised $205,000, primarily from two of Governor Martinez's largest campaign donors – the Chase Oil Corporation with a $130,000 contribution and the Mack Energy Corporation with a $50,000 contribution.
McCleskey originally reported these contributions as received on April 24th. If true, then McCleskey failed to report these contributions to the State on May 14th, when all other candidates and political committees were required to do so. Further, McCleskey did not report the existence of his PAC until May 29th, when state law requires filing as a political committee within ten days of raising or spending $500. If those contributions did arrive on April 24th, then McCleskey and Martinez's PAC would have violated state law.
After several media reports, Reform New Mexico Now filed an amended report on June 2, changing the dates of these contributions – and three other contributions – to late May. McCleskey's PAC stated, "There was a typo in the initial report filed with the Secretary of State by listing all contributions as 4/24/12….We were instructed on how to file an amended report and did so. The Secretary of State's office has informed us that we are in total compliance with the law."
McCleskey and Martinez's PAC spent over $100,000 in last minute attack efforts via mailers and radio ads during the final weekend of the Democratic Primary election.
Governor Martinez and Jay McCleskey have the right to criticize candidates with whom they disagree, and even to set up a front group so that the attack seems to be coming from someone other than Governor Martinez. Both activities are well within the rules. But Governor Martinez and McCleskey do not have the right to hide PAC information from the voters, as required by law. Their actions are a slap in the face to all voters. We all have to play by the rules, no matter one's political persuasion.
Several candidates have filed ethics complaints and the Secretary of State has opened an official investigation into the McCleskey/Martinez PAC. McCleskey and Martinez have until June 21 to answer the charges. The Attorney General should act even more quickly and demand notarized copies of all bank statements from Wells Fargo, Reform New Mexico Now's bank, to find out what the truth is, rather than simply taking McCleskey's word for it.
The voters deserve to know that everyone – even Governor Martinez and Jay McCleskey– have to play by the rules.
June 20, 2012 at 07:46 AM in Ethics & Campaign Reform, Guest Blogger, Susana Martinez | Permalink | Comments (1)
Tuesday, June 12, 2012
Pride Blog on HIV by Marshall Martinez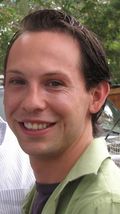 Marshall Martinez is a fairly frequent blogger here at DFNM, and we are grateful. Again Marshall takes his passion to writing and educating us in this Pride Blog post. Thank you Marshall!
"It's time to come together and get to work!"
This was the rallying cry many of us active New Mexico Democrats received in our email inboxes Wednesday Morning of this past week. The primary is over and we must come together, work hard to defeat Mitt Romney, Heather Wilson and Janice Arnold-Jones etc.
At the same time, to those of us who are GLBT, The beginning of June means something else entirely! "Pride is about Unity" "Pride is about Community!" "Pride is about being comfortable, safe, expressing love, being who we truly are!" And these statements are all true. I, for one, love Pride Month!
But over the last couple of years, I have seen a darkening cloud over both of these exciting sets of events. As a lifelong active Democrat who enjoyed the coming together of the party after a primary, and as a relatively Young Gay Man who enjoyed the party and the excitement and the feeling of welcome-ness of Pride, My mind often wonders now, about something that seems to be left out of the discussions.
It is estimated that more than One Million people are living with HIV/AIDS in the United States today. Almost 35,000 new infections are diagnosed every year since 2005.
Why do I bring this up now? Why do I constantly bang this drum? Because not enough other people are!
The story may be different in other parts of the country, certainly in larger cities. But in Albuquerque, NM, we are behind the game, and we need to step it up!
The conversation about condoms and abstinence has been going on for a couple of decades in the US. And though we definitely could setup up our programs in Public Schools nationwide, it doesn't seem to be as effective as we thought it would be in slowing the number of new infections. So what's next?
The year is 2012. And unless the world really ends in December, (or August) we need to be rethinking our messaging and our approach to HIV Prevention. Arguments have been happening nationwide about offering a drug currently used for treatment of HIV, to people possibly exposed to HIV. The arguments have included the notion that this will allow people to be more reckless about their sexual activity, knowing there is a pill they can take. (By the Way - The same argument made about the morning-after pill, and other forms of contraception in the past) Maybe we should be talking about Risk Assessment and Harm Reduction not "prevention." Maybe we should acknowledge that people like to have sex without condoms, and regardless of how irresponsible we may think it is as advocates, talk to them about other steps they can take to protect themselves. Maybe its time to have different conversations at PRIDE, and other venues. Let's talk about how to discuss Viral Load, and its implications on risk; or about the use of lubricant and, other tools to help reduce risk of sex without a condom.
Maybe we should work harder to take the stigma out of the statement "I'm HIV Positive." I have too many friends, loved ones, who do not reveal their status to potential partners, or friends and family even, because of all the baggage that goes along with that. Maybe if we started teaching gay men especially how to react with compassion rather than disgust when they hear that, then maybe we can start to open those lines of dialogue and allow people to feel more comfortable discussing the risks.
I don't know the answers; I don't know what direction we should take. But I know we have to come together to make a change. In this highly charged political atmosphere for Republicans and Democrats, in this time of celebration and memorials for a Queer community, we have to find a new approach to a problem that has plagued us for far too long. I propose that the first step is to put aside our ideologies about treatments, about messages, about methods, and become more willing to discuss all options. Only with the widest of approaches and most open of minds can we truly defeat HIV. Remember, as I have sad before, this is our Sons and Daughters, our Brothers and Sisters we are talking about. Don't they deserve some new energy and effort on their behalf? Yes, yes they do.
June 12, 2012 at 11:02 AM in AIDS/HIV, GLBT Rights, Guest Blogger, Healthcare | Permalink | Comments (0)
Thursday, June 07, 2012
Gay Marriage; Guest Blog by Bill McCamley

Bill McCamley is a Las Cruces Businessman and the Democratic Candidate for New Mexico House District 33.
"These people who are making a big deal out of gay marriage?... Why not? We're making a big deal out of things that we shouldn't be making a big deal out of... Just give everybody the chance to have the life they want." Clint Eastwood.
Love between two people is wonderful and recognizing that love for all people should be legal.
That being said, I have an admission to make. I really don't know why, but as a straight guy I get very uncomfortable seeing two men together showing affection. Something about it, until recently, made me feel downright squeamish. Many straight friends have admitted similar strong feelings, and they are so powerful that we use them instead of reason to make marriage laws.
In discussing this subject for years, three arguments become clear when denying gay people the right to marry. However, when examined closely each fails to hold up.
Religion. The Bible has many deep, worthwhile lessons. Loving your neighbor, unbounded forgiveness, and care of the less fortunate are so important to any community. But if laws were only based on strictly Biblical teachings, bad things would happen. For instance, divorce for any reason other than cheating would be forbidden (Matthew 19:9) and tattoos would be illegal (Leviticus 19:18). So, wouldn't you expect that people who use the Bible to deny marriage for gays and lesbians argue as forcefully for these and other Biblical messages? They don't, and their use of the Bible as an argument for lawmaking loses its strength.
The Gay Agenda. Many fear that gay people will use politics to force their ways on those who disagree with them. They view the marriage debate as an assault on a personal view of natural order. But this happens any time people fight for equality and those exact arguments have been used for years against issues like women getting the right to vote, racial integration of the military, and allowing black and white people to marry. Today, most everyone recognizes that these changes created a better, more vibrant, and tolerant country. Gay marriage will too.
Children. The most consistent argument against equality is that commitment and love are not sufficient reasons to alter the definition of marriage; it should only be about raising children. If this is true, then should women past menopause be allowed to marry? What about sterile men? Or straight couples who choose not to have children? I personally know couples in each of these categories and the positive effect that marriage, with the love and support it signifies, has had on their lives. Most Americans agree. So howccan it be used to deny that same right to gay couples?
There is another, bigger reason to support legalizing gay marriage: the definition of a person.
For two summers, I worked at a camp called Seeds of Peace.Teenagers from the Middle East came to the US and talked about the problems in their areas with kids from the other side. It led to a deep understanding about how people justify horrible actions.
Often in these conflicts, the only thing many on one side know about the other is what they hear from other people or the news. So to many Israelis, Palestinians are not "people"; they are terrorists who blow up buses. To many Palestinians, Israelis are not "people"; they are jack-booted thugs who destroy homes. This substitution makes it easier to accept anger and violence. People weren't being harmed, only "thugs" or "terrorists." The camp's whole point is to get these kids to look at each other as humans. Doing so makes dialogue easier and violence less justifiable.
The same problem exists with gay people. For better or worse our laws reflect our community's views, and the message we send by denying gay marriage is simple: Your love defines you. Our society's definition of an evolved love involves marriage. Therefore gay people, who cannot get married, are not people; they are "queers", "abominations"... or worse.
The effect of this is obvious as debate over gay marriage has taken center stage. For instance, preachers have been seen all over the news and the Internet, calling for parents to punch their children if they act effeminate, advocating for confinement of all gay people in concentration camps, and, even asking the government to simply execute gays. To them, discrimination and violence against gays and lesbians is not only acceptable, but good. Yes, these people are extremists. But their calls for hate trickle down, and the consequences are horrific to kids.
Gay teenagers and lesbians who come out are at a much higher risk of being kicked out of their home, being abused, and committing suicide then straight teens. Recent high-profile suicides in California, Iowa, and New Jersey of gay teens bullied and threatened by classmates and roommates only serve to give a gruesome face to these statistics and illustrate the intolerance and fear which many gay Americans experience on a daily basis.
So if you are straight when you consider this issue, you may feel like I do – an initial repulsion. But when that happens I ask only one thing. Think. Understand that base reactions are not good enough to make or justify laws. If you do, I am confident you will come to the same conclusion I did.
Life is tough. If you are lucky enough to find true love with someone, whatever gender, who gives it back; if you want to to support that person so you can cherish life's good times and help them get through the bad together; if you want to get married, committing those values to each other; then you shouldn't be stopped.
All of us should support you with everything we've got.
June 7, 2012 at 04:16 PM in Civil Liberties, GLBT Rights, Guest Blogger | Permalink | Comments (0)
Tuesday, May 29, 2012
Guest Blog: Why Vote? A Young Person's Perspective by Hannah Siegel
Following is a guest blog by Hannah Siegel. A 2012 Sandia Preparatory School Graduate and Intern for Martin Heinrich's Campaign for U.S. Senate.
"This coming Saturday I will graduate from Sandia Prep in Albuquerque. For the past year, I have been the news editor of my school paper and I have always held a deep seeded interest in politics. Over the past month, these two passions have come together through my Senior Experience internship with the communications director of the Martin Heinrich for Senate campaign.
As a result of this experience, I was motivated to write an op-ed for other young people, giving my opinion on the importance of voting and explaining why I support Martin Heinrich. I hope you will consider publishing this op-ed in Democracy for New Mexico before next Tuesday's primary."
Perhaps it was the midterm election cycle, the time of day (just after school), the polling place, or simple serendipity, but the first time I ever cast my vote, I was pretty much alone. There was no line and no need for the voter card I had carried around like a talisman since I first got it a few weeks prior.
Voting was simple and easy. I had done my research so thoroughly that I even knew which judges I wanted to keep. I could have filled in the circle that would allow me to vote straight Democratic, but for some reason I felt the need to bubble in each and every individual oval, and every time I did so, I felt a spark of adrenaline and a feeling of accomplishment and importance.
No longer would I just have to sit behind the phone and urge people to do what I so longed to do. No longer would I have to walk from house to house for hours in 100 degree weather with the bitter, yet hopeful knowledge that volunteering was all I could do. Finally, I had my own say. Finally, I could use my civic voice. At last, I could vote.
There are many reasons I could name that would  explain my voting excitement or why I would encourage other young people to vote: every vote matters, voting now creates good habits later, and voting is the most important civic duty a person has. But those are just facts, and none of them really capture my enthusiasm. You see, I vote for my future. Incidentally, this is also why I cast my primary vote for Martin Heinrich and why I will do so again come November.
Right now, there are several bills floating around congress that would keep the interest rate on federal student loans low. And though, at this current moment it doesn't look like I'll need a government loan for college next year and the years beyond, for many of my peers, a government loan is their only option. The only thing the bills really differ on is how they would be paid for. The bill introduced by Republicans in the House of Representatives will cut funding for the Prevention and Public Health Fund, which is aimed at stopping serious health risks and chronic diseases like HIV/AIDS and cancer before they happen, and is included in the Affordable Health Care Act. The bill that Rep. Heinrich supports will raise taxes by six percent on oil companies. Since oil companies are currently raking in more money than any other industry in America, I think they can afford a small tax increase to support the future generation of CEOs.
But there are other issues currently being debated on Capitol Hill that are just as important if not more so to my generation and future generations.
Firstly, being a relatively private person and having also recently joined Facebook, I can say that privacy on the internet, a place where confidentiality can easily be breeched, is a serious matter. But it's not just hackers that can compromise private information. Recently, there have been rather terrifying reports that employers are demanding to see employees' and job applicants' passwords so they can access information that may be hidden from the public eye on Facebook and other social media sites. To counteract this new trend, Rep, Heinrich took action and introduced the Password Protection Act, which would make it illegal for employers to demand online, private information.
Secondly, I have lived in New Mexico my entire life, which has given me a clear window into the debate over illegal immigration. We should build a higher fence; employers should be penalized for employing illegal immigrants; all illegal immigrants should be rounded up and deported; illegal immigrants shouldn't have drivers' licenses: these are all common opinions voiced about illegal immigration. But one thing that isn't talked about enough is the children who come to our country at a young age. Though they are not American citizens, many of them have grown up in America. This is their home. They know English just as well as their fellow students and are just as driven to make the American dream their own—many serving our country in the military. Rep. Heinrich is a co-sponsor of the DREAM Act (Development, Relief, and Education for Alien Minors), which would allow students, who are just like me, only different in their country of birth, to receive full status as a U.S. citizen.
Thirdly, I would like to take this time to talk about bullying. Yes, former Congresswoman Heather Wilson was right when she said recently that it is the job of parents to teach their children empathy and acceptance. However, I disagree that the government has no role in addressing the problem of bullying. This issue is especially close to my heart as someone who has been bullied because of perceived sexual orientation. In recent years, there has been a dramatic upswing in students committing suicide because they were bullied, especially kids who were bullied because of sexual orientation or perceived sexual orientation, which is why a bill called the Student Non-Discrimination Act has been introduced. The act, which, again, Rep Heinrich co-sponsors, would outlaw bullying and harassment of students in public schools based on sexual orientation or gender identity both by bullies and by school staff and programs. The bill would not criminalize bullies, but would penalize schools that allow discrimination on the basis of sexual orientation or gender identity.
Lastly, Rep. Heinrich also fought against the House Republican budget which would make serious cuts to Social Security and Medicare. You may point out that neither of those things really affects me because, as a healthy young person, I don't need them. But the truth is I won't always be young and more importantly there are parents and grandparents out there who need these programs to insure their well being and the well being of their children and grandchildren. If I work hard and pay into the system, I should be able to receive the benefits I've earned when I retire. That's only fair. But if the Republican budget passes, the rug may be pulled out from under me and everyone else because Medicare and Social Security will end as we know it.
When I go to the polls to vote, or when I weigh positives and negatives of both sides of an issue, I'm not just cognizant of my own situation, but of others' as well. A country is a lot like a really big, dysfunctional family: we are united by a common citizenship and have a responsibility to one another. If one person is struggling, it is the duty of the entire family to help that person out, regardless of how that person may have fallen into that situation. The same is true of a country, but on a much larger scale. So when I cast my vote, I do it not just for my own gain and for my future, but also for everyone else's. If we recognize that we are all in it together, we are stronger. That notion, I believe, is one that Rep. Martin Heinrich shares and that is why I will continue to throw my support behind him through voting and volunteering.
May 29, 2012 at 06:05 PM in 2012 NM Senate Race, Guest Blogger, Rep. Martin Heinrich (NM-01), Youth | |
House District 46 is Worth Fighting For; Guest Blog by David Coss


As the election nears, tensions start to heat up. I'm sure you're getting a ton of political mail, and you can't turn on the radio without hearing about one candidate or another. That's because elections are about choices, and it's important that voters have all the information about the people they are going to trust to make important choices on their behalf before going to the voting booth.
Our campaign is working hard to talk to voters. Here's why: House District 46 is worth fighting for. Northern Santa Fe County deserves a quality, experienced leader, with strong Democratic values and a track record of success. The issues we face are too serious and too urgent to throw this election to chance. So we're working hard, talking to voters at the doors and on the phone, about the choice they face on June 5th.
My opponent is Carl Trujillo. He's an employee at the Labs and has been a homebuilder in the area. In this campaign and the one he ran in 2010, Carl has staked his entire campaign on running against, as he calls it, "the Democratic Party machine." He called me a "career politician with a dubious record when it comes to ethics and transparency," and claimed that I'm backed by "the political old-boy network."
I am proud of my record as a labor union organizer, a civil servant and a state worker. I am proud of my record as an elected official, fighting for increased ethics and transparency. And I am proud of all the support you have given me. The support for this campaign encompasses all walks of life, progressive reformers, longtime Democrats and brand new voters to the political process.
Carl has spent three years now railing against the "Democratic Party machine." He says he's against what the "Democratic Party Machine" stands for. But, Carl serves on the Democratic Party's State Central Committee, which is the elected body that governs the very same "Democratic Party machine."Not only that, but he's also a Party Ward Chair. So, he's against the Party, calls it a "machine led by cronies" but he helps run it?
Carl also says he's a Democrat and that he's for Democratic values, but he says that labor unions can "get in the way of fair wages and employment opportunities." You can see the youtube video here. Having been a labor organizer and a longtime union member, and seeing the attacks on labor unions in Wisconsin and other states, I find his views incredibly troubling.
I continue to invite Carl to accept the challenge publicly to discuss the issues with me, so that voters know where we both stand, and what we'll each bring to public office. The Santa Fe New Mexican has generously offered to host a moderated public debate. I have accepted but am disappointed that Carl has not.
The election is just 7 shorts days away. Like I said, this election is too important to throw to chance. Please get involved and vote on June 5th. The working families of House District 46 are worth fighting for.
May 29, 2012 at 04:00 PM in 2012 Legislature Races, Candidates & Races, Guest Blogger | |
Monday, May 21, 2012
KAFB Jet Fuel Spill 3 Times Larger at 24,000,000 Gallons? by David McCoy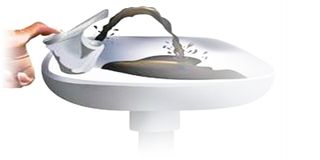 Photo above from.
From David McCoy, Executive Director of Citizen Action New Mexico wrote on Thursday, May 17, 2012;

Thanks for your continuing interest in the KAFB jet fuel crisis. I've attached an affadavit to what I heard Mr. William Moats, a geologist from the New Mexico Environment Department say. I received information that Dr. Davis (NMED) confirmed hearing Mr. William Moats' statement to me, but says nobody really knows the size and they don't know Mr. Moats' basis...

At 8,000,000 gallons the spill is still the largest, deepest and greatest threat to any City's drinking water aquifer in the history of the nation. 24,000,000 gallons may represent Armageddon for Albuquerque's Aquifer. I am hoping the Water Utility Authority seriously gets on top of the need for saving the Ridgecrest wells by 1.) demanding a plan for water treatment now from the Air Force and 2.) demanding that the LNAPL plume be stopped. If water treatment is not installed at Ridgecrest and the wells are simply shut off, the plume may travel to 40 city wells to the north. Surely, the economic benefit brought to ABQ by the Air Force cannot be greater than the value of our drinking water for homes, businesses, health and a future.

There is a WUA meeting next Wednesday May, 23 in the City Council chambers. The public can speak although the limit is usually 2 minutes. It would be good to turn out a lot of people.

The WUA should demand that the Air Force state NOW how it will treat the Ridgecrest wells. Shutting down Ridgecrest is not an option because the plume may continue to be drawn to the north to 40 other wells. Water treatment needs to be put at Ridgecrest starting immediately. If the LNAPL plume is not stopped, the water will be worthless, unless no one minds the taste of diesel fuel.
Inaccurate statements were made to the WUA at the last presentation by KAFB.
First, the movement of the LNAPL plume will not be stopped by the SVE equipment since it is not volatile. SVE is not recommended for dealing with diesel fuel. (US EPA Office of Underground Storage Tanks EPA 510-B-95-007). EPA also states: "Injection of heated air can be used to enhance the volatility of these heavier petroleum products because vapor pressure generally increases with temperature. However, energy requirements for volatility enhancement may be so large as to be economically prohibitive."

Second, there is no plan for the LNAPL containment. On April 2, 2010 the NMED ordered an Interim Measures Plan to be produced by KAFB. Three additional letters followed up that order.
From April 2, 2010:
"Therefore, on or before June 7, 2010, the permittee must submit to the Department for its review and approval an Interim Measures ("IM") Plan that describes what immediate actions it will take to remediate and stop the migration of the LNAPL plume. ... The IM Plan must also include an implementation schedule showing that remediation of the LNAPL plume will be completed within five years of the Department's approval of the IM Plan."

At the June 23, 2010 NMED presentation to the ABCWUA, Mr. Bearzi's handout stated:
"CURRENT REMEDIATION EFFORTS ARE INADEQUATE; Without doing something different, could take over 50 years to remove fuel from vadose zone and LNAPL plume."

Two years after NMED's order and there is still no approved IM Plan! There is also no enforcement of the 4/2/2010 Order.

Third, given the mass of liquid jet fuel floating on the aquifer, there is no evidence that using SVE equipment will keep the liquid from dissolving into the ground water or keep the LNAPL plume from moving. The bulk of the fuel on the aquifer is not aviation gas. It is JP-4 and JP-8 that are non-volatile fuels. So SVE won't stop the floating liquid plume's migration north. SVE will only remove whatever aviation gas is left down there and will not recover any of the JP4 and JP8 or keep it from moving. The LNAPL plume will reach a tipping point ust as the dissolved plume did. The vacuum for the SVE is 3 ft above the floating plume and cannot be put into the water.

The Colonel is not an environmental expert and the vacuum cannot come in contact with the 3 ft thick layer of the Jet Fuel. Moreover, the vacuum is only being applied on the Base and the leading edge of the dissolved plume is already 3/4 into the City and the LNAPL is 1/2 into the City. KAFB has let the plume leave the base which is 12 years of failed policy of both NMED and the AF. The two plumes in the City must be dealt with immediately. The liquid plume is 3 ft thick, one-half mile wide and one mile long. The dissolved plume with 100s of millions of gallons of aviation gas is three times the size of the LNAPL plume, 85 ft thick and contains Ethylene Dibromide (EDB), a potent carcinogen. The dissolved plume cannot be stopped from arriving at the Ridgecrest wells. Every gallon of aviation gas has 1/2 teaspoon of EDB. Every gallon of aviation gas is capable of contaminating millions of gallons of water.

Colonel Conley just doesn't understand that the vacuum which is only operating on the AF Base will only have a radius 100 ft. That is far distant from the leading edge of the plume and there are no remediation wells in the City. There will be zero effect on stopping the LNAPL because the vacuum can't touch the top of the water. There will no effect on the leading edge of the LNAPL plume heading for KAFB #3 well. Adding monitoring wells and vacuum will not stop the plume.

Citizens and the WUA should ask when the 1st gallon of jet fuel will be pumped. Otherwise, the only thing is that there will be more years of studies and we've already had 15 years of delay with no clean up. The thermal oxidizer is only a burner and doesn't pull vacuum. But again that will only be used on the AF Base. There is nothing stopping movement of the front end of the dissolved or liquid edge of the plume that is already far off the AF Base. The dissolved plume will hit the wells and we need water treatment. We need a plan for stopping the LNAPL movement.

One last item: Automatic federal budget cuts will go into effect on January 1, 2013 across all agencies. WUA needs to assure how this expensive problem of water treatment will be paid for.

Sincerely,
David B. McCoy, Executive Director, Citizen Action New Mexico
POB 4276, Albuquerque, NM 87196-4276
505 262-1862  dave@radfreenm.org    www.radfreenm.org
May 21, 2012 at 12:19 PM in Action Alerts, Environment, Guest Blogger, Water Issues | Permalink | Comments (2)
Sunday, May 13, 2012
Mother's Day and the Pentagon Budget Guest Blog by Rep. Mimi Stewart

Guest blog By Representative Mimi Stewart. Mimi Stewart is a State Representative from district 21 and State Director for the Women Legislators Lobby, a program of Women's Action for New Directions.
This Mother's Day, I am thinking about mothers and families all over our country. The past few years have not been easy. Families struggled to make ends meet and here in New Mexico we had to find ways to continue to provide vital services even as revenues tumbled. In Washington, DC Congress is trying to put together a budget for next year. I'm watching this process closely because our state counts on funding from the federal government to implement crucial programs. The budget process will affect each and every one of my constituents.
The budget passed by House Republicans will slash programs used disproportionately by women and families. In addition to the Medicare and Medicaid cuts you may have heard about, it cuts funding for programs like food stamps, child care, Head Start, job training, Pell Grants, and housing and energy assistance. Meanwhile their budget allows defense spending to continue to increase.
So while we've cut spending for domestic programs that support families, communities and businesses, Pentagon spending continues to grow. Each year, Congress appropriates more than half of discretionary spending to the Department of Defense, wars and nuclear weapons spending. Even without deficit reduction pressure, this overspending takes dollars away from needed domestic priorities that strengthen our economy and ensure that America can compete in the world marketplace. As chair of the Joint Chiefs of Staff Gen. Dempsey put it, "It makes no sense at all for us as a nation to have an extraordinarily capable military instrument of power if we are economically disadvantaged around the world."
Also, many tax dollars going into this enormous Pentagon budget are wasted on outdated security strategy. Over the next decade, we are slated to spend hundreds of billions of dollars on a nuclear weapons arsenal built for the Cold War era. These weapons are simply irrelevant to support our troops on the battlefield or to address 21st century threats.
In the past decade we have spent billions on war. Afghanistan is now the longest war in our nation's history, and we spent nine years in Iraq. Now some seemed prepared to go to war in Iran. Whether measured merely in direct financial cost, or in the broader and more profound cost of lives lost and damaged, we cannot afford to be a nation perpetually at war.
Finally one thing upon which I hope we can all agree is that the Pentagon, which swallows up such a large percentage of our budget, must be at least as carefully scrutinized for waste as other government programs. Right now the Pentagon cannot even pass an audit to show how it spends our tax dollars.
Some supporters of the Pentagon and their contractors tout money to the Pentagon as a jobs program. Sensible national security jobs make sense, and no member of Congress can ignore the effect of policy decisions on jobs. Nonetheless, economists have shown that federal investments in non-military sectors--like education, healthcare and clean energy--create more jobs than military spending. It makes sense to invest federal dollars in sectors that will create productive jobs that will help our economy grow for years to come.
We can make sensible reductions to Pentagon spending and invest in programs that will help build a vibrant economy for generations to come. This Mother's Day, let's honor hard-working women around the nation by calling on Congress to pass a budget that supports women and families and puts us back on the path to a sustainable economic recovery.
May 13, 2012 at 07:00 AM in Economy, Populism, Guest Blogger, Women's Issues | Permalink | Comments (0)