« October 2012 | Main | December 2012 »
Thursday, November 29, 2012
Good News and Bad News for the National Defense Authorization Act 2013
Senator Tom Udall and Senator Jeff Bingaman released the following press statement "Udall, Bingaman Offer Amendments to Defense Authorization Act" highlighting amendments they introduced and passed to be included in the National Defense Authorization Act (NDAA) 2013.
These are very positive amendments for the state of New Mexico. Below are quotes from Udall and Bingaman.
"With these amendments, we are ensuring New Mexico is a leader in the 21st century clean energy economy, and at the forefront of the national security achievements being made at our national labs and within the defense community," Udall said. "Our biofuels amendment is especially important to national security and businesses in our state so I'm glad we were able to get one over the finish line today."

"The National Defense Authorization Act is one of the most important bills for New Mexico because it helps fund our national labs and our military installations. I am especially glad that the Senate adopted our amendment to allow the Pentagon to invest in all types of fuels - including biofuels -- for its fleets. The Defense Department is a major consumer of fuel, and the more homegrown, cleaner-burning fuel it purchases the better off we will be," said Bingaman, who chairs the Senate Energy and Natural Resources Committee.
However, there remains troubling language within NDAA 2013 regarding laws of Detention. The HuffPost has a good write up of this: Senators Make Bid To End Indefinite Detention In NDAA. An excerpt:
A bipartisan group of senators made a bid Wednesday to end the indefinite military detention of Americans in the United States.

Declaring that a provision of the National Defense Authorization Act of 2012 put the country on a path to repeat the shame of World War II's internment camps, they argued the offending language should be stricken in this year's defense bill.

The authority to detain anyone on suspicions that they backed Al Qaeda was codified in law for the first time in the NDAA last winter, although the two most recent White House administrations have asserted since 2001 that the military has always had that authority, stemming from Congress' Authorization to Use Military Force (AUMF) passed after the 9/11 attacks.
Senator Rand Paul had this to say about the indefinite detention, "If we give up our rights, have not the terrorists won?" Paul said. "If we relinquish our rights because of fear, what is it exactly that we are fighting for?"
One last thing in this monster bill. The cost of this war machine bill does not seem to be in any dialog at all. Click on this link and go to page 597 to see the tables of what we are paying for within this bill. Make sure you are sitting down. One because it is 70 pages long and the other because it is billions and billions of dollars. Our tax dollars, line after line, page after page. Descriptions of who knows what. Who goes through these items? An example below, the numbers are in thousands of dollars.
MATERIAL HANDLING EQUIPMENT
172 ROUGH TERRAIN CONTAINER HANDLER (RTCH) ....... 0 0
173 FAMILY OF FORKLIFTS ................5,895
174 ALL TERRAIN LIFTING ARMY SYSTEM ......... 0 0
TRAINING EQUIPMENT
175 COMBAT TRAINING CENTERS SUPPORT ....... 104,649
176 TRAINING DEVICES, NONSYSTEM .................. 125,251
177 CLOSE COMBAT TACTICAL TRAINER ............ 19,984
178 AVIATION COMBINED ARMS TACTICAL TRAINER ........ 10,977
179 GAMING TECHNOLOGY IN SUPPORT OF ARMY TRAINING ... 4,056
What are these things and why do we need them? Why are'nt we as a nation screaming about this list of killing devices or training of killers. Meanwhile we judge the person on foodstamps? Or punish the people on unemployment. One word comes to mind, unsustainable.  
November 29, 2012 at 04:55 PM in Military Affairs, Sen. Jeff Bingaman, Sen. Tom Udall | Permalink | Comments (2)
12/1: Learn how to Lobby!
New Mexico League of Women Voters
2012 Lobbying Workshop
December 1, 10:00 to noon
Montezuma Lodge, 431 Paseo de Peralta, Santa Fe, NM
The goal of the workshop, presented by the League of Women Voters of New Mexico, is to teach interested attendees to be effective in advocating as individual citizens or as members of civic organizations or other groups in interacting with the NM Legislature. Handouts and discussion will also provide information on the legislative process, on lobbyist regulation, and on the tools available on the legislative web site.
The workshop is free and open to the public. Pre-registration is not required, but please arrive before 10:00 to sign up and collect handouts, so that we can start promptly at 10:00.
Speakers:
Senator Peter Wirth was elected to the NM House of Representatives in 2004, re-elected in 2006, and since 2008 he has represented Senate District 25 in Santa Fe.
Representative Jimmie Hall has served in the NM House of Representatives since 2004, representing House District 28 in Bernalillo County.
Linda Siegle has been a registered lobbyist in New Mexico since 1992. She specializes in representing non-profits and health care associations.
November 29, 2012 at 01:30 PM in Action Alerts, Events, NM Legislature 2013, Peter Wirth | Permalink | Comments (0)
12/1: Help get Signatures to Amend the Abq City Charter
It is time for majority rule elections In the city of Albuquerque. Help us amend the Albuquerque City Charter to 50% Majority Elections by gathering petition signatures on Saturday December 1st , during the Nob Hill Shop and Stroll Holiday event. Thirty thousand people are expected to attend !
What : Collect petition signatures to amend the Albuquerque City Charter
When : December 1st , 2012 from 11am - 6pm
Where : Democratic Party HQ , 3200 Monte Vista blvd NE
Join the fight , call and volunteer for a two hour shift to help bring majority rule elections to the city of Albuquerque. Call Jason @ 750-8386 or email Majority505@gmail.com
November 29, 2012 at 10:35 AM in City of Albuquerque, Election Reform & Voting, Events | Permalink | Comments (1)
Wednesday, November 28, 2012
Michelle Lujan Grisham Joins Congressional Hispanic Caucus in Support of Comprehensive Immigration Reform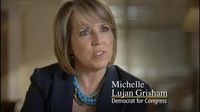 Press release from CD1-elect Michelle Lujan Grisham
Congresswoman-elect Michelle Lujan Grisham joined her colleagues from the Congressional Hispanic Congress today in reaffirming support for a comprehensive immigration plan.
"A comprehensive immigration plan must include a balanced, workable solution for the agriculture industry that ensures agricultural workers have a route to citizenship and employers have the workers and American agriculture continues to lead in our global economy," Congresswoman-elect Lujan Grisham said at a news conference today.
The Caucus outlined nine principals of immigration reform, which include:
1. Requires the estimated 11 million undocumented immigrants in the U.S. to register with the federal government, submit to fingerprinting and a criminal background check, learn English and American civics, and pay taxes to contribute fully and legally to our economy and earn a path to permanent residency and eventual citizenship;
2. Protects the unity and sanctity of the family, including the families of bi-national, same-sex couples, by reducing the family backlogs and keeping spouses, parents, and children together;
3. Attracts the best and the brightest investors, innovators, and skilled professionals, including those in science, technology, engineering, and math (STEM) studies, to help strengthen our economy, create jobs, and build a brighter future for all Americans;
4. Builds on the extraordinary success of the Deferred Action for Childhood Arrivals (DACA) program and incorporates DREAMers – those who were brought to the U.S. at a young age and are Americans but for a piece of paper – into the mainstream of life in the United States through a path to citizenship so that America benefits from their scholastic achievements, military service and pursuit of their dreams;
5. Includes a balanced, workable solutions for the agriculture industry that ensures agricultural workers have a route to citizenship and employers have the workers and American agriculture continues to lead in our global economy;
6. Ends the exploitation of U.S. and immigrant workers by providing sufficient, safe, and legal avenues for foreign workers to fill legitimate gaps in our workforce, with full labor rights, protection from discrimination, and a reasonable path to permanence that lifts up wages and working conditions for both native and foreign-born workers and their families;
7. Ensures smart an reasonable enforcement that protects our borders and fosters commerce by targeting serious criminals and real threats at our northern and southern borders and promotes the safe and legitimate movement of people and goods at our ports of entry and which are essential to our economy;
8. Establishes a workable employment verification system that prevents unlawful employment and rewards employers and employees who play by the rules, while protecting Americans' right to work and their privacy; and
9. Renews our commitment to citizenship, to ensure all workers pay their fair share of taxes, fully integrate into our way of life and bear the same responsibilities as all Americans and reaffirms our shared belief that the Citizenship Clause of the Constitution is a fundamental freedom that must be preserved.
November 28, 2012 at 06:30 PM in Hispanic Issues, Immigration, Michelle Lujan Grisham | Permalink | Comments (1)
World AIDS DAY Meet & Greet benefitting NM AIDS Services
New Mexico AIDS Services is proud to present our World AIDS Day Meet and Greet, hosted by County Commissioner Maggie Hart Stebbins and County Commissioner-Elect Lonnie Talbert.
World AIDS Day Meet & Greet
Date: Thursday, November 29th, 2012 at 6:00pm
Location: Albuquerque Aquarium – 2601 Central NW
Please RSVP by visiting www.nmas.net/events or call 505.938.7100
Suggested Contribution $50 Friends of NMAS $75 Advocates of NMAS $100 or more Champions of NMAS
Please join the Board of NMAS, CEO Kathleen Kelley, & the staff of NMAS to honor World AIDS Day and show your support for our organization and our mission.
November 28, 2012 at 04:30 PM in AIDS/HIV, Events | Permalink | Comments (0)
Republicans Pick the Perfect Bully Nate Gentry for Minority House Whip
The GOP loves their bully boys. At a Loma Del Rey Neighborhood Association Meeting on October 17th Nate Gentry showed how honest he is to his constituents. Within this video Nate states how he will not be running negative attacks like his opponent will in the campaign for House District seat 30. These are the first words out of the Reps mouth in the video Lie number 1: "Sorry for the ugly peices you will receive in your mailboxes, I will not be sending out these personal attacks I will respond with the facts and with accurate information. Kayyy?" Legislators please bear in mind the following day the hoodie mailer described in this post was in constituents mailboxes.
Listen to the video as much as you can take of the sound of this over zealous simplifying power hungry young republican man. Listen up legislators Nate lays out the R plans and his plans as the whip right here in this 10 min video. 
Within this video Gentry lays out exactly what the republicans plan on doing this session.
Jobs for New Mexicans - This is first on Nate's mind he states in the video. Nate prefers to keep the favor of large corporations over the people. He says with his macho hubris - "When Smiths pays more taxes the people pay more for their groceries." The large corporations just pass on the tax to the people in other words. This is a disingenuous response to a very important topic being discussed across the country and within our own state. "Fact and Logic, Kayyy?" Nate says.
Nate also states in the video (at time 1:16) that the democrats are advocating people making over 16k to have their taxes raised. So be aware democrats the whip boy is thinking you want to raise taxes on those making a measly $16,000/yr. Maybe Nate was confused that we wanted to raise their minimal income wage not their taxes.
How about regulations (1:55): Nate says the regs and permits in this state are cumbersome and make businesses go elsewhere. He uses Intel as an example for air emission regs, that are more easy to obtain in Arizona. So like Nate says: if you are a business where do you want to go? To a state with higher corporate tax rates and an accountable regulatory agency? Or what he infers, you can go somewhere you can pay people crap, and pollute at will?
Education (2:45): "It is a no brainer" Nate says. There is a reason why 3 out of 4 kids can't read proficiently that are in the 4th grade. Kayyy? Why is that Nate? What is the reason? How simple the no-solution response is to the republicans, such hubris.
Corruption (at 3:17): Nate Gentry has got a passion for battling corruption. People coming to do business here in NM would tell him "Who is going to shake them down." Rep Gentry is very concerned about corruption. Maybe he will be extra aware as he makes his path as a public official, so far he shows he likes the power of being a power holder, the person to shake em down. Here is an article in the Abq Journal on Sat. Dec 3rd, 2011.
Rode has been the most vocal critic of how the administration of Gov. Susana Martinez sought proposals for a new racetrack and casino lease at the fairgrounds, the administration's evaluations of the proposals and its plan to give the lease to the Downs at Albuquerque, which now runs the racino.
"I think they have violated the public trust," she says. "If you look at all the relationships involved in this, it's inbreeding." Rode is referring to the many political ties (and money) that link the governor, the Downs and Downs representatives.
She was appointed by Martinez, a Republican, in August as the neighborhood representative on the State Fair Commission. "It doesn't make me happy to say this about my own party," Rode says.
GOP businessman Tom Tinnin also has been a public critic of the Downs deal and resigned a Martinez appointment to the state Board of Finance last month after a meeting with the governor on the issue. Other prominent Republicans are critical in private but won't repeat the criticism in public.
State Rep. Nate Gentry, who has become a designated hitter for the administration on the Downs deal, has requested all of Rode's written communications and other emails concerning the request for lease proposals and the racino lease. Gentry made the request under the state Inspection of Public Records Act and on his official House stationery. "It feels very retaliatory," Rode says.

Also, ISPAC has done much investigating into Nate Gentry's involvement in the Dirty Downs Deal see this link here. Shake em down Nate.
     6.  Last but not least and maybe the most disturbing words out of Representative Gentry are close to the end of the video (7:45) when a constituent asks Nate about drug trafficking and arms smuggling from our southern border. Nate clearly states that illegal immigrants are to blame for arms smuggling, drug smuggling, human trafficking, all because of the illegal immigrant driver's license issue. A fellow constituent in the back of the room challenges Nate's assertion that because of being an illegal he would draw to the conclusion that our undocumented license issue can be tied to such extreme assertions. The constituent says Nate's statements are racist and very negative to tie your average illegals that are here which are working class, middle class poor,to this drug/arms smuggling question. Of course the Nate Gentry the Representative of this man bullies up and talks over him with a non argument - " So you are saying no drugs come in from Mexico?" The man goes on to reiterate that their are no ties or prove of what Gentry is saying. Unfortunately the video ends within that exchange, but Nate takes the constituent to task over the matter.
What a stretch? Not really. This is a wake up post for us as citizens, news reporters, and our legislators, this is a leader in our NM republican party.  
In summary we should keep a close eye on this Representative Nate Gentry whipman. He is slick, he is loyal to his bosses, and he is not independent in thinking. Kayyyyy!
November 28, 2012 at 06:06 AM in Democratic Party, NM Legislature 2013, Republican Party | Permalink | Comments (1)
Tuesday, November 27, 2012
11/28: New Mexico Will Benefit from Increased Wind Power
Wind tax credits set to expire: Congress must reinvest in New Mexicans' green future.
From Environment New Mexico.org - Environment New Mexico is a statewide, citizen-funded environmental advocacy organization working for clean air, clean water, and open spaces.
What: In the wake of this summer's severe drought, and as the fiscal cliff and the expiration of key tax credits for wind power are quickly approaching, public health professionals and PRC Commissioners will join Environment New Mexico to release a new report that quantifies the public health and environmental benefits of wind power for New Mexico, including global warming pollution avoided and water saved. The report also estimates these benefits through 2016 if wind development continues at a pace comparable to that in recent years.
Who: Jason Marks, Public Regulation Commission (PRC) District 1 Commissioner Dr. Dona Upson, Pulmonologist Rikki Seguin, Environment New Mexico
When: Wednesday, November 28th, 2012 10am
Where: Alvarado Urban Farm: Gardens on the North side of Silver Gardens Apartments 100 Silver Ave. SW Albuquerque, NM 87102
From I-25: Take exit 224A for Lead Ave toward Coal Ave. Turn right on Lead Ave, then right on 2 nd St, and the first right on Silver Ave. Street Parking available, as well as Silver Gardens Parking Garage on Lead Ave and 1 st St. SW.
Excellent Visuals of Wind Turbines and Plants Affected by Drought
November 27, 2012 at 03:57 PM in Energy, Environment, Events, Green Economy, Taxes | Permalink | Comments (0)
Senator Udall Announces $275,000 in NEA Grants for NM Arts
Today U.S. Senator Tom Udall announced that New Mexico will receive $275,000 in matching grants from the National Endowment for the Arts (NEA). The first major round of FY 2013 grants will help support nine music, theater and visual arts projects around the state.
"The arts are an important part of New Mexico's culture, tradition and tourism economy," said Udall. "These grants will provide valuable support for projects that both inspire and enrich our lives and make New Mexico a first-class destination for the arts."
In this round of grants, the NEA will award over $23 million, including over $2 million in arts education projects. In total, more than 830 organizations in 47 states, the District of Columbia and Puerto Rico will receive funding.
Udall is a member of the Senate Cultural Caucus, which works to support the arts and humanities in Congress. The NEA was established by Congress in 1965 as an independent federal agency.
Projects receiving grants are:
Albuquerque:
$10,000 – NewArt New Mexico, Inc. to support JOURNEYS/Global Dance Fest.
$22,500 - Outpost Productions, Inc. to support the 8th annual New Mexico Jazz Festival.
$35,000 – Working Classroom, Inc. to support Multicultural Street Conservatory.
$35,000 - University of New Mexico Main Campus to support print making residencies for Native Americans and Australian Aborigines at the Tamarind Institute in NM, and Northern Editions in Darwin, Australia.
Angel Fire:
$20,000 – Music at Angel Fire, Inc. to support Music from Angel Fire's 30th Anniversary Chamber Music Festival.
Santa Fe:
$30,000 – Parallel Studios Inc. to support currents 2013.
$42,500 – Santa Fe Chamber Music Festival Ltd. to support the 41st annual Santa Fe Chamber Music Festival.
$60,000 – Santa Fe Opera to support a new production of Oscar.
$20,000 – Southwestern Association for Indian Arts to support the Santa Fe Indian Market.
November 27, 2012 at 03:44 PM in Arts, Sen. Tom Udall | Permalink | Comments (0)
NYT Editorializes on Senator Tom Udall's Filibuster Reform Efforts
On November 12th New York Times ran an editorial "A New Chance for the Senate."

The New York Times once again reaffirmed its support for U.S. Sen. Tom Udall's efforts to alleviate gridlock and filibuster abuse. The chart to the right is a history of filibuster use. This chart alone is proof positive that our current modern republicans have no intention on doing what is right for America in 2012.
The last paragraph of the editorial talks about the newly elected Senators. Our own NM Senator Elect Martin Heinrich is one of these gentleman. Senator elect Heinrich has stated he is very much in favor of filibuster reform, "I support Senator Tom Udall's efforts to reform the filibuster through the constitutional option. I look forward to working alongside Senator Udall to ensure that the Senate rules do not result in gridlock or prevent vital legislation from moving forward."
The proposal by Sen. Tom Udall and Sen. Jeff Merkley presented Nov 12, 2012 can he seen here.
Following are excerpts from the editorial:
"In May, Harry Reid, the Senate majority leader, was furious at yet another obstructionist filibuster by Senate Republicans. He admitted then that he was wrong in 2011 not to change the Senate's rules when he had a chance," wrote the Times.
"'These two young, fine senators said it was time to change the rules of the Senate, and we didn't,' he said, referring to Tom Udall of New Mexico and Jeff Merkley of Oregon, who came up with a plan to reduce filibuster abuse that he rejected. 'They were right. The rest of us were wrong, or most of us, anyway. What a shame.'"
"It was a shame, a missed opportunity that helped give Republicans a big cudgel over the last two years. But now Mr. Reid has a chance to rectify that mistake. In January, at the beginning of the next session of the United States Senate, Democrats can vastly improve the efficiency of Congress and reduce filibuster abuse with a simple-majority vote. This time they need to seize the moment."
"In the last two Congressional terms, Republicans have brought 275 filibusters that Democrats have been forced to try to break. That is by far the highest number in Congressional history, and more than twice the amount in the previous two terms."
"Every new crop of senators brings the potential for moving away from hoary rules and traditions that have virtually crippled American lawmaking. Next year, 12 new senators will join the chamber, only three of whom are Republicans. Many of the others are younger, more liberal and more feisty than the ones they replaced, and several have already expressed support for ending legislative abuse. They should make sure that Harry Reid knows how they feel, so he doesn't suffer another pang of regret."       
Read previous editorials by The New York Times on filibuster reform here and here.
November 27, 2012 at 10:44 AM in Filibuster, Rep. Martin Heinrich (NM-01), Sen. Tom Udall | Permalink | Comments (3)
Monday, November 26, 2012
Support Solar Energy Targets for New Mexico
From the NM Green Chamber of Commerce:
Action item: Click here to sign the letter to Vice Chair Commissioner Becenti-Aguilar, the swing vote on this issue, and you will receive notification of the mid-December PRC meeting to review the case.
The Reasonable Cost Threshold/Solar Diversity Target case (Case 11-00218-UT) before the Public Regulation Commission will have a dramatic impact on solar energy development. Cutting the solar target in half or completely, as some interveners are proposing, will mean job losses and worker lay-offs, and a return to more use of polluting fossil fuels.
This case has taken 17 months and now the Attorney General and the New Mexico Industrial Energy Consumers are proposing to push the decision into next year, and a new Public Regulation Commission.
The current uncertainty and indecision by the Public Regulation Commission makes it impossible for renewable energy companies to make future business plans.
Solar remains wildly popular in our state, with a 2012 bi-partisan poll demonstrating an overwhelming majority of New Mexicans (66 percent) that want more of their energy to come from solar.
Please take the following steps:
Click here to sign the letter to Vice Chair Commissioner Becenti-Aguilar, the swing vote on this issue, and you will receive notification of the mid-December PRC meeting to review the case.
Call your Public Regulation Commissioner: Urge them to vote on the RCT rulemaking process before the end of this term. Urge them to support jobs in every part of the state, by supporting a diverse renewable energy portfolio with an aggressive solar target that continues to help build that industry. Urge them to maintain the current solar targets and continue to help provide both clean energy for consumers and jobs for electricians, technicians, and construction workers.
Jason A. Marks Commissioner - District 1 Jason.Marks@state.nm.us
Patrick H. Lyons Commissioner - District 2 Patrick.Lyons@state.nm.us
Douglas J. Howe Commissioner - District 3 doug.howe@state.nm.us
Theresa Becenti-Aguilar Vice Chair Commissioner - District 4 T.Becenti@state.nm.us
Ben L. Hall Commissioner - District 5 Ben.Hall@state.nm.us
Mr. Nick Guillen NMPRC Records Management Bureau prc.records@state.nm.us
Or, you can call them at 1-888-427-5772. Please be sure to mention Case No. 11-00218-UT.
Thank you for your interest in this.
Special Thanks to Kate Theisen at Sunspot Solar for providing the information.
November 26, 2012 at 03:45 PM in Energy, Environment, Green Economy, NM Public Regulation Commission | Permalink | Comments (0)
New Mexico's Wealthiest Has Almost Ten Times More Income than Poorest
The Center on Budget and Policy Priorities (CBPP) released the following report: Pulling Apart: A State-by-State Analysis of Income Trends the week before our week of major consumption. Who wants to read such dismal facts the week before eating and spending abundance?  
New Mexico has Highest Income Inequality between Richest and Poorest

From the CBPP report: Why the growth in wage inequality? The biggest factors:
"Wages at the bottom and middle of the wage scale have been stagnant or have grown only modestly for much of the last three decades.  The wages of the very highest-paid employees, in contrast, have grown significantly."
"The erosion weakness of wage growth for workers at the bottom and middle of the income scale reflects a variety of factors.  Over the last 30 years, the nation has seen increasingly long periods of high unemployment, more intense competition from foreign firms, a shift in the mix of jobs from manufacturing to services, and advances in technology that have changed jobs.  The share of workers in unions also fell significantly.  At the same time, the share of the workforce made up of households headed by women — which tend to have lower incomes — has increased.  Government policies such as the failure to maintain the real value of the minimum wage and to adequately fund supports for low-wage workers as well as changes to the tax code that favored the wealthy have also contributed to growing wage inequality."
"Government actions — and, in some cases, inaction — have contributed to the increase in wage and income inequality in most states.  Examples include deregulation and trade liberalization, the weakening of the safety net, the lack of effective laws concerning the right to collective bargaining, and the declining real value of the minimum wage.  In addition, changes in federal, state, and local tax structures and benefit programs have, in many cases, accelerated the trend toward growing inequality emerging from the labor market."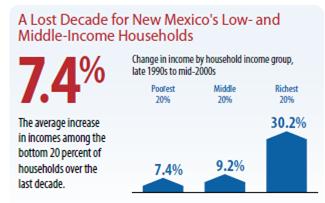 States Must Play an Important Role
More from the report: "Growing income inequality not only raises basic issues of fairness, but also adversely affects the nation's economy and political system.  While it results to a significant degree from economic forces that are largely outside state policymakers' control, state policies can mitigate the effects of these outside forces.  State options include:
Raise, and index, the minimum wage.  The purchasing power of the federal minimum wage is 13 percent lower than at the end of the 1970s.  Its value falls well short of the amount necessary to meet a family's needs, especially in states with a high cost of living.  States can help raise wages for workers at the bottom of the pay scale by enacting a higher state minimum wage and indexing it to ensure continued growth in the future. (DFNM note: From the hard work of our Local Ole and other organizations we accomplished this bullet point in Abq.)
Improve the unemployment insurance system.  Unemployment insurance helps prevents workers who lose their jobs from falling into poverty and keeps them connected to the labor market.  Yet some states have cut benefits deeply.  These states should restore those cuts and others should build on recent efforts to fix outmoded rules that bar many workers from accessing benefits.
Make state tax systems more progressive.  The federal income tax system is progressive — that is, it narrows income inequalities — but has become less so over the past two decades as a result of changes such as the 2001 and 2003 tax cuts.  Nearly all state tax systems, in contrast, are regressive.  This is because states rely more on sales taxes and user fees, which hit low-income households especially hard, than on progressive income taxes.  (The income inequality data in this report reflect the effects of federal taxes but not state taxes.)
As state revenues slowly recover from the recent recession, some states are cutting taxes.  The bulk of the tax cuts enacted this year, however, disproportionately benefited higher-income families.  If these trends continue, states will make their tax systems even more regressive and diminish their ability to restore the large spending cuts of the last few years.
Strengthen the safety net.  States play a major role in delivering social safety net assistance, which pushes back against growing inequality by helping low-wage workers move up the income ladder and shielding the nation's most vulnerable citizens from the long-term effects of poverty.
There are a host of options states can consider to strengthen their safety nets.  States can create a more streamlined process for enrolling in work supports such as food stamps and child care as they retool their health insurance systems under the Affordable Care Act.  States also can boost the prospects of poor children by increasing temporary cash assistance to the neediest families in state Temporary Assistance for Needy Families (TANF) programs.  Improving access to SNAP (food stamps) and providing assistance with rent can help low-income families afford food and housing.
In addition, states can improve the child care system by providing child care subsidies with affordable co-payments and by investing in quality early care and education programs as well as after-school programs.
Protect workers' rights. States can raise wages by protecting workers right to bargain collectively and by strengthening and enforcing laws and regulations to prevent abusive employer practices that deprive workers of wages that they are legally owed.
While these are all useful steps, federal as well as state policies will have to play an important role if low- and middle-income households are to stop receiving steadily smaller shares of the income pie."
Pull Yourself Up by Your Bootstraps
First we need bootstraps. The small government naysayers are now saying "see all the poor want are govt handouts." No, what the poor want is an attempt at a slice of the pie.
Dignity
In the great depression dignity was something FDR realized existed and he went about providing jobs with govt monies so as the workers could work again and provide for themselves and their families. People want to work, people have great pride in their work. Raising taxes on those that have become filthy rich over the past decades should be first on any elected officials mind. Period. Raise the taxes and create new jobs building great things, high speed railroads, solar farms, wind farms, senior care centers, state of the art schools. We have the money we need the political will.
November 26, 2012 at 12:30 PM in Economy, Populism, Government, Green Economy, Susana Martinez | Permalink | Comments (2)
Friday, November 23, 2012
Lincoln the Movie See It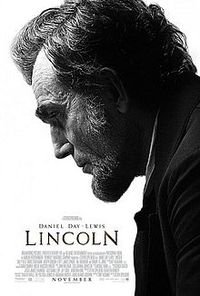 Lincoln the movie wow! I must have been sick that day in social studies/history class, I totally forgot that President Abraham Lincoln was a Republican. A republican who believed in equality and justice. No one is equal until we are all equal, what a concept.
"As a nation, we began by declaring that "all men are created equal." We now practically read it, "All men are created equal, except Negroes." When the Know-Nothings get control, it will read, "All men are created equal except Negroes, and foreigners, and Catholics." When it comes to this I should prefer emigrating to some other country where they make no pretense of loving liberty - to Russia, for instance, where despotism can be taken pure, without the base alloy of hypocrisy." Abraham Lincoln 16th President of USA
Where have we gone as a people? We just go along to get along. Is there any courage displayed by anyone today to tackle the problems at hand?
Think of what we could do if someone would lead. How about the Equal Rights Amendment for starters for a quick recap of the ERA see this link. Why not have women be equal?
How about full equality for Lesbians, Gays, Bisexual and Transgender people? One of the most touching parts of the movie was when Republican Thaddeus Stevens went home to his biracial lover, and housekeeper and brought her the 13th amendment document for her to read to him in bed. Ah the secrets we humans keep?
How about stopping the military machine and have our service people come back to this country. Talk about years and years of senseless killing. Check out the arm to arm brutal battles of the Civil War, reenacted in the movie, maybe if we still fought like this we would stop. Let's stop funding the military machine. Stop funding the greed of war. Hey we are going broke funding this war machine, there are no more jobs, all the money is gone. We are still funding the Aghan war to the tune of 1 to 2 bil per week. Per week! Imagine this money here, where on earth is this money going? Does anyone else see a connection to our deficit?
Not to say that the 13th Amendment was the end all for equal rights for our African American citizens. Far far from it, the battle for equal rights for all continues well into the 21st century. When will the people who control all the power, which is old white men, let's face it, when will they give up some of their greed and power to other humans?
We need real leaders with real soul and spirit. We need to hold our elected leaders accountable NOW.
PS. Yes it is remarkable and showing of our progress as a people to have President Obama elected for his second term in 2012. But we learned in his first term that we have got to keep bearing pressure on him. He is partly the resulting dream of President Lincoln, now let President Obama be a leader for all of us. Lead the Congress, lead us out of our current wars, lead equality for all, lead the fight for all to be educated, lead the fight of our equal justice in this country. Lead the fight against greed.
November 23, 2012 at 09:18 PM in Civil Liberties, Democratic Party, Justice, Obama Administration, Republican Party | Permalink | Comments (0)